If you miss potatoes on a low carb diet you have to try these fried radishes and turnips with bacon. They taste just like hash browns or home fries you would eat for a keto breakfast or as a side dish. Super easy to make with only 4 ingredients and this turnip hash has only 4.1g net carbs!
You might also like this popular keto cheesy scalloped turnips recipe!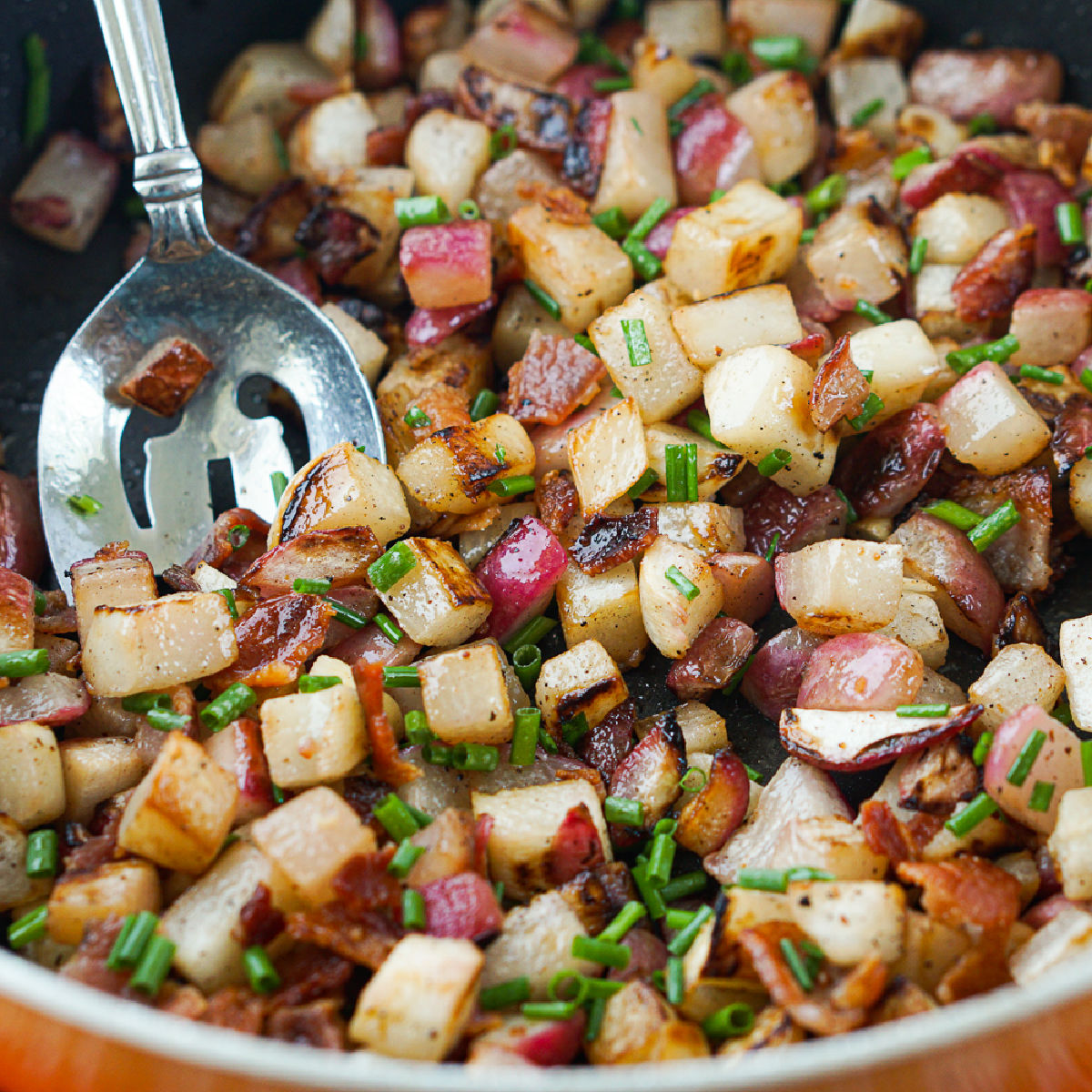 don't know about you but potatoes are comfort food to me. There is nothing like a big breakfast with hash browns, home fries or any kind of fried potatoes. All of which I rarely eat that on a keto diet. Until now that I know how to make these fried radishes and turnips with bacon.
am really learning how to correctly use turnips as a healthy potato substitute. And today I added the radishes which also worked great in this dish and they have great color.
Best of all this keto side dish only takes about 15 -20 minutes to make and you only need 4 ingredients. If you love potatoes like I do, give it a try and you will be pleasantly surprised. They will be your new version of keto breakfast potatoes!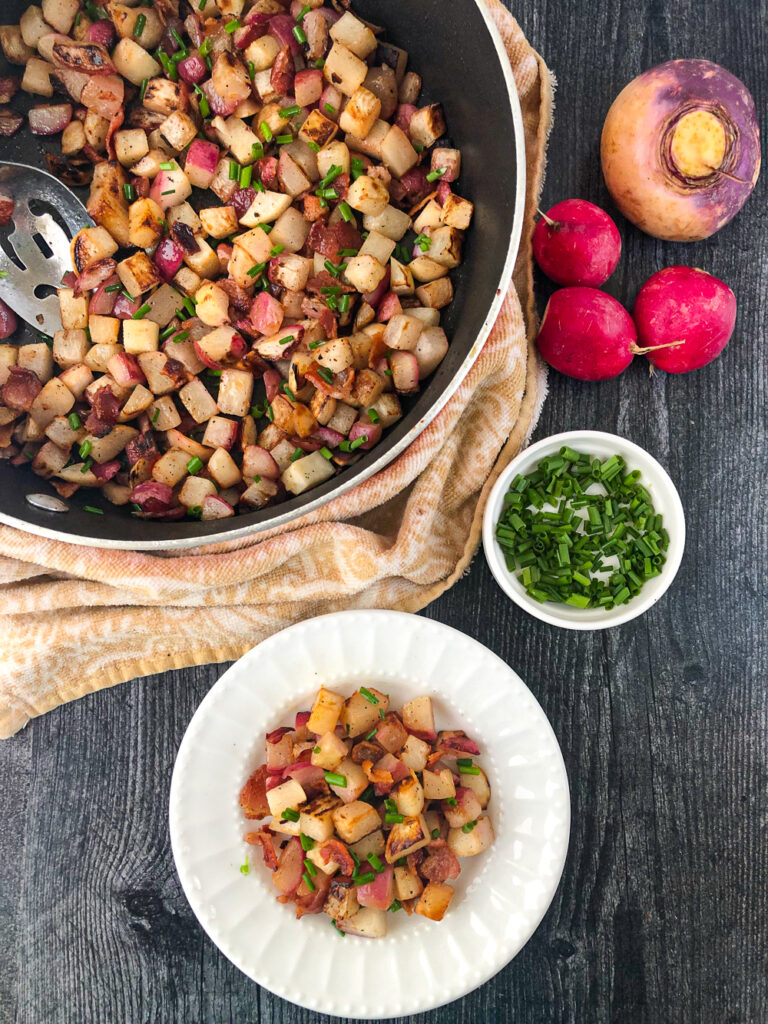 Recipe ingredients I used.
You just need 4 simple ingredients to make this recipe and they are fresh, raw radishes and turnips, bacon slices and fresh chives.
I love using turnips and radishes as keto potatoes substitutes because they both have that starchy texture when cooked. And while they both can a little bitter if you use other flavors when preparing them you won't taste that. (Hence the bacon!)
The healthy benefits of turnips & radishes.
Turnips are root vegetables that are low in calories, fat and carbs but high in fiber, vitamins and minerals. 1 turnip has 34 cals / 0.4g fat / 7g carbs / 2g fiber / 1g protein = 5g net carbs.
When buying turnips you want to choose small, fresh turnips as larger ones can be bitter and fibrous. The ones I used were firm and about 2 ½ inches in diameter.
Radishes are root vegetables that are fairly high in vitamin C and also contain an antioxidant coenzyme Q10. They are also a good source of minerals like calcium and potassium. (source)
The nutritional information for 1 cup of sliced radishes are 18 calories / 0.1g fat / 3.9g carbs / 1.9g fiber / 0.8g protein = 2g net carbs
How to make fried radishes and turnips.
You don't need to use oil or butter in this recipe because you are using the hot bacon grease!
Step 1: Chop the radishes and turnips into small, equal sized pieces. I like to use a vegetable chopper to do this but you can do it by hand. Place them in a microwaveable bowl, rinse with water but keep a tablespoon or so in the bowl. Cover and microwave for 4 minutes to precook them.
Step 2: While they are cooking, get out a large skillet and fry the 2 pieces of bacon. Once you get it to the level of doneness you like (I like it crispy) take out the bacon and place on a piece of paper towel.
Step 3: Using the same skillet with the bacon grease in it heat the skillet up to high and add the vegetables. Season with salt and black pepper and then turn down the heat to medium. Fry for a 5-7 minutes to get them nice and crispy. Cooking time may vary depending on the size your vegetables.
Step 4: Crumble the bacon and add back to the pan. Sprinkle chopped chives or green onions over top and serve. Store leftovers in an air tight container. (Please scroll down to view and print the recipe card.)
Recipe notes and tips.
When you are reheating these turnip hash browns, if you use the microwave they might not be as crispy but they are still very tasty. You could refry them if you want but I don't think it's worth the effort.
You could easily just use turnips or just radishes in this dish. I liked the combination and the color of the radishes. The turnips have more of a potato texture in my opinion but the radishes are close.
I only used 2 pieces of bacon but since bacon doesn't usually have any carbs you could add more.
I have lots of chives growing in my garden but you could substitute green onions, fresh parsley leaves or even fresh basil if you wanted.
I only seasoned with salt and pepper but you could add more spices and seasonings if you want. Try onion powder, garlic powder, paprika, or even parmesan cheese. Play around and make this simple recipe your own.
What to serve with this keto hash recipe.
These would be a great side dish for breakfast. You could even serve a few fried eggs on top and make it a meal.
However I just served the leftovers with my air fryer homemade sausage recipe and it was the perfect side dish. You could also serve this with hamburgers, steak tips or try one of these 40 low carb chicken dinner ideas.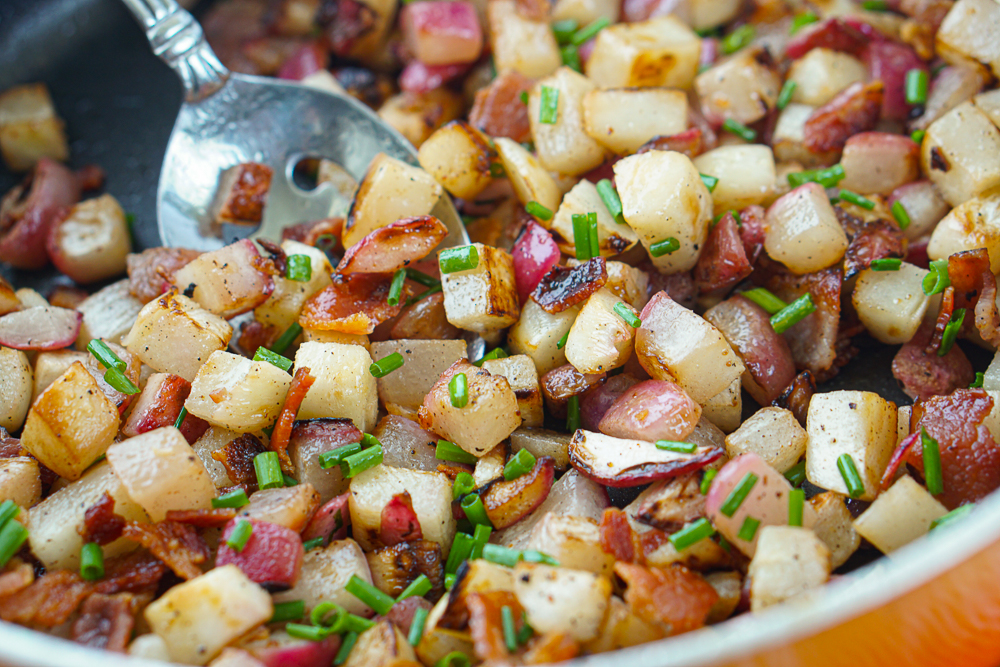 I'm really excited about this fried radishes and turnips side dish. It's keto comfort food for me and I love that it's so easy. Here are 5 more turnip recipes and a feta & radish salad to try too! All of these recipes are low carb.
The nutritional information for 1 serving is 49 calories / 1.8g fat / 6.2g carbs / 2.1g fiber / 2.5g protein = 4.1g net carbs
Keto Fried Radishes & Turnips with Bacon
This keto fried turnips and radishes with bacon recipe is made with only 4 ingredients to make a delcious low carb side dish. Great for breakfast, just top with eggs and it already has the bacon. Great potato substitute when on a keto diet.
Ingredients
2 pieces of bacon
2 cups radishes, chopped (small pieces)
2 cups turnips, chopped (small pieces)
1 tablespoon freshchives, chopped
Instructions
Chop radishes and turnips into small equal sized pieces. You want them to look like potato home fries. Place into a microwaveable bowl. Rinse and leave about 1 tablespoon of water in the bowl. Cover with plastic wrap and microwave for 4 minutes.
While they are cooking, add the bacon to a large skillet and cook to your desired crispiness. Take out the bacon and place on a piece of paper towel.
Using the grease from the bacon, turn the heat up to high and then add the precooked vegetables. Season with salt and pepper.
Turn it down to a medium heat and fry the turnips and radishes for abou 5-10 minutes until nice and golden brown.
Take off heat and the crumbled bacon and mix. Then sprinkle the fresh chives over everything and serve.
Nutrition Information:
Yield:

4
Serving Size:

1
Amount Per Serving:
Calories:

49