Chicken is such a popular meat to make for dinner, so today I have 40 keto chicken dinner recipes for you to try in our weekly keto meal plan 17. There is everything from chicken parmigiana to keto fried chicken. All of these low carb, gluten free recipes are easy, tasty and family friendly.
Please check out all of our keto meal plans!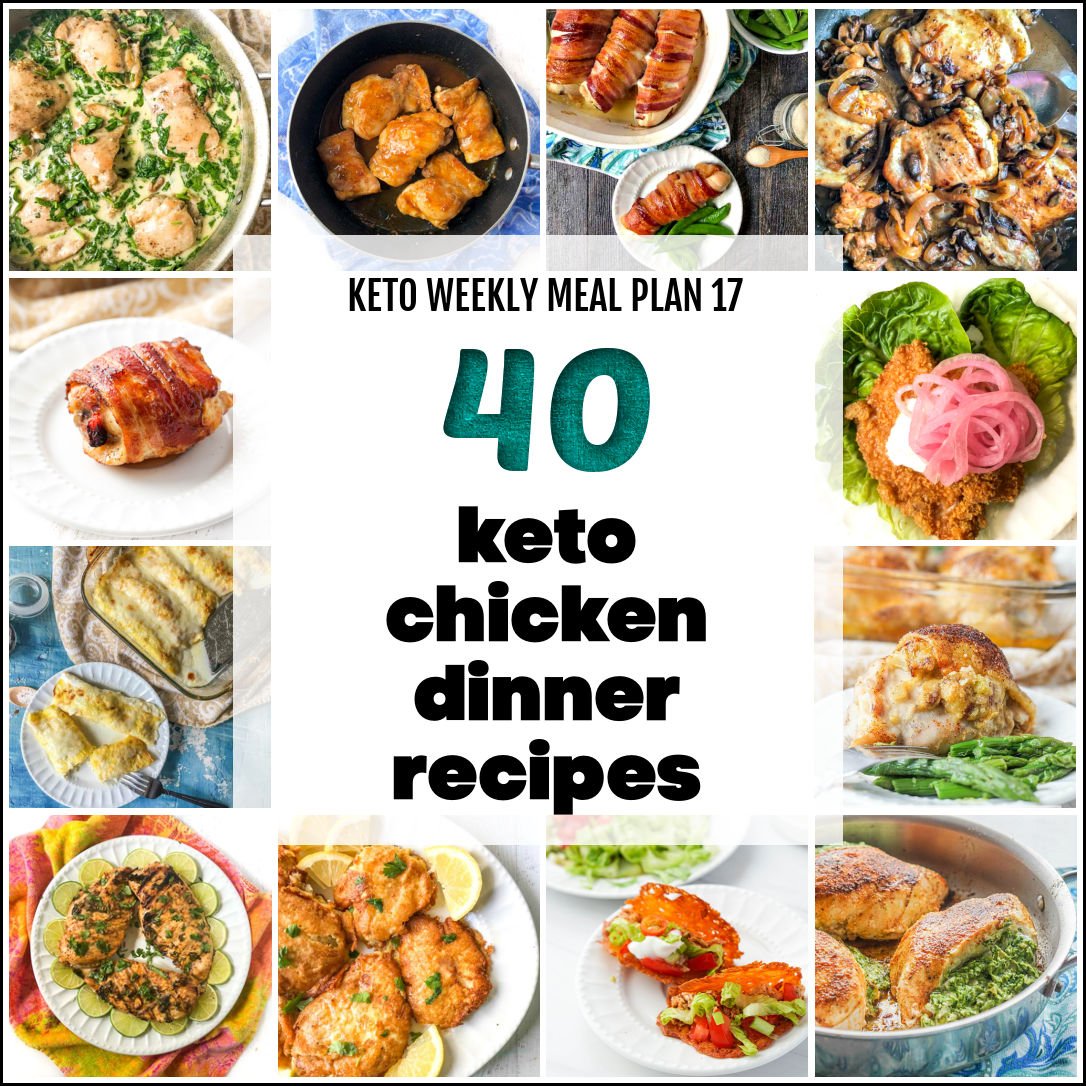 We eat chicken quite a few times a week. It's keto, inexpensive and there are so many things you can make with it.
For this weeks keto meal plan I have gathered 40 keto chicken dinner recipes for you to try. There is everything from stuffed chicken breasts to chicken crepes for you to try.
And I am sure you and your family will like these recipes and that they will be easy as well. Even if you are not on a low carb diet, these chicken dinner recipes will be sure to please.
If you cook a lot of chicken while on a keto diet or just because it's what your family loves, here are some chicken cooking tips I've learned over the years.
Tips for cooking with chicken.
If you want juicy chicken breasts, try brining it. It has be said that Chik-fil-A uses pickle juice in their brine and I tried it with my popcorn chicken. A simple brine is 2 tablespoons of salt to 2 cups of water but you can add garlic, sweetener, spices, etc. Simply place chicken breasts in a large baggie with the brine and let it refrigerate for at least 15 minutes but longer would be better. I brine turkey and smoked salmon all the time.
Bone-in chicken thighs or breasts are often less expensive than boneless and they keep moisture in the chicken. Bone-in chicken is good when roasted and when it is the the main part of the dish. Boneless chicken is much better when you are just using the meat as is part of a casserole or in soups and stews.
A rotisserie chicken is a good investment. Just clean off all of the meat, place 1 cup portions in baggies and freeze for soups and casseroles. Then take the bones, throw them in a slow cooker with water, garlic, celery, carrots, salt, pepper, etc and cook for 24 hours to make lots and lots of bone broth. All this is worth the $5 or $6 to buy one.
Pounding boneless chicken breasts make them quicker to cook and they tend to cook better as they are all the same thickness. Just cut them in half like you would a bagel. Place the pieces in a baggie and pound with a meat tenderizer or heavy pot. Great for recipes like this chicken romano or these fried chicken sliders.
The internal temperature for chicken should be 165°F. Invest in a meat thermometer and you never have to worry about meat being done.
Large chicken breasts can be much tougher and more difficult to cook evenly. So if you can go for small sized pieces or cut the chicken in half lengthwise so they cook better. To learn more about what not to do when cooking chicken breast click here.
The quickest way to prepare chicken is to marinate it in the morning and throw it on the grill at night. Just place the chicken in a large baggie with oil + balsamic vinegar or lemon juice + garlic + salt & pepper + seasonings (optional). In other words make a quick salad dressing and pour it over the chicken.
Now let's get to our keto chicken recipes!
Keto Chicken Dinner Recipes - Weekly Keto Meal Plan 17
If you are looking for something to make with chicken, here are 40 keto chicken dinner recipes for you to choose from. All are easy, tasty and family friendly.