This low carb slow cooker salsa chicken is easy to make and tastes delicious. With 5 ways to use this slow cooker shredded chicken, you will want to make a big batch! Only 4.5g net carbs and only 174 calories per serving.
You might also like this slow cooker chicken ratatouille stew recipe!
I've seen slow cooker salsa chicken recipes a lot on Pinterest lately and thought I'd give it a try. I made my slow cooker chicken verde recipe many times and it's a family favorite so I thought they would like this one too since it's so similar.
Usually I make a huge amount of this because it's so versatile. My son eats quesadillas (which he loves) and a rice bowl for my hubby. Mine is pictured above with cauliflower rice. Without the sour cream I would consider this a Paleo dish and it's definitely lower carb.
Also you can eat this on a salad or nachos and even with your eggs in the morning. See, it's very versatile. Plus this makes a huge batch so you can freeze half for another time.

What Type Of Chicken To Use
I used a combination of boneless, skinless chicken thighs and breasts. You could use one or the other if you have a preference. I'm starting to like chicken thighs because sometimes breasts are too dry. In this case I don't think it would be a problem because of the sauce.
Slow Cooker Salsa Chicken Recipe
This was a really easy recipe. You basically put all the ingredients in the slow cooker and let it simmer all day. When it's done, take out the chicken and shred it. Then use a hand blender to blend the sauce and put the shredded chicken back in the slow cooker to soak up that yummy stuff. Easy peasy
And if you are looking for a low carb tortilla recipe, try my friend Mira's almond flour keto tortilla recipe for a delicious low carb dinner!
An Easier Version
You could make salsa chicken easier if you wanted. Just use your favorite store bought salsa. I sometimes do this when I'm in a hurry. I am partial to my husband's homemade salsa so I sometimes use that but usually I use this recipe to give it more flavor. But if you use store bought salsa, you might want to spice it up a bit. Add a some of the spices in this recipe to give it more taste.
5 Ways To Eat This Slow Cooker Salsa Chicken
As I mentioned before this is a very versatile dish. You can eat it in the follow ways:
make a burrito bowl with rice and your favorite burrito ingredients
over cauliflower rice for a low carb meal
in tortillas for a taco or burrito
on top of lettuce with cheese and your favorite taco ingredients on top
over eggs for a Paleo or low carb breakfast
BONUS: use it to make a Mexican flavored soup. Add some chicken broth and your favorite vegetables and garnish with cheese and sour cream.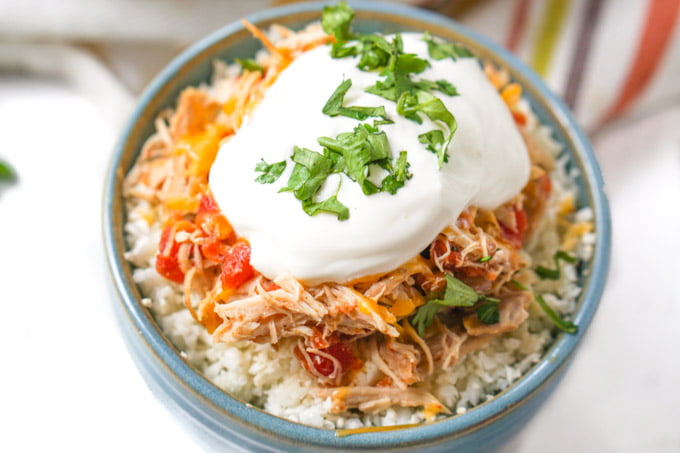 I hope you enjoy this easy slow cooker recipe as much as we do. The nutritional information for 1 servings:
174 cals / 7.1g fat / 5.6g carbs / 1.1g fiber / 32.5g protein = 4.5g net carbs
Slow Cooker Salsa Chicken
This low carb slow cooker salsa chicken is easy to make and tastes delicious. With 5 ways to use this slow cooker dish, make sure to make a big batch! Only 4.5g net carbs per serving.
Total Time
8
hours
5
minutes
Ingredients
2

cans

cans diced tomatoes with green chiles

3 ½

lbs

chicken (thighs & breasts, boneless, skinless)

1

cup

chopped onions

3

large cloves of garlic, crushed

1

teaspoon

salt

1

teaspoon

cumin

1

teaspoon

oregano

1

lime, juiced
Instructions
Add your chicken to the slow cooker.

Top with onions and garlic.

Add salt, cumin, oregano and lime juice to the tomatoes and mix before pouring over the chicken.

Cover and cook fro 6-8 hours.

When the chicken is cooked, take it out and place in a bowl and shredded. Then using a hand blender, blend the contents of the slow cooker to make it a nice, smooth sauce.

Place the shredded chicken back into the slow cooker and let cook another 5 minutes.

Serve as quesadillas, tacos, on lettuce, on rice or even eat it with eggs for breakfast.