This easy slow cooker ratatouille with chicken is a healthy and hearty dish that you can put together in minutes. It's like a easy chicken stew that would be great for healthy weeknight dinner. Server over rice or eat it as is for a fairly low carb and low calorie dinner. Each serving has just 7.3g net carbs and 131 calories.
You might also like this slow cooker creamy chicken and spinach recipe!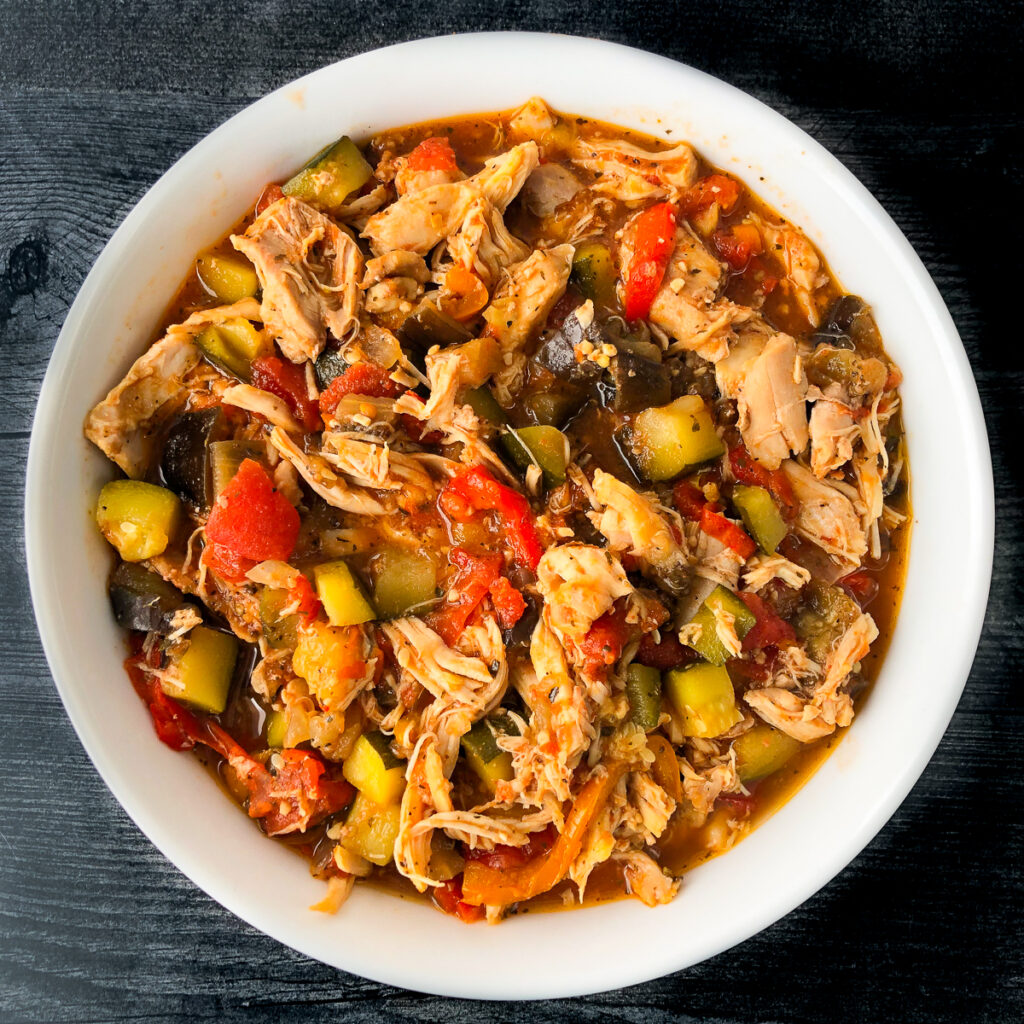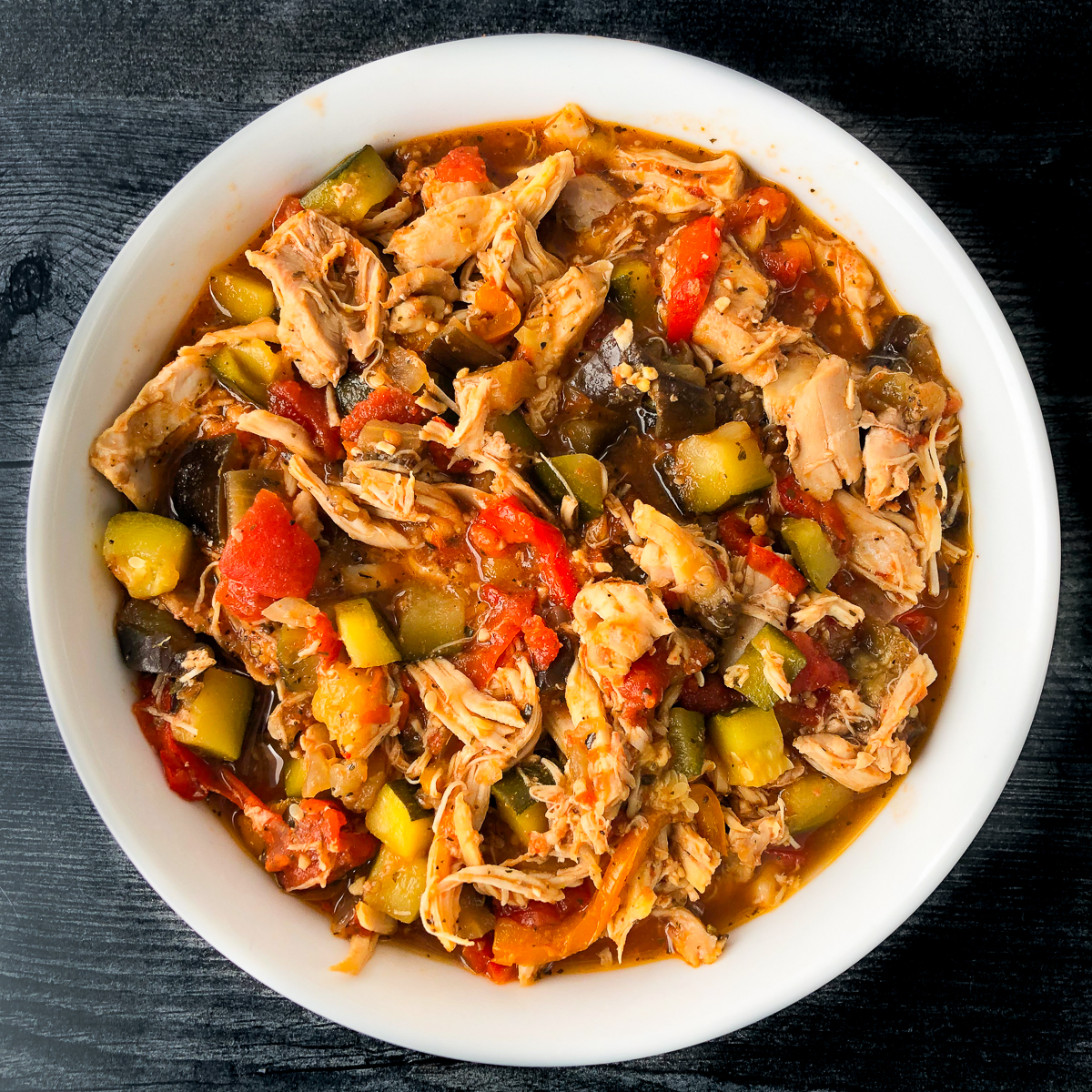 I love ratatouille because of it's tasty combination of tomatoes, eggplant, peppers and zucchini. However I normally consider it a side dish.
Today I wanted to make it a bit more substantial for a main dish instead, so I added some chicken thighs and cooked the whole dish in a slow cooker.
This slow cooker ratatouille with chicken stew was so easy and tasty with all the fresh ingredients. It is full of tender chicken thighs and healthy, colorful veggies all stewed in tomatoes and spices.
Everyone likes slow cooker meals for busy days and this chicken vegetable stew is easy, hearty and even low calorie! You can eat it over rice or if you want to keep it low carb, you can eat it as is.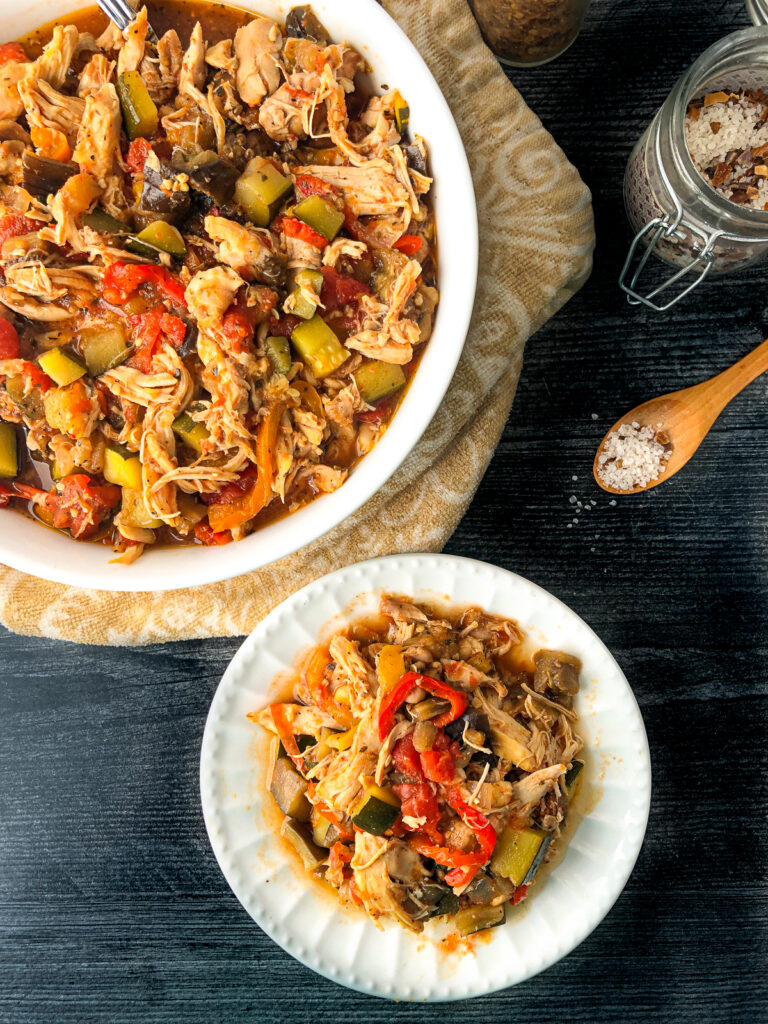 What Is Ratatouille?
Most people know about the movie Ratatouille involving a rat that is a culinary genius but not everyone has had this delicous dish. Ratatouille is a French stewed vegetable dish. It has been made many different ways but it usually includes tomato, onions, zucchini, peppers and eggplant.
I used those same basic ingredients but added some chicken thighs to make this slow cooker recipe more of a dinner than a side dish. It came out more like a chicken stew and was perfect for an easy dinner.
Recipe ingredients I used.
All you need to make this recipe is boneless, skinless chicken thighs, yellow onions, peppers, zucchini, eggplant, garlic, diced tomatoes, tomato paste, dried basil, dried thyme, onion powder and Better than Bouillon base.
How to make slow cooker ratatouille with chicken.
Step 1: To a crockpot or slow cooker add half of the diced tomatoes and onions, then add the raw chicken thighs on top.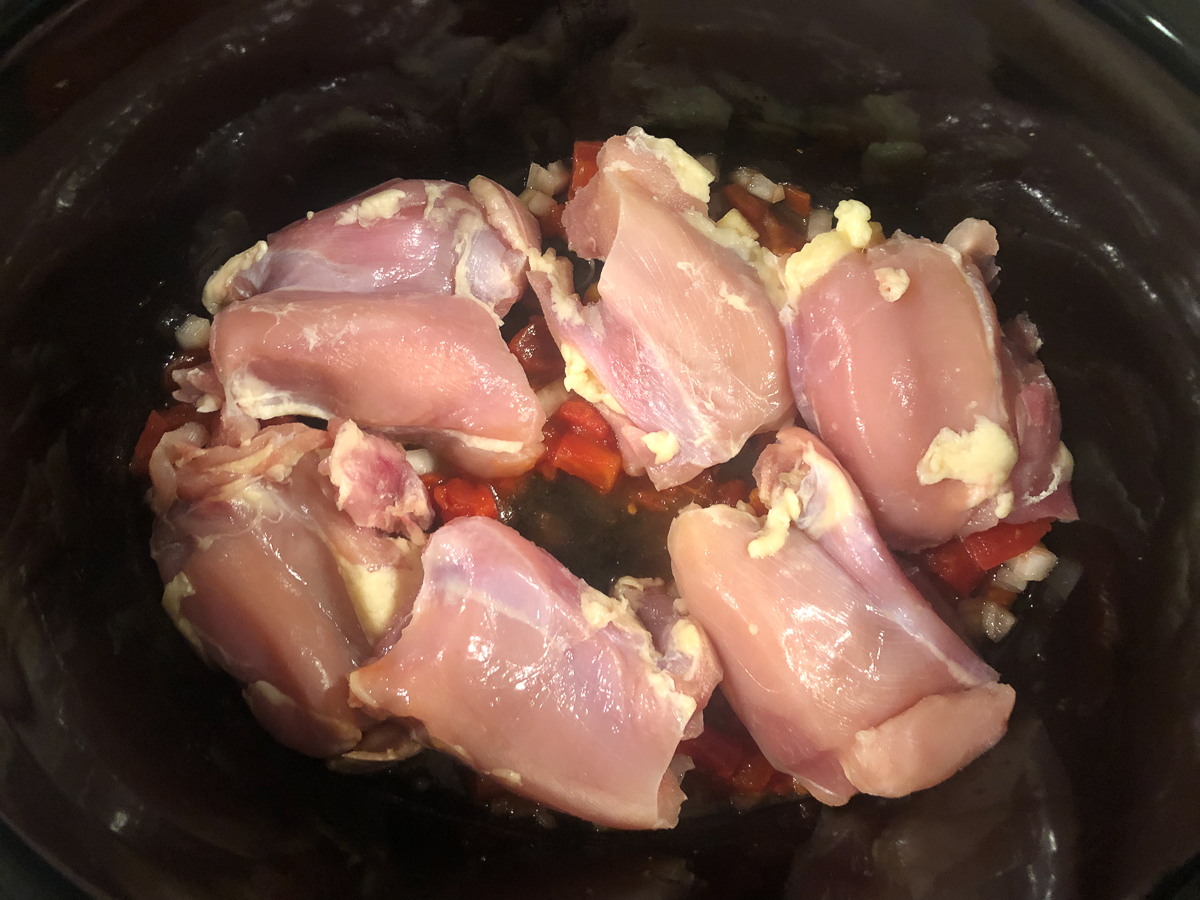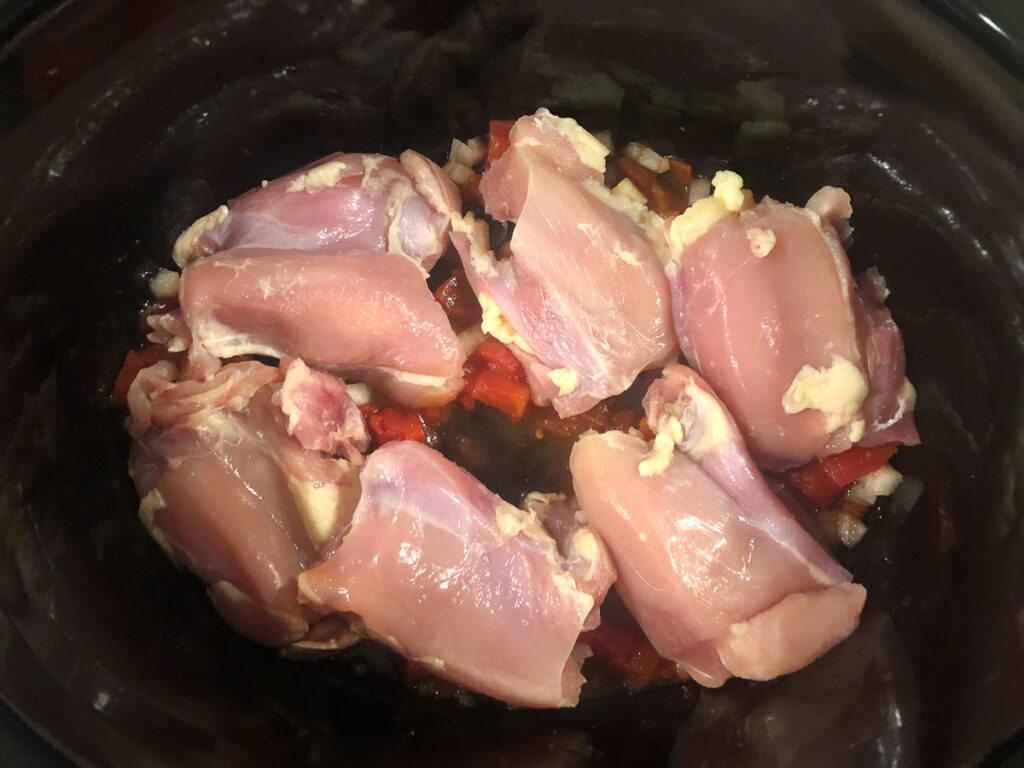 Step 2: Add the chopped vegetables on top of the chicken. Mix the spices with the other half of the diced tomatoes and tomato paste. Spoon that tomato sauce over the chicken thighs.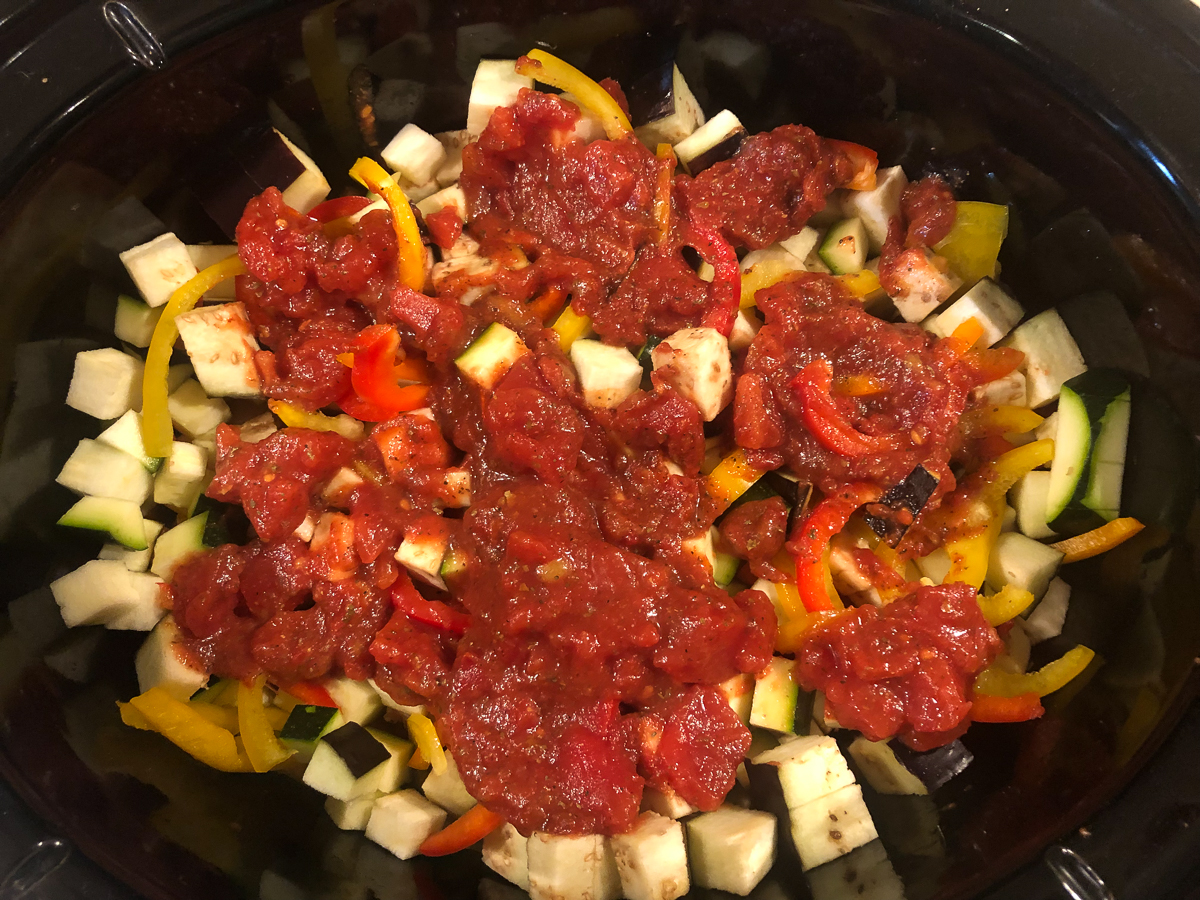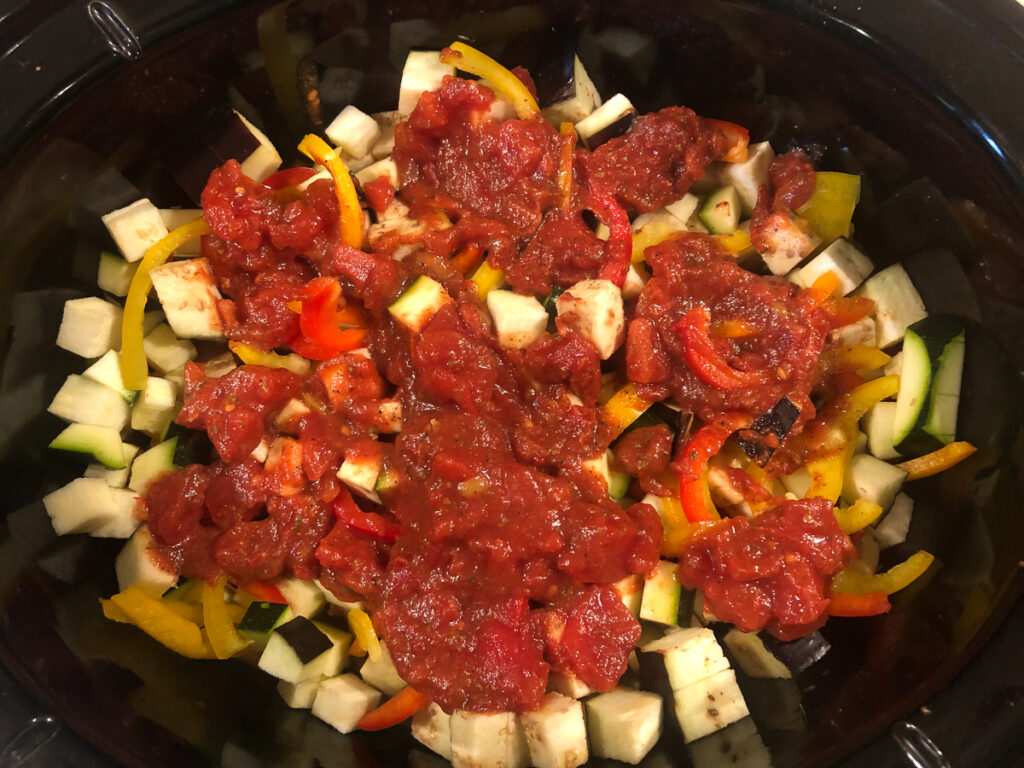 Step 3: Cover and cook for about 3-4 hours on high or 5-6 hours on low until the chicken is tender. Cooking time may vary depending on your crockpot.
Step 4: Take two forks and shred the chicken. You can usually do this in the crock but if not scoop them out into a large mixing bowl, shred them and set back into the slow cooker. Mix well and let sit for about 5 minutes to let the chicken absorb some of the liquid. Taste and season with salt and pepper if it needs more.
Store leftover in an airtight container. (Please scroll down to view the printable recipe card.)
And that is all there is to it. If you have too much liquid at the end, you can take off the lid and let it cook for 10 more minutes.
Serve over rice, pasta or eat as is for a low carb option. You can also use some fresh basil or parsley as a garnish or top with parmesan cheese.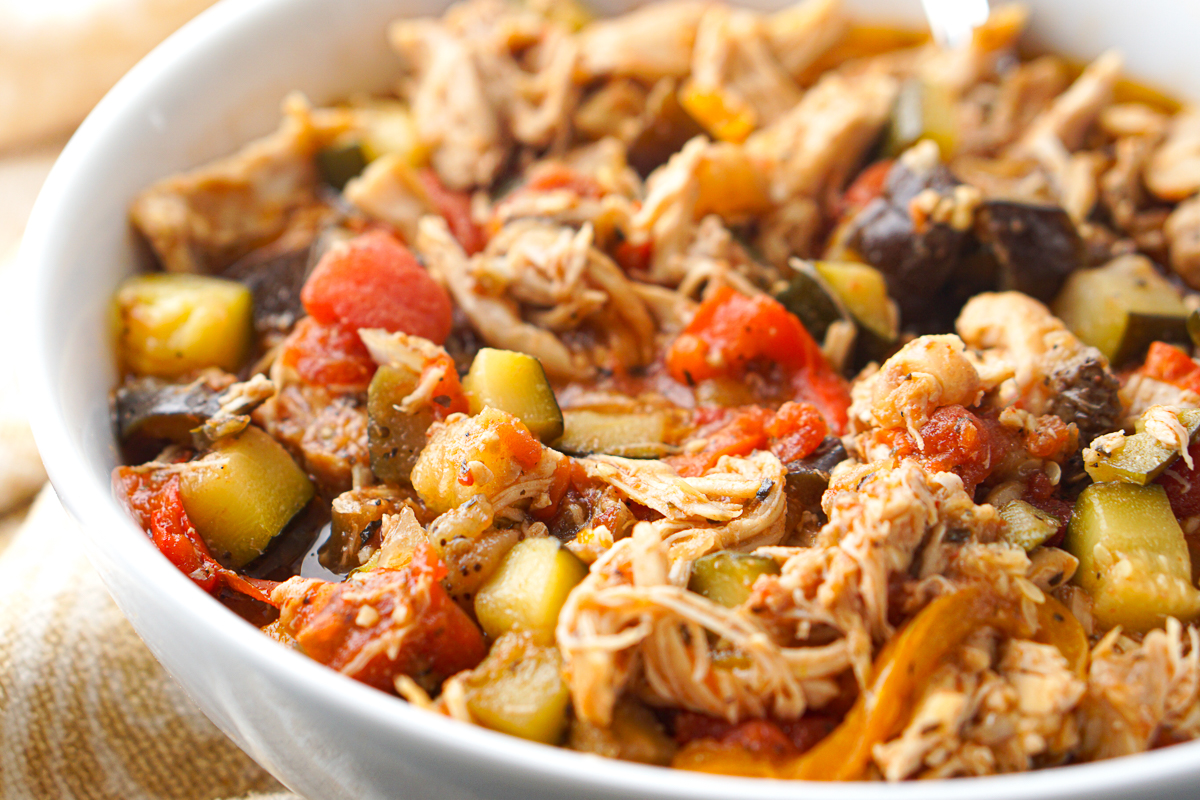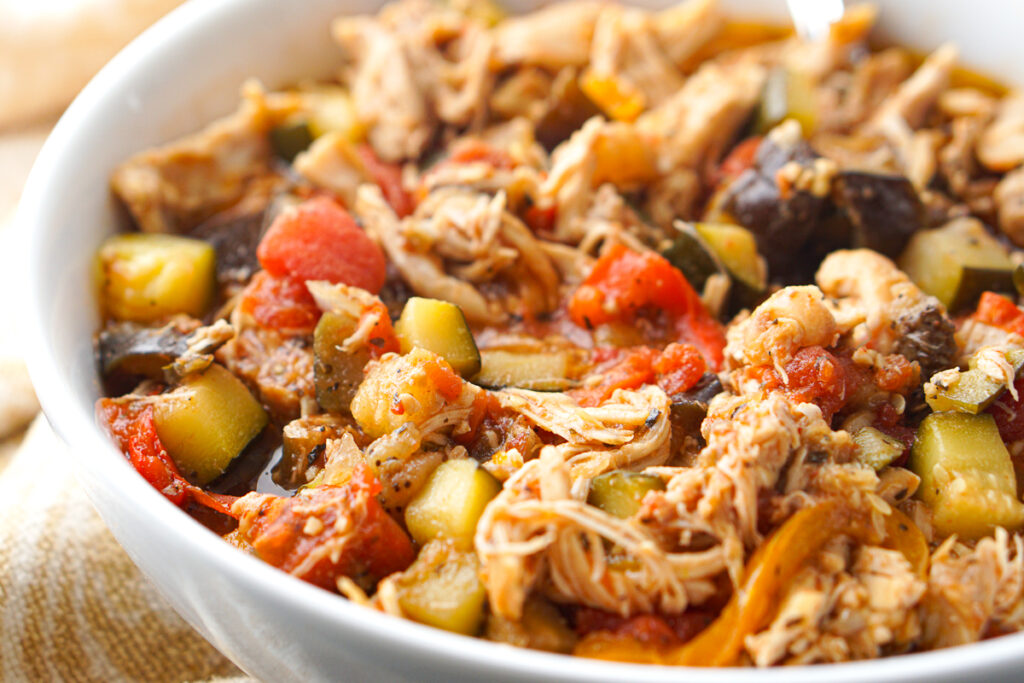 Recipe notes and tips.
I used chicken thighs but you could also use breasts if you wish.
I also used boneless, skinless chicken so I could shred it at the end. If you want you can keep the chicken as is and serve it separately from the ratatouille.
Better than Bouillon gives this an added flavor boost. You can substitute chicken bouillon if you don't have BTB.
At the end I shred the chicken a little bit and mix well. If it's still too watery for your liking, you can take the lid off the slow cooker and turn up the heat for 10 minutes.
You can eat this dish as is or serve it over rice or pasta. I like to grated Parmesan cheese over top sometimes.
If you want a little heat to the dish, you can add some hot pepper flakes before cooking or just on your own serving.
More easy slow cooker chicken recipes to try.
I have a lot of low carb recipes that I make in my slow cooker. Some of my favorite ones are this low carb bbq chicken and this very versatile salsa chicken recipe.
I also love making a whole roasted chicken in the slow cooker and then using the bones to make homemade broth. It's very economical and really tasty broth.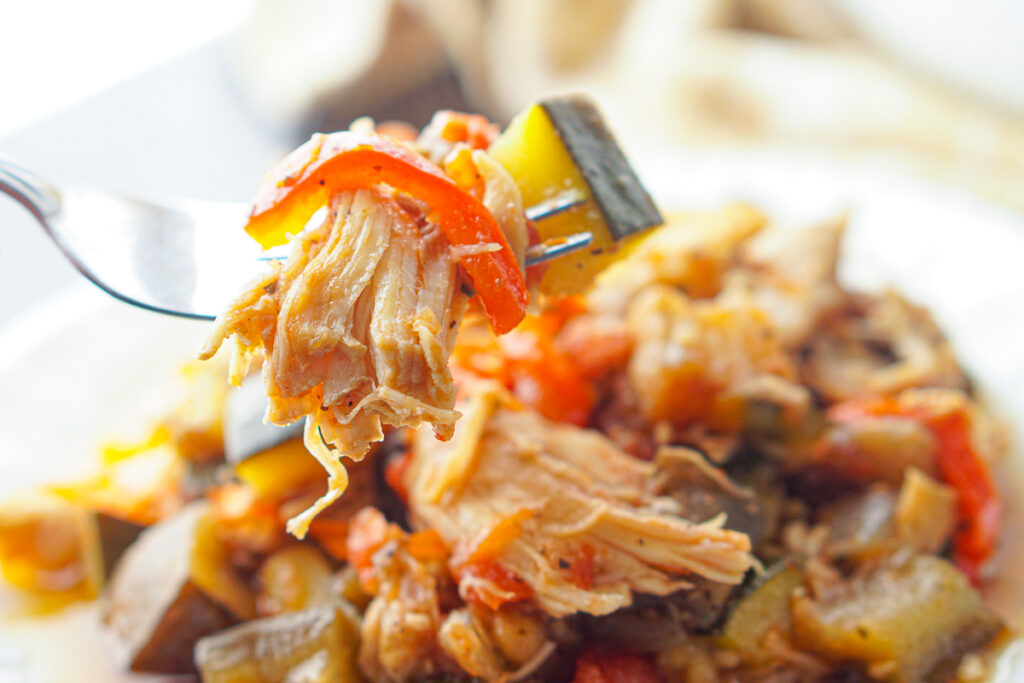 I hope you like this easy dinner recipe. It's a good way to eat more fresh vegetables. The nutritional information for 1 serving is:
131 cals / 8g fat / 10g carbs / 2.7g fiber /18g protein = 7.3g net carbs
PLEASE NOTE: I have updated this recipe to make it a bit lower in carbs and it ended up a bit more tasty! The changes I made were to use less onions and tomatoes and add tomato paste, bouillon and a little more spice.
Slow Cooker Chicken Ratatouille Recipe
Cook Time:
4 hours
3 seconds
Total Time:
4 hours
10 minutes
3 seconds
This slow cooker chicken ratatouille stew is a healthy and hearty dish that you can make in minutes. Server over rice or eat as is for a healthy and low calorie dinner!
Ingredients
6 chicken thighs, boneless, skinless
¼ cup onion, chopped
1 tablespoon olive oil
2 cups sweet pepper, chopped
2 cups eggplant, chopped
2 cups zucchini, chopped
4 cloves garlic, crushed
1 ¾ cup tomatoes, diced (1 can)
2 tablespoons tomato paste
1 teaspoon Better than Bouillon chicken base
1 teaspoon salt
½ teaspoon black pepper
1 teaspoon dried basil
½ teaspoon dried thyme
1 teaspoon onion powder
Instructions
Pour oil into the slow cooker and then add onions and ½ of the tomatoes.
Next put in your vegetables and nestle the chicken thighs on top. I like to chop my veggies into equal bite size pieces.
Add your garlic, spices, Better than Bouillon, tomatoe paste and tomatoes together and mix well.
Pour the tomatoe mixture over the chicken and place the lid on top.
Cook on high for 3-4 hours or on low for 6 hours. (times may vary depending on your slow cooker)
When done, shred the chicken a bit with two forks. Let it sit for a few minutes to absorb the liquid.
If you want to get rid of some of the excess liquid you can turnn it up to high and keep the lid off for about 10 minutes.
Serve over rice or eat as is.
Nutrition Information:
Yield:

8
Serving Size:

1
Amount Per Serving:
Calories:

131
Unsaturated Fat:

0g