This spicy barbacoa beef roast was a snap in the Instant Pot. Full of spicy goodness, it's perfect over rice for a delicious beef dinner. And you can make it in a slow cooker too!
You might also like this low carb Instant Pot balsamic beef recipe!
Sometimes we get in the mood for a spicy dinner. Often I'll make an Indian curry for me and my husband but my son doesn't really like them. So today I took a shot at a spicy barbacoa beef roast in my Instant Pot.
My thought was that Max could eat a quesadilla with a little of the spicy beef and surprisingly he did! I might have to make him try that Indian curry again. Anyway, this was so good with rice, avocado, cilantro and a squeeze of lime. You can eat it many different ways too like in a burrito or salad.
What is Barbacoa beef?
What I know about Barbacoa beef is what I get at Chipotle to be honest. Looking it up it seems that it's been adapted from different regions and now the mainstream term is a spicy and tender piece of meat often with onions and cilantro. Learn more about the origins of Barbacoa here. For me I'm using the term to describe this spicy shredded beef which you can use in tacos or rice bowls, much like at Chipotle.
Why I love the Instant Pot
I love using the Instant Pot because:
I didn't have enough time to make it in a slow cooker so it takes roughly an hour in the Instant Pot.
You can brown the meat and saute the veggies first and then pressure cook all in the same pot.
Once you put it in the pot you don't have to watch it so you can use that time to do something else. Really it's like a slow cooker on steroids. 😉
It keeps it warm until you eat it.
NOTE: By the way, it takes awhile for the Instant Pot to come up to pressure so when a recipe says it cooks for 40 minutes, it's more like an hour. Whenever I'm using the Instant Pot I count on having at least an hour before dinner which is really not too long.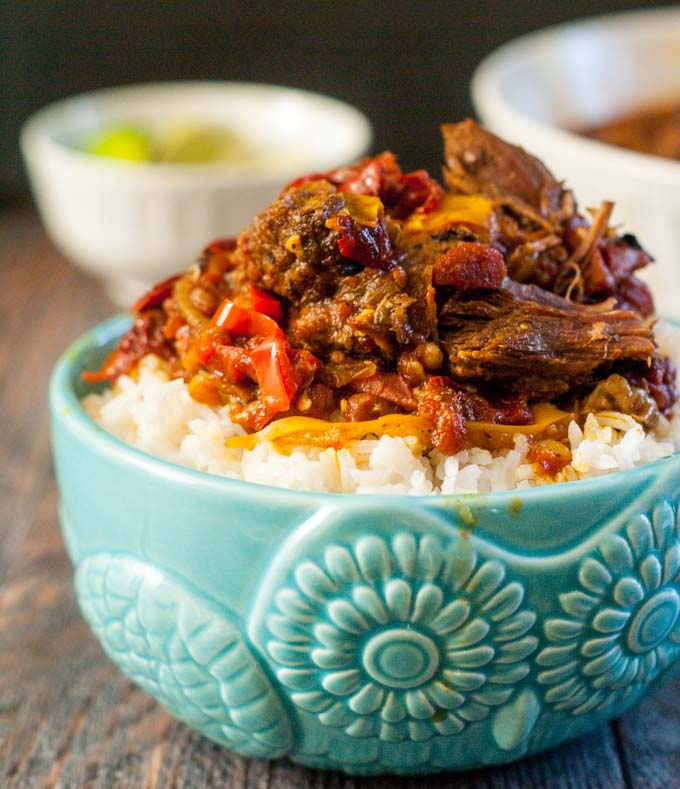 Spicy Barbacoa Beef Roast Recipe
As I've mentioned, this is very spicy. As in I used a lot of spices and rubbed them all over the meat. Then I browned the roast in the Instant Pot to seal in the juices and set it aside. Lastly I sauteed some onions and peppers before putting all the ingredients in the pressure cooker along with the meat and let it cook for 40 minutes or so.
NOTE: The meat will be tender at 40 minutes but not fall apart tender. If you like it to fall apart, cook it for 50 minutes in the pressure cooker.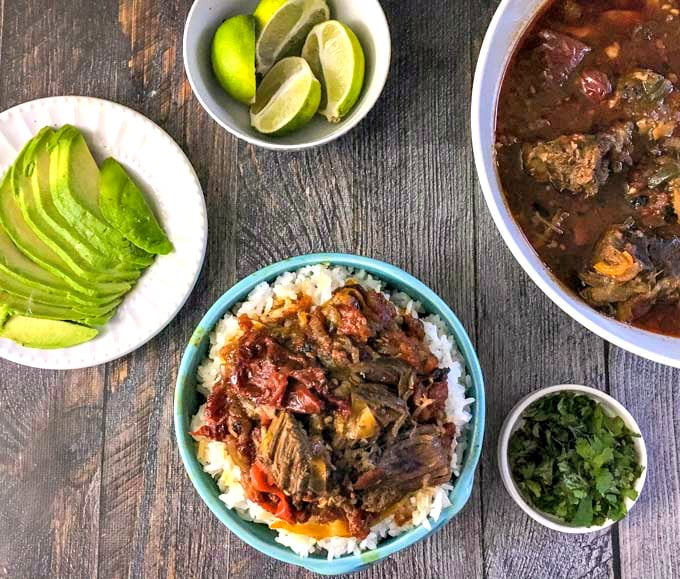 Barbacoa Beef In the Slow Cooker
You can make this spicy Barbacoa beef in the slow cooker too. Just rub the spices on the meat, brown on both sides in a hot skillet with a little oil. Then add everything to the slow cooker and cook on low all day.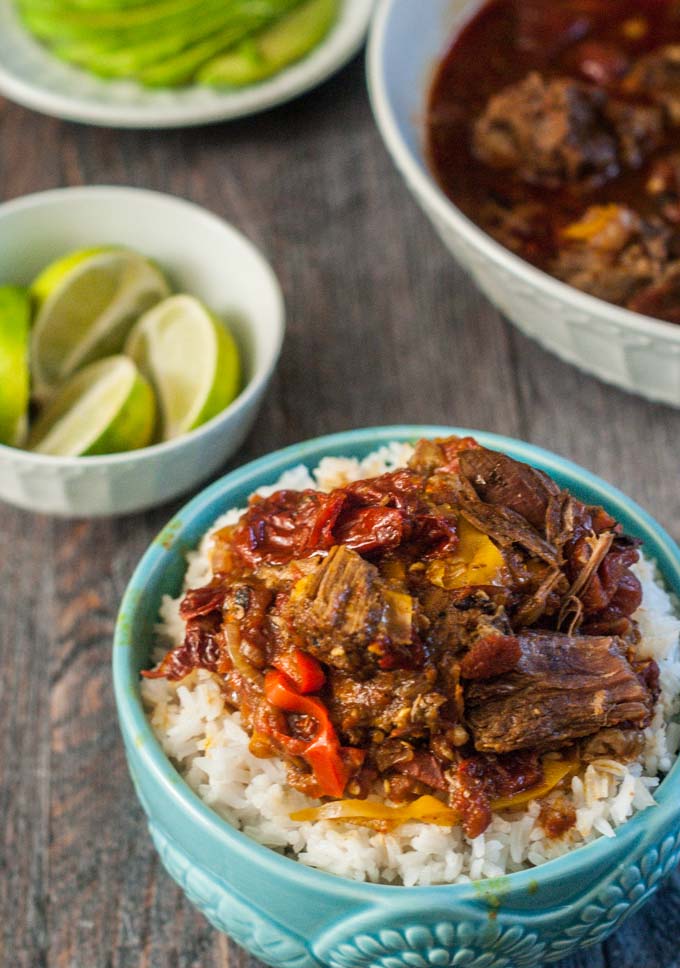 How to eat the shredded beef
We ate this over rice with a little avocado, cilantro and squeeze of lime. ( I meant to put the lime in the recipe but forgot and I found out it wasn't necessary).
You can also eat this in a burrito, quesadilla or even on top of a salad for a lower carb dinner. As I said it is spicy. To cut down on the heat, eliminate the jalapeño but we like it hot. I hope you enjoy this super tasty beef as much as we did.
Nutritional information for 1 serving:
344 cals / 20g fat / 13g carbs / 3.1g fiber / 32.3g protein = 9.9g net carbs
Spicy Barbacoa Beef Roast in the Instant Pot
This spicy barbacoa beef roast was a snap in the Instant pot. Full of spicy goodness, it's perfect over rice for a delicious beef dinner.
Cook Time
1
hour
20
minutes
Total Time
1
hour
30
minutes
Ingredients
1 1/2

lb

chuck roast

2

tablespoon

oil

1

teaspoon

salt

1/2

teaspoon

pepper

1

tablespoon

cumin

1

teaspoon

oregano

1

teaspoon

onion powder

1

teaspoon

chili powder

1

onion, sliced

2

teaspoons

crushed garlic

1/2

cup

broth

1 14

oz

can tomatoes, diced

1 7

oz

can chipotle peppers

2

cups

bell pepper slices (i used red and yellow peppers)

1

jalapeno, sliced (optional)

cilantro, lime and avocado, optional
Instructions
Push the saute button on the Instant Pot and adjust to put it on high.

Mix all the spices together in a small bowl and then rub all over the roast.

Add 1 tablespoon of oil in the pot and brown the meat on both sides. About 3 minutes each side.

Take out the meat and add the other tablespoon of oil and saute the onions for 2 minutes.

Add the rest of the ingredients, stir well and then place the roast on top.

Place the lid on and seal. Push the vent knob to the back.

Cancel the saute mode and then push the manual button for high pressure.

Adjust up for 40 to 50 minutes. (40 minutes will be more like a roast, 50 will make it fall apart)

Quick release or let come down from pressure naturally for more tender meat.

Serve over rice.

Add a squeeze of lime, cilantro and avocado on top if you wish.

Note: To make this in the slow cooker, rub the meat with the spices and then brown in a skillet for about 3 minutes on each side. Then place all the items in the slow cooker, mix and place the meat on top. Cook on low all day.