This keto Instant Pot chuck roast is flavored with balsamic vinegar, herbs and garlic. This tender pot roast recipe is a delicious and quick low carb meal. Full of flavor this is a great dinner for busy weeknights and can be made in the Instant Pot, slow cooker or stovetop. And it only has 2.5g net carbs.
You might also like this low carb balsamic marinated flank steak recipe!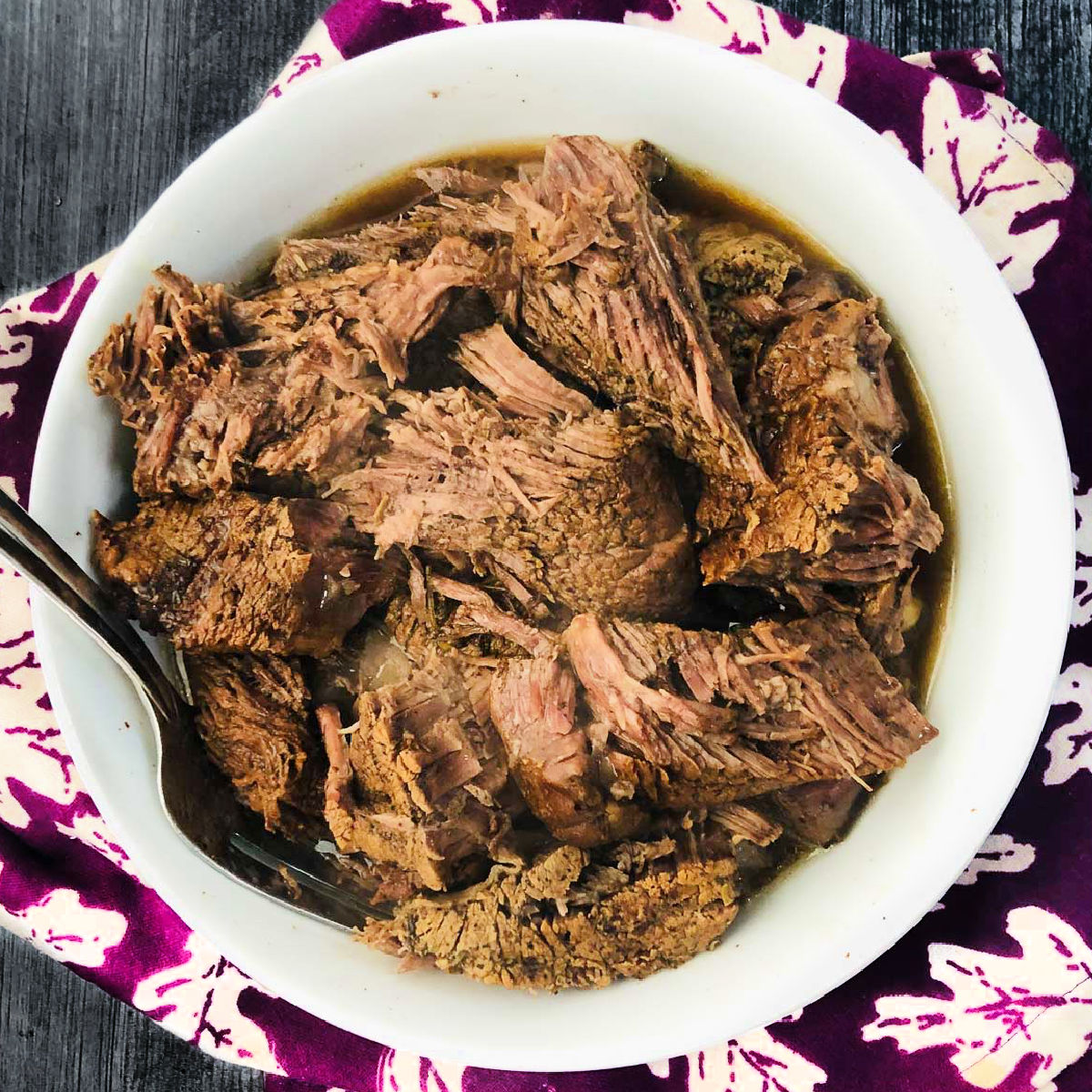 I love to make pot roast in the winter because it's warm and comforting and because I love to use my slow cooker to make the meat tender. Today I wanted to try it in the Instant Pot because it has a great saute feature and eliminates the need for a skillet to brown the meat.
An electric pressure cooker also takes less time than the slow cooker. So toady I made this Instant Pot chuck roast with a balsamic butter sauce. It was a big success! My son asked for seconds, my husband took the leftovers to work and even my father in law gave me the thumbs up (big praise from him).
This is a great meal for busy weeknights and it's naturally low carb for those on a keto diet! Just add a nice green salad and maybe some cauliflower mash and you have a hearty, healthy dinner.
Recipe ingredients I used.
I used roughly a 3 pound boneless beef chuck roast for this recipe. To season it I also used fresh garlic, balsamic vinegar, butter, salt, black pepper, rosemary, olive oil, thyme and beef broth.
The butter cuts some of the acidity of the balsamic vinegar and makes a nice sauce. It's more of a sauce than gravy though. To thicken it for a keto gravy, whisk in a ½ teaspoon of Xanthan gum or glucomannan powder which are low carb thickeners.
Is balsamic vinegar low carb?
Balsamic can be a great addition to your low carb diet and it has many health benefits. It's made form unfermented grape juice and has a deep rich flavor. It does have sugar (therefor carbs) in it where as most vinegars do not.
However you don't need to use much to add a lot of extra flavor to your recipes. The carb count can vary from brand to brand so check your labels. In this recipe we use 4 tablespoons and the brand I used was Priano from Aldi which has 2g net carbs per tablespoon.
So for this recipe we used 8g of carbs for the whole recipe. And since the other ingredients have little to no carbs it's no problem to use the balsamic vinegar.
Update for making roasts in the Instant Pot.
As I've been cooking more and more in the Instant Pot, I find that your basic 2-3 boneless pound chuck roast will take up to 70 minutes in the Instant Pot. I've taken out meat and put it back in again because they meat was too tough.
Recently I made this recipe and had that problem so I'm now using 70 minutes for recipes like this. If don't create tender meat it's not worth making, right? Here is the officially cooking time chart from Instant Pot.
The rough guide for large beef roasts is 20-25 minutes per pound of meat.
How to make an Instant Pot chuck roast.
Step 1: ress the saute function on the Instant Pot. Press the adjust button to high so that you can sear the meat.
Step 2: Cut the garlic into slivers, the cut slits into the meat all over and stuff with garlic slivers.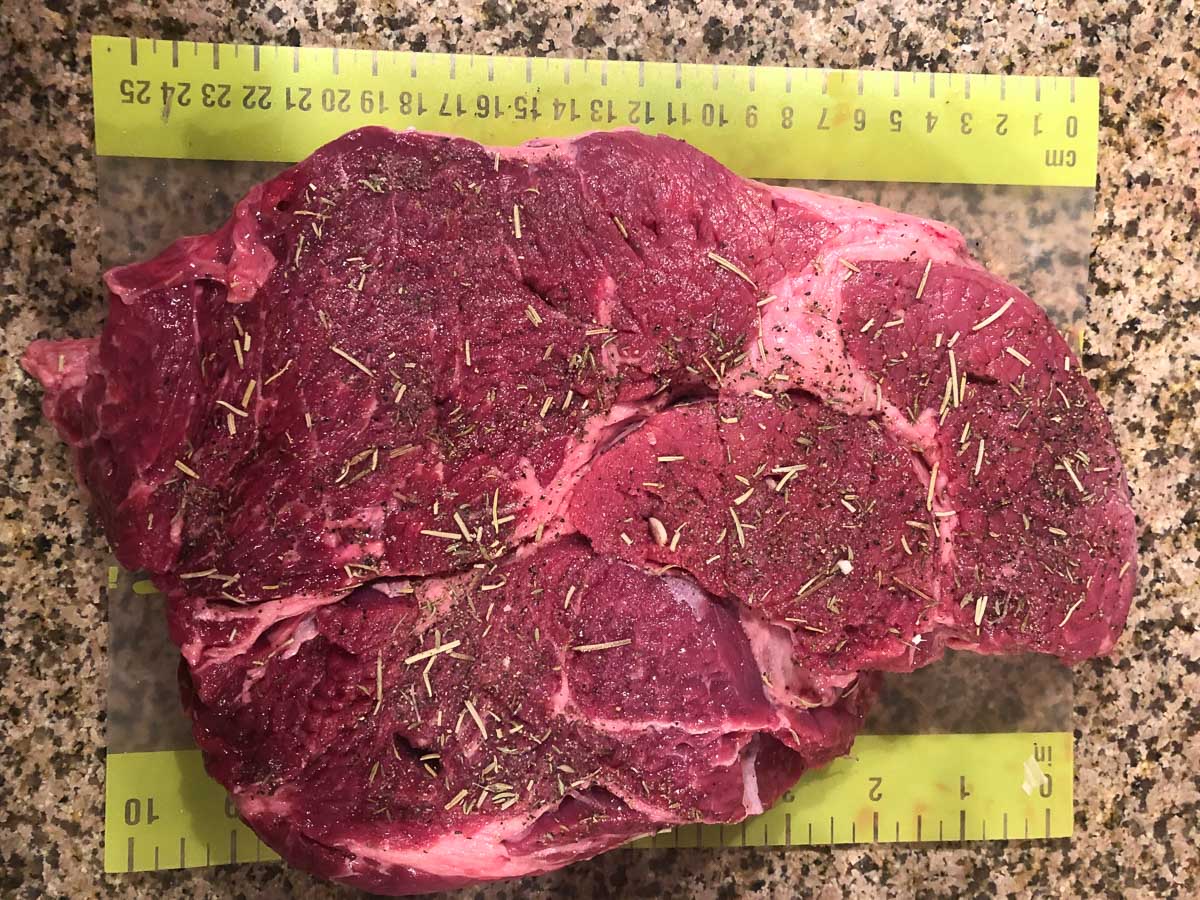 Step 3: In a small bowl, mix salt, black pepper, rosemary and thyme. Then rub seasoning all over the beef.
Step 4: When the pressure cooker is nice and hot, add the olive oil and place the meat inside. Sear it on both sides for about 5 minutes each side. Press the cancel button and then take it out and set aside.
Step 5: Add the butter, balsamic vinegar and broth to the pot. Deglaze the pot by scraping up the brown bits and mixing with the liquid. Place the roast back in the Instant Pot with the balsamic mixture. Secure the lid and push the pressure release valve to the back to seal. Hit the manual button to cook for 70 minutes.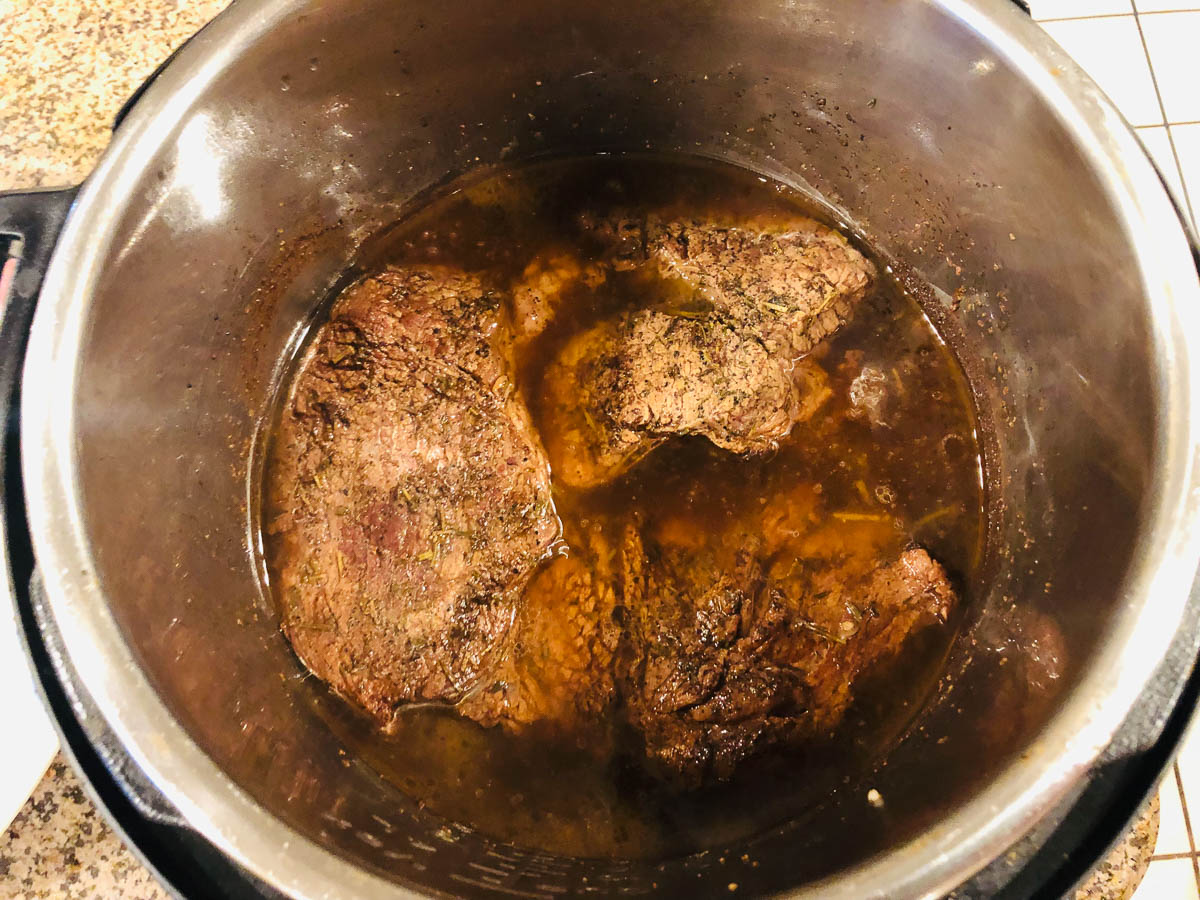 Step 6: When done you can either do a quick pressure release or a natural release and let it come down naturally. Take the lid off and transfer to a large serving bowl. You might want to slice or cut it up into smaller pieces.
You can add some fresh parsley for garnish to add some color. Store leftovers in an airtight container. Please scroll down to view the printable recipe card.
You can serve this keto friendly dish with any green vegetable and or cauliflower mash. I have many cauliflower rice recipes that are low carb and just take 10-15 minutes to make
To make this chuck roast recipe on the stove or in the slow cooker.
To make it on the stovetop you follow the same instructions except you are browning in a large dutch oven on the stove. You then deglaze it and pour the sauce over the meat. Cover and cook until the meat is tender.
A 3 pound roast can take put to 1 hour and 21 minutes to be medium (145°F internal temperature). Here is a good source for how long to cook beef roasts.
For the slow cooker, brown and deglaze in a large skillet and then put everything in the slow cooker for 8 hours on low. Here are all of my delicious slow cooker recipes if you are interested. And here all my Instant Pot recipes.
I was inspired to make this when I saw IBreatheImHungry.com's recipe for balsamic beef. By the way, she has lots of delicious low carb recipes if you are interested. I hope you like this as much as we did. The nutrition for 1 serving is:
Other roasts you can make in the Instant Pot.
The pressure cooker is a great way to make tender roasts in less time than it takes to in the slow cooker. I have quite a few low carb roast recipes that you might also like.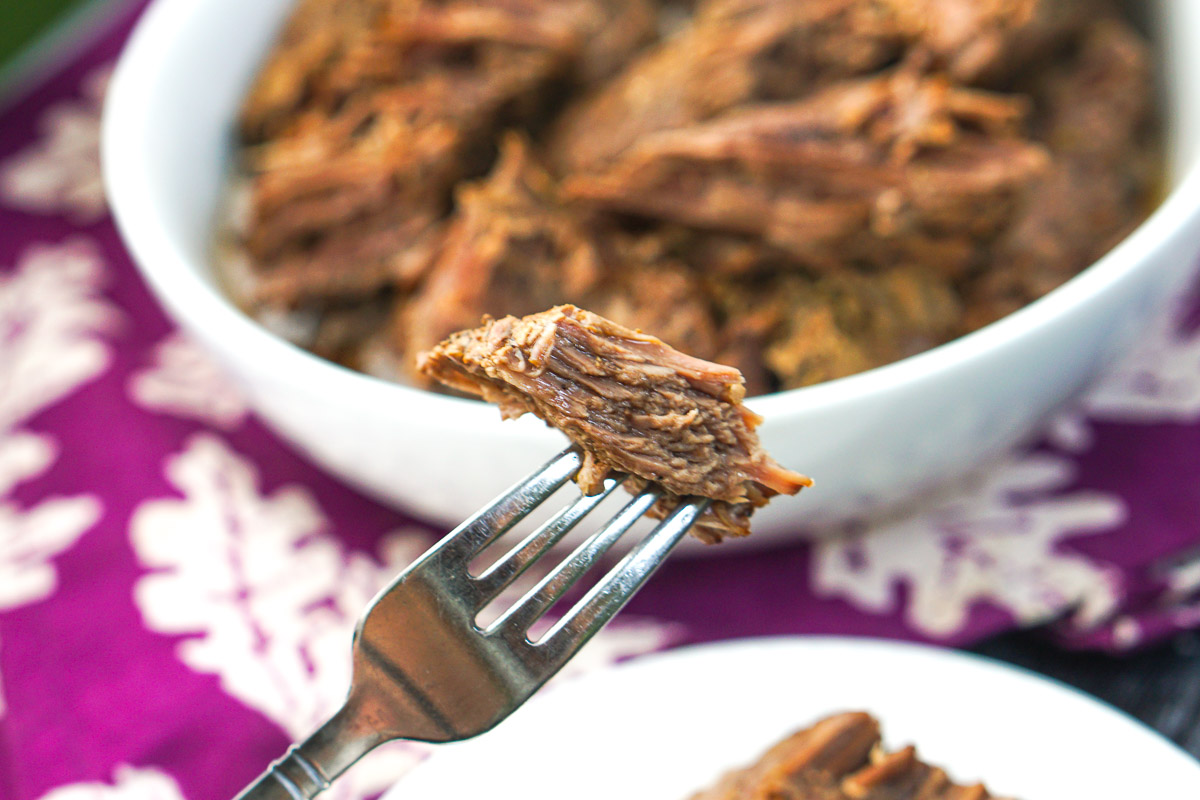 As I mentioned my family loved this Instant Pot chuck roast with balsamic recipe. If you have a roast in the freezer and some low carb vegetables you can make this comforting meal in about 2 hours. And most of that it's cooking on it's own. Enjoy!
539 cals / 34.1g fat / 2.6g carbs / 0.1g fat / 60.1g protein = 2.5g net carbs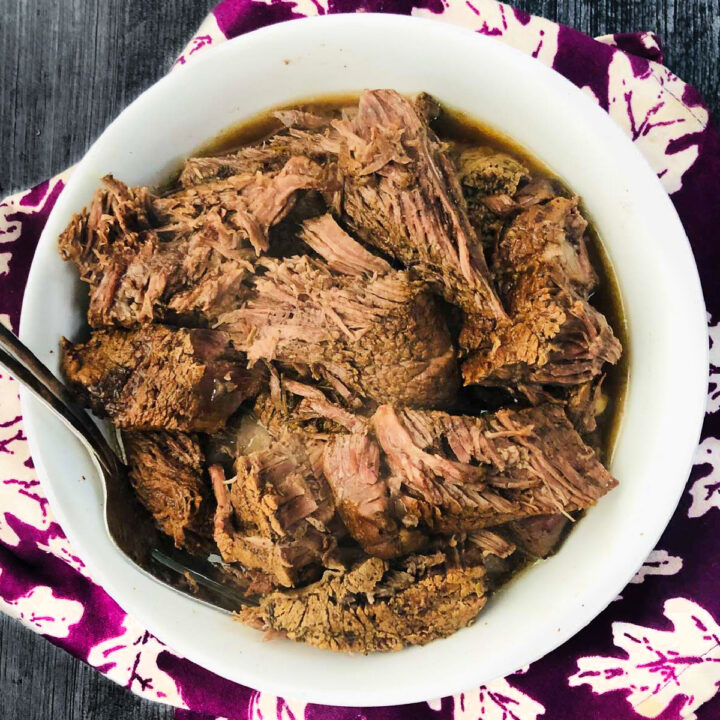 Keto Balsamic Beef (Instant Pot)
Cook Time:
1 hour
10 minutes
Total Time:
1 hour
15 minutes
This keto pot roast is a delicious and quick meal to make in the Instant Pot, slow cooker or stovetop. Easy, healthy, tasty and only 2.5g net carbs.
Ingredients
3 pounds beef chuck roast
3 cloves garlic, thinly sliced
1 tablespoon olive oil
1 teaspoon salt
½ teaspoon black pepper
½ teaspoon rosemary, dried
1 tablespoon butter
½ teaspoon thyme, dried
¼ cup balsamic vinegar
1 cup beef broth or beef stock
Instructions
Prepare the pressure cooker by pressing the saute button and then adjust to high heat so that you can sear the meat when it's ready.
Cut little slits in the roast and stuff the garlic slices in all over the roast.
Mix the salt, pepper, rosemary and thyme in a small bowl and then rub all over the roast.
When hot, add the oil and the roast. Brown on both sides about 5 minutes each.
Take out the roast and add the butter, balsamic vinegar and broth. Deglaze the pot by scraping up the browned bits and mixing with the liquid.
Place the roast back in the pot, secure the lid, push the pressure valve to sealing and cook for 70 minutes at high pressure.
When done, either do a quick release by turning the pressure know to vent or let it naturally depressurize.
Take off the lid and serve.
NOTE: You can make this on the stove. Follow the same instructions but when you cover to cook, it will take longer. Cook until the roast is tender. It will take approximately 1 hour and 21 minutes for it to reach the internal temperature of 145°F (medium).
To make in the slow cooker, follow the same instructions but brown the meat in the skillet and place in the slow cooker. Then deglaze the skillet with the balsamic vinegar, butter and broth. Pour over the roast and cook on low for 6-8 hours.
Nutrition Information:
Yield:

6
Serving Size:

1 serving
Amount Per Serving:
Calories:

549
Unsaturated Fat:

0g