This easy cheddar keto cauliflower mash using cream cheese is creamy and delicious. It just need a couple of ingredients and takes less than 15 minutes to make. It's an easy and tasty low carb side dish and perfect keto comfort food. Best of all it only has 101 calories and 2.9g net carbs per serving!
You might also like this keto loaded mashed cauliflower.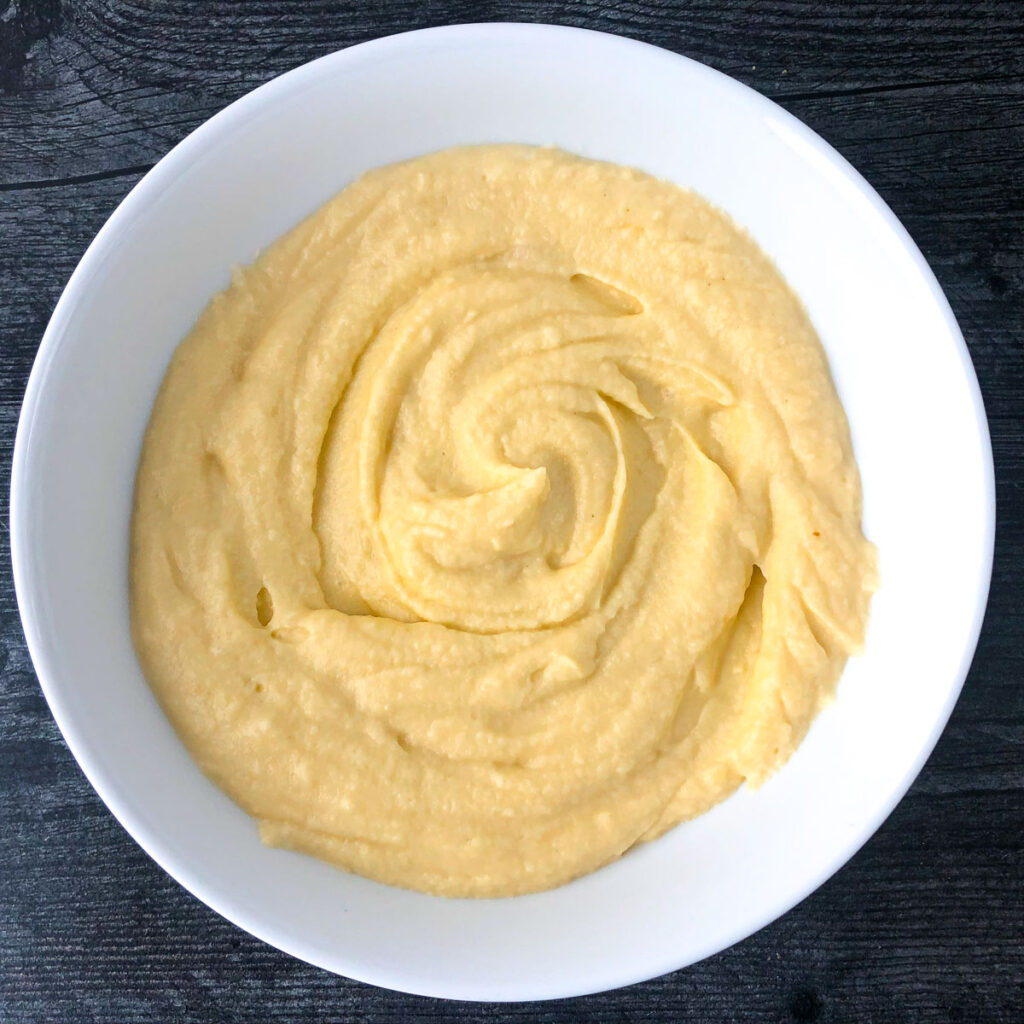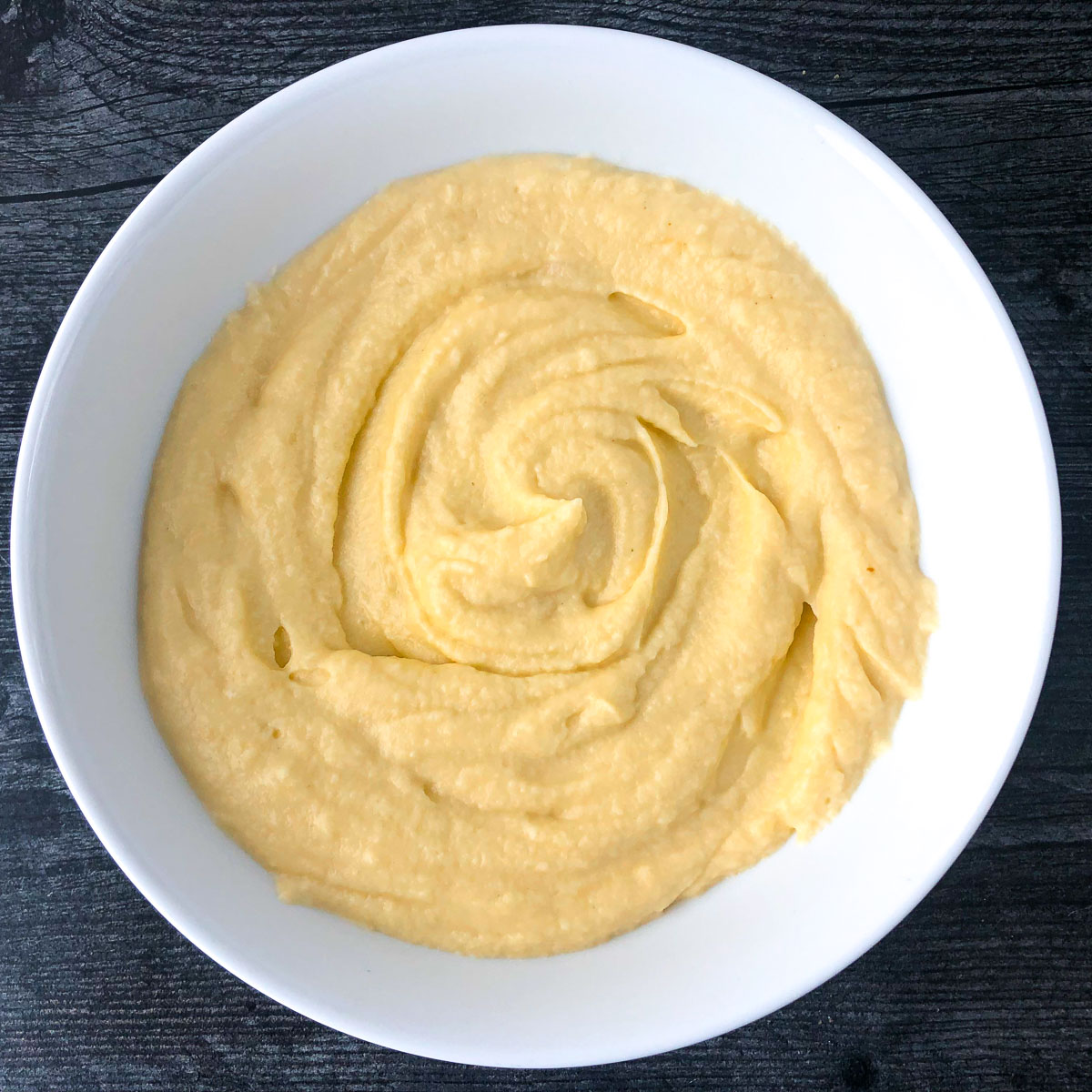 Sometimes as a food blogger you forget about the simple side dishes when having a roast dinner. I made a smoked prime rib for a new post and didn't want to make mashed potatoes so I made these easy keto cauliflower mash with cheddar cheese.
I haven't made mashed cauliflower in quite a long time and so I forgot how easy and yummy they are. This simple recipe just used 3 ingredients and with a few cooking tips you can also make this super creamy and flavorful faux mashed potatoes.
This is such good keto comfort food for anyone on a low carb diet and it takes just 15 minutes. Plus it's a very versatile side dish and you can add even more flavors if you wish. But as it is this recipe has amazing flavor.
The 3 recipe ingredients I used.
You only need need 3 simple ingredients which are fresh cauliflower, whipped cream cheese and good cheddar cheese.
I like to use raw cauliflower because it just seems to have better texture and less moisture than frozen but if you don't have anything else you can use frozen.
The whipped cream cheese had a bit less carbs and seemed to give this recipe a creamier texture than block cream cheese but of course if you don't have that you can use regular.
Lastly I bought a block of sharp cheddar cheese and hand grated it with a microplane. It made light shreds of cheddar that melted perfectly into the mash and it just tastes better than packaged shredded cheddar.
How to make keto cheddar mashed cauliflower.
Step 1: First you have to chop the cauliflower and place in a microwave safe bowl.
I like to rinse the cauliflower while in the bowl and pour off excess water. There will still be a bit of water than clings to the cauliflower and that helps steam it in the microwave.
Step 2: Cover the bowl with a piece of plastic wrap and place the bowl into the microwave. Cook for 9-10 minutes until tender. Take it out and let cool for a few minutes. Note cooking time will vary depending on how big your cauliflower pieces are.
Step 3: Place the cooked cauliflower into the container of a high speed blender like a Vitamix if you have one. Add the cream cheese and blend mixture until they are well combined and lightly mashed like the photos below.
Depending on the size of your blender, you may have to do this in batches.
Step 4: Lastly add the hand shredded cheddar cheese to the mixture. You can also season with salt and black pepper at this point. Blend on high until nice creamy and smooth consistency.
If you don't have a high speed blender you can also use a food processor or even immersion blender but it might not give you as creamy texture as the blender.
Step 5: Spoon the mixture into a medium bowl and serve. You can play around with the texture by how long you blend it and how much water comes from the cauliflower. Note that this makes 4 small side dish servings. It's pretty decadent and the small size should be fine.
Store leftovers in an air tight container in the refrigerator for up to 3 days. (Please scroll down to view the printable recipe card.)
You can vary the flavors by using white cheddar or different cheeses like gruyere or asiago cheese. Try adding roasted garlic, fresh herbs or spices.
You can even substitute sour cream for the cream cheese or top with bacon bits. This is a basic recipe that you can make your own.
Keto main dishes to go with this low carb side dish.
We ate this cauliflower mash with a smoked prime rib I made (recipe coming soon!). So this mash would be the perfect side dish to go with any kind of roast or meaty main dish like this slow cooker whole chicken or glazed ham.
Here are a few other keto main dishes that you might like.
Other tasty keto cauliflower dishes to try.
I use cauliflower as a substitute for potatoes quite often and my favorite low carb cauliflower recipes are these roasted cauliflower Gruyere mash, loaded smashed cauliflower bites, cauli tater tots and my favorite cauliflower au gratin.
This was a really simple but tasty keto cauliflower recipe and it would be a perfect substitute for mashed potatoes. It's pure keto comfort food and so easy to make that I hope you give it a shot.
The nutritional information for 1 serving is: 101 calories / 6.8g carbs / 5.8g carbs / 2.9g fiber / 5.5g protein = 2.9g net carbs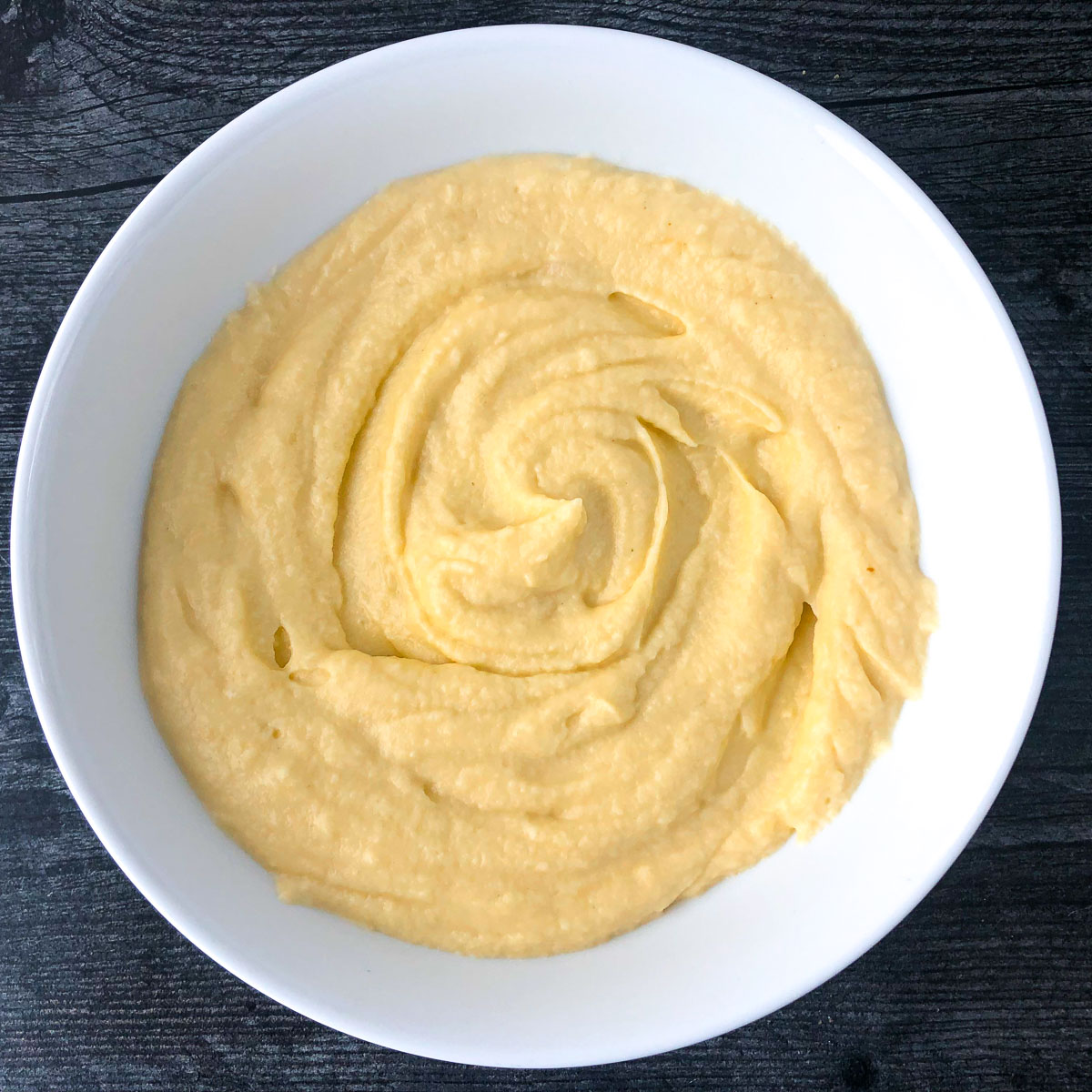 Easy Cheddar Keto Cauliflower Mash Recipe
For an easy and tasty keto side dish, try this cheddar keto mashed cauliflower using cream cheese. This recipe is the best substitute for mashed potatoes and just takes 15 minutes to make!
Ingredients
4 cups raw cauliflower florets
2 tablespoons cream cheese (preferably whipped)
2 oz cheddar cheese
½ teaspoon salt
Instructions
Chop up cauliflower into florets and add ot a large mixing bowl. Rinse with water in the bowl and pour out excess water. The wet cauilflower will help create steam int the microwave.
Cover with plastic wrap and microwave for 9-10 minutes until fork tender.
Take out of the microwave and let cool for a few minutes. Then place florets into a high speed blender.
Next add in the cream cheese and blend until well mixed
Lastly add in the cheddar cheese and salt. Blend on high until nice and creamy.
Notes
Raw cauliflower seems to have better texture and less moisture than frozen but if you don't have anything else you can use frozen.
Using whipped cream cheese had a bit less carbs and seemed to blend better than block cream cheese but of course if you don't have that you can use regular.
I also prefer a block of sharp cheddar cheese and hand grated it with a microplane. It makes light shreds of cheddar that melted perfectly into the mash and it just tastes better than packaged shredded cheddar.

The nutritional information for 1 serving is: 101 calories / 6.8g carbs / 5.8g carbs / 2.9g fiber / 5.5g protein = 2.9g net carbs
Nutrition Information:
Yield:

4
Serving Size:

1
Amount Per Serving:
Calories:

101