This easy herb & garlic lamb shoulder in the slow cooker recipe is the perfect meal for the holidays. The herbs & garlic add so much flavor to both the lamb and the vegetables. And when this meat is made in the slow cooker or crockpot it frees up time to you can celebrate with your loved ones.
You might also like garlic rosemary lamb made in the Instant Pot!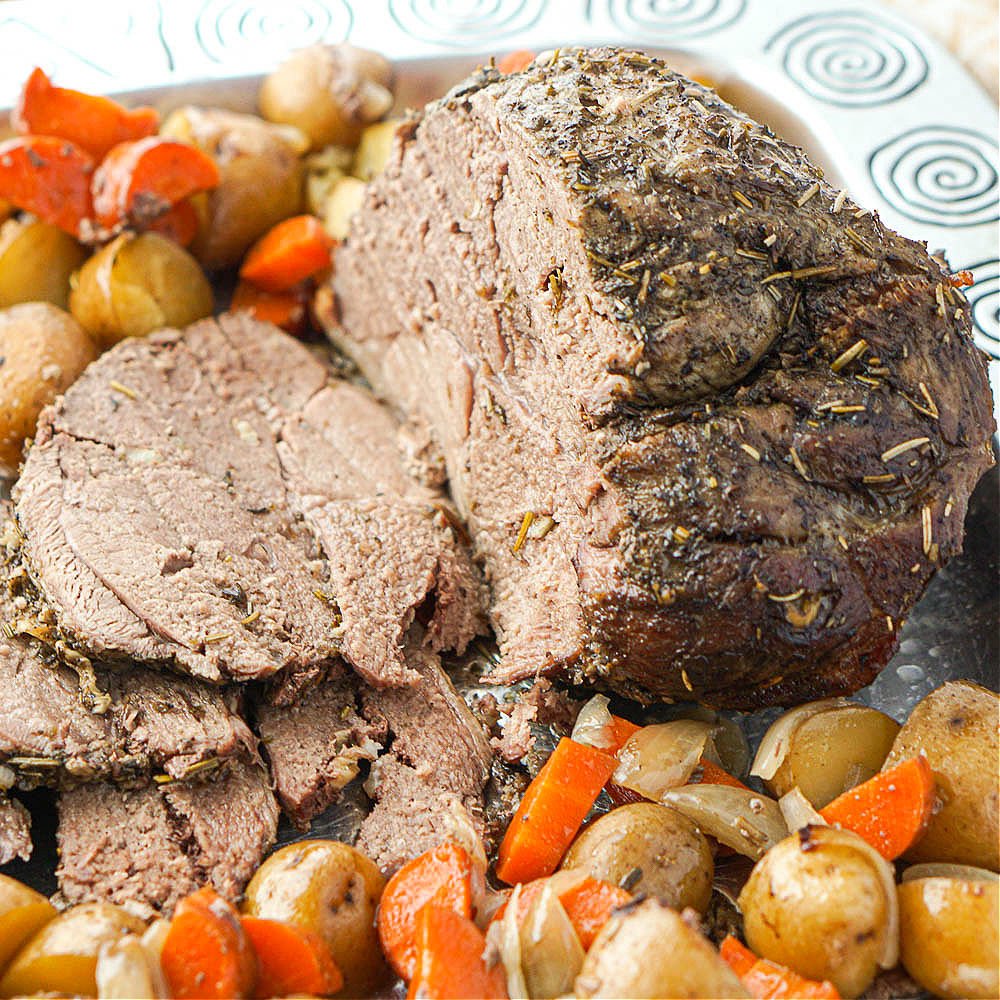 I must confess I'm not a huge lover of lamb. I love it when it is cooked on a spit but not chewy lamb chops. That is why I make my lamb roast in a slow cooker or crock pot. It reminds me of how my grandma used to make roasts.
She would stud the meat with garlic and herbs and cook them all day until they were tender. So that is why I made this herb & garlic lamb roast is all about. It's studded with garlic, rubbed with herbs and cooked all day in the slow cooker until it's tender and delicious.
I like to make pork roasts like this too. I have a garlicky pork roast that we eat all the time. It's a less expensive meat to make and we use it for burritos, tacos and quesadillas. However pork is not lamb. Lamb is something special and reminds me of special occasions. So when I saw that Aldi has lamb roasts I had to try it.
Preparing the lamb roast and ingredients I used.
For this recipe the ingredients I used were garlic cloves, olive oil, salt, pepper, oregano and rosemary to season the meat. This just takes a few minutes to do.
The garlic is used to stuff the meat and the herbs and olive are used to make a paste that's rubbed all over the lamb.
You can use vegetables like potatoes, carrots and onions along with the meat for a full meal. Place the vegetables in the slow cooker first and then the lamb.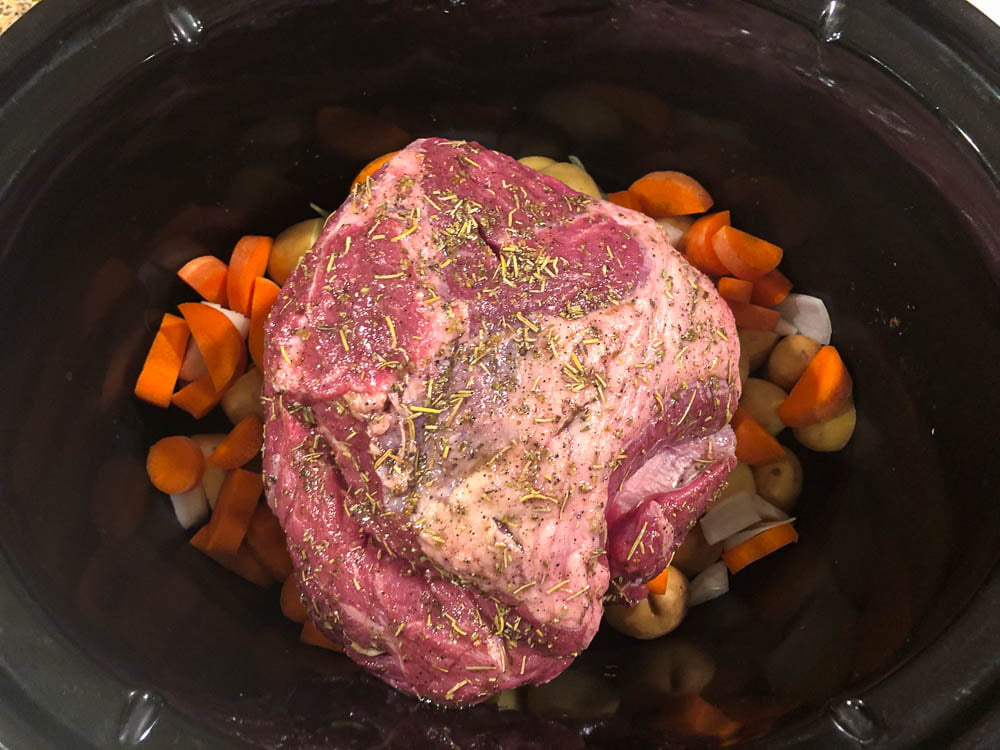 How to cook a lamb shoulder in the slow cooker.
This is a pretty easy recipe. Just a few steps and a couple of minutes to get it going in the morning and it will be done for you in the evening for dinner.
Take 5 cloves of garlic and slice them thinly into slivers.
Then cut little slits all over the roast and stuffed the garlic slivers in to the holes.
Make a paste of the herbs, spices and olive oil and rub it all over the lamb.
You can add any kind of vegetables you like to your slow cooker and then just rest the roast on top. I used potatoes, carrots and onions.
Cook it all day on low (about 8 hours) in the slow cooker for a tender and flavorful roast dinner. Or you can cook it on high and it will be done in approximately 5 hours. Cooking times may vary depending on the size of your roast.
What cuts of lamb works best in the slow cooker?
I would not make a rack of lamb or lamb chops in the slow cooker. They are more tender than other cuts and usuallymore expensive. What I did use was a lamb shoulder roast. It takes awhile to get tender so this makes it the perfect cut for a slow cooker.
To learn more about cuts of lamb, check this article from Jamie Oliver.
What to serve with this slow cooker lamb shoulder.
If you are using vegetables in the crockpot along with the meat you would just need a nice salad for a full meal. However this festive pomegranate and quinoa, potatoes and Brussels sprouts with bacon or wrapped asparagus with goat cheese are all easy and yummy dishes.
I'm keeping this recipe around for Easter when the weather is better but still cool and you want a special warming dinner. It just takes minutes to season the meat and about 5 hours to cook for a delicious and special meal. Enjoy!
For more lamb recipes check out these posts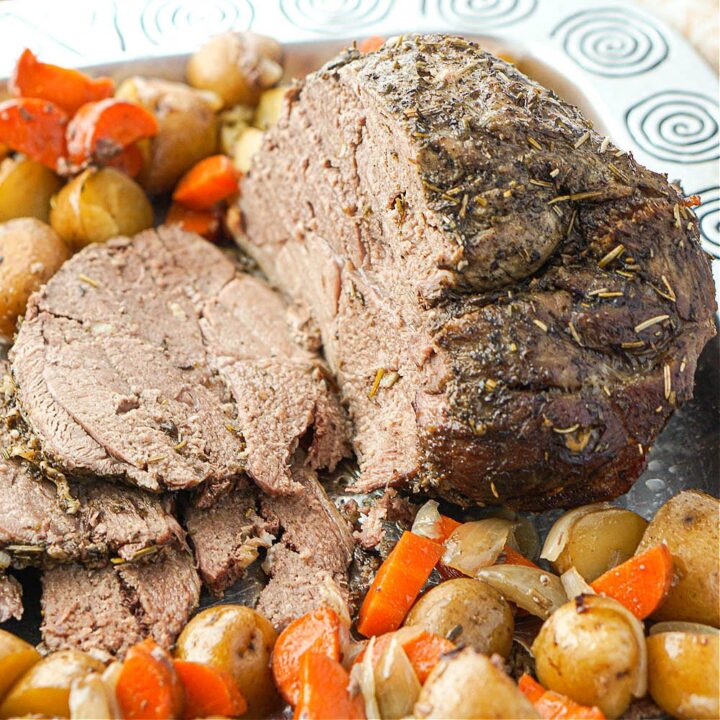 Easy Slow Cooker Lamb Shoulder Recipe
Total Time:
8 hours
10 minutes
This is the time of year to make a nice slow cooker herb garlic lamb roast. Easy to make and the perfect way to celebrate the holidays with loved ones.
Ingredients
3 lb lamb roast (I used a shoulder)
5 cloves garlic, thinly sliced
2 tablespoons olive oil
1 teaspoon salt
½ teaspoon pepper
1 teaspoon oregano
1 teaspoon rosemary
Instructions
Take the roast and cut little slits in it and stuff the garlic slivers into the holes.
Make a paste with the olive oil, herbs and spices and rub all over the lamb roast.
If you using vegetables, cut them and place in the slow cooker. I used carrots, onions and potatoes.
Put the lamb roast on top, cover and cook on low all day (about 8 hours) Or cook on high for 5 hours.
Cooking times may vary depending on the size of your roast and your slow cooker. Just check to see if it's tender and to your liking. I cooked mine on high for 5 hours and it was perfectly tender for us.
Nutrition Information:
Yield:

6
Serving Size:

1
Amount Per Serving:
Calories:

630
Total Fat:

42g
Saturated Fat:

16g
Trans Fat:

0g
Unsaturated Fat:

22g
Cholesterol:

211mg
Sodium:

503mg
Carbohydrates:

1g
Fiber:

0g
Sugar:

0g
Protein:

58g