This holiday pomegranate quinoa pilaf is an easy side dish to whip up and tastes fantastic. Perfect for a healthy, holiday celebration.
You might also like this low carb loaded mashed cauliflower dish!
Every year when pomegranates are in season, I buy a few for my hubby. He likes to watch tv and carefully break up the fruit and eat the seeds one by one. I watch him and remember doing the same thing when I was a little girl yet I haven't had a pomegranate in years. Until this year. I cracked one open and it was like being a little girl again; it was delicious! So I wanted to make something festive that I could take to a holiday celebration this year with the pomegranate seeds and I came up with this holiday pomegranate quinoa pilaf.
I loved this dish. I ate it for 3 meals in a row. I'm not even sure I gave my husband any to try. For me the pomegranates and pine nuts made it. Or maybe it was the goat cheese. Regardless the combination of sweet, tart, crunchy, nutty, tangy, chewy all went together perfectly and the green and red colors made it even more festive.
Holiday Pomegranate Quinoa Pilaf
This recipe really takes no time at all if you have already cooked quinoa. I always make a big batch of it and use it throughout the week or I freeze it. We've been eating a lot of quinoa lately like this vegetable quinoa pilaf and this buffalo chicken quinoa skillet. I even have a breakfast quinoa recipe coming up next week. It's my new grain of the moment.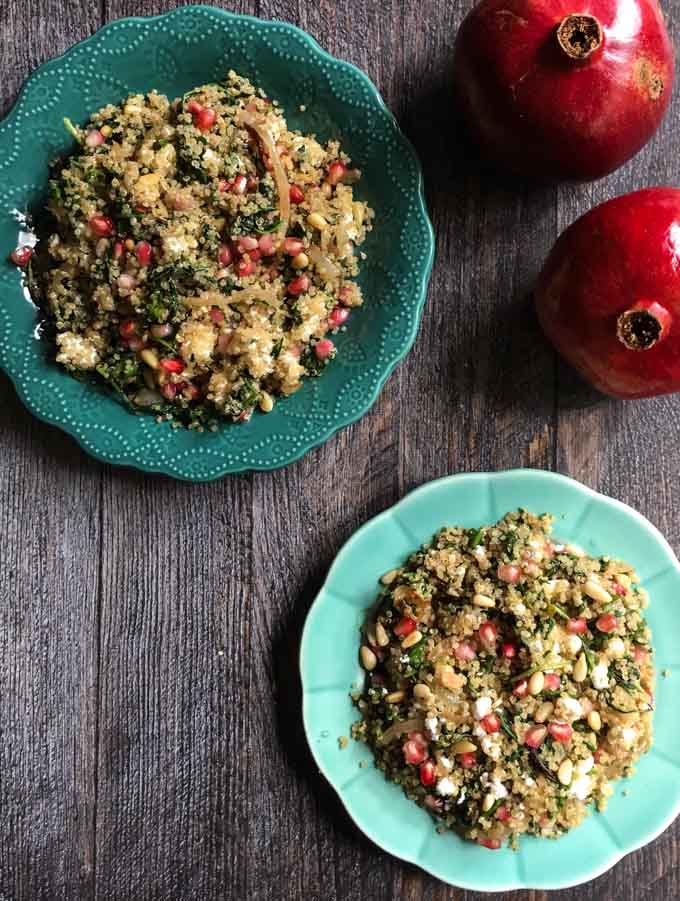 To make this dish, you saute the onions, garlic and greens in some olive oil. The greens I got from Aldi and they were a combination of baby swiss chard, kale, arugula and spinach. It was perfect for this dish. The onions take a few minutes to soften but the greens only take a minute or two to wilt. Then you add your quinoa and mix well and cook for a few more minutes. Lastly you take it off the stove, mixing the pomegranate seeds, pine nuts and goat cheese. And there you have it.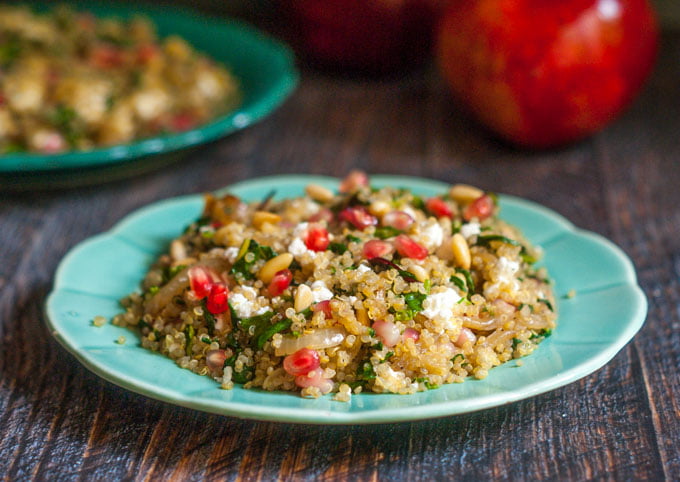 This would also be a great salad too. If you added a bit of lemon and olive oil it would be perfect served cold. If you don't have crumbled goat cheese you could substitute feta cheese. I really enjoyed this dish and I hope you do too. I can't wait to make it again and this time I promise to share it with my hubby. 😉
Holiday Pomegranate Quinoa Pilaf
This holiday pomegranate quinoa pilaf is an easy side dish to whip up and tastes fantastic. Perfect for a healthy, holiday celebration.
Ingredients
2

cups

quinoa

cooked

4

cups

greens

chopped

½

onion

thinly sliced

2

Tablespoons

oil

½

cup

goat cheese

crumbled

¼

cup

pine nuts

toasted*

½

cup

pomegranate seeds

1

teaspoon

garlic

crushed

½

teaspoon

salt

¼

teaspoon

pepper
Instructions
In a large saute pan, add your oil and onions.

Cook until the onions are translucent and a little brown. About 5 minutes.

Add the garlic, salt, pepper and greens and saute for a minute or so to wilt the greens.

Add the quinoa and cook for another minute or two.

Take off the stove and mix in the pomegranate seeds and pine nuts.

When it has a cooled a bit, add in the cheese and mix well.

*Note* To toast the pine nuts, add to a dry skillet and brown over medium low heat. This should only take a couple minutes. Watch that they don't burn.