This keto loaded cauliflower mash is a delicious low carb side dish. A great keto substitute for mashed potatoes, this mashed cauliflower is full of flavor and it's topped with cheese and bacon. With only 6 ingredients you can easily make this mashed cauliflower and it only has 3.6g net carbs per serving.
You might also like this low carb cheesy cauliflower casserole recipe.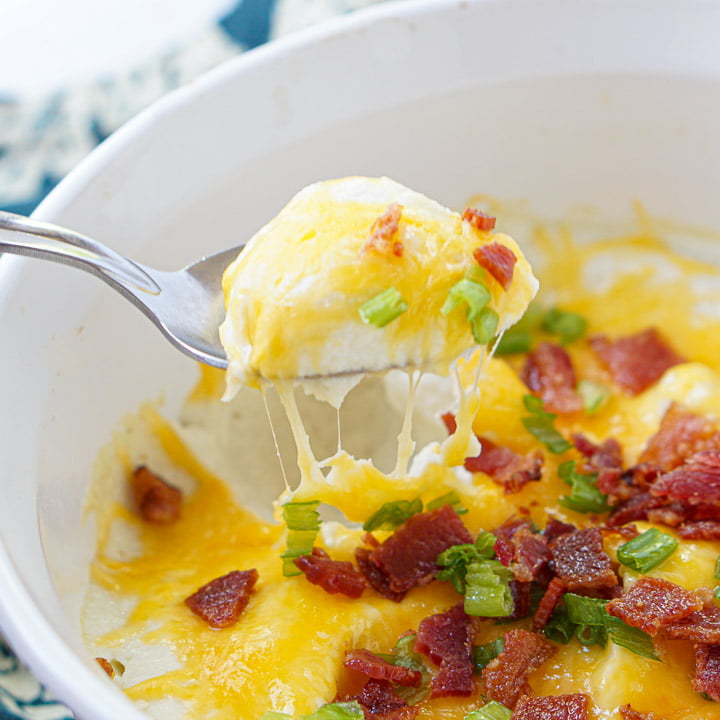 With the holidays coming up, I wanted to think of some low carb recipes I could serve or bring that everyone would like. In other words something that wouldn't make the guests say, "oh is that a low carb dish?"
I remembered my mom used to make a twice baked potato casserole that wasn't low carb but very delicious. This keto loaded cauliflower mash is a based on my mom's dish and turned out fantastic!  It is cheesy, creamy and full of salty bacon with only 3.6g net carbs.
More low carb cauliflower recipes
You probably have guessed that I am a cauliflower fan. I have a 10 awesome cauliflower recipes post to prove it! I'm to the point now where I like mashed cauliflower just as much if not more than mashed potatoes and have used it differently in many of my recipes.
Here are a few of my favorite keto cauliflower recipes.
Loaded Mashed Cauliflower Ingredients
When my mother made loaded mashed potatoes, she added French onion dip and cheddar cheese to her potatoes. For this cauliflower mash I use French onion dip, cheddar cheese, cream cheese, chives, bacon and of course cauliflower. All those cheeses and bacon are what make this cauliflower casserole loaded!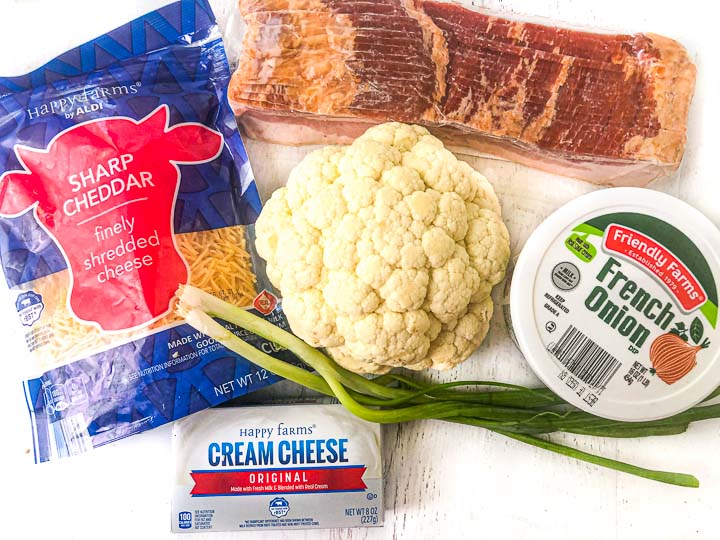 Let's make some Cauliflower Mash
You start by cooking the cauliflower in the microwave for about 15 minutes. You want the cauliflower to be fork tender. Then add the cauliflower to a high speed blender like my Vitamix along with the onion dip and cream cheese. The onion dips give the cauliflower mash tons of flavor. 
Next you sprinkle the cheddar cheese on top and place the loaded cauliflower casserole in the oven.
Bake it for about 10 minute until the cheese is nice and melty. Then take it out of the oven and sprinkle the bacon and chives on top.
So like my mother's twice baked potato casserole, this is a twice baked cauliflower casserole … but with bacon!!
My only complaint with this dish is that it took a whole head of cauliflower to make this batch. I could eat two helpings of this myself. My husband loved it so much there were no leftovers. 🙁
I hope you give this loaded cauliflower mash a try and maybe even make it for a holiday dish. It really is a great substitute for mashed potatoes. I think you and your guests will love it!
Nutritional information for 1 serving:
122 cals/ 8.6g fat / 5.5g carb / 1.9g fiber / 6.8g protein = 3.6g net carbs
Loaded Mashed Cauliflower Casserole
This loaded mashed cauliflower casserole is a delicious low carb side dish for the holidays. Only 3.6g net carbs per serving.
Ingredients
1

head of cauliflower

cut into florets and pieces

2

pieces

of thick bacon

crumbled

3/4

cup

cheddar cheese. shredded

2

tablespoons

fresh chives

minced

2

tablespoons

French onion dip

ready made

1/2

teaspoon

salt

1

oz

cream cheese
Instructions
Preheat oven to 350 degrees F.

Add the chopped up cauliflower to a large bowl and microwave for 15 minutes.

While that is cooking, make your bacon and chop your chives.

When the cauliflower is done, add it to a high speed blend along with the onion dip, salt and cream cheese. You may have to do this in two batches.

Add the mashed cauliflower to a baking dish. If working in batches mix everything well and then top with cheese. Bake for about 10 minutes or until the cheese is nice and melted to your liking.

Take it out of the oven, top with crumbled bacon and chives.

Serve immediately.