Enjoy all the comforts of a cheesy scalloped potato dish using cauliflower instead! This cheesy scalloped cauliflower is only 4.5g net carbs.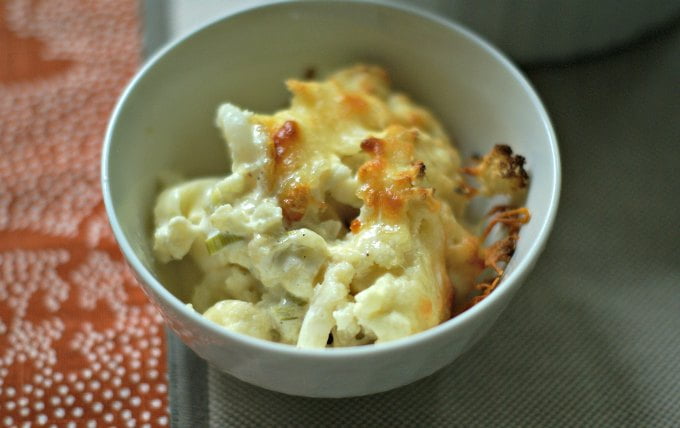 Winter is coming. Not only to Game of Thrones but to Pittsburgh as well. And with the fall and winter weather approaching I've already started making casseroles and roasts and soups and stews. To me there is nothing better than a good cheesy, rich casserole to warm your hearts and bellies on a cold winter day. However since I like to keep the carbs down, I forgo the rice, pasta and potatoes and use substitutes. I still use the cream, butter and cheese though! Especially in this creamy, cheesy scalloped cauliflower casserole.
I have to be honest here. I first made these in a muffin tin and they were soooo good. However they looked terrible and since I had enough time, I remade them in a baking dish. And while they were very good, I liked them better in the tins. In the tins they get all brown and crusty around the sides and I personally find that part to be the tastiest. So if you are all about the taste, make them in muffin tins, but if you are going for looks too, put them in a baking dish.
Now that I got that off my chest, let's get to the recipe. I used a mandolin like this to cut my head of cauliflower into thin pieces to make it layer more easily. For the second batch I did it by hand and it was just as easy so next time I'll nix the mandolin.
Once you have your ingredients lined up (cauliflower, cheese, salt, pepper, green onions and cream) you start to layer them. Remember to spray your muffin tins or baking dish first. Start with the cauliflower, then the cheese, green onions and salt and pepper. I only used salt and pepper on one layer in the middle. Then repeat layers but on the last layer, add the cream before the cheese. Bake until golden and delicious!
cheesy scalloped cauliflower
This will be great for the fall and winter months. It's pure comfort food if you are on a low carb diet and even if you are not. We ate it as a side dish with a nice pork roast and it was the perfect side dish. If you are counting carbs here are my stats:
Per Serving: cals 280 / fat 24.6g / carbs 6.7g / fiber 2.2g / protein 9.9g Net carbs= 4.5g per serving.
Cheesy Scalloped Cauliflower (low carb & Paleo)
This cheesy scalloped cauliflower dish is a great low carb substitute for potatoes. All the creamy, cheesy goodness without the carbs.
Total Time
1
hour
5
minutes
Ingredients
1/2

head of cauliflower

cut in slices

3/4

cup

heavy cream

1

cup

swiss cheese

shredded

2

green onions sliced

salt and pepper to taste
Instructions
Preheat oven to 375 degrees.

Spray baking dish with cooking spray and then add a layer of sliced cauliflower. This takes about 2 layers so use half of the cauliflower.

Next add half of the shredded swiss cheese.

Add all the green onions evenly on the cheese.

Sprinkle with salt and pepper.

Add the rest of the cauliflower evenly layered.

Pour the cream all over the cauliflower and top with the rest of the cheese.

Cover with foil and bake for 30 minutes.

Take off the foil and cook for 20 minutes until the cauliflower is soft and the cheese is brown.

Let sit for 5 minutes to thicken.

Enjoy!
This post may contain affiliate links. For more information please visit our policies page.
---
More delicious low carb side dishes!
The Paleo diet does not include dairy products and I do in many of my recipes. I tend to follow a modified Paleo / Primal /Low Carb diet and use the principles of all three. Dairy is a high protein food group with plenty of nutrition that I feel is valuable in our families' diet not to mention that it tastes great. Here is an interesting article about full fat dairy products from Mark Sisson who started the whole Primal movement. So if you can not tolerate dairy products or you are a strict Paleo enthusiast, my apologies. Going forward I will be more cautious with how I label my recipes.