Enjoy all the comforts of a cheesy au gratin or scalloped potato dish with his easy cheesy keto ccauliflower au gratin. It has only 1.8g net carbs and is super easy to make with only 4 ingredients. So if you are looking for a rich and delicious keto side dish for a holiday or weeknight dinner this scalloped cauliflower recipe is the one to try!
For another tasty cauliflower recipe, try this keto baked cauliflower & cheese recipe.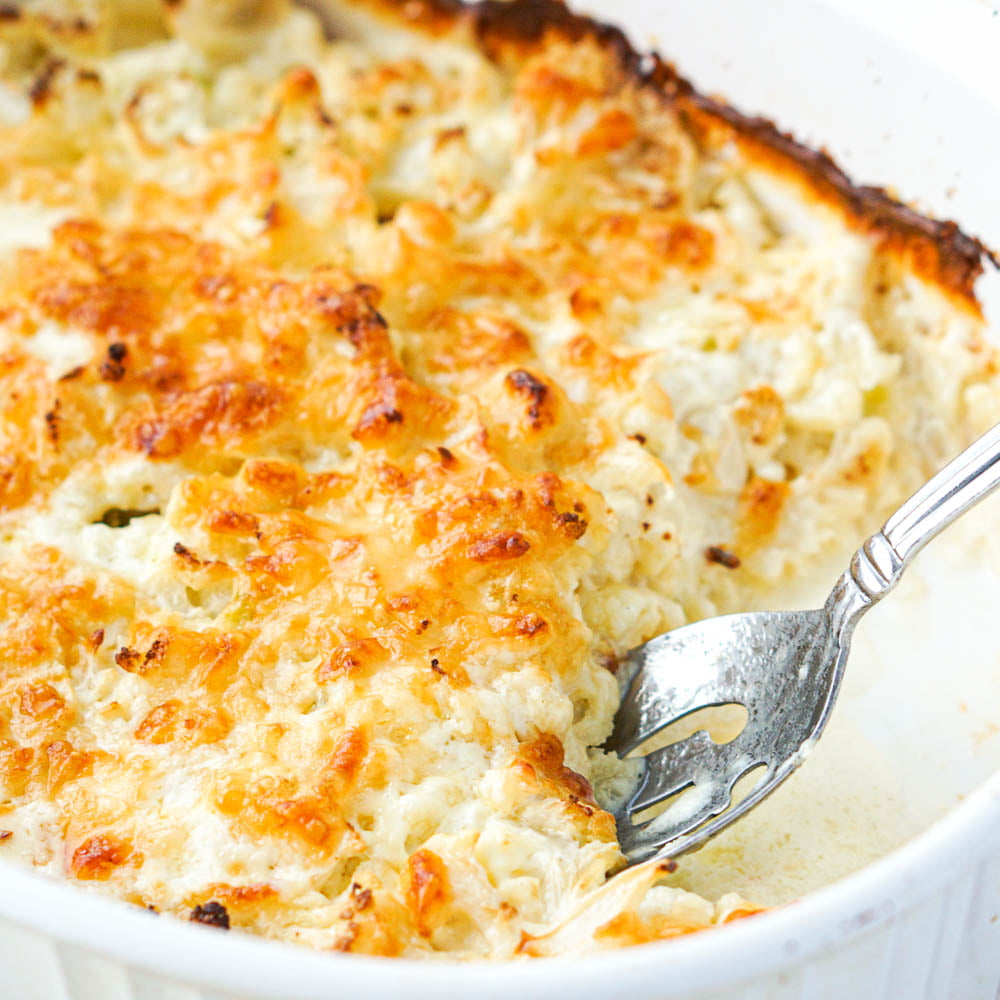 Winter is coming. And with winter weather approaching I've already started making casseroles and roasts and soups and stews. To me there is nothing better than a good cheesy casserole to warm your hearts and bellies on a cold winter day.
However since I like to keep the carbs down, I forgo the rice, pasta and potatoes and use substitutes. I still use the cream, butter and cheese though! Especially in this creamy, cheesy keto cauliflower au gratin. It's the perfect comfort food and one of my favorite recipes.
Cauliflower Au Gratin
Recipe In A Nutshell
Slice a head of cauliflower into even slices to help with layering.
Spray a baking dish with cooking spray.
Place a layer of cauliflower then the cheese, green onions and salt and pepper.
Repeat cauliflower layer, then pour the cream on top and then end with the rest of the cheese.
Bake until brown and bubbly.
Scroll to the bottom for the full recipe card you can print and save for later.

There are also FAQs under the recipe card.
The 4 ingredients I used.
I only used 4 ingredients in this cheesy casserole: fresh cauliflower, gruyere cheese, heavy whipping cream and green onions.
I do not recommend using frozen cauliflower. The fresh sliced thin tastes much more like scalloped potatoes.
Note that I like to use Gruyere cheese in this au gratin dish. Aldi now has it almost all the time but if you can't find it, try Swiss.
Along with the heavy cream the Gruyere has a special taste that sets it apart from other casseroles. They bake up together to make a decadent creamy cheese sauce.
Use Either A Muffin Tin
Or A Baking Dish.
The first time I made this scalloped cauliflower recipe I did so in a muffin tin and they were soooo good. However they looked terrible and since I had enough time, I remade them in a baking dish.
They work great either way. The baking dish is easier to clean up but in the tins they get all brown and crusty around the sides and I personally find that part to be the tastiest.
So if you really want them more crispy try a muffin tin, however note they can be a real pain to clean.
Let's Make Some Cheesy Keto Cauliflower Au Gratin!
Step 1: I used a mandoline like this to cut my head of cauliflower into thin pieces to make it layer more easily. You can cauliflower florets if you want but I would still slice them into thin even pieces.
Step 2: Once you have your ingredients lined up (cauliflower, cheese, salt, black pepper, green onions and cream) you start to layer them. Remember to spray your muffin tins or baking dish first.
Step 3: Start with the cauliflower, then add half of the cheese, all of the green onions and then season with salt and pepper.
Step 4: Add another layer of cauliflower but on the last layer, add the cream before the cheese.
Step 5: Cover with foil and bake for 30 minutes. Then take off the foil and bake for 40 minutes or until golden and delicious!
Is This A Keto Casserole?
If you are following a keto diet as opposed to a low carb diet the macros for 1 serving of this casserole is: 81% fat / 14% protein / 5% carbs which I would consider this a keto casserole as well as low carb.
This keto cauliflower gratin is very rich so a large baking dish makes a lot. You only need a small amount to be satisfied. This will be great for the fall and winter months. It's pure comfort food if you are on a low carb diet and even if you are not.
We ate it as a cheesy side dish with a nice pork roast and it was the perfect. So I would recommend eating this with just about any meat main dish.
Here is the nutritional information per serving: calories 280
fat 24g / carbs 3.6g / fiber 1.8g / protein 9.4g – net carbs = 1.8g per serving
And for a tasty low carb appetizer or snack, check out my friend Lauren at Delicious Little Bites' loaded cauliflower bites. They are the perfect decadent dish to snack on.
Cheesy Keto Cauliflower Au Gratin Casserole
Cook Time:
1 hour
10 minutes
Total Time:
1 hour
25 minutes
Enjoy all the comforts of a cheesy scalloped potato dish using cauliflower instead! This cheesy keto cauliflower gratin has only 1.8 net carbs and super easy to make.
Ingredients
1 head of cauliflower (or 4 cups), cut in slices
2 cup Gruyere cheese, shredded (can use Swiss too), shredded
4 green onions sliced
salt and black pepper to taste
1 ½ cup heavy cream
Instructions
Preheat oven to 375 degrees.
Spray baking dish with cooking spray and then add a layer of sliced cauliflower. This takes about 2 layers so use half of the cauliflower.
Next add half of the shredded Gruyere cheese.
Add all the green onions evenly on the cheese.
Sprinkle with salt and pepper.
Add the rest of the cauliflower evenly layered.
Pour the cream all over the cauliflower and top with the rest of the cheese.
Cover with foil and bake for 30 minutes.
Take off the foil and cook for 40 minutes until the cauliflower is soft and the cheese is brown.
Let sit for 5 minutes to thicken.
Notes
Here is the nutritional information per serving:

cals 280 / fat 24g / carbs 3.6g / fiber 1.8g / protein 9.4g - net carbs = 1.8g per serving
Nutrition Information:
Yield:

8
Serving Size:

1 Servings
Amount Per Serving:
Calories:

280
Keto Cauliflower Gratin FAQ
Can you make this casserole ahead of time? Yes you can. I could make it the day before but I would not do it any more than that.
What if I don't have Gruyere cheese? I prefer gruyere because it has a great taste but you can substitute with Swiss cheese.
How long do I bake this if I use a muffin tin? Cover them with foil and bake for 20 minutes. Then take off the foil and cook for 20-30 minutes until brown and bubbly.
Can you freeze this cauliflower au gratin? I have frozen cooked portions of this dish with no problem. I don't think the cream and cheesy would freeze well when uncooked.
Can I use frozen cauliflower instead of fresh? I do not recommend this as frozen cauliflower will have a lot of water in it which will effect the cheese sauce and you will have difficulty slicing it thin.
Can I used cauliflower rice or florets? You can use either however it will be more of a casserole than scalloped cauliflower or a cauliflower gratin. The sliced pieces are more like the potatoes than the rice or florets, but it would work.