If you are looking for an easy but tasty keto recipe that uses some of that summer zucchini, try this cheesy zucchini & squash casserole. You can make it in the air fryer and it's done in no time. It's full of green zucchini, yellow squash, eggs and cheese. It's a great low calorie, low carb and high protein breakfast with 3.3g net carbs and 12.5g protein and just 168 calories.
You might also like this keto zucchini noodles with cheese air fryer recipe.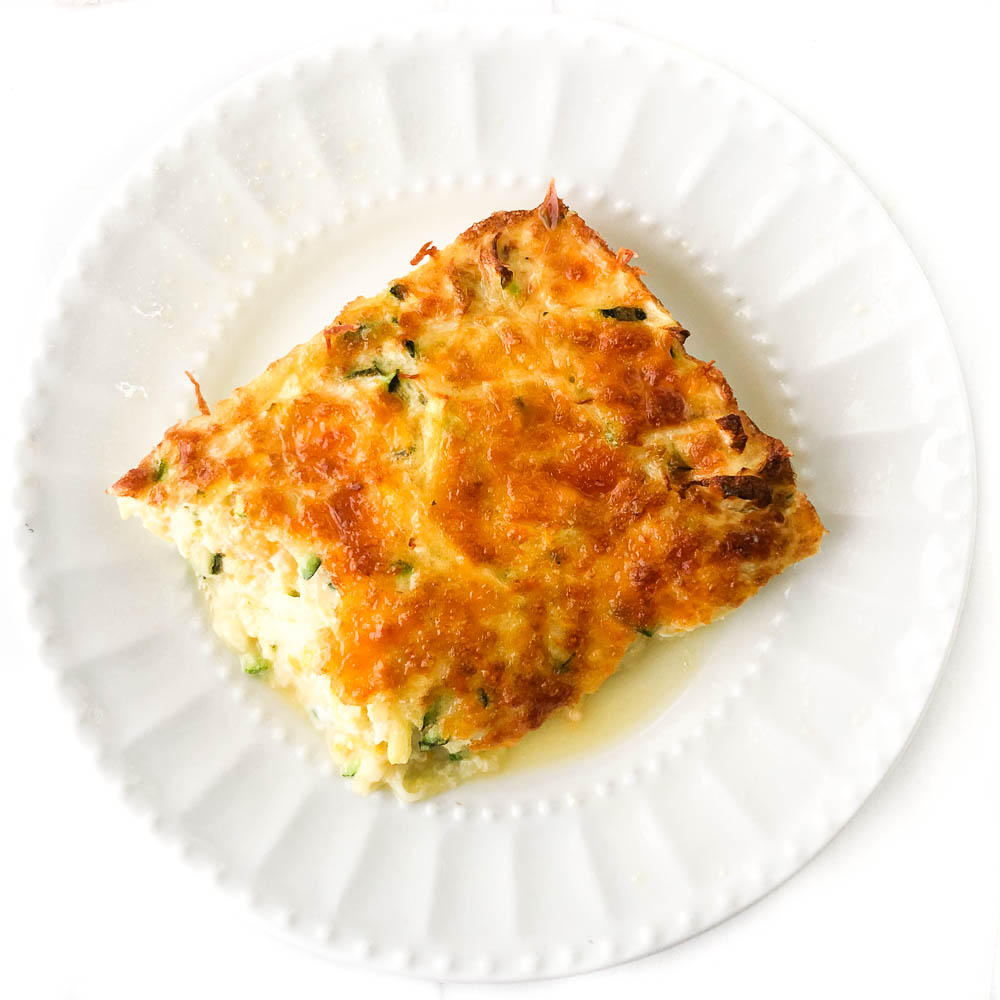 Zucchini-palooza has started this summer and my husband has constant supply of green zucchini and yellow summer squash from his garden so I've been playing around with recipes.
I made this cheesy zucchini and squash casserole with some of it and I made it in the air fryer. It was such a tasty keto breakfast casserole and was filled with fresh zucchini, cheeses and eggs.
I made it in a small glass baking dish so it would fit into my air fryer and it ended up being perfect for either a low carb breakfast or lunch. It's really easy to make and best of all it's low carb, low calorie and high in protein!
Other keto zucchini recipes to try.
I have a lot, and I mean a lot, of keto zucchini recipes on the site. Over 30 in fact. It's such a versatile low carb vegetable and great in summer with a plentiful supply from our garden.
Some of my favorite recipes are these popular zucchini chaffles or these vegetable almond flour waffles, both of which are savory. My husband makes pickled zucchini which is awesome and these nacho zucchini chips are a tasty keto snack.
You can see all of my zucchini recipes here.
Recipe ingredients I used.
You just need a few simple ingredients for this keto casserole: a couple medium zucchinis (yellow & green), shredded cheddar cheese, parmesan cheese, eggs, onion powder, garlic powder, salt and black pepper.
By the way I used the green and yellow zucchini because I had it on hand and like the way it looked. However you could use all of one or the other colors instead.
Low Carb Cooking Tip
I prefer to buy a block of sharp cheddar cheese instead of bagged shredded cheese. It not only has less carbs, but it melts better and tastes better in my opinion. I use a microplane to grate it into fluffy strands.
How to make cheesy zucchini and squash casserole in the air fryer.
Step 1: Shred the zucchini and squash in a food processor using the shredding or gratin blade. This is the easiest way to do it, otherwise you have to do it by hand.
Step 2: This is perhaps the most important step. It's very important to get as much of the excess water out of the zucchini as you can. Place it into a layer of paper towels or a tea towel and squeeze out the water. Once you are done add the squash to a large mixing bowl.
Step 3: Also to the bowl add beaten eggs, parmesan cheese, garlic powder, onion powder, salt and pepper. Mix well.
Step 4: Spray a small baking dish with nonstick cooking spray. Important: make sure the pan fits into your air fryer. You could also use glass storage containers or small pie pans. Whatever fits. I used a 6 cup, 8×6 inch glass baking dish.
Pour the squash mixture into the prepared baking dish and then sprinkle a layer of shredded cheddar over top.
Step 5: Place the baking dish into your air fryer and bake for about 15 minutes in a 360°F air fryer until golden brown on top. Once it's done, let it cool before eating. Please scroll down to view and print the recipe card.
How long to bake in the air fryer.
The time it takes to cook your casserole will depend on how big your baking dish is. For example mine was a small casserole dish that was 8 x 6 inches and held 6 cups.
If you look below you can see how it's not very thick so it cooked in 15 minutes. If you use a different kind of container and your casserole is thicker you might need to cook it a bit longer. Just check it after 12-15 minutes and put it back in if it doesn't seem done.
To make this in the oven.
The general rule of thumb is to increase the temperature by 25°F and then increase the cook time by about 20%. So in the oven you would set the temperature to roughly 385°F and cook it for 18-20 minutes. Learn more about air fryer conversions here.
Recipe Tips and Notes
First make sure you have a baking dish that fits in your air fryer. It can be a glass storage container, small pie plate or whatever size fits that is also oven safe.
I used both green zucchini and yellow squash in this recipe but you can use all of one or the other. Use whatever you have on hand.
It's very important that you squeeze as much water out of the shredded squash as you can. The casserole may still have some liquid after you cook it. Just pour it off as best you can.
I like to use a block of cheddar cheese and hand grate it with a microplane. It makes fluffy shredded cheese that usually has less carbs then bagged cheese and it melts better.
You can add some hot pepper flakes for a little heat if you want. Also you could substitute Swiss cheese or gruyere cheese for the cheddar.
Lastly you can eat this for as a keto breakfast casserole, healthy lunch or as a low carb side dish. I ate it for breakfast for two days and then for dinner the next.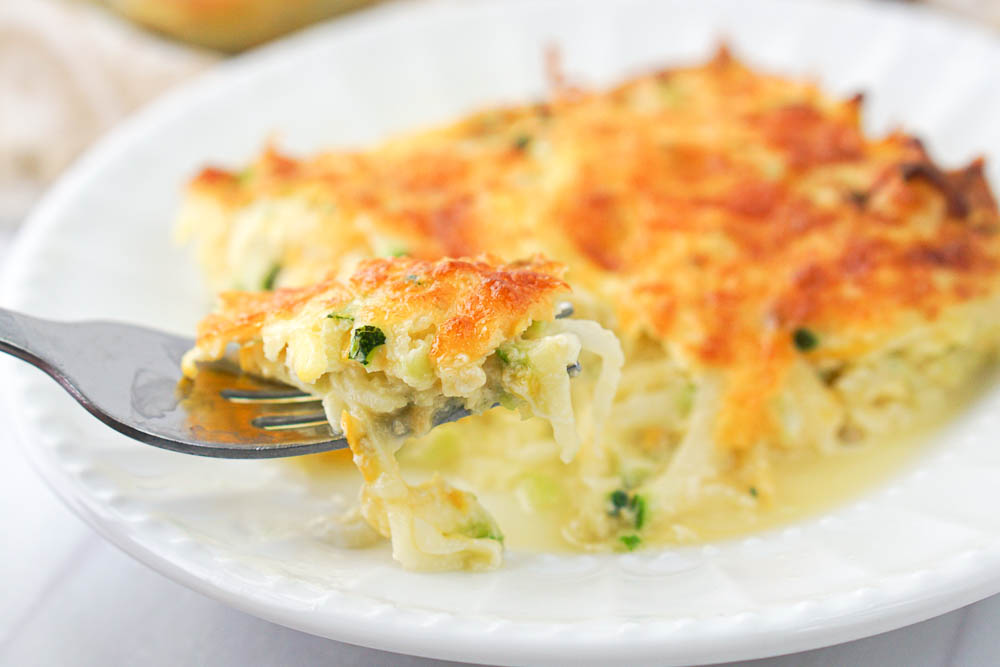 Well I hope you enjoy this deliciously easy air fryer zucchini casserole. It's like healthy comfort food that's perfect for summer. And it's yet another way to use all that fresh zucchini from the garden.
The nutritional information for 1 slice is 168 calories
11.2g fat / 4.3g carbs / 1g fiber / 12.5g protein = 3.3g net carbs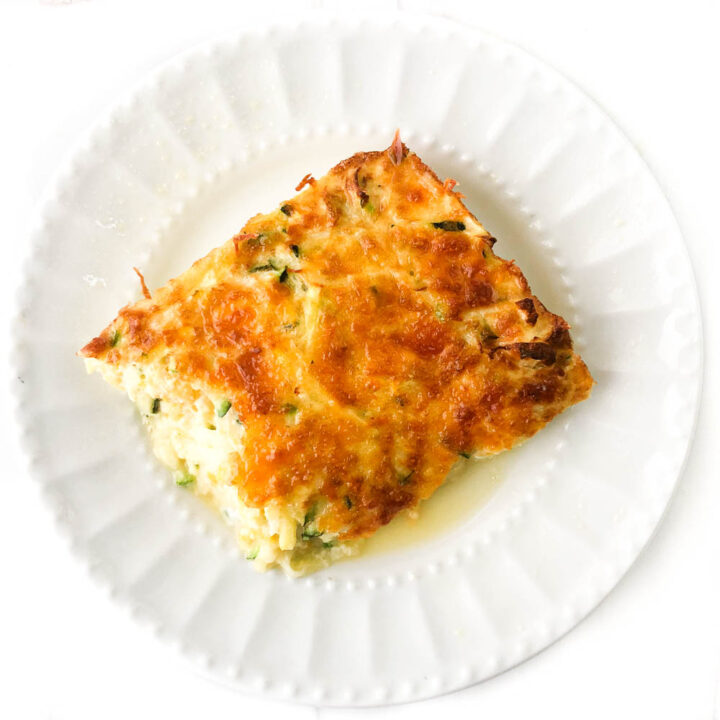 Cheesy Zucchini and Squash Casserole in the Air Fryer
For an easy summer keto breakfast, try this cheesy zucchini casserole that you make in the air fryer. Easy, healthy and tasty vegetable casserole for breakfast, lunch or as a size dish.
Ingredients
2 cups shredded zucchini and yellow squash
3 eggs, beaten
1 oz of sharp cheddar cheese, shredded
¼ cup parmesan cheese
¼ teaspoon garlic powder
½ teaspoon onion powder
¼ teaspoon salt
¼ teaspoon black pepper
Instructions
Preheat air fryer to 360°F.
Shred the zucchin and squash in a food processor using a shredder blade. Or you can shred it by hand.
Next place the zucchini into a couple of paper towels or kitchen towels. Then squeeze as much water as you can out of the zucchini. Do this over the sink. It's important that you get as much as as possible.
In a large bowl beat the eggs and mix in the parmesan cheese and spices. Lastly mix in the zucchini and set aside.
Spray your baking dish with non-stick spray. Make sure your baking dish can fit in your air fryer before you do this.
Pour the zucchini mixture into the baking dish and then sprinkle a layer of the grated cheddar over top. I like to use a block of cheddar cheese and hand grate it with a microplane. It seems to melt better, taste better and usually has less carbs.
Place in the air fryer and bake for 15 minutes. Check at 12 minutes to make sure it's done. Cooking times may vary depending the size of your baking dish. I used a 6 cup, 8x6inch baking dish.
Let cool before cutting. If there is still liquid in your dish, just carefully pour it out.
Nutrition Information:
Yield:

4
Serving Size:

1
Amount Per Serving:
Calories:

168
Net Carbohydrates:

3.3gg