This easy slow cooker Greek lamb recipe is so tender it falls apart and melts in your mouth! It's great for making gyros or for a low carb gyro salad. Add a little tzatziki sauce and this lamb roast is delicious on it's own for a low carb dinner! Only 0.7g net carbs per serving.
You might also like this Instant Pot leg of lamb recipe.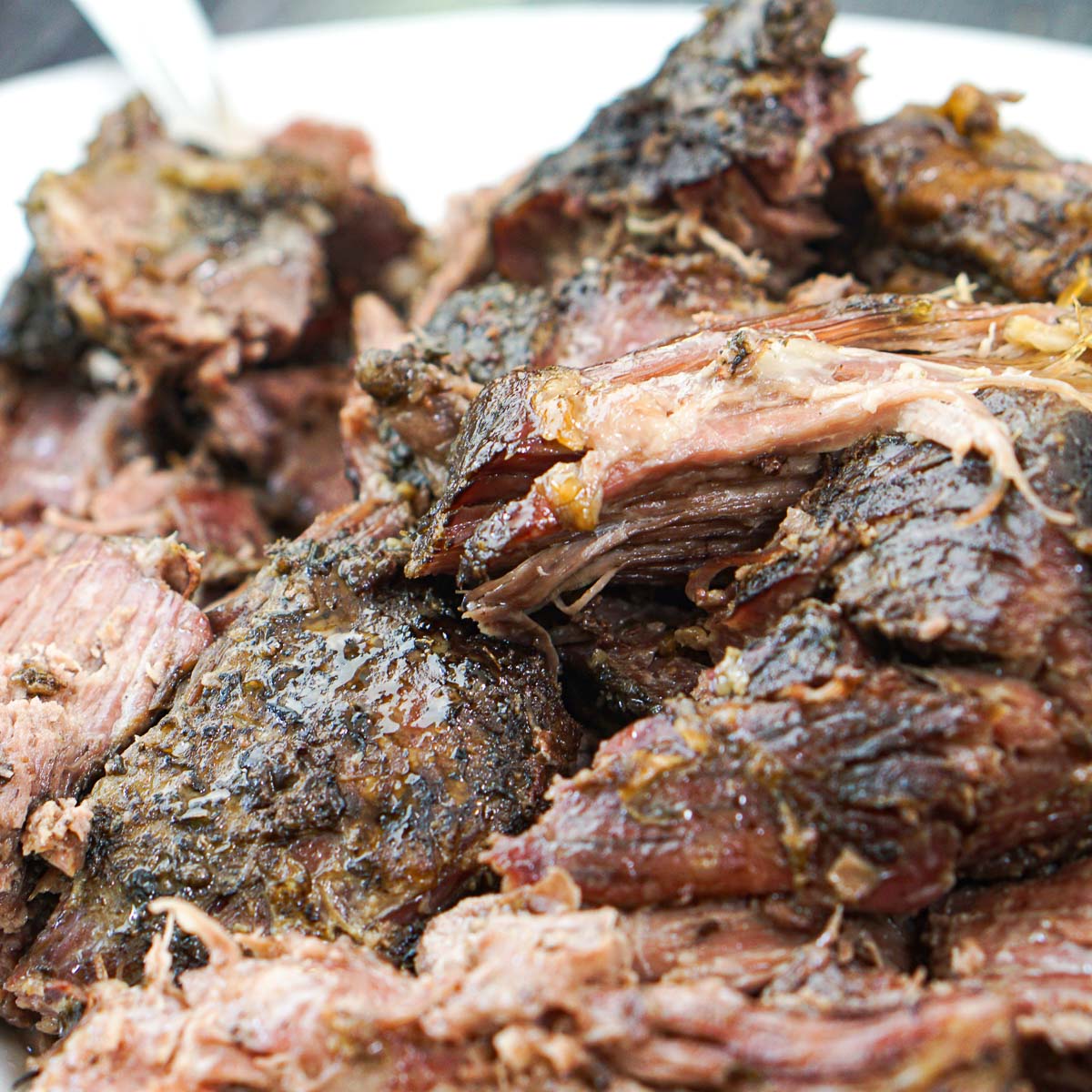 Growing up my grandmother used to make roasts like this and they were full of garlic and spices. The meat was so tender it would fall apart. I always thought lamb made like this would be great for gyros or on top of lettuce for a low carb gyro salad.
So when I saw a nice leg of lamb at Costco I decided to make this slow cooker Greek lamb recipe. I stuffed it with garlic, rubbed it with seasonings and roasted it all day until it was fall apart tender. It was soooo good! Reminded me of eating dinner at grandma's every Wednesday.
My husband ate it as a gyro and I had it as a low carb salad and we both loved it. So next time you are looking for a lamb recipe give this one a try. Slow cooking makes this delicious meal a breeze.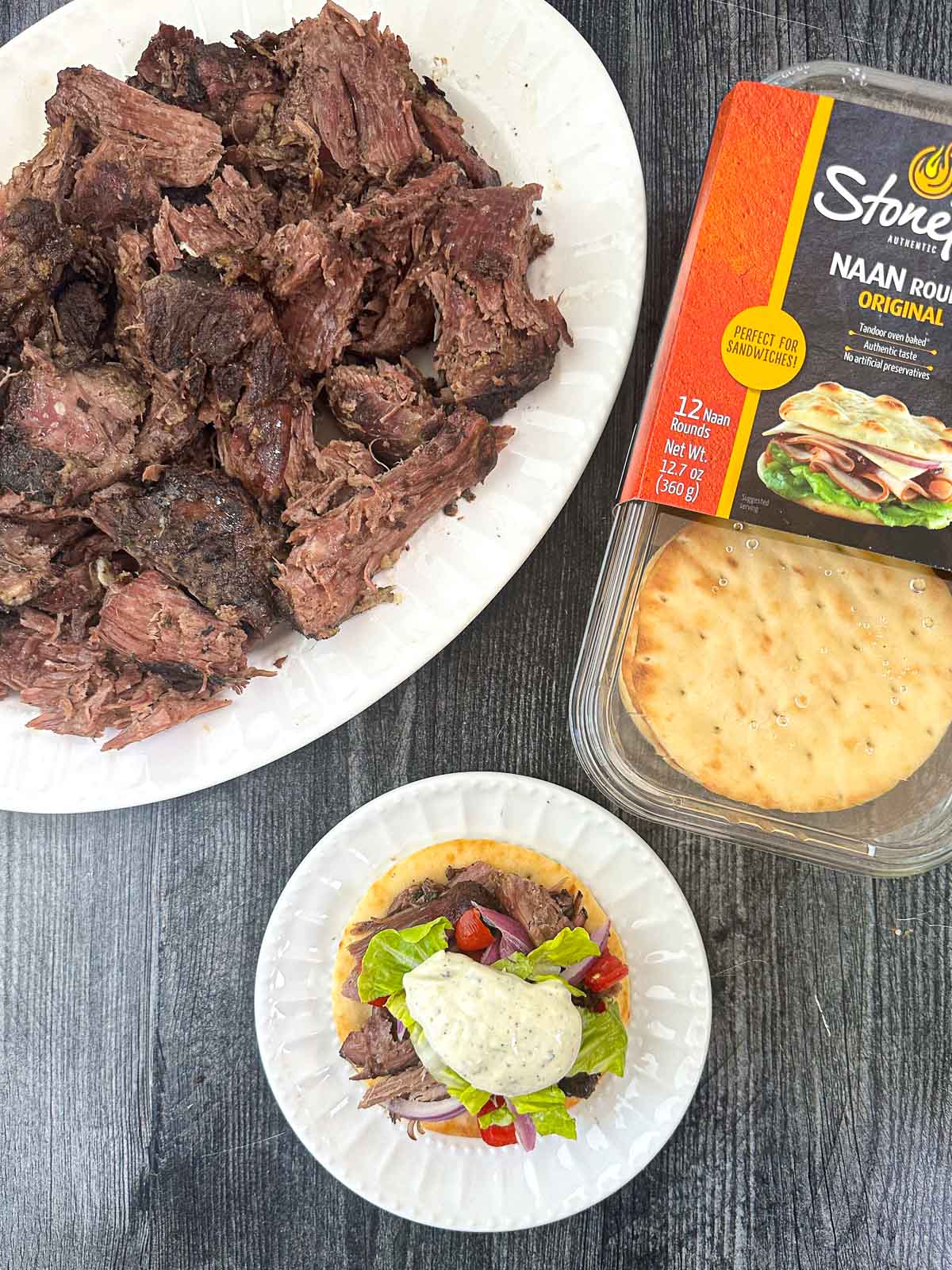 Recipe ingredients I used.
This is a very simple recipe in that you only need a few simple ingredients and then you let your slow cooker do all the work! I used 5 cloves of garlic, thinly sliced to stud the roast. Then I used a spice blend of salt, pepper, oregano, thyme and marjoram. That's all folks.
Lamb
As I mentioned above, I got the boneless lamb leg from Costco and it was about a 4 pound roast. You can use a leg of lamb or lamb shoulder but I prefer boneless as that is easier to use for gyros. But bone in would also work.
Garlic
You need fresh garlic cloves for this recipe to stud the roast. You will cut slits into the meat and stuff slices of garlic. You will be amazed at how much flavor this adds.
Spices
I like this combination of oregano, thyme and marjoram. These Greek spices give the meat that gyro flavor. And the salt and black pepper of course. You might not have marjoram on hand so if not add a bit more oregano.
Note: I used dried oregano and spices. If you want to use fresh oregano, the roll of thumb is 1 teaspoon of dried herbs equals 3 teaspoons of fresh herbs. So you will need to use 3 times amount of fresh oregano if you want to substitute that for the dried in this recipe.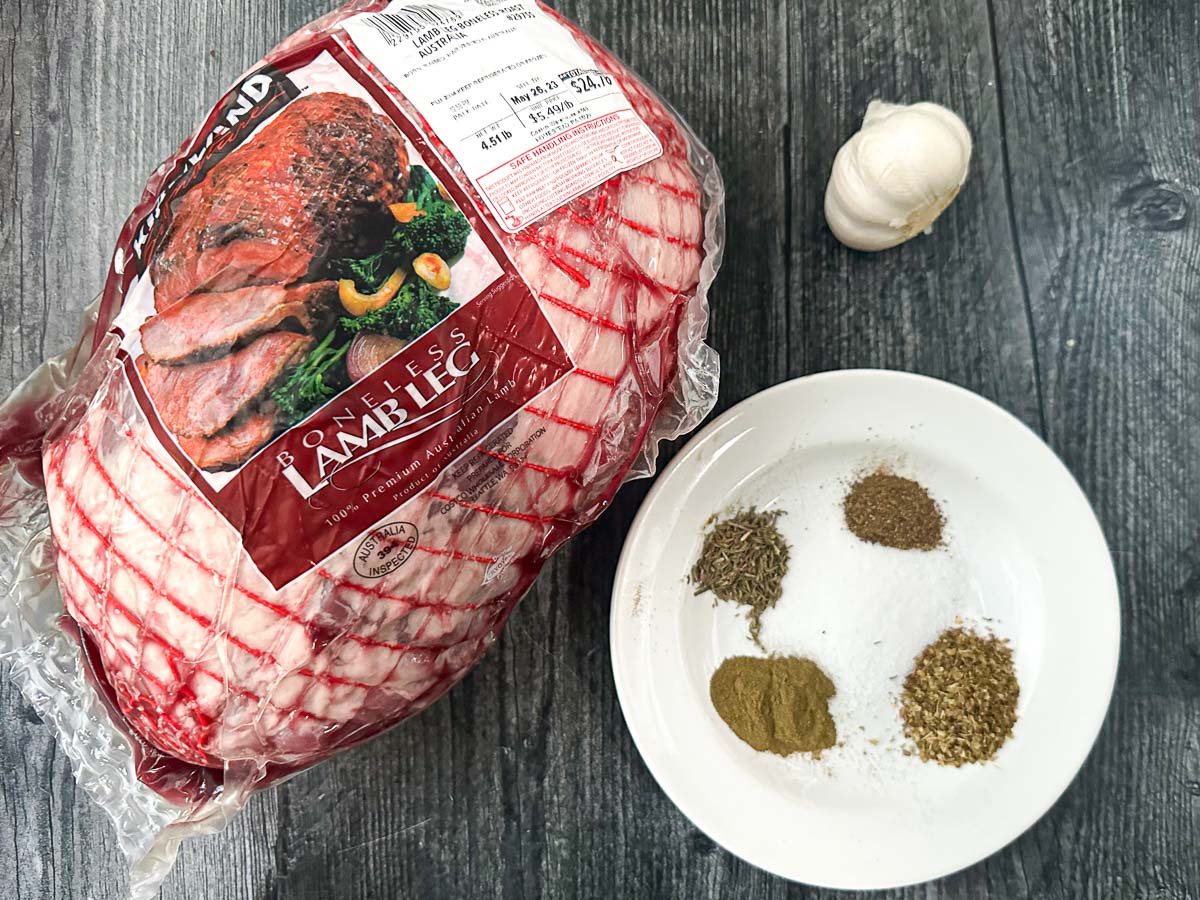 How to make slow cooker Greek lamb.
Step 1: First thing you want to do is stud the roast with garlic. Take a sharp knife and cut little slits all over the roast and stuff them with thin slices of garlic. There are 5 cloves of garlic in this recipe so you need a lot of cuts.
Step 2: Then mix your spices together in a bowl and rub them all over the meat. Use all of the spices and get into the nooks and crannies.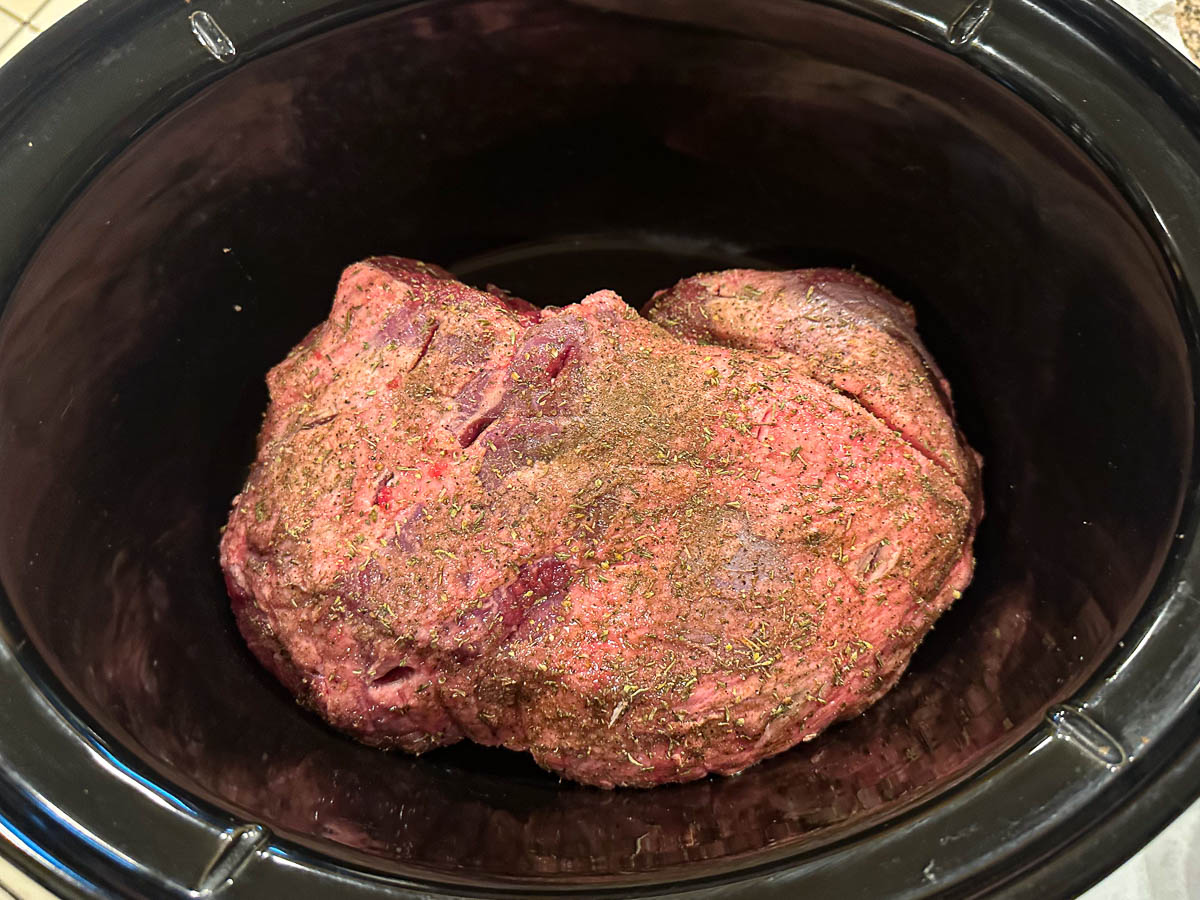 Step 3: Place the lamb leg into the crock of the slow cooker. I like to cook this on low all day but you could also cook it on high for less time if you want.
Cooking time may vary due to the size of your roast and because everyone's slow cooker is different. However you'll know this is done when it's fork tender.
I don't worry about the internal temperature of the meat for this recipe because you want the meat to be fall apart tender and therefore it will be definitely be cooked through.
If you want to get the crispy crusty parts on the lamb.
I love tasty crusty parts on meat and to do that you have to add another step. Half way through the cooking process, try to pour as much liquid out as you can.
Reserve the cooking juices for later if you feel it is too dry or if you want to make gravy. This way of roasting will help the meat develop that brown crusty part that tastes soooo good.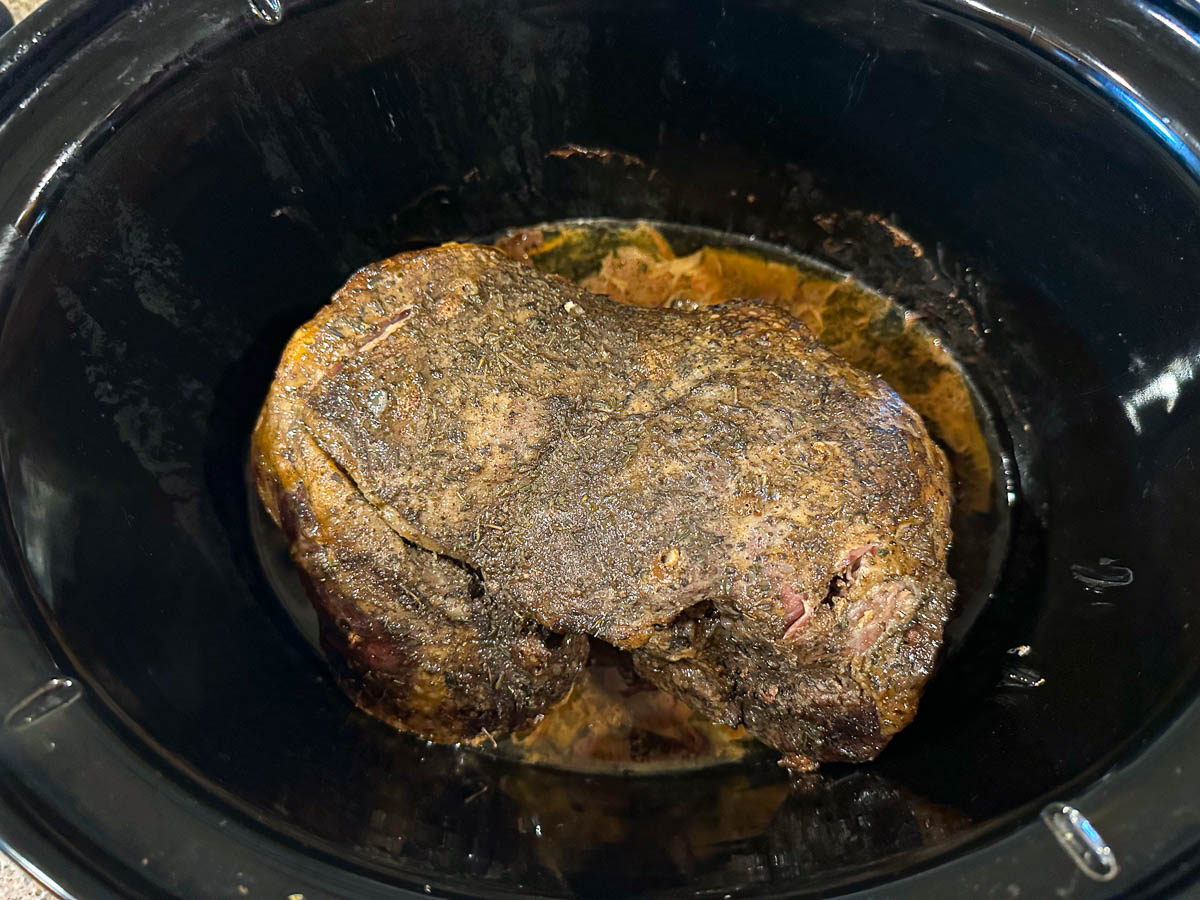 If you don't like those crispy parts no need to pour off the liquid. I personally love that part of any roast.
Store leftovers in an airtight container. Please scroll down to view the printable recipe card.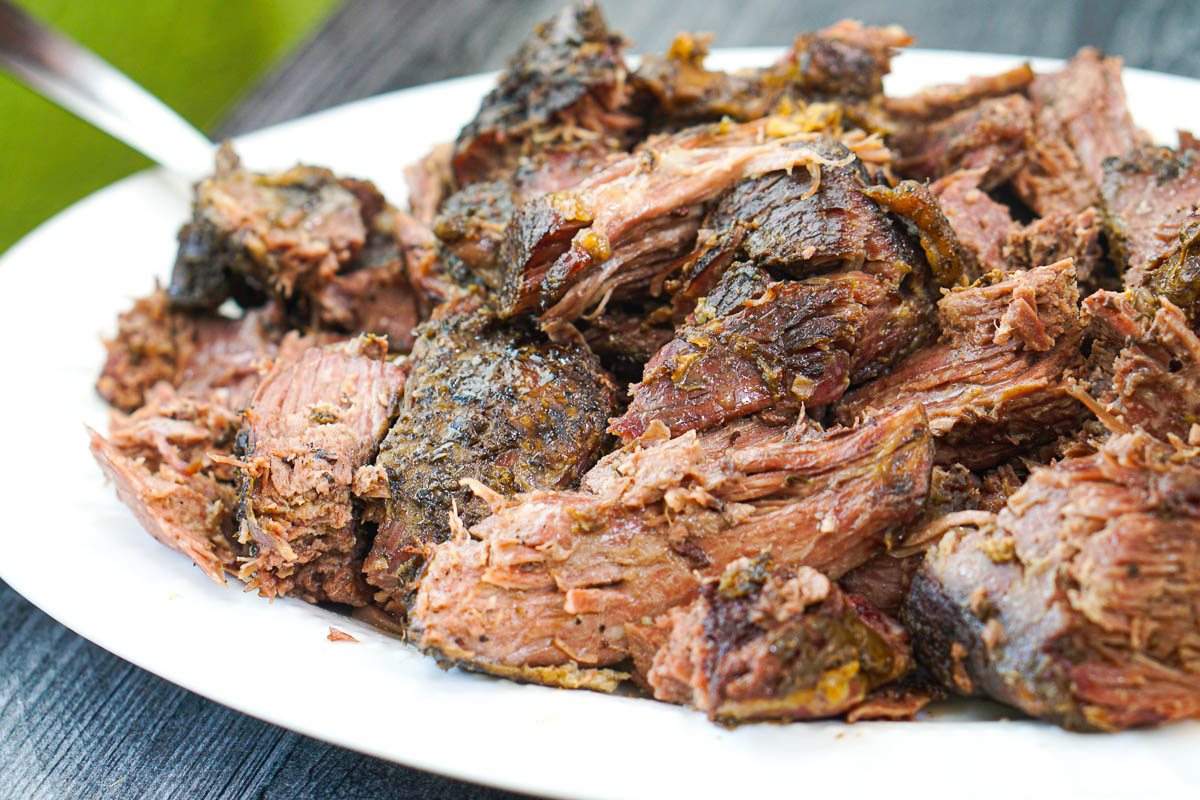 How we like to eat his Greek lamb roast.
Now it's time to eat this delicious, tender lamb. You can eat this meat 3 different ways and make many meals out of it.
Serve it as a main meat dish with a few vegetable side dishes for low carb dinner. If you aren't low carb you can roast some potatoes and carrots or add a nice green salad for the perfect meal and Sunday dinner.
Or you can also make a gyro flavored salad as pictured below. I made some creamy feta cheese dressing (recipe to come) to go with the Greek salad pictured below and topped my salad with it to make a gyro salad. It was awesome.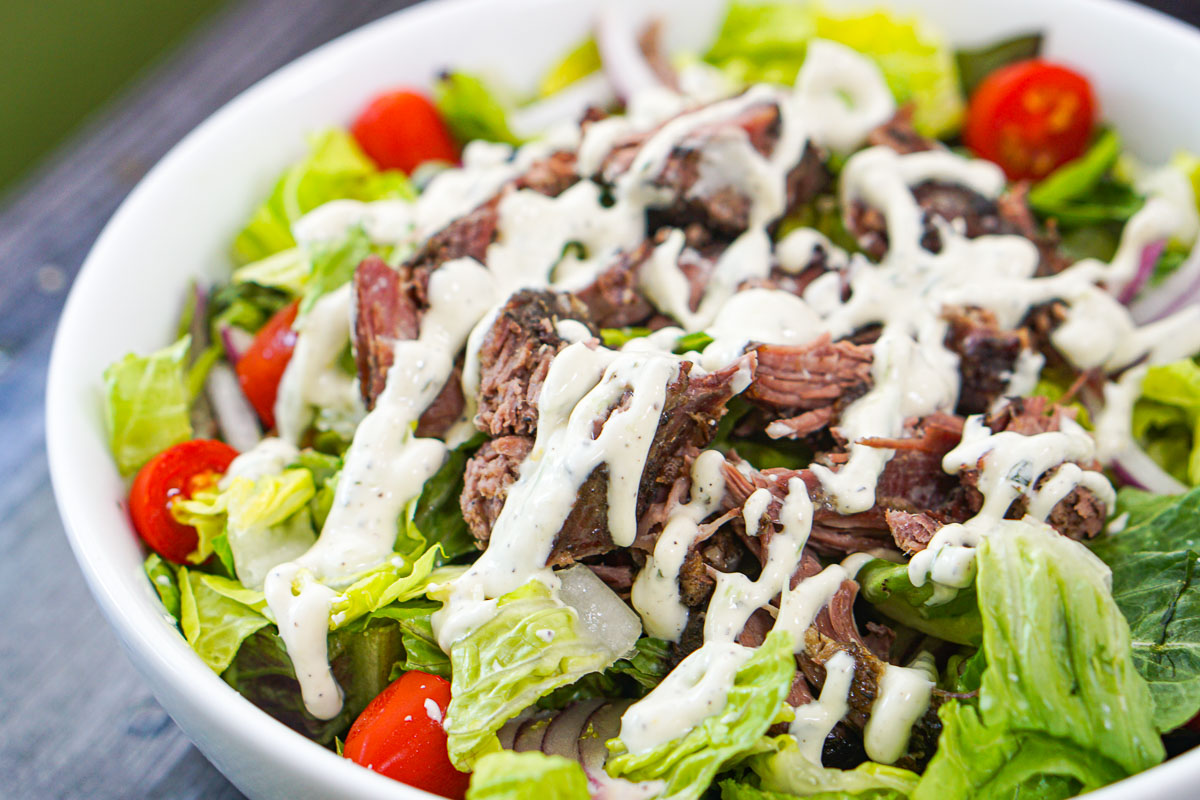 3. Lastly you can also make a gyro if you don't care about carbs. Grab some naan or pita bread and drop some lamb on it along with your favorite gyro toppings. I personally prefer naan bread and sometimes I can find mini Nannie's bread at Costco which work perfectly.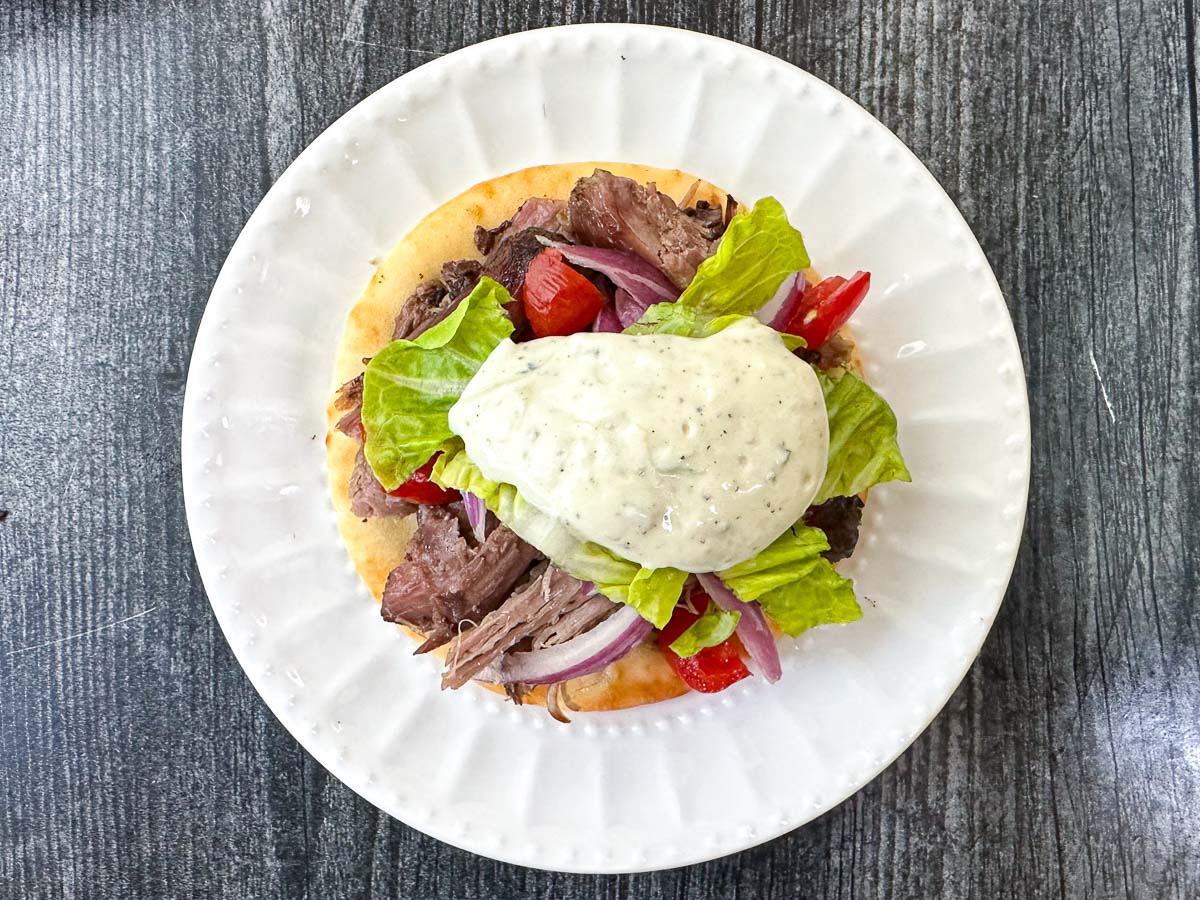 If you are looking for a low carb tzatziki sauce.
If you decide to eat this lamb as is or in a gyro, you might want have some tzatziki sauce. That is the sauce or topping you usually get when you buy a gyro and it goes great with lamb and you can whip it up in minutes.
Usually it's made with yogurt, cucumbers, garlic and olive oil. Sometimes people put herbs such as dill, mint, parsley in it. Two of my low carb friends have a yummy low carb tzatziki sauce on their blogs that you should check out:
If you want to make a salad dressing for a gyro salad, I would suggest making a simple red wine vinegar (or fresh lemon juice) and extra virgin olive oil dressing. Season with salt, black peppers and oregano and even a little fresh garlic.
You could also play around with the tzatziki sauce to make it more of a creamy salad dressing.
Well I hope you give this slow cooker lamb recipe a try. It was an amazing dinner to me and brought back memories of my grandma's delicious cooking. I can't wait to make it again.
And if you get a chance check out all of my tasty lamb recipes. I've made it in the Instant Pot, smoker, air fryer, grill chops and more.
The nutritional information for 1 serving of this roast lamb recipe is: 553 cals / 32.7g fat / 0.9g carbs / 0.2g fiber / 59.6g protein = 0.7g net carbs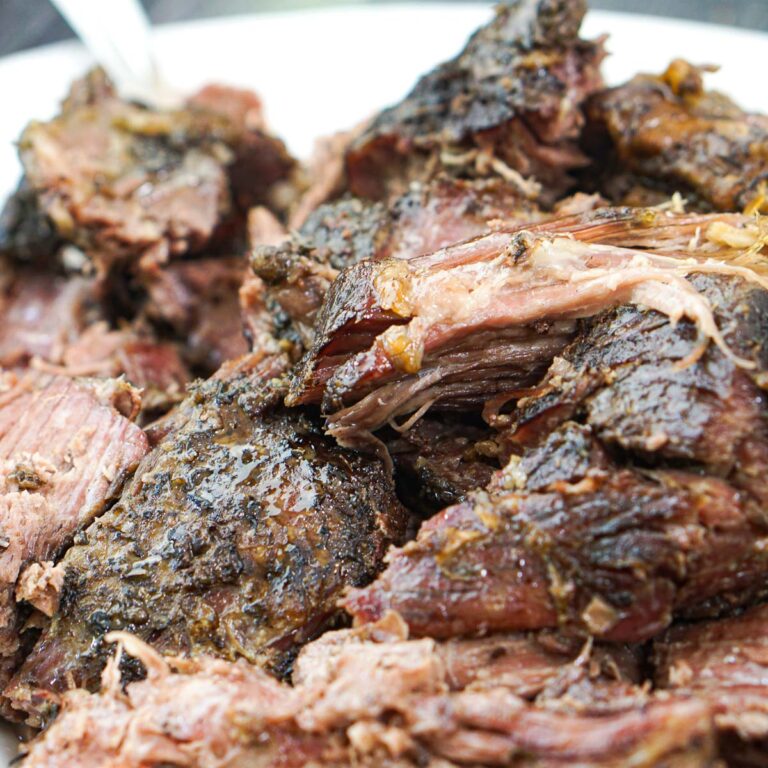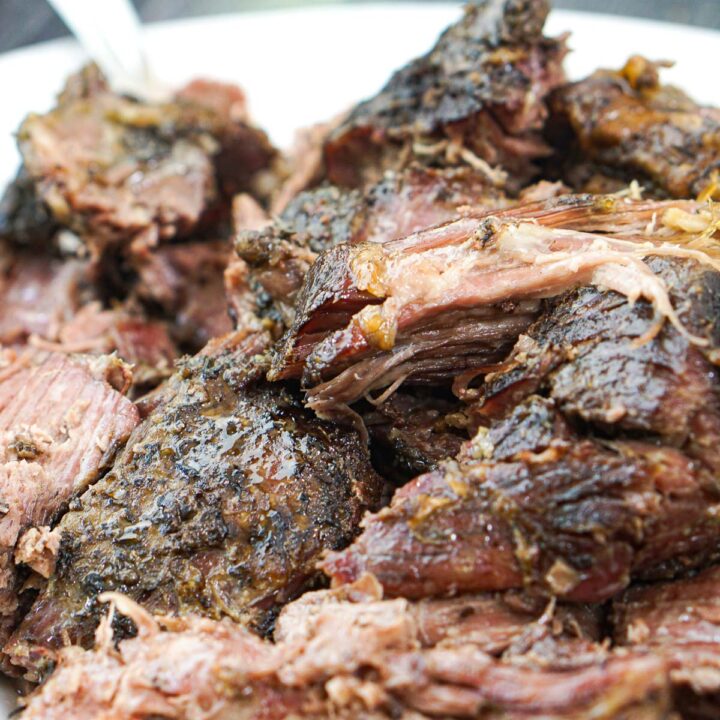 Slow Cooker Greek Lamb Recipe (low carb)
Total Time:
8 hours
5 minutes
This easy slow cooker Greek lamb recipe is so tender it falls apart and melts in your mouth! It's great for making gyros or for a low carb lamb salad. Add a little tzatziki sauce and this lamb roast is delicious on it's own for a low carb dinner! 
Ingredients
4 pounds lamb roast (boneless)
2 teaspoons salt
½ teaspoon pepper
1 teaspoon oregano
½ teaspoon thyme
½ teaspoon marjarom
5 cloves garlic, cut into slivers
Instructions
Using a sharp knife cut little wholes all around the lamb roast and stuff with the garlic slivers.
Next mix all the spices together and then rub into the lamb roast all over.
Place the roast into your slow cooker and cook on low for about 6 or 8 hours until tender.
Half way through take out as much liquid as you can and reserve in case the meat gets dry or you want to make gravy. This way of roasting wiill help the roast to get a nice crust.
Nutrition Information:
Yield:

8
Serving Size:

1
Amount Per Serving:
Calories:

553
Unsaturated Fat:

0g