Slow cooker zesty garlic pulled pork is made with zesty limes and lots of garlic and is a delicious low carb and Paleo dish. Great  for tacos or sandwiches or can even be served as is.
I love pulled pork.  I've made it a number of ways but this time I've hit a real winner. My husband loved this and snuck off with all the leftovers in his lunch the next day. It's so easy to make; just prepare it the night before and throw it in the slow cooker the next day. It goes perfectly with a good creamy coleslaw (which is why I made the Southwestern Coleslaw that I posted last week).  My husband ate it as a taco but I actually ate mine atop the coleslaw. 
The night before you eat this dish, cut up some garlic slivers and make little holes with a knife into your pork shoulder. Stuff the garlic into the holes. Make a paste with the lime juice, zest and spices and rub all over the meat. Place in a ziplock bag over night.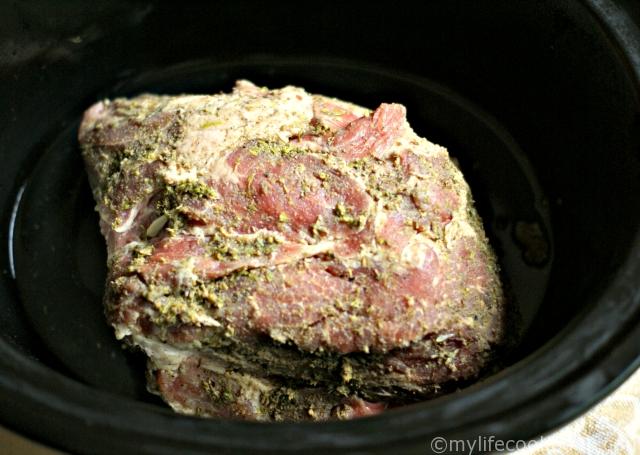 The next day place in your slow cooker and cook all day on low. I bought my pork shoulder from Costcos. It was a huge piece of meat that I believe was about $22. We brought home and cut it up into 4 roasts so that's about $5.50 a roast! You probably could prepare these and freeze them for future use. Just thaw them the night before in the refrigerator.
Slow Cooker Zesty garlic Pulled Pork
When the pork is done, it should fall apart. You can eat it as is, or use it for tacos, nachos, or on a bun. The meat has so much flavor on it's own. This is definitely a keeper in our family. I can't wait to make it again. I hope you give it a try and let me know what you think about it. Enjoy!
1 serving = 317 cals / 15.9g fat / 42.4g protein = 1.5g carbs
Zesty Garlic Pulled Pork (low carb & Paleo)
This is the most delicious pulled pork! Zesty from limes and lots of garlic make this a great pulled pork for tacos or sandwiches.
Author:
Denise Wright (MyLifeCookbook.com)
Ingredients
3-4 lb pork shoulder
1 Tablespoon of salt
½ teaspoon pepper
½ teaspoon cumin
1 teaspoon oregano
zest of 1 lime
juice of 1 lime
5 cloves of garlic, cut into slivers
Instructions
The night before, cut small holes in the roast and stuff the garlic slivers into the holes.
In a little bowl, add your lime juice, lime zest and spices to make a paste.
Slather your roast with the paste making sure to get it all over.
Place in a ziplock over night in the refrigerator.
The next morning put your roast in your slow cook and cook on low all day. My slow cooker has an 8 hour setting so that is what I used.
When the roast is done, it should fall apart very easily with two forks.
Shred and use for tacos, nachos or on sandwich buns.
Enjoy!
---
More slow cooker roasts