This slow cooker pork roast to pork ragu recipe gives you two delicious meals from one pot roast. Make your roast one night and pasta with pork ragu the next.
You might also like this slow cooker herb garlic lamb roast recipe!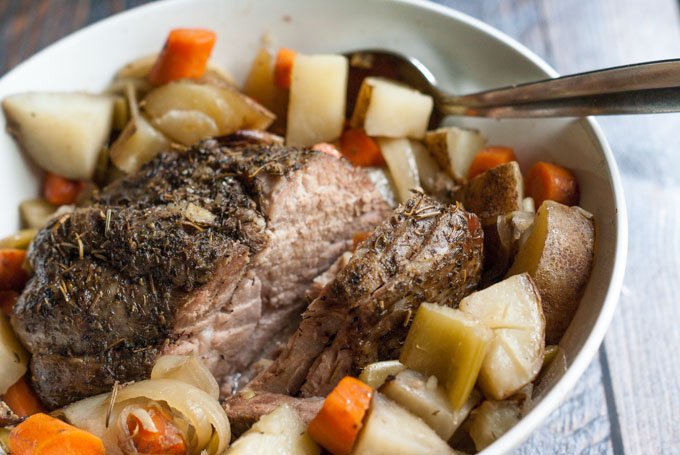 Some days I'm all about efficiency when it comes to cooking. I love double duty meals. Especially in the summer when we are running around like crazy or spending the day in the sun. I get lots of Max time in the summer and that makes me happy. So I got this idea for a slow cooker pork roast to pork ragu so I could make two meals in one.
What Is Ragu?
Ragu is an Italian meat based sauce that you usually serve with pasta. You can use all kinds of meats like beef, pork, sausage or chicken in their sauce. My sister Patti makes a delicious pork ragu from ribs.
Where This Slow Cooker Roast To Ragu Came From
My husband had often told me stories of his mom making a roast one night and serving the leftovers in various dishes the rest of the week. For instance, he likes to joke about her putting only minuscule pieces of ham in her ham and cabbage soup but I thought the idea of using leftovers this way was a good one.
So the other day I made a huge pork roast in the slow cooker on Sunday and then took the left over roast and made a super easy pork ragu in minutes that we ate over pasta. My husband joked about it, but he was actually nostalgic about his mom as she has Alzheimers now.
Slow Cooker Pork Roast Recipe
To make this slow cooker roast you want to slice a few cloves of garlic and stuff your pork shoulder with them. You do this by slicing little holes in the roast and sliding the garlic in.
Then you take your spices and rub it all around the outside. Lastly you place it in your slow cooker and cook all day. I like to place my roasts on a nest of vegetables so the veggies gather all the flavor from the roast. So I chopped a few potatoes, carrots, celery and onions first and put them in the slow cooker and then nestled the roast on top.
Easy Pork Ragu Sauce Recipe
Now for my secret pork ragu sauce. it's Trader Joe's Tuscano Marinara Sauce. I love this stuff. It is so very tasty. However in the summertime I will be making my own sauce with our garden tomatoes, but I always keep a few cans of this in the pantry because it's delicious.
So I take the left over pork, cut it up into pieces and add it to a pan with the marinara sauce. Let it cook down so the flavors blend together and the meat falls apart. In the meantime make your pasta and you are done.
One Of My Favorite Paleo Bloggers
I adapted the roast from one of my all time favorite bloggers Melissa Joulwan. She has written someof the best Paleo cookbooks called WellFed . If you are Paleo or Whole30 I would highly recommend this cookbook. But this cookbook is also for those that like a bit of an unusual twist to everyday food.
I'm not kidding you, this pork ragu is fabulous, as is the roast. So this summer if you are like me and running to and fro with your kiddos, just prepare your roast the night before and refrigerate. The next day add your veggies and turn on the slow cooker.
Come home at the end of the day to a delicious, wholesome meal. The next day, cut up your left over roast, add a can of marinara sauce and cook while your are making your pasta. Now you have dinner two. Easy peasy and yummy. Enjoy!
Slow Cooker Pork Roast to Ragu
This slow cooker pork roast to ragu recipe gives you two very simple but delicious meals from one pot roast. Make your roast one night and pasta with pork ragu the next.
Cook Time
8
hours
20
minutes
Total Time
8
hours
30
minutes
Ingredients
2 ½

lb

pork shoulder

2

teaspoons

salt

1

teaspoon

rosemary

1

teaspoon

basil

1

teaspoon

oregano

½

teaspoon

thyme

4

cloves

garlic, sliced into slivers

2

large potatoes cut into even pieces

5

carrots cut into even pieces

3

stalks of celery cut into pieces

1

onion cut into pieces

1

large can

marinara sauce (I love Trader Joes Tuscana Marinara)
Instructions
The night before: Take your slices of garlic and stuff them into the pork roast by cutting a little slit and place the garlic inside.

Next mix your salt, basil, rosemary, oregano and thyme together in a small bowl and rub all over the pot roast.

Refrigerate.

The next morning: Place all of your chopped vegetables into the slow cooker and add your roast on top.

Cook on low for 8 hours.

The next day: For the pork ragu, take your left over pork and cut into pieces. Add to a pan along with a good marinara sauce (I like Trader Joe's Tuscano canned sauce).

Cook for 15-20 minutes on medium.

While the sauce is cooking, make your pasta.

Both should be done around the same time.

Enjoy!.