This bacon, Brussels sprouts & potatoes side dish is one that the whole family will love. Easy to throw together it is almost a meal in of itself. All you need are 3 ingredients and you have this easy and delicious vegetable side dish!
You might also like this keto Brussels, bacon & cauliflower side dish.
Of course I love bacon as much as the next girl. Ok maybe I love it a little more. Any vegetable you add bacon to is going to taste better. This bacon Brussels sprouts & potatoes side dish is perfect when we are having steaks or a very meaty main dish.
It's nice because you can make it rather easily with just 3 ingredients. It's a bit of comfort food for me and I could eat this dish as my dinner instead of a side dish.
Other Bacon & Vegetable Side Dishes
As I mentioned above I do like bacon with my vegetables. This bacon & green beans dish is something we eat in the summer often with fresh garden beans. Try this bacon, beans & greens for similar flavors to this dish. And of course I have low carb version of this dish where I use cauliflower instead of potatoes.
Let's Make Some Bacon, Brussels Sprouts & Potatoes!
This recipe is quite simple. I use Applewood Smoked Uncured Bacon from Aldi's. It has no nitrites or nitrates and it's delicious, not to mention inexpensive! I cut that up into pieces and fry it in a pan.
This renders the grease to cook the potatoes and Brussels sprouts.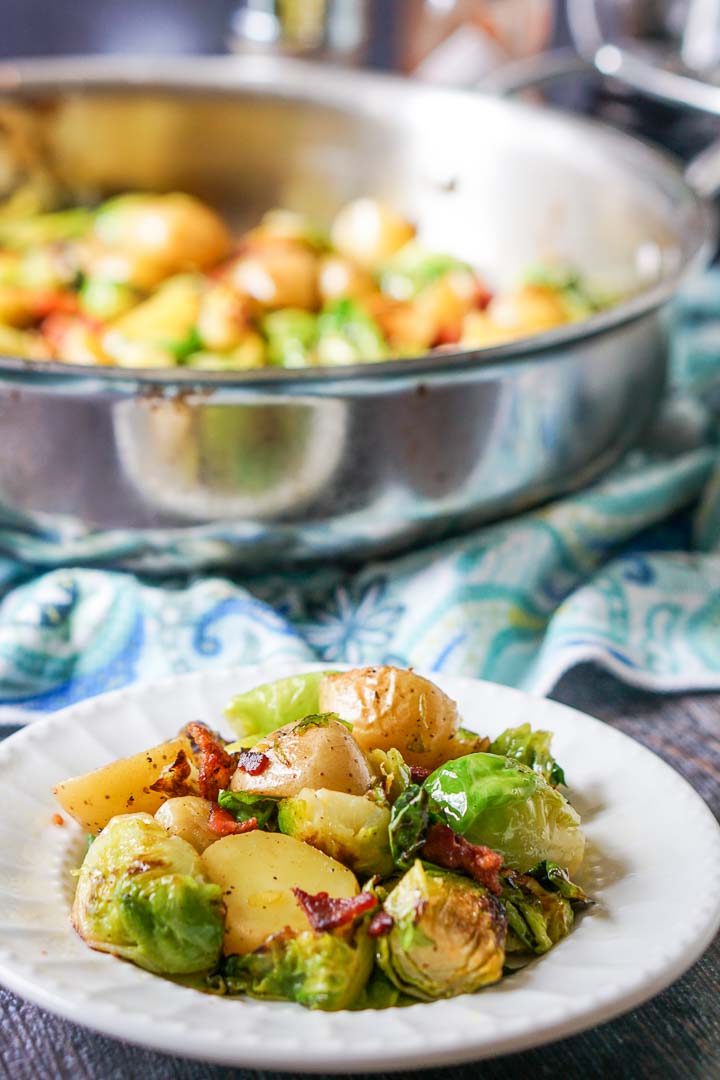 Meanwhile I steam some brussels in the microwave for 4 minutes. I love this microwave steamer to precook vegetables in the microwave. It really saves time and ensures that you veggies will be cooked through.
Lastly I put a few potatoes in the microwave and cook for 4 minutes too. I used mini potatoes today that I got at Aldi. I just had to cut them in half instead of chopping a whole potato.
Once the bacon is done, take it out of the pan but add in the precooked Brussels sprouts and potatoes. Brown them in the bacon grease for about 5 minutes and then add in the crumbled bacon before serving.
Well I hope you give this one a try because they really are delicious but then isn't anything that has bacon in it? Enjoy!

The nutritional information for 1 serving is: 150 cals / 9g fat / 13.9g carbs / 2.3g fiber / 4.5g protein
Bacon, Brussels sprouts & Potatoes Side Dish
This is quick and easy comfort food that can be a side dish or even a main dish.
Ingredients
4 ounces Bacon, (I used Aldi's uncured but any kind will do)
2 cups Brussel Sprouts, steamed
2 cups potatoes, cut in chunks
salt & pepper to taste
Instructions
Chop up the bacon and fry in a pan.
While bacon is cooking, wash and quarter brussels sprouts and then steam for about 4 minutes in the microwave.
Next cut up your potatoes to be roughly the same size as the Brussels sprouts and microwave for about 4 minutes until soft.
When the bacon is done take it out of the pan and then put in the potatoes and Brussels sprouts. Saute until nice and brown, about 5 minutes.
Add back the bacon, mix and then serve.
Notes
150 cals / 9g fat / 13.9g carbs / 2.3g fiber / 4.5g protein
Nutrition Information:
Yield:

6
Serving Size:

1 Servings
Amount Per Serving:
Calories:

150