If you are looking for low carb drink recipes to celebrate the holidays or to ring in the new year, I have 15 keto cocktail recipes for you. I also have some fun alcohol infusions to try which have virtually no carbs!
You might also like these keto drinks for tailgates and parties.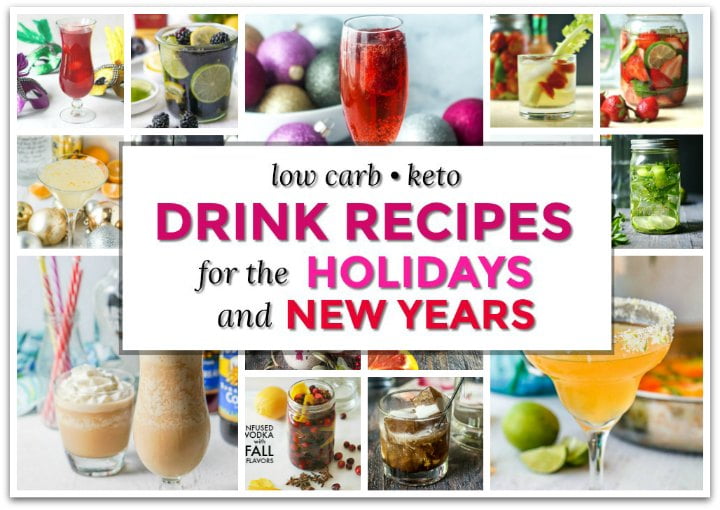 The holidays are upon us and this can be a time when overindulgence makes it hard to count your carbs. Fear not I have 15 low carb drink recipes that will allow you to join the festivities but not blow your diet. I have creamy drinks, citrus drinks, infused alcohol, spiked hot chocolate and much more!
I have to add that all of these drinks are very easy to make and some are even fun to make like the infused alcohols. So before we get to the drink recipes, let's talk about how many carbs are in your alcoholic drink of choice.
How Many Carbs In Alcoholic Drinks
I think most people think of alcohol drinks as wine, beer, or liquor. Let's talk a little about each:
Beer – there are lower carb beers but for the most part there is no getting around that they have the most carbs. Michelob Ultra and Corona Premier have 2.6g net carbs each. There are some microbrews that have less so you might get lucky and find one with less. This is a good article if you are looking for low carb beers.
Wine – Surprisingly to me, wine is not that high in carbs if you are drinking a drier wine. For whites try Sauvignon Blanc (roughly 2.7g) and for reds try Pinot Noir (roughly 3.4g). The problem with wine is that it's easy to drink a couple glasses and it adds up.
Champagne: Believe it or not champagne isn't all that expensive and a drier one has very few carbs. A glass of dry champagne has only 1g of carbs. This would be an excellent choice over the holidays.
Liquor: Hard alcohol or liquor has no carbs at all. The problem is the mixers. So if you use diet sodas, seltzers and other low carb mixers (see below) this might be your answer.
If you are interested in learning more, check out this post (carbs in alcohol) and how it affects your body.
Low Carb Drink Mixers
One of the things that's really become popular over the years is flavored seltzer water. These really come in handy when making a keto drink. Here are a few other things I like to use as low carb mixers.
Try using flavor extracts or drops for a boost of flavor. You can buy Capella flavoring online in almost any flavor but they aren't sweet. You can then add a little Swerve sweetener or stevia for a delicious drink.
Try adding orange, lemon or lime zest which has no carbs and adds lots of flavor.
Of course there are a lot of sugar free sodas and drinks in the store, all of which work well as mixers. I often use Crystal Light in my drinks.
Try a few Torani sugar free syrups in your drinks. I especially love the fruit flavors for drinks. They add sweetness and flavor and there are over 30 sugar free flavors.
There are SO many flavored teas on the market that would make delicious drinks. All you need is the sweetener.
Lastly take your favorite latte and make it into a drink. Heavy whipping cream is very low in carbs and when mixed with coffee and different flavored Torani sugar free syrups you can make an excellent low carb drink.
A Note About The Alcohol Infusions
An alcohol infusion is when you steep hard alcohol like vodka in different ingredients (like fruit or spices) to give it flavor. That way you can drink it on the rocks or with seltzer and it will be deliciously very low carb. I've added them to this roundup because they are so tasty and lots of fun to make.
If you watch any cooking shows like Top Chef you can think of them like deconstructed cocktails. Hope you enjoy them!
Low Carb Drinks for the Holidays or New Year!
Whether you like fruity, creamy, hot or cold low carb drinks I think I have you covered.
Well I hope that gave you a couple of choices to pick from when you feel like celebrating with a low carb drink during the holidays. Try playing around with the alcohol infusions as they are a lot of fun as well as tasty.
If you liked this post please pin it to Pinterest!