Mardi Gras is just around the corner, so what better way to celebrate than with low carb hurricane drink & jello shots! Try this drink even without the rum for a delicious nonalcoholic drink.
You might also like this keto butter burger recipe for Fat Tuesday!
My hubby and I went to New Orleans once before we were married. We were only there for a few days but boy did we have fun. It's a beautiful city but what I remember the most were the drinks. We stopped to have a drink before dinner and I decided to try one their specialties …. the Hurricane.
It was fruity and strong, oh so strong, but you didn't know it because it was so tasty. Well since Mardi Gras is almost upon us, I thought I'd try to recreate the hurricane drink and make low carb gelatin shots too.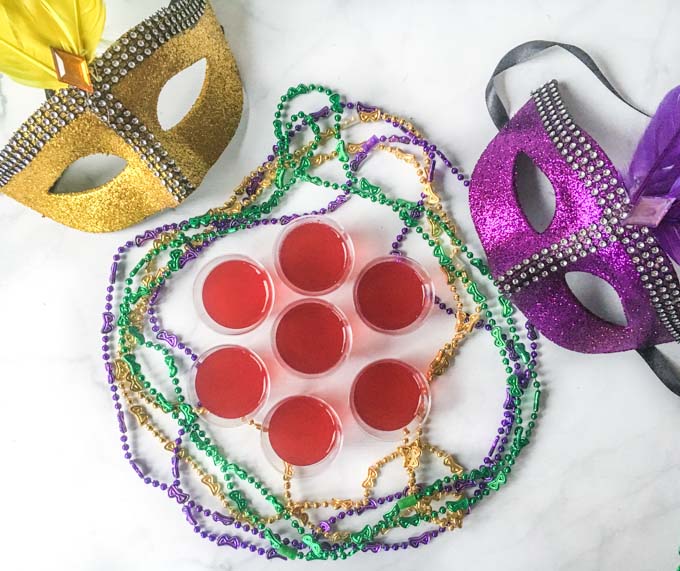 I decided to make these shots because I am on a collagen/gelatin kick. I've been reading how good gelatin/collagen is for you so I've been taking it like a supplement for 2 weeks now. I do seem to have more energy but so far that's about it.
I've also been making lots of gelatin treats. I have a tiramisu treat coming up soon and who knows what else. I've been using Great Lakes products because they have long been considered the best. I use the collagen hydrolysolate as a supplement and the gelatin for recipes that need to be gelled.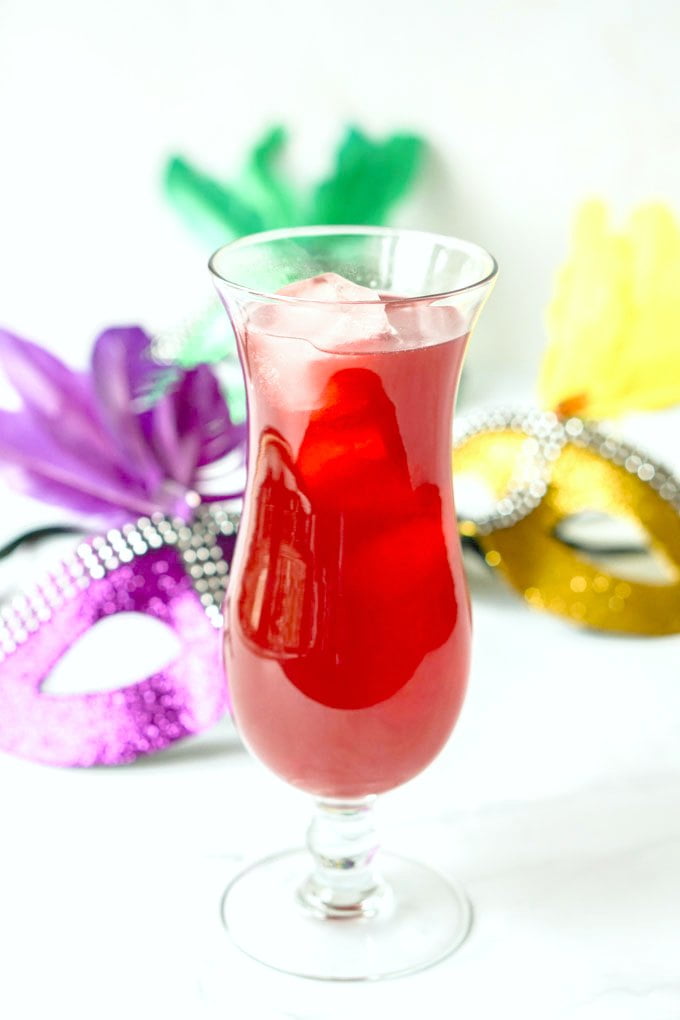 The hurricane was created by Pat O'Brien a tavern owner in New Orleans. Supposedly it was to use up rum that local distributors forced him to buy. You can learn more about that here. The main flavors consist of orange, lime, passion fruit, rum and grenadine (pomegranate).
To keep this low carb I tried to create those flavors using tea and sugar free punch drink mix. It turned out great and my son and I have been drinking it all week (minus the rum that is).
I used Celestial Seasonings Tangerine Orange tea, Tazo Passion tea, Twinnings Pomegranate Raspberry tea and Giant Eagle Sugar Free Fruit Punch.
If you can't find these specific brands it should be ok. Just make sure you have the herbal tea flavors of orange, passionfruit, pomegranate and a sugar free fruit punch drink mix.

Mardi Gras Low Carb Hurricane Drink & Shots
Start by making the drink with 2 bags of tangerine orange tea, passion fruit tea and pomegranate tea.Add 6 cups of hot water and let steep.
Once cooled, add in 3 single servings of sugar free fruit punch mix and stir to combine. Refrigerate over night for best taste.
For shots, take ½ cup of cold punch and sprinkle 1 tablespoon of unflavored gelatin. Whisk well to combine.
Heat up 1 cup of the punch and pour over gelatin. Whisk again until gelatin has dissolved.
Mix in ½ cup of rum and then pour into shot glasses.
Refrigerate for a few hours until set.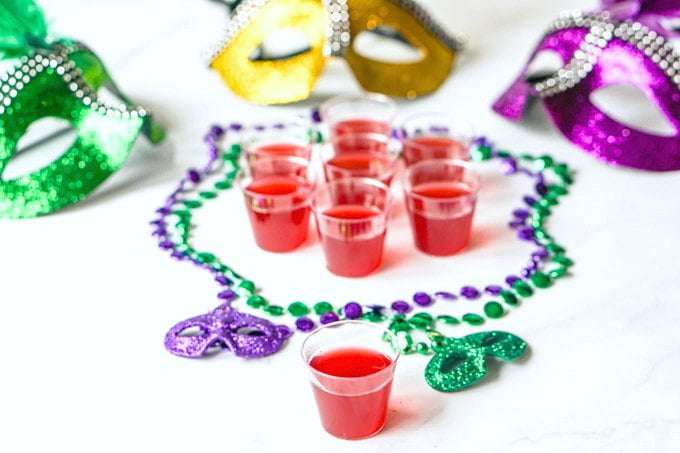 You can also just make the Hurricane drink by adding in a shot of rum (or more if you wish) to an glass of the punch. Or you can skip the rum for a super tasty low carb, sugar free punch. The nutritional information is as follows:
1 fl oz of 80 proof rum is about 64 calories and 0 carbs.
Most brands of herbal tea are 0 cals and 0 carbs.
Most sugar free punch mixes are about 5 cals and 0 carbs.
If you are interested, here is a link to all of the Amazon products that I use. I purchase almost all of my kitchen tools and unusual food products from Amazon.
Low Carb Hurricane Gelatin Shots for Mardi Gras
Mardi Gras is just around the corner, so what better way to celebrate than with low carb hurricane gelatin shots! Try this drink even without the rum for a delicious nonalcoholic drink.
Ingredients
2

Passion fruit tea bags

2

Tangerine Orange tea bags

2

Raspberry Pomegranate tea bags

3

Sugar Free Fruit Punch singe serving sticks

1

tablespoons

unflavored gelatin

½

cup

rum
Instructions
Add teabags to a large pitch and pour 6 cups of hot water over them.

When cooled, add the fruit punch mix and mix well. Refrigerate over night for best taste.

Add ½ cup of the cold punch in a pyrex measuring cup. Sprinkle in gelatin and whisk until well combined.

Heat up 1 cup of the punch in the microwave and then pour over the gelatin. Whisk until the gelatin is dissolved.

Pour in the rum and mix again. Then pour into shot glasses and refrigerate for a few hour until set.

NOTE: This recipe produces 20 gelatin shots and leaves you will approximately 4 cups of the punch left over. You can make the hurricane drink by pour the punch over ice cubes and mixing in 1 shot of rum.