Looking for a low carb Easter treat? Try these low carb jelly bean gelatin snacks! Easy to make and virtually no calories or carbs and the added benefit of using healthy gelatin!
I think I told you a while back that I am on a major gelatin kick. It's good for your digestion, skin, joints and may even help you sleep. It's also high in protein, low in carbs and you can make all kinds of fun treats with it. So today I made low carb jelly bean gelatin snacks because Easter is coming up and all I see are jelly beans everywhere. If you are missing those colorful candies in your Easter basket this year, you can snack on these low carb snacks guilt free.
I got the idea for these gelatin treats from a Halloween post about making low carb candy drinks. The Jolly Rancher and Swedish Fish drinks in particular were very similar to this recipe and so I decided to add a little gelatin to see what would happen. Victory! I now have an easy way to make my own low carb, sugar free gelatin.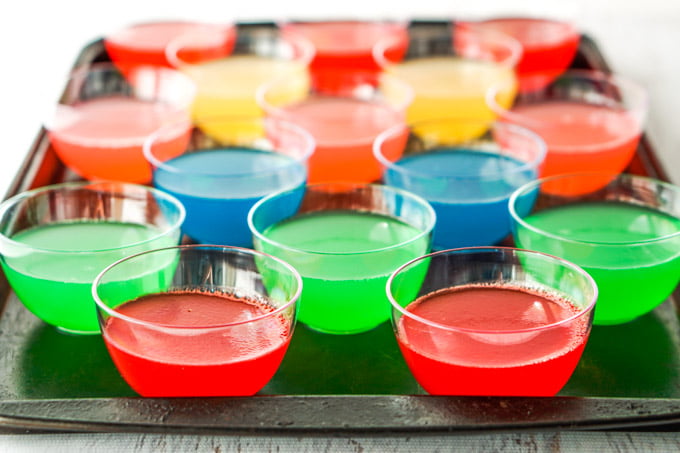 I used Torani sugar free syrups to make these low carb treats. Specifically strawberry, blue raspberry, lime, red raspberry, pineapple and watermelon because those were flavors I had on hand. I wanted to make a peach one too but husband uses that in his oatmeal every morning and it was dangerously low. 🙂 The sugar free Torani syrups add sweetness and flavor however they need a little sour taste for balance so I use a bit of lemon juice to do that.
If you don't have any sugar free syrups there are other things you can try but you will have to experiment. You can try:
flavor extracts for baking like lemon, orange, etc. (will need added sweetener)
sugar free Crystal Light or other powdered drinks (you won't need the lemon if you use these)
flavored tea (you will have to add sweetener as well if you using these)
sugar free soda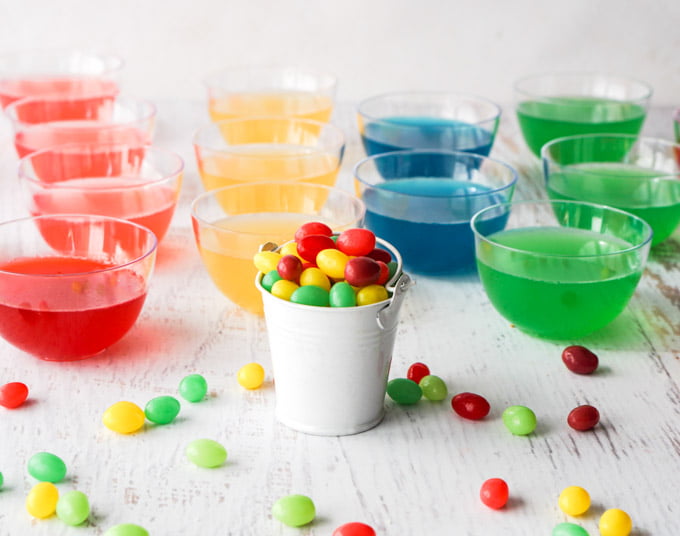 The basic low carb Jelly Bean gelatin recipe
Whisk 1/4 cup cold water and 1/2 tablespoon of gelatin.
Add in 1/4 cup of Torani sugar free syrup of choice and 1 tablespoon of lemon juice.
Whisk in 1/4 cup of boiling water until the gelatin is dissolved.
Pour in 3 tablespoons of cold water and mix well.
Pour into containers and refrigerate for a few hours until set.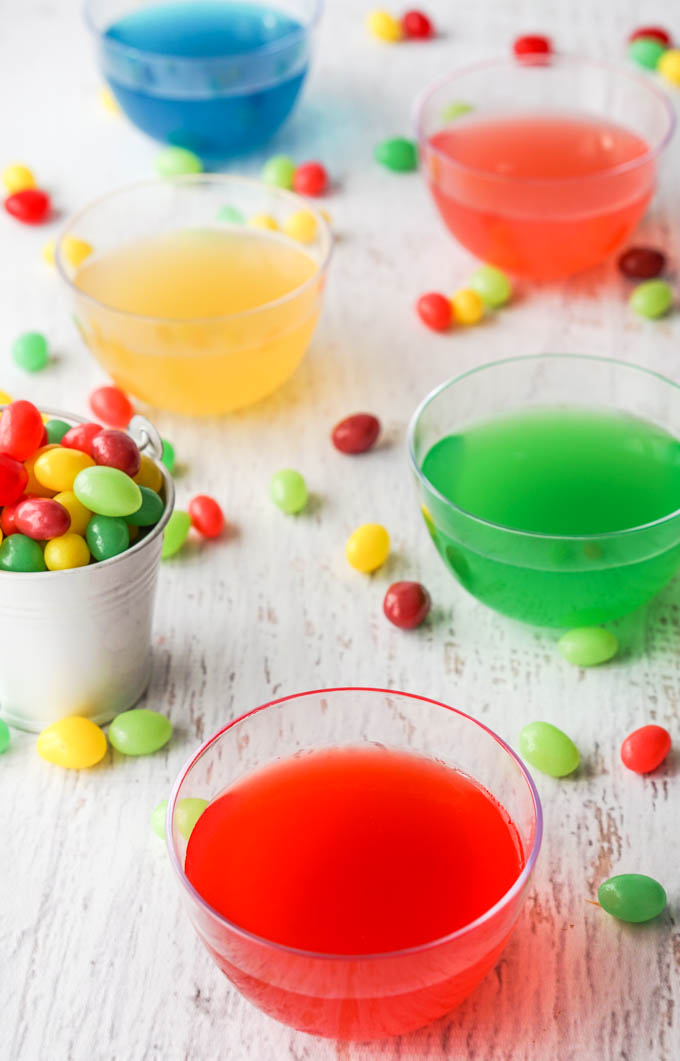 notes about this gelatin recipe
I use Great Lakes unflavored gelatin because it's made from grass fed cows and is a well known brand. It's the one in the red can not the green. However you can use any unflavored gelatin you wish.
It takes 1 tablespoon of unflavored gelatin to gel 2 cups of liquid. That said I made half of a batch for each flavor so this recipe makes 1 cup of gelatin.
If you want to make this sweeter or more tart, just make sure you use the same amount of liquid. That is if you want to add more syrup and lemon juice, cut down on the water. You need to start with cold water and then add the boiling water to dissolve it. Try to keep those amounts the same.
I bought these cute little plastic containers at the dollar store. They come in bigger sizes too.
Most of the Torani Sugar Free syrups don't have any carbs or calories. The two that I used that do have carbs are the Pineapple and Red Raspberry. Both have 1 carb per 2 Tablespoons. I used the Red Raspberry in my nutritional calculation but if you use one of the others there would be no carbs.
The lime was very light in color and I added 2 drops of dye to make it more vibrant. The other flavors are from the color of the syrup.
The nutritional information for 1 serving of red raspberry is:
7 cals / 0.7g carbs / 1.8g protein = 0.7g net carbs
By the way this is not a sponsored post for Torani. If you follow my blog you know I love these syrups. I have a coupon for you but it's only good until Dec. 31, 2018. Just click on the coupon below and make sure to use the coupon code PUMPKINSOBASIC on your order.
And if you want to learn more about the healthy benefits of gelatin check out this post.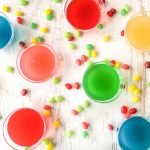 Low Carb Jelly Bean Gelatin Snacks
Looking for a low carb Easter treat? Try these low carb jelly bean gelatin snacks! Easy to make and virtually no calories or carbs and the added benefit of using healthy gelatin!

Ingredients
1/4

cup

cold water

1/2

tablespoon

unflavored gelatin

1/4

cup

Torani sugar free syrup of choice

1/4

cup

boiling water

1

tablespoon

lemon juice

3

tablespoons

cold water
Instructions
Add 1/4 cup cold water and gelatin to a pyrex measuring cup. Whisk well.

Pour in Torani sugar free syrup and then the 1/4 cup of boiling water. Whisk until the gelatin dissolves.

Ad in the lemon juice and the 3 tablespoons of cold water. Mix and then pour into containers.

Refrigerate for 1 or 2 hours until set.