Don't miss out on the fun with these Halloween low carb candy drinks! Only a few ingredients to make these yummy drinks that taste good with our without alcohol. Have fun and create your own.
When it comes to Halloween, I think of costumes and candy. I usually buy candy I don't like so if there are leftovers, I won't be tempted. Or create my own, like these low carb marshmallow cups. However this year I have concocted some Halloween fun with these low carb candy drinks that will satisfy my sweet tooth. I went through my Torani Sugar Free Syrups inventory and came up with 5 fun candy drinks for you today: Twix, Swedish Fish, Rolos, Watermelon Jolly Rancher and Reese's Cup . And while you can add a little vodka to make a cocktail, it's not necessary. My son tried and loved each one of the non-alcoholic versions.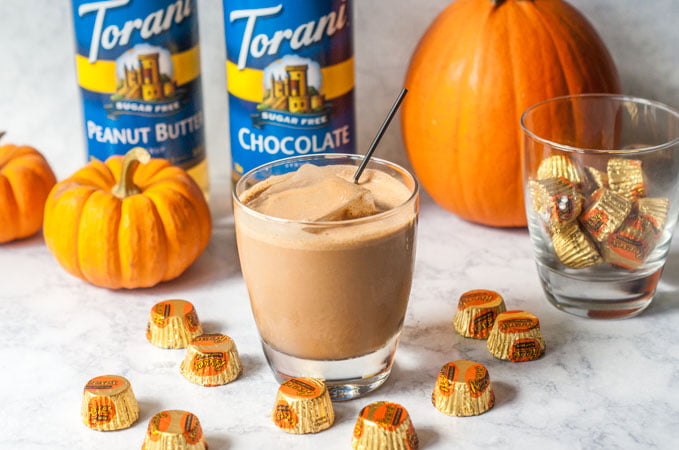 For the chocolate drinks I used a base of almond milk, heavy cream and unsweetened cocoa powder. For the fruity drinks I used seltzer water and a bit of lemon juice to give it that tang that balances out the sweet. I think diet creme soda or diet ginger beer might be fun to play with next time. Remember you can use 1 shot of vodka in each drink to make a boozy version but they taste great as is.
Swedish Fish Halloween Drink
Jolly Rancher Halloween Drink
½ cup soda water or seltzer
3 tablespoon Torani Sugar Free Watermelon Syrup
1 teaspoon lemon juice
Net carbs = 0.6g
Rolos Halloween Drink
Twix Halloween Drink
More Low Carb Candy Drinks Ideas
I hope you liked my sugar free and low carb Halloween candy drinks. I have to say they were so much fun to make and my whole family (including my father in law) enjoyed taste testing. Here are a few more ideas for candy drinks using Torani Sugar Free Syrups:
Mallow Cup: S'mores, Chocolate
Almond Joy: Chocolate Macadamia, Coconut,
Mounds: Chocolate, Coconut
Peppermint Patty or Junior Mints: Chocolate, Peppermint
Bit of Honey: Belgium Cookie, sugar free honey
Milky Way: Chocolate, Smore's
Special Torani Syrups Offer
Torani has 35 sugar free flavors to choose from and for my readers just Sign Up for Torani's E-Newsletter for 10% OFF!. I order all of my Torani syrups from them because it's the best price and for me they come within the next day or two. Currently I have 14 bottles in my collection!
Try these recipes & show us on Instagram or Facebook with #AToraniHalloween !
To learn more about Torani and get more fun ideas check out the website and follow them on Facebook and Instagram . #AToraniHalloween
---
Reese's Cup Low Carb Drink
Don't miss out on the Halloween fun with these low carb candy drinks! Only a few ingredients to make these tasty drinks that taste good with our without alcohol. Have fun to create your own.
Ingredients
½

cup

almond milk

2

tablespoons

heavy cream

1

tablespoon

cocoa powder

1

tablespoons

Torani Sugar Free Chocolate Syrup

3

tablespoons

Torani Sugar Free Peanut Butter Syrup

1

tablespoon

powdered peanut butter

1

shot vodka

optional
Instructions
Add all ingredients to a blend and blend until well combined.

Pour over ice and enjoy!

Net carbs = 3.8g