If you are a Harry Potter fan, I'm sure you will love this easy keto butterbeer recipe. It's a creamy, indulgent butterscotch drink that is sugar free! You can also make it a boozy butterbeer and still be ketogenic friendly. Each buttery drink has only 1.4g net carbs!
You might also like this candy cane drink recipe!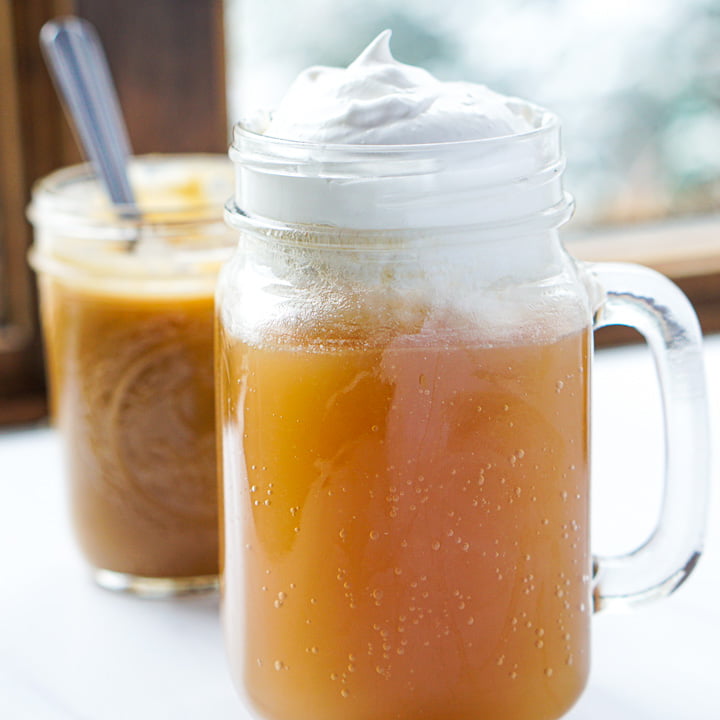 I remember when my son was in preschool and some of the other moms were gushing about the Harry Potter books. At the time I thought it was kind of strange that they were reading kid's books. That was until I read them and watched all the movies numerous times. They are just awesome.
So if you've read the books or visited Universal Studios Wizardly World of Harry Potter, you will probably know all about butterbeer.
It's a sweet buttery drink with a butterscotch flavor and creamy whipped topping and OH SO GOOD! By the way I believe it is called butterbeer, not butter beer. But I could be wrong.
Today I have an easy keto butterbeer recipe for you and I am certain you will love it. And if you want to get a little crazy, make it an alcoholic butterbeer.
Even if you have never heard of it, you should give it a try because it is yummy.
Ingredients In My Butterbeer Drink
I've made this recipe quite a few times and a few different ways. However for my final attempt the ingredients for my butterbeer are:
diet cream soda
butter
cream
Swerve brown sweetener
Swerve confectioner sugar
salt
vanilla extract.
To make this drink you first have to make a keto butterscotch syrup and then a sweetened whipped cream topping. So let's get started
Let's Make Some Sugar Free Butterscotch Sauce
By the way, did you know that the difference between caramel and butterscotch sauce is simply that caramel sauce using white sugar and butterscotch uses brown sugar? So for a butterbeer, you want to a butterscotch sauce and hence the Swerve brown sweetener.
This was very easy to make and so darn delicious! I wish I could think of more uses for it but I'm sure in time I will. Here's how I made the low carb butterscotch sauce:
Melt butter in a small sauce pan.
Add the Swerve brown sugar sweetener and heavy cream. Mix to dissolve and bring to boil.
Turn down the heat to a simmer and cook for 4-5 minutes until it starts to thicken.
Add in the salt and vanilla extract and take off the stove. The sauce will thicken while it cools.
And this is what it looks like (above) once it starts to boil and then simmer. Below is what it looks like after it's cooled. You will have a lot of sugar free butterscotch syrup leftover for other things.
Now Let's Make The Butterscotch Whipped Cream
To make the sugar free whipped topping, add heavy whipping cream with Swerve confectioners sugar to a large mixing bowl. Using a hand mixer whip until it has nice stiff peaks form like the photo below. Then add in 2 tablespoons of the butterscotch sauce and mix again.
It will deflate the whipped cream a bit but it doesn't matter.
Putting It All Together
Now it's time to put together this deliciously easy butterbeer drink. Grab a frosty mug (put it in the freezer before you start) and pour in some diet cream soda. Mix in a little of the butterscotch sauce and then top with the whipped cream.
If you want you can also add a bit more of the sauce on top but that is not necessary. And that is all there is to it!
For A Boozy Butterbeer Drink
All you need to do is add 1 oz of rum to the cream soda and mix before adding the whipped topping. Easy peasy. You could also use vodka if you wish. You don't want to take away from the taste of the butterbeer and vodka would be fine.
However I think the rum would be better.
So that is all there is to this sugar free cold butterbeer drink. I think Harry, Hermionie and Ron would approve. Here are some cute Harry Potter inspired treat recipes to check out too.
If you are wondering how many calories in a keto butterbeer, the nutritional information for 1 drink without alcohol is 223 calories
23.8g fat / 1.4g carbs / 1g protein = 1.4g net carbs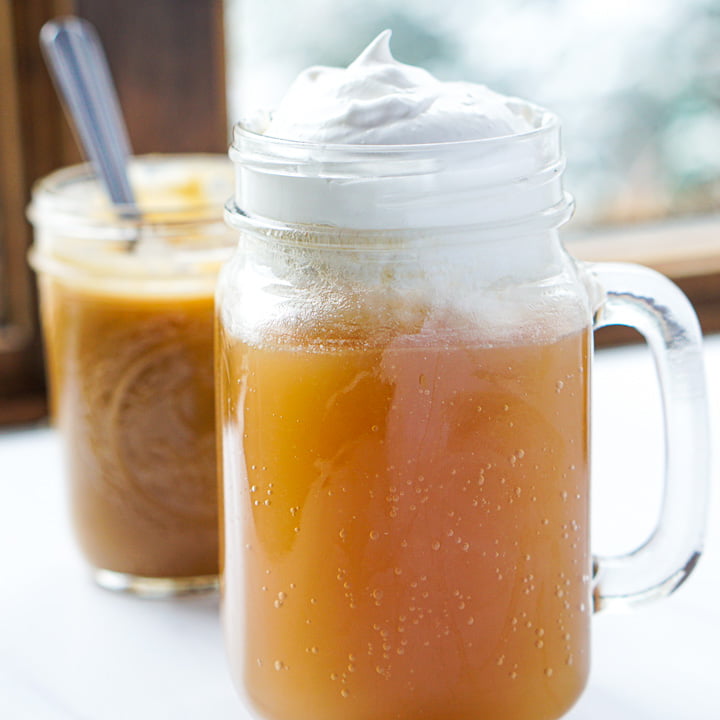 Keto Butterbeer Recipe
Additional Time:
5 minutes
If you ever wanted to try a butter beer this keto butterbeer recipe will have you hooked! With or without alcohol you will love this decadent butterscotch drink.
Ingredients
Sugar Free Butterscotch Sauce
4 tablespoons butter
½ cup heavy whipping cream
½ cup Swerve brown sugar sweetener
1 teaspoon salt
1 teaspoon vanilla extract
Butterscotch Whipped Cream Topping
1 cup heavy whipping cream
¼ cup Swerve confectioners sweetener
2 tablespoons sugar free butterscotch sauce
Keto Butterbeer Drink
12 oz Diet Cream Soda
2 tablespoons butterscotch sauce
3-4 tablespoons of butterscotch whipped cream
Instructions
Place your mug or glass into the freezer to get cold. Make sure your cream soda is cold too. Or just use ice.
To make the butterscotch sauce melt the butter in a small sauce pan. Then add in Swerve brown sugar, heavy cream and salt. Whisk to combine. Bring to a boil and then simmer for a few minutes until it thickens. It will continue to thicken as it cools.
To make whipped topping add heavy cream and Swerve confectioners to a large mixing bowl. Using a hand mixer whip until it thickens and makes peaks. Then add in 2 tablespoons of the butterscotch sauce and whip some more to combine.
To make the butterbeer drink: Add the cream soda to a mug along with 2 tablespoons of butterscotch sauce and mix well. Top with 3-4 tablespoons of the whipped topping and serve.
If make into an alcoholic drink, add 1 shot of rum to the cream soda and butterscotch sauce and mix. Then add topping.
Notes
The nutritional information for 1 drink without alcohol is 223 calories
23.8g fat / 1.4g carbs / 1g protein = 1.4g net carbs
Recommended Products
As an Amazon Associate and member of other affiliate programs, I earn from qualifying purchases.
Nutrition Information:
Yield:

1
Serving Size:

1
Amount Per Serving:
Calories:

223