This keto candy cane martini is so yummy! Perfect for the holidays and really easy to make. It's creamy, sweet and has the vanilla and peppermint flavors of a candy cane yet it's sugar free and low carb! Each drink has only 1g net carbs and you can make it with or without alcohol!
You might also like this keto raspberry mimosa for the holidays!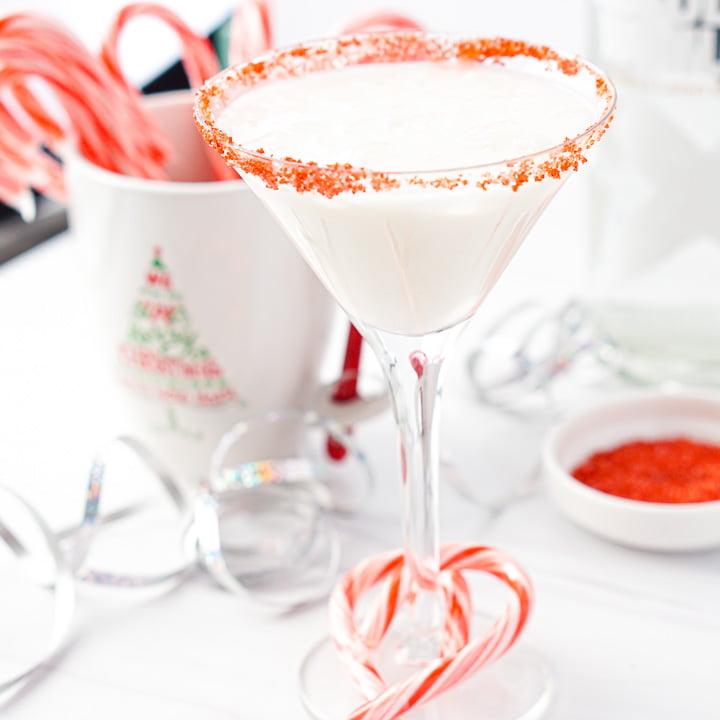 Every year for the holidays I like to come up with a fun keto cocktail. This holiday season it is this keto candy cane martini and it is soooo good. I drank mine in seconds and had another (though that one was without alcohol). So beware they are very yummy!
I modeled this drink after my very popular keto vodka chata drink. Both are creamy, sweet and hints of vanilla. While this candy cane cocktail has peppermint flavor too the vodka chata is full of cinnamon and nutmeg. Both are low carb, sugar free and easy to make. Perfect when on a low carb or keto diet!
What's In This Keto Holiday Cocktail?
When I was "practicing" making this mint martini I wanted to keep it simple because who wants to go to be a mixologist during the holidays? So the ingredients I used were:
unsweetened almond milk
heavy whipping cream
peppermint extract
vanilla extract
Swerve sweetener, confectioners
Absolut vanilla vodka
A note about the vodka. Most of Absolut flavored vodkas have no carbs but some flavored vodkas do. So make sure to research your brand of vodka if you buy another brand. Also you can substitute plain vodka instead.
Also if you see peppermint vodka such as Smirnoff, most likely it has added sugar. If you wanted to use a peppermint vodka you would eliminate the peppermint extract.
Keto Red Sugar Mixture To Rim The Glass
I like to drink this in martini glasses but you can use any kind of glass you like. To make the keto red sugar to rim the glass I took some granular Swerve sweetener and a pinch of salt. Mixed it with a few drops of red dye and mixed it well. Then I let it set out over night to make sure it was dried out.
This is not necessary to make but I thought it made the drink more festive. To be honest I'm not very good at rimming the glass but if you are interested here is a good article.
Essentially you wet the rim of martini glasses with a liquid then roll the rim around in a tray of sugar or salt. They had the great idea of using a wedge of lemon and rubbed it around the rim.
Let's Make Our Keto Peppermint Martini!
This is very easy and this recipe just makes 1 drink. So if you want to make more this candy cane martini recipe is easy to double, triple, etc.
Take a martini or other glass and if rimming with red sugar on top do so according to instructions above.
Add crushed ice or ice cubes to the glass.
Add to a cocktail shaker the almond milk, heavy cream, peppermint and vanilla extract, Swerve sweetener and vanilla vodka.
Pour over the crushed ice and serve.
Note you can eliminate the vodka if you want a non-alcoholic drink.
I hope you give this candy cane drink a try. Just looking at it right now I want to make another one. It's such a simple low carb cocktail but really tastes delicious and with only 1g net carbs and 168 calories you don't have to feel guilty!
You might also like my friend Annissa's keto Bailey's Irish cream recipe!
The nutritional information for 1 candy cane drink is: 168 calories
12.4g fat / 1.5g carbs / 0.5g fiber / 1.1g protein = 1g net carbs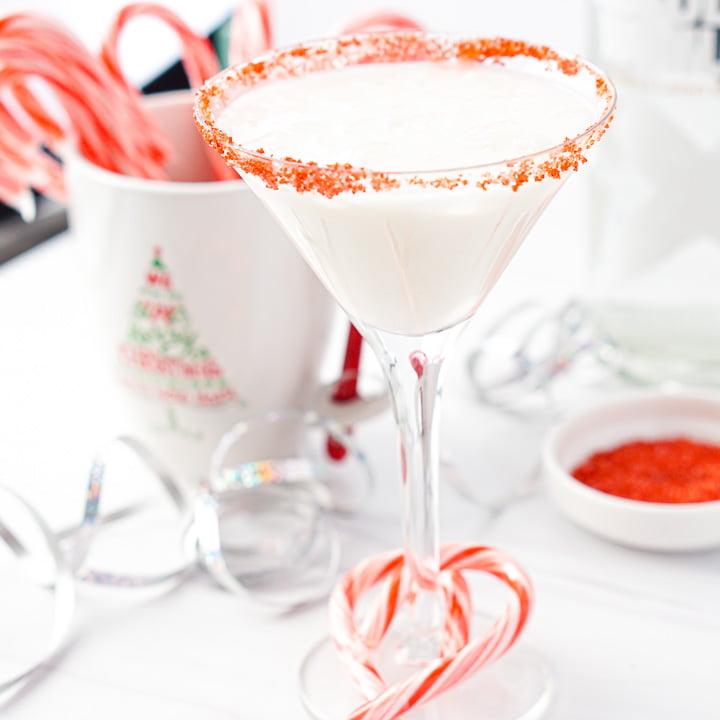 Keto Candy Cane Cocktail
This is the perfect easy sugar free cocktail for the holidays. A creamy, sweet minty drink that only takes minutes to make.
Ingredients
½ cups almond milk, unsweetened
2 tablespoons heavy cream
¼ teaspoon peppermint extract
¼ teaspoon vanilla extract
2 tablespoons Swerve sweetener, confectioners
1 oz Absolut Vanilla vodka (optional)
Instructions
Add crushed ice to fill a martini glass or other cocktail glass.
In a shaker mix almond milk, heavy cream, Swerve sweetener, vanilla extract, peppermint extract and vodka if using.
Pour over crushed ice and serve.
Notes
Note to rim the glass, mix a granular sweetener and a pinch of salt with red dye. Once it is dried for awhile (I didi it overnight) pour into a small plate or shallow bowl. Dip or rub water or almond milk around the edge of the glass and then roll it around in the red sugar mixture. Let dry completely before making the cocktail.
Also Absolut flavored vodkas do not have carbs but other brands might. So just check to see if you use another brand. Also you can use plain vodka or even rum or nothing at all.
The nutritional information for 1 drink is: 168 cals
12.4g fat / 1.5g carbs / 0.5g fiber / 1.1g protein = 1g net carbs
Recommended Products
As an Amazon Associate and member of other affiliate programs, I earn from qualifying purchases.
Nutrition Information:
Yield:

1
Serving Size:

1
Amount Per Serving:
Calories:

168