This keto lemon drop martini recipe is the perfect drink to make all year round. Whether with Meyer lemons or regular ones, it's bright, refreshing and very easy to make. You can make it with or without alcohol and each drink has roughly 1.7g net carbs!
You might also like this popular low carb vodka chata drink!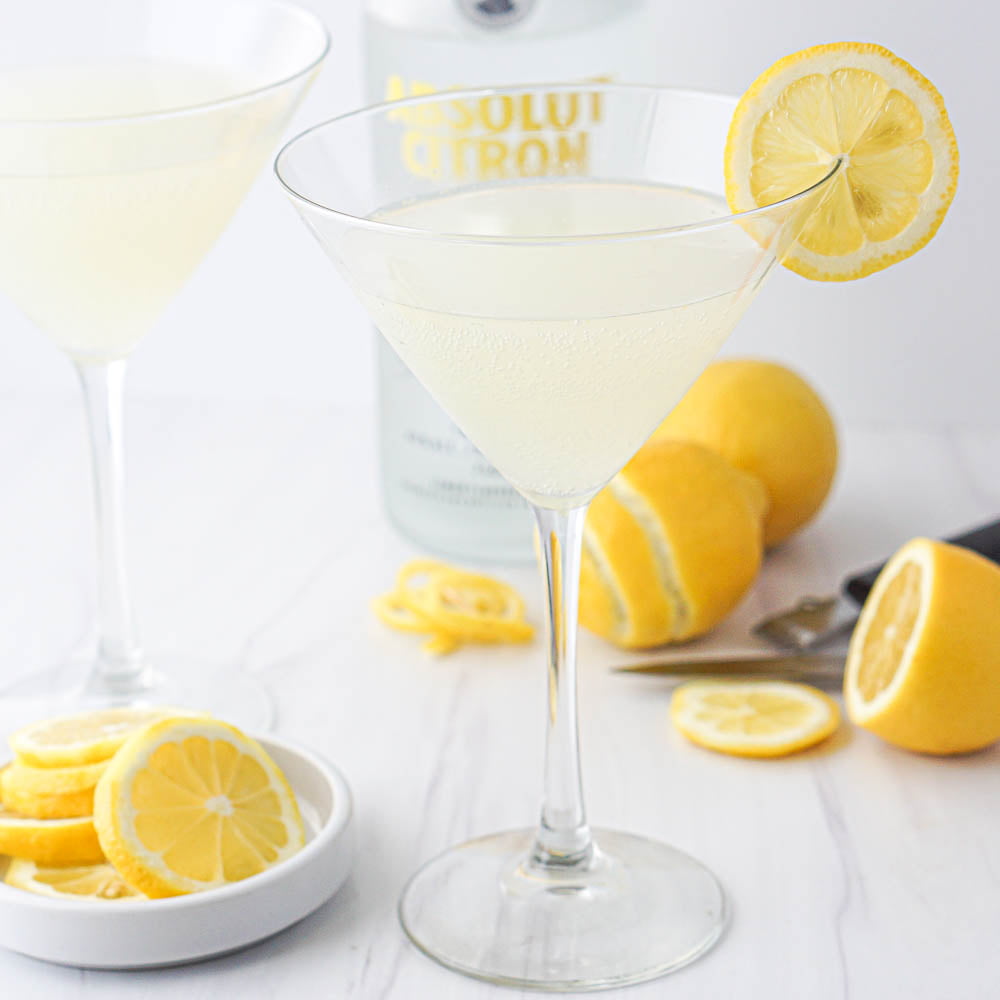 I first made this keto lemon drop martini recipe for the New Year's Eve as I like to try new alcoholic drinks every year. However now this recipe has become a keto cocktail I drink all year round.
Originally I made it with some Meyer lemons because they gave it a little special flavor but they are not in season all year round so usually I make them with regular lemons.
This is the perfect cocktail for those on a keto diet. It's refreshing and light so it's a great sugar free drink for summer as well.
How many carbs are in a martini?
Martini's are generally made with gin and vermouth. Gin like most alcohol or spirits have 0g carbs. However sweet vermouth has 4g net carbs in 1 oz whereas dry vermouth has 3.4g net carbs per 1 oz (source).
Since you usually only use ½ oz of vermouth then the standard dry martini would have only 1.7g net carbs.
Sometimes the term "martini" is used to refer to mixed drinks that mostly use hard alcohol like a cosmopolitan or today's lemon drop martini recipe. There are so many different kinds of martinis. Learn more about them here.
What's in a lemon drop martini?
There are only 4 simple ingredients in this low carb martini: vodka, fresh lemon juice & zest, Swerve sweetener and lemon flavored seltzer water.
Specific ingredients and substitutions.
I originally used Meyer lemons because they have a little different taste from regular lemons. However they might be hard to find as they are in season from December to March. I got mine at Trader Joes.
However you can use regular lemons if you want. Note that you want to use both the juice and the zest of these fruits.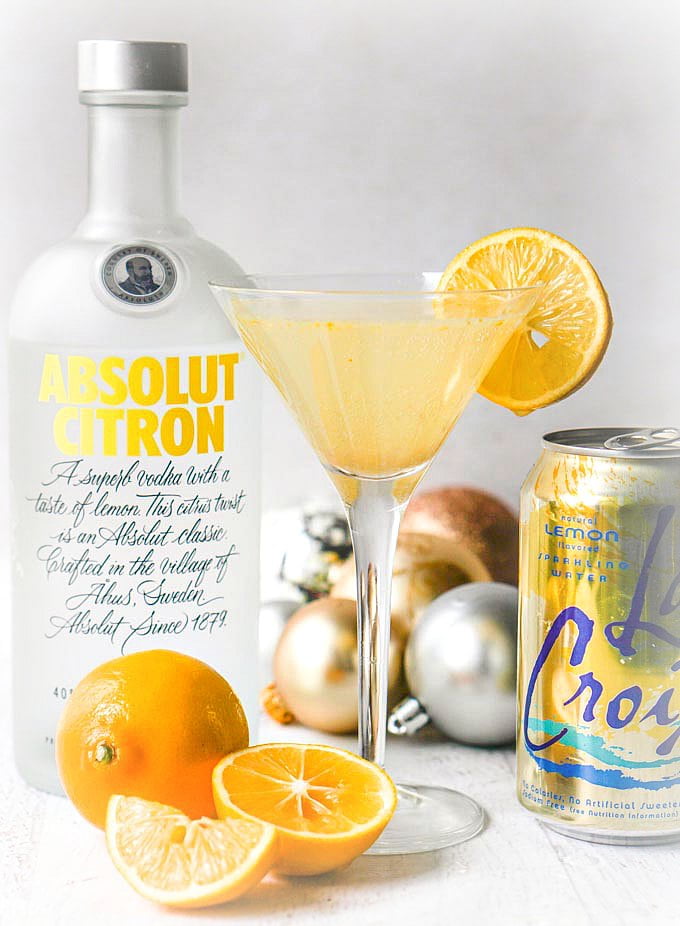 As for the vodka I suggest a mid shelf brand. I used Absolute Citron because it has no carbs. However there are many brands of citrus flavored vodka. Just make sure they are not sweet and don't have added sugar.
And the last two items are La Croix lemon seltzer water and Swerve confectioners sweetener. You can use any kind of lemon flavored sparkling water. And I like the confectioners because it dissolves easily.
If you only have granulated sweetener you might want to make a simple syrup first.
Making a quick simple syrup.
To do this, add 1 cup of water and ½ cup of granular sweetener to a pot. Heat until the sugar dissolves completely and then take it off the stove. When it cools down refrigerate it. In this recipe you would 2 tablespoons of the syrup.
How to make a keto lemon drop martini!
If you have a cocktail shaker add to it 1 oz of fresh lemon juice + 1 oz vodka + 1 tablespoon Swerve confectioners sweetener and the zest of ¼ of a lemon.
Mix well then strain and pour into a martini glass and add the seltzer water to your liking. Or you can serve this over ice cubes.
This seemed to be the perfect amounts for us. If you want it sweeter or stronger adjust accordingly. Also you can add a lemon wedge or slice to garnish your drink.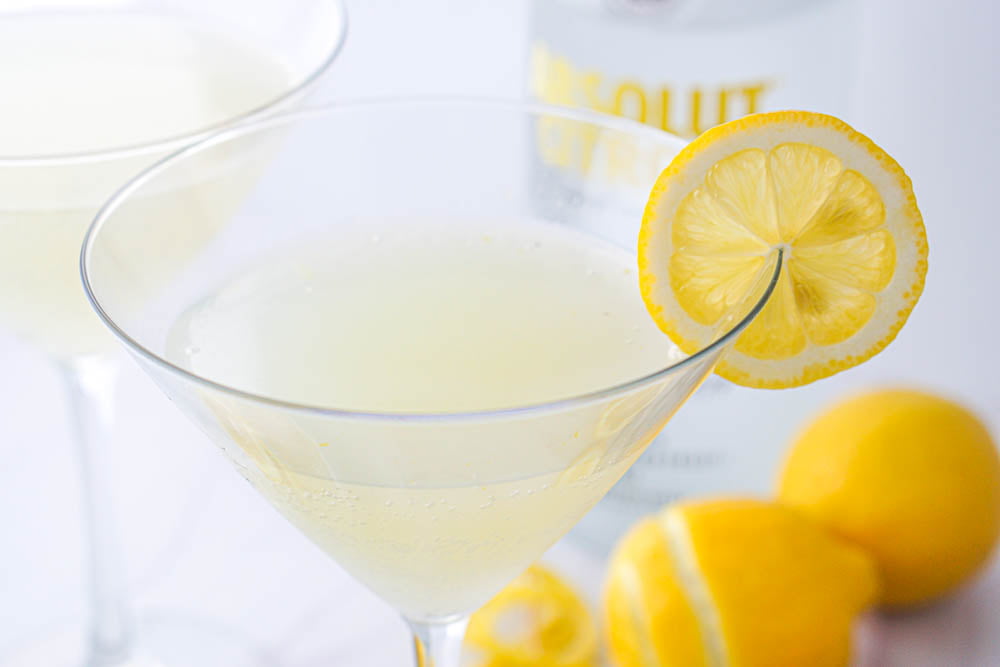 By the way, these are two tools that I used for this drink and for many other things in the kitchen: manual citrus press juicer and this microplane for zest.
I hope you enjoy this simple keto friendly drink. It's light, refreshing and just the perfect way to start the new year. But remember you can make this all year round if you are on a keto diet!
The nutritional information for 1 serving is: 67 cals
0g fat / 1.8g carbs / 0.1g fiber / 0.1g protein = 1.7g net carbs
A note about the nutrition: I had a hard time figuring out the nutrition for a Meyer lemon. I read that they are sweeter than regular lemons because they have less citric acid. I found this information that said 1 oz of Meyer lemon had only 0.5g net carbs. The other elements of this drink have no carbs. So for this recipe I just used the information for regular lemon juice. Please use your own calculation if you are worried about accuracy.
Another great drink recipe to try over the holidays is my friend Zuzana's keto mulled wine. Or for nonalcoholic drink try Mira's keto lemonade.
Keto Lemon Drop Martini Recipe
This keto lemon drop cocktail is the perfect drink for the holidays. It's bright and refreshing and very easy to make. You can make it with or without alcohol and each keto friendly drink has roughly 1.7g net carbs!
Ingredients
1 oz vodka (optional)
1 oz Meyer lemon juice (can use regular)
1 tablespoon Swerve confectioners sweetener
lemon seltzer or sparkling water to taste
¼ lemon Meyer lemon zest (or regular lemon zest)
lemon wedges or slices to garnish (optional)
Instructions
In a shaker cup add the juice, vodka, sweetener and zest.
Mix well then strain and pour into a martini glass.
Add seltzeror sparkling water to fill the rest of the glass. Taste and adjust accordingly. You can also serve this over ice cubes.
If you want to you can garnish your glass with lemon wedges or slices.
Nutrition Information:
Yield:

1
Serving Size:

1
Amount Per Serving:
Calories:

67
Unsaturated Fat:

0g