These margarita sugar free jello shots are fun for celebrations like New Year's Eve or St. Patrick's Day. All the flavor of a delicious margarita using lime jello and tequila! Easy to make and fun to eat, try these simple keto jello shots at your next party. Each shot has only 25 calories and 0g net carbs!
You might also like these low carb hurricane cocktail jello shots!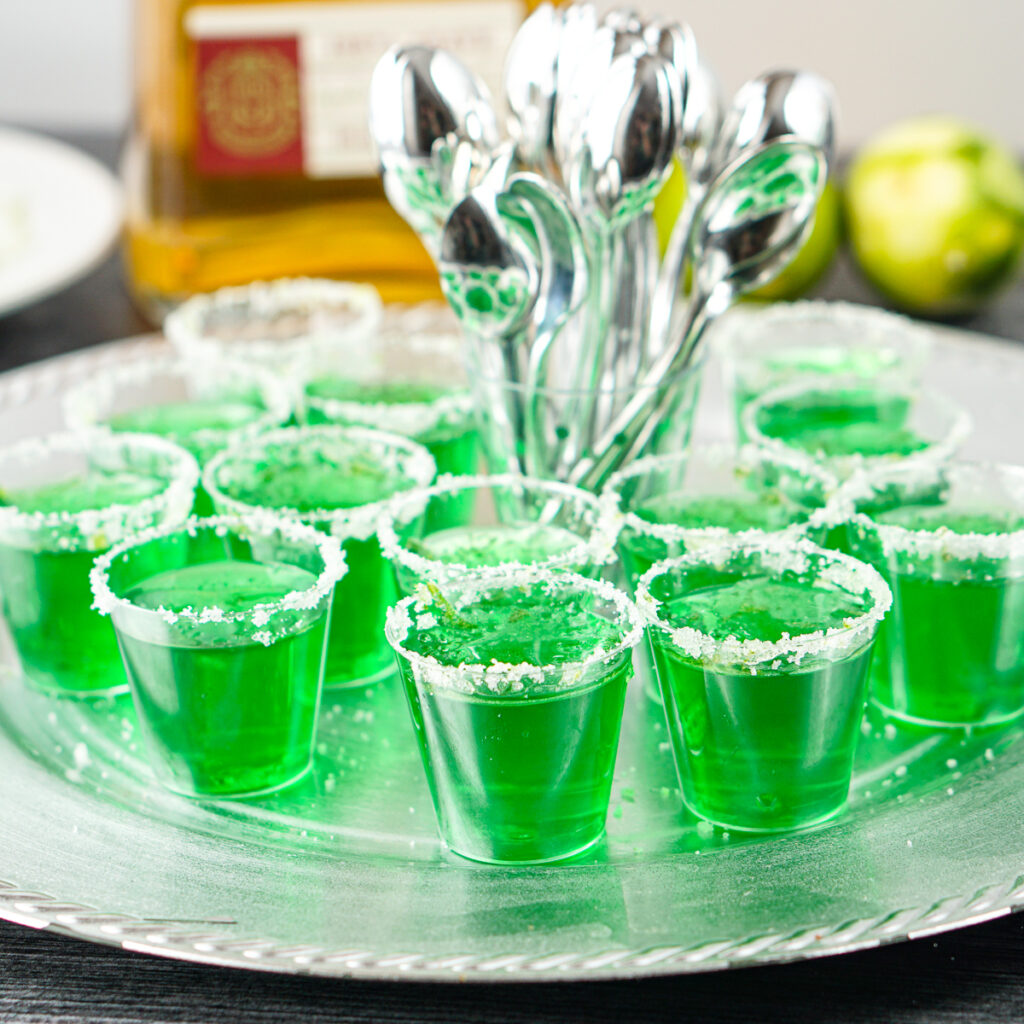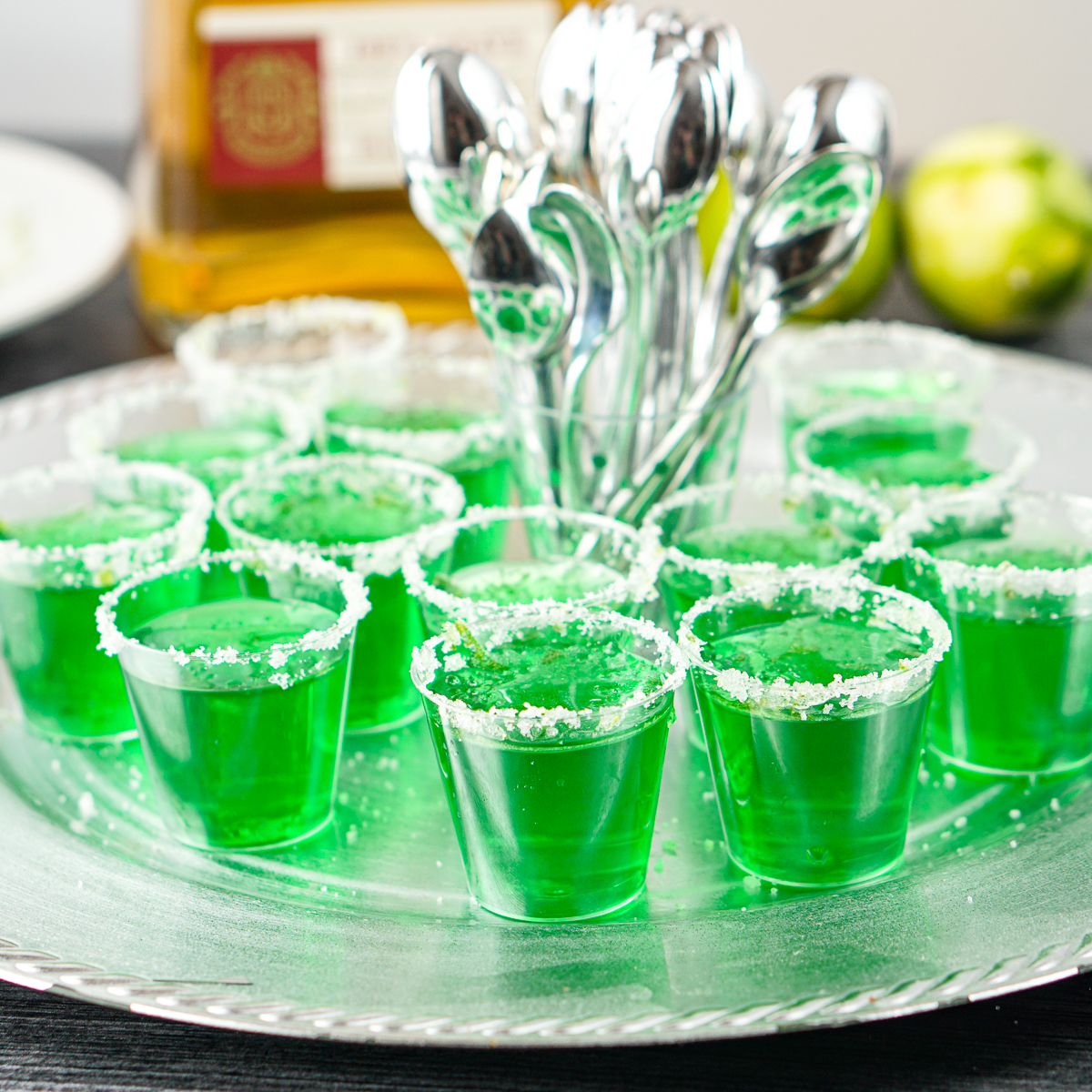 Recently I went to a party with some friends from my book club. Some of the ladies brought fun jello and pudding shots and I realized how easy it would be to make them low carb.
So I played around and came up with these margarita sugar free jello shots. They were so good! They really had that margarita flavor and you only needed a few ingredients. Plus each one only had 25 calories and no carbs. So these are perfect for those on a keto diet.
If you are looking for a fun drink to take to a New Year's Eve party or other celebration give these easy jello shots a try. The vibrant green color would be great for both Christmas or St. Patrick's day too!
Can you make jello shots using sugar free jello?
Yes you can. And with the selection of sugar free gelatin available these days you can make a slew of drinks with them. And while I used lime gelatin for a classic margarita, you could use additional flavors like raspberry, strawberry or lemon instead.
You could also make these with unflavored gelatin. It would be a bit more difficult though. I would use lime juice and sweetener instead but you would have to play around with the amounts of water.
Recipe ingredients I used.
All you need to make this margarita jello shots recipe is a box of sugar free lime Jell-O, orange extract, tequila and limes. While lime is not my favorite flavor of Jell-O it's perfect for that classic margarita flavor.
A classic margarita uses tequila, triple sec, lime juice and some sort of sweetness.
The lime gelatin has that great sweet and tart flavor and the orange extract mimics the triple sec which is an orange liqueur.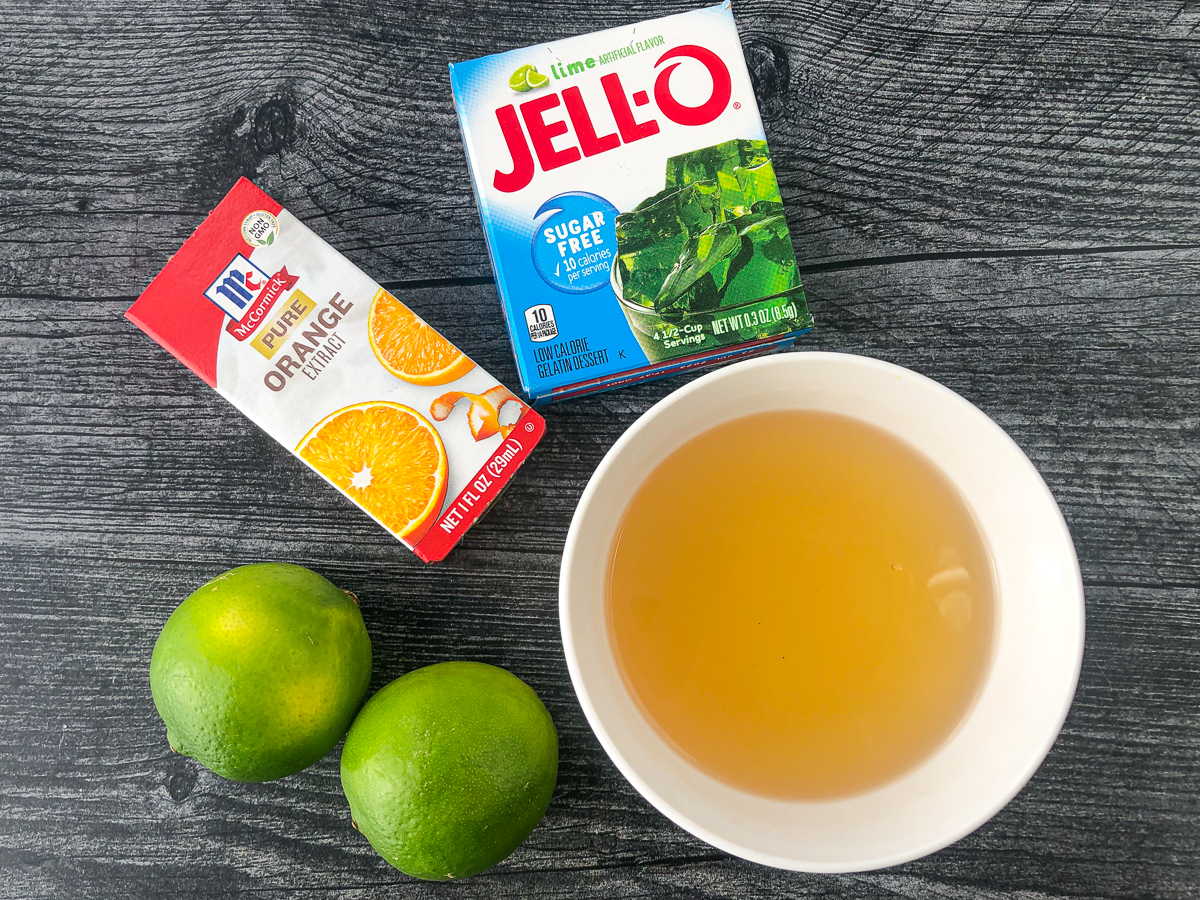 Additionally I added lime zest and a sugar/salt rim on the shots. I wanted to dress it up a bit because they were quite plain looking but I found it added a lot of flavor to the recipe.
So I zested on lime and mixed equal parts of salt and granular sweetener together on a plate and used a pinch on top and around the glass rim.
The basic jello shots recipe.
When making classic jello shots you want to substitute ¼ of the liquid with your liquor. So if you read the (0.3oz) box of gelatin and it calls for 2 cups of water, you would use 1 ½ cups of water and ½ cup of alcohol.
Also you need to use 1 cup of boiling water first to dissolve the gelatin and then the liquor and remains water can be cold. But that is all there is to it so you can see how easy it is!
How to make margarita sugar free jello shots.
Step 1: To make the jello shots, pour 1 cup of boiling water in a 2 cup measuring cup with the box of sugar free lime gelatin. Mix well then add in the ½ cup cold water and ½ cup of tequila.
I used a kettle to boil my water but you could heat the water on the stove or microwave.
Also I like a mid shelf tequila with this recipe. I find that in most recipes it's best to buy mid shelf liquor instead of the cheapest. But you can do whatever you want.
Step 2: Arrange your shot cups on a small baking tray and pour the liquid into the glasses. You should get about 12 shots out of the recipe but that depends on how big your shot cups are and how much you fill them.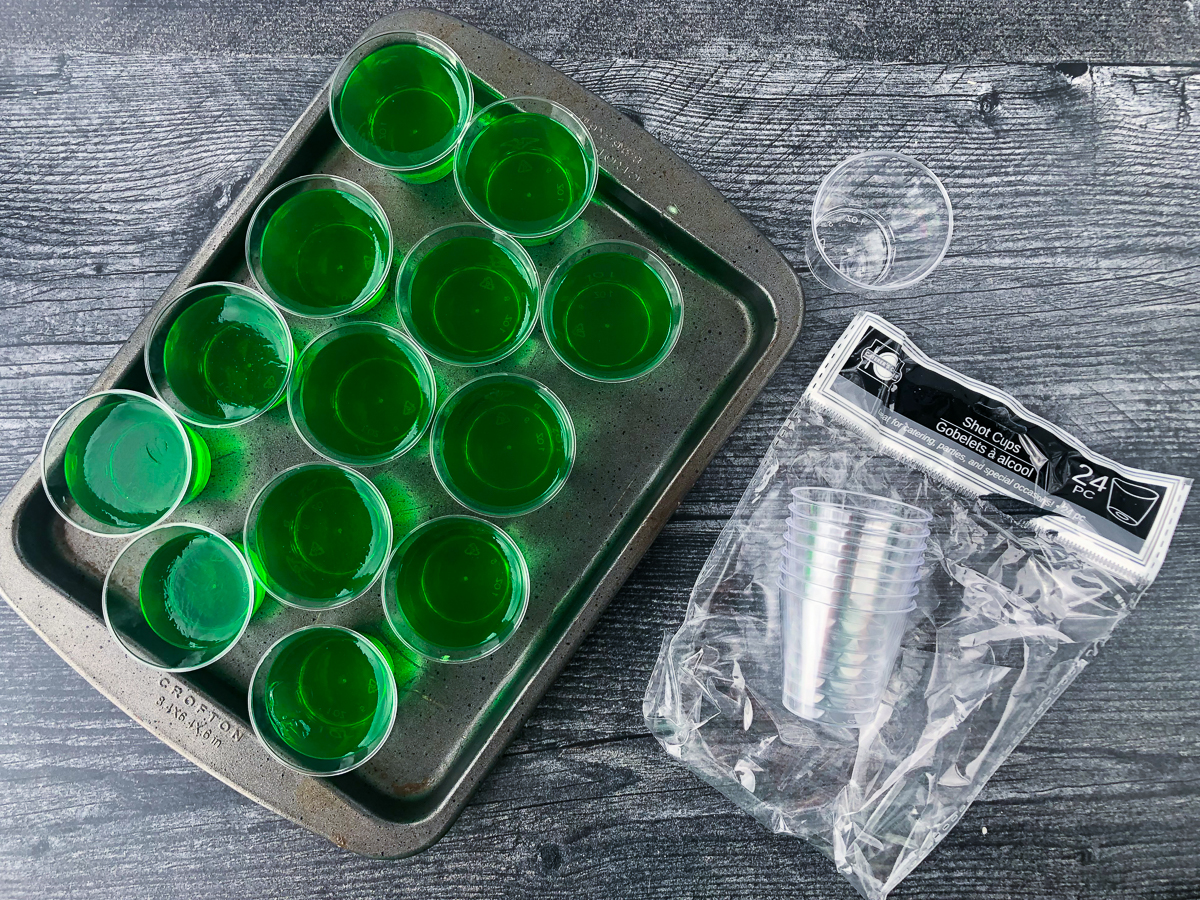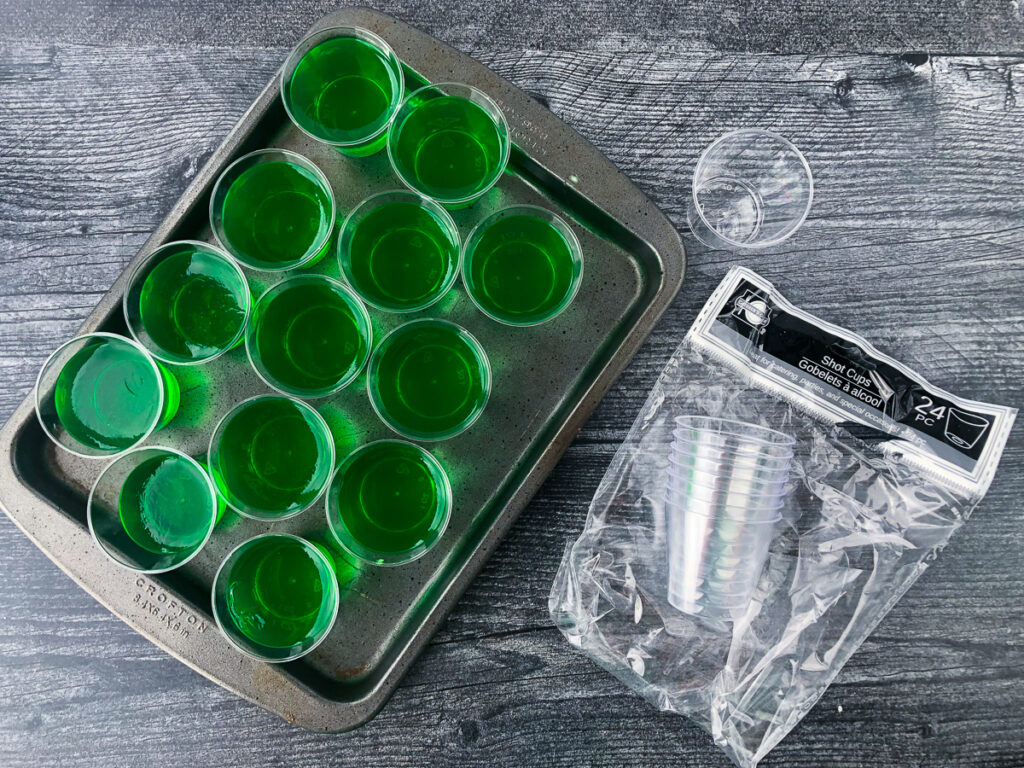 Step 3: Refrigerate for 3-4 hours or maybe less until the jello is firm. In the meantime make your zest and sugar mixture. Add the zest of 1 lime, 1 tablespoon of granular sweetener and 1 tablespoon of salt together on a small plate.
Step 4: Make sure your Jell-O is completely gelled before you do this. Get a little glass of water and wet the rim of the shots. Place the rim in the salt mixture and try to get it the whole rim covered.
Right before you serve the shots, sprinkle a little of the zest/salt mixture on top of the jello shots for more flavor. It does tend to disappear a bit and might liquify the jello shot.
Maybe add little bowl of the mixture for people to spoon on top. This is of course optional. (Please scroll down for the printable recipe card.)
What is the alcohol content of these jello shots.
I used ½ cup of alcohol in this whole recipe which is equal to 4 fluid oz. So with 12 shots each one has ⅓ oz of alcohol.
Where to find shot glasses for jello shots.
If you have a Dollar Tree near you there are all sorts of fun things to buy for your jello shots. Below you can see the pretty polka dot shot glasses they had (for a dollar!). They also have these nice condiment containers with lids.
And if you look in the background they have these mini spoons which are perfect for eating the jello shots.
I've also seen red solo cup shot glasses at the grocery store and they have all these things in my Amazon shop. However check out the Dollar Tree if you have one nearby.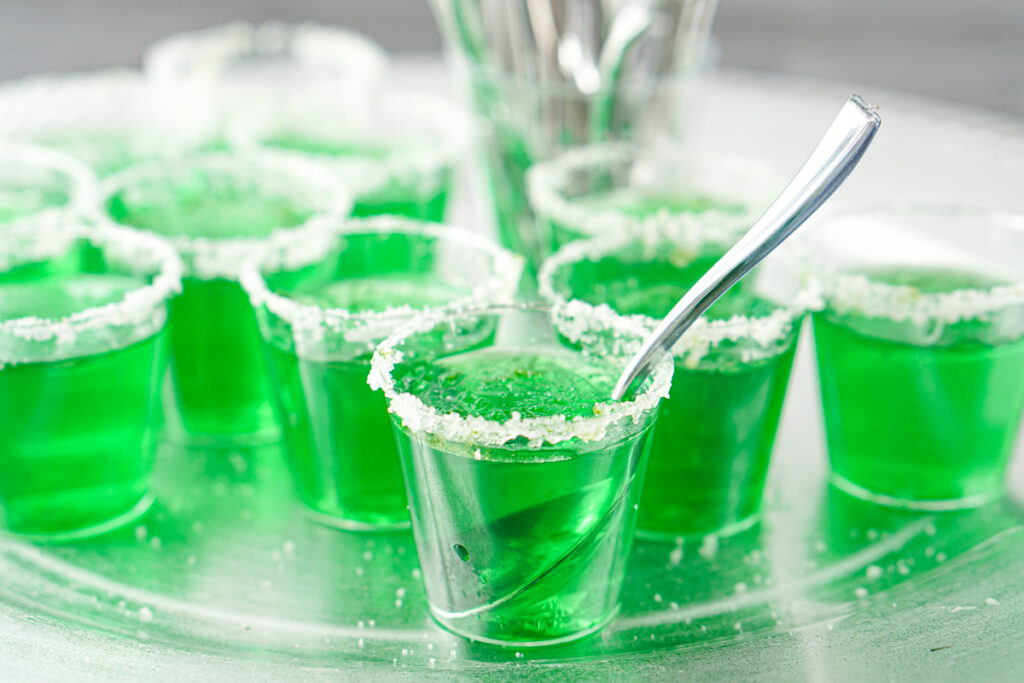 More low carb drinks for the holidays.
I have quite a few low carb drinks on the blog but here are my favorite recipes for the holidays.
Well I hope you give these margarita sugar free low carb jello shots a try. This delicious adult alcoholic treat was lots of fun to make and eat.
The nutritional information for 1 shot is 25 calories / 0g fat / 0g carbs / 0.3g protein
Margarita Sugar Free Jello Shots Recipe
Total Time:
3 hours
10 minutes
These margarita flavored keto jello shots are lots of fun to make and eat. You only need a few ingredients to make these and each one has just 25 calories and no carbs. So it's perfect for those on a keto diet.
Ingredients
1 box sugar free lime jello (0.3 oz size box)
1 teaspoon orange extract
½ cup tequila
1 ½ cups water
lime zest (from 1 lime) optional
1 tablespoon Swerve granular sweetener (optional)
1 tablespoon salt (optional)
Instructions
Place shot glasses on a small baking tray and set aside. I used 12 plastic shot glasses for this recipe but you may get more or less depending on how big you make your shots.
Boil water and pour 1 cup into a 2 cup glass measuring cup. Add the jello mix and whisk until the gelatin dissolves.
Add in ½ cup of cold water and ½ cup of tequila and whisk to combine. I like to use mid shelf tequila but you can use whatever want.
Pour the gelatin mixture into the shot glasses and refrigerate until the jello has set. About 3-4 hours. Refrigerate until ready to serve.
To add a salt/sugar rim (optional): Mix the lime zest, salt and sugar on a small plate. Once the jello has set completely wet the rim of the shot glasses and rub the rim into the salt mixture. Make sure to get some on the whole rim.
Keep the exra salt mixture and serlve along side the jello shots along with mini spoons. They can add a bit of the solution on top of the jello and eat with a spoon. I bought my shot glasses and mini spoons at the Dollar Tree!
Notes
This recipe makes 2 cups liquid (or 16 oz).and I made 12 shots per box of gelatin. The nutritional information for 1 shot is as follows.
25 calories / 0g fat / 0g carbs / 0.3g protein
You can make your shot smaller or bigger but the ntutrtional information will change.
Shot glasses come in all sizes. Most are 1oz, 1.5oz and 2oz. So choose accordingly depending on how many shots you want to make.
Nutrition Information:
Yield:

12
Serving Size:

1
Amount Per Serving:
Calories:

25