This easy keto candy recipe is perfect for making your own chocolate candies for Christmas gifts. Just a few ingredients needed to make this low carb chocolate and then you can play around with add-ins or flavorings. Each chocolate candy has only 0.3g net carbs.
You might also like this Christmas tree keto mousse recipe too!
I do love my chocolate and luckily for me I have alot of low carb chocolate recipes to satisfy my sweet tooth. This is a basic low carb, sugar free chocolate recipe that you can easily make for yourself. Or these candies would be a great gift to those on a keto or diabetic diet.
I usually make this keto candy recipe for myself but with some nuts, extracts or other add ins you can customize this recipe for gifts. Here's how.
Ingredients you need to make keto chocolate candy.
First let's talk about the basic ingredients: cacao butter, unsweetened baker's chocolate and Swerve confectioner's sweetener.
Here is link to my Amazon store which has most of the ingredients and products that I used for this recipe.
I've found I like Swerve's confectioner sweetener the best as granular can sometimes make the chocolate more grainy.
How to make chocolate keto candy.
Step 1: To make the basic chocolate recipe add the cacao butter, unsweetened chocolate and Swerve sweetener to a saucepan set to medium low heat. Stir until everything mixes and melts.
Step 2: These ingredients will melt rather fast so keep stirring and when everything is almost melted take it off the stove. Continue to stir and everything will melt.
Step 3: Get out your molds and pour in your chocolate. Set molds in the refrigerator for about an hour until they get hard. I like to keep mine in the refrigerator or freezer to speed things up though they should be fine just sitting out too.
Step 4: When the chocolate hardens you can take them out of the molds and store in an airtight container. (Please scroll down to view and print the recipe.)
Above and below you can see a spoon mold that I got at a Pampered Chef party but they have them on Amazon too. These would be nice gifts with some coffee or hot cocoa mix. This batch made the 8 spoons or 16 smaller candies from the molds pictured below.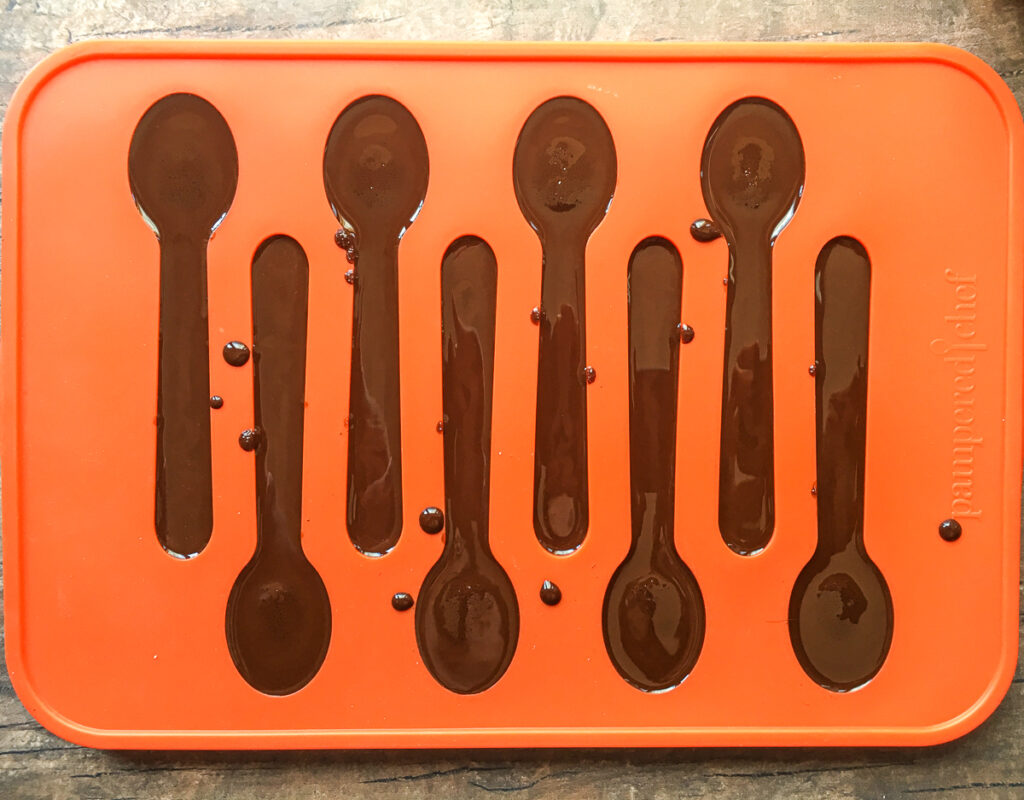 What kind of molds to use?
Below are some of the molds that I use and I've acquired quite a collection! The brown chocolate mold is from TJ Maxx and the star one from JoAnne Fabrics.
However I've fold candy molds at Dollar General and the Dollar Tree too. My favorite is the brown one below and they have tons of them on Amazon and they are inexpensive.
The red mold above is actually a trivet. I saw somewhere that you can make chocolate chips out of it but I have not yet tried. This recipe would make great dark semi sweet chocolate chips.
Delicious variations and add-ins for these chocolates.
You can make this low carb chocolate your own by adding in things like nuts or changing the flavor with extracts. Below are some ideas to try.
flavored extracts like peppermint, raspberry, orange, caramel – This recipe would require 2 teaspoons of extract which you would add after everything is melted.
toasted unsweetened coconut – Add to the mold before pouring for a chocolate crispy candy. You can easily toast coconut in a dry pan over medium heat. Just watch so that it doesn't burn.
peanut butter powder – I use this in my chocolate peanut butter candies.
espresso powder or matcha green tea powder for a bit of flavor and caffeine
low carb berries – Berries are rather low in carbs so try berries like strawberries, raspberries, blueberries etc.
nuts & seeds – Just put in one or two into the molds before pouring. You could also chop them up. Try almonds, pecans, walnuts or macadamias.
spices – Add a pinch of cayenne pepper or cinnamon for more flavor.
By the way I got these cute Christmas ramekins at Target for $3. You can fill them up with candy and give as a gift. Or check out the dollar store for cute holiday boxes, bags, tins other decorated containers.
The nutritional information is for 1 basic piece of this keto chocolate candy. This batch make 8 spoons or 16 candies but the number may vary depending on your molds.
54 cals / 5.2g fat / 4.8g carbs / 4.5g fiber / 0.5g protein = 0.3g net carbs
Low Carb Keto Chocolate Candy
This ket candy recipe is the easiest thing to make. Just a few ingredients and you can make a tasty low carb Christmas gift or snack while on a low carb diet. Each sugar free chocolate candy has only 0.3g net carbs.
Ingredients
2 oz unsweetened bakers chocolate*
¼ cup cacao butter*
¼ cup Swerve confectioners sweetener*
2 teaspoons flavored extract. (optional)
16 nuts (optional)
Instructions
In a small sauce pan, add the baker's chocolate, cacao butter and Swerve sweetener. Mix until everything is almost melted and then take off the stove. Mix until everything is melted (it will continue to melt even off the burner).
If you are adding extracts, add them now. Then pour into molds. If you are adding nuts, add them to the molds before pouring the chocolate.
Set the molds in the refrigerator or freezer until sold through - about 1 hour.
I like to store these in the refrigerator.
NOTE*** I use Aldi's Baker's Corner unsweetened baking chocolate squares. You can find this type of bar in any grocery store in the baking aisle. The cacao butter I bought online and it comes in these little wafers. Lastly I really like Swerve confectioner's sugar as it seems to melt best and tastes the best in my opinion. You can find most of these products on my Amazon page.
Nutrition Information:
Yield:

16
Serving Size:

1 grams
Amount Per Serving:
Calories:

54
Unsaturated Fat:

0g