This low carb toasted coconut chocolate candy is the perfect thing for when you are watching your carbs. So easy to make and store in the freezer for a quick, cool treat. Only 2.2g net carbs for 10 pieces!
You might also like this low carb chocolate peanut butter candy.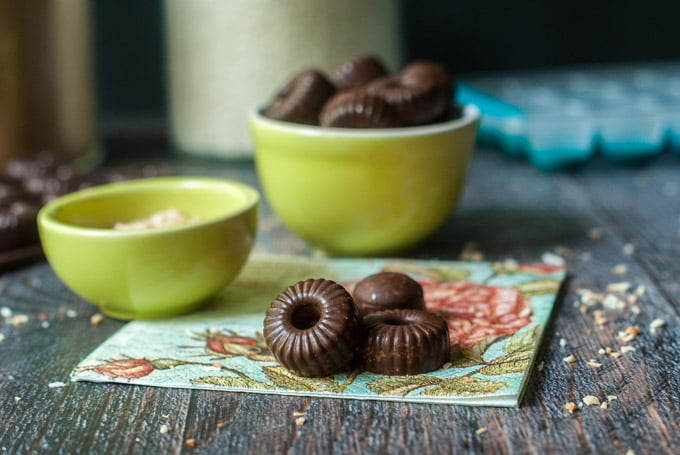 I don't know about you but I pretty much love chocolate. Somewhere over the years I've learned to appreciate dark chocolate and that is when my true love blossomed. There are many healthy things about chocolate but I eat it because it makes me happy. I've found a few dark chocolate bars that are lower in carbs than others but it's much easier for me to make this coconut oil based chocolate.
I make this ALL THE TIME and store it in the freezer. Then I just grab a piece when a chocolate craving hits. Adding the toasted coconut has been a new obsession with me, so I thought I'd share my low carb toasted coconut chocolate candy with you today. As you can see the pieces are pretty small but there are only 2.2g net carbs in 10 pieces. You can't beat that!
Other Low Carb Candy To Try
I like freezer candy because it's hard to eat quickly so it helps me to keep from inhaling these chocolate goodies. I have a few other freezer candies on this site. Try my chocolate peanut butter candies, chocolate covered strawberry treats or walnut maple freezer fudge. All good things and all low carb.
Where To Get Inexpensive Candy Molds
Let's talk molds. Below I found this cool candy mold at T.J. Maxx or Marshall's and the ice cube try on the left at Dollar General. I also have some nice heart and pumpkin shaped ice cube molds from the dollar store. So you see you can get these anywhere. I like the silicone because they pop out easier. This 3 piece set is really cute!
Easy Toasted Coconut Chocolate Recipe
To make these little treats, you first start by toasting unsweetened coconut flakes. You want to toast it in a dry skillet for a few minutes but make sure to watch that it doesn't burn. It browns quickly. Set it aside to cool.
Then melt your coconut oil, cocoa or cacao powder and Swerve sweetener in a little sauce pan. (I like Swerve because it works great, is zero carb and natural.) Whisk until everything is melted.
Take some of the toasted coconut and put it in the candy molds. Then top off with the melted chocolate. Pop into the freezer for a couple hours and you have your freezer candy! Easy peazy.
How To Store Coconut Candies
I like to keep these candies in the freezer but you can also keep them in the refrigerator. If you let them sit out they will get melty because of the coconut oil.
I use a lot of the toasted coconut because it reminds me of the chocolate in a mallow cup. Remember that candy? I'll be making those as soon as I can figure out how to make low carb marshmallow fluff! (Update: I've made low carb mallow cups!
Low Carb Toasted Coconut Chocolate Candy
Well I hope you enjoy this easy low carb candy recipe . I tell you it has helped me with my chocolate cravings and the coconut oil really seems to be satiating. If I eat a few of these I am no longer hungry.
My little molds gave me 38 candies so the nutritional information for 1o candies as I have made them (that is 38 pieces total) is:
263 cals / 33.9g fat / 21.1g carbs / 18.9g fiber / 0.3g protein = 2.2g net carbs
Low Carb Toasted Coconut Chocolate Candy
This low carb toasted coconut chocolate candy is the perfect thing for when you are watching your carbs. So easy to make and store in the freezer for a quick, cool treat. Only 2.2g net carbs for 10 pieces!
Ingredients
½

cup

coconut flakes, unsweetened

½

cup

coconut oil

¼

cup

cocoa powder, unsweetened

3-4

tablespoons

Swerve sweetener
Instructions
Add your coconut flakes to a dry skillet and turn the heat on to medium.

Continuously sir until the coconut starts to toast and brown. Turn off heat and pour onto a paper towel to stop the browning.

In a small saucepan, add the coconut oil, cocoa and 3 tablespoons of Swerve sweetener. Whisk until well combined. Taste to see if it is to your desired sweetness. If you want it sweeter add another tablespoon.

Add around ½ teaspoon of coconut flakes to each section of your candy mold. My molds made 38 pieces so I divided up my coconut flakes accordingly.

Pour the chocolate sauce over top the coconut and set into the freezer.

Freeze for 4 hours and they are done.

Store in a container in the freezer or refrigerator.
Recipe Notes
The nutritional information for 1o candies as I have made them (that is 38 pieces total) is:
263 cals / 33.9g fat / 21.1g carbs / 18.9g fiber / 0.3g protein = 2.2g net carbs