These keto butter burgers are so tasty as is but topped with low carb onion straws and pickled jalapeños they go to another level. This post is sponsored by the Certified Angus Beef ® brand in conjunction with a social media campaign through Sunday Supper LLC. All opinions are my own.
You might also love this low carb cheeseburger casserole!
For Christmas my son bought me a Bob's Burgers cookbook. I discovered this show in the summer and love it. I watch an episode every night before bed because it makes me laugh and that's how I want to fall asleep. Anyway I love this present and it's all about burgers which is awesome from a low carb perspective. Today I made these keto butter burgers and topped it with low carb onion straws I made in my air fryer. It was really tasty and I wanted to share it with you today.
Why Put Butter In Your Burger?
I have wanted to put butter in my burgers since I saw it on a Top Chef show awhile ago. The butter is supposed to melt and make the meat tender and juicy. I've read that this is something famous restaurants in Wisconsin do but it started with chefs like Julia Child.
How To Make Keto Butter Burgers
I used 1 teaspoon of Kerry Gold butter to ¼ lbs of meat. Speaking of meat, I used 80/20 ground chuck which was Certified Angus Beef ®. I wanted to get all the flavor from the burger since I wasn't using a bun.
Place the pat of butter on the burger and then carefully fold the burger over the butter. Pat down and form a smooth patty. Then liberally sprinkle with salt and pepper on both sides. (see photos below)
How To Make Low Carb Fried Onion Straws In The Air Fryer
I used the breading that I used for my air fryer chicken nuggets. This is now my go too low carb breading!
Mix crushed pork rinds with parmesan cheese, garlic powder and paprika in a food processor. Place in a large shallow bowl.
Slice a yellow onion very thin and place in a baggie with mayonnaise. Squish the onions around until they are all covered in mayo.
Take the onions out of the bag and bread them with the pork rind mixture.
Gently place in the air fryer basket and cook at 400 degrees F for 5-6 minutes.
Pickled Jalapeños And Onions
My husband has jars and jars of his pickled jalapeños that he cans in summer with his garden peppers. You can get his recipe here. I used his recipe but with Swerve sweetener. It's a great fast pickle recipe! These are optional to the recipe but I do think they went well with the rich burger and crispy onion straws.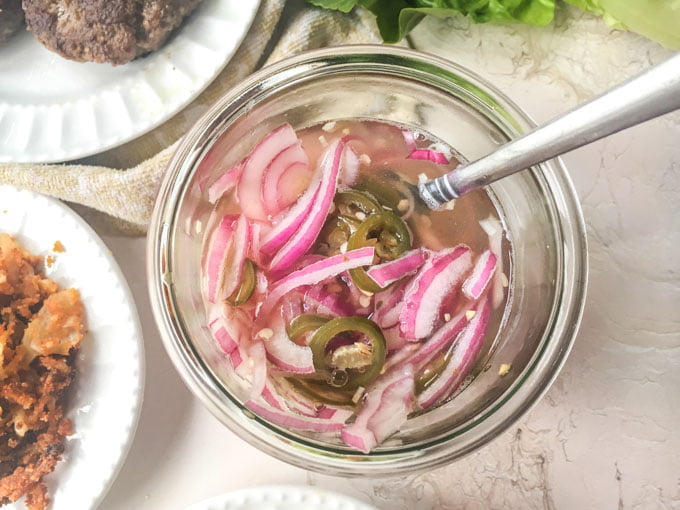 How To Make A Great Burger
I learned the following burger tips from my awesome Bob's burger book.
use cold, freshly ground, high quality beef – I use Certified Angus Beef ® from Giant Eagle's butcher counter and it was on sale!
80% lean beef is as lean as you should go – this is what I used
don't handle the meat too much or it will get too chewy
fry in a cast iron skillet (4-5 minutes each side) – the pan keeps the fat and moisture in the burger
let the burgers rest after cooking for a minute or two
try a pat of butter in the middle and just use salt and pepper – this one is mine
And Here Is My Wonderful Christmas Present
My son gave me this Bob's Burgers Cookbook for Christmas. He knows I love this show and that I love to cook so it's the perfect gift! And as funny as it is to read, it has some awesome burger ideas! Because burgers are naturally low carb and my family loves them, I will be making many of these recipes. Though this recipe is my own.
If you like this show too, you have to check out the book. If you don't know it, you should watch it. It's hysterical.
By the way I recently joined this Certified Angus Beef® Kitchen Facebook group and have been learning great beef tips. It really helped me to make my first prime rib! For more information about Certified Angus Beef ® brand follow them on their Social Media Platforms: Facebook | Pinterest | Instagram | YouTube | Twitter
So I hope you enjoy these tasty keto butter burgers as much as we did. I plan on making more burgers in the future thanks to my Bob's Burgers book and because my family loves them. The nutritional information is as follows:
Onion Straws (1 serving)
195 cals / 14.5g fat / 3.3g carbs / 0.6g fiber / 13.4g protein = 2.7g net carbs
1 burger with a slice of cheese
415 cals / 33.5g fat / 0.6g carbs / 26.1g protein = 0.6g net carbs
And if you are looking for something to put this butter burger on, try my friend Kasey's white bread keto chaffle!
Where To Buy Pork Rind Breading
If you don't want to make your own pork rind crumbs you can always buy these Pork Panko breading crumbs on Amazon!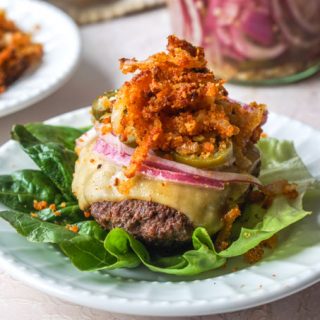 Keto Butter Burgers with Low Carb Onion Straw in the Air Fryer
These keto butter burgers are so tasty as is but topped with low carb onion straws and pickled jalapeños they go to another level.
Ingredients
1 ½

lb

ground chuck

salt and pepper

2

tablespoons

butter, sliced into 6 pieces

¼

cup

mayo

3.5

oz

pork rinds

½

cup

parmesan cheese, grated

1

teaspoon

paprika

1

teaspoon

garlic powder

1

onion, thinly sliced

6

slices

gouda cheese

pickled onions and jalapeños (optional)
Instructions
Divide the meat in to six pieces.

Take 1 piece and pat it down a bit and then place a teaspoon slab of butter in the middle. Fold the sides over as best you can and then flatten to a patty. Repeat with remaining meat and butter.

Liberally sprinkle salt and pepper on both sides of the burgers.

Heat up a large cast iron skillet and then place the burgers on it. Do not move the burgers and cook for 4-5 minutes per side. If using cheese, place on burgers after you flip them.

When done let set for a few minutes.

Meanwhile place sliced onions and mayo in a baggie. Squish the mayo and onions around until the onions are all covered in mayo.

Add the pork rinds, parmesan cheese, paprika and garlic powder to a food processor to make the breading. Then pour them into a large shallow bowl and mix well.

Take out the onions from the baggie and mix around in the pork rind breading. Carefully place the onions into the basket of the air fryer. Sprinkle with any leftover bread crumbs on to the onions.

NOTE: I like to place a piece of foil under the basket to make clean up easier.

Set the air fryer to 400 degrees F and cook for 5-6 minutes. Check at 5 minutes to make sure they don't burn.

Place the burgers on a piece of leaf lettuce, top with pickled jalapeños and fried onions.

NOTE: For pickled jalapeños and onions I used this recipe with Swerve sweetener and just added the onions to it.