These crispy keto chicken nuggets are quick and easy in the Air Fryer. Whip up a batch with just a few ingredients and all of the chicken nuggets have only 3.8g net carbs! These air fryer chicken nuggets are keto, gluten free, Paleo and definitely kid friendly!
You might also like these low carb breaded pork cutlets.
I've started using my air fryer more often, and one thing I noticed is that it cooks breaded food really well. To me it cooks like a microwave and oven all in one.
So today I wanted to make some crispy keto chicken nuggets and tenders in the air fryer for my son but keep to my keto diet. He loved them!!!
He actually said to me "mom you know how you try to make foods I like [junky foods ] well this one I really like!"
Yay for me! I've been trying for years to make healthier versions of foods he likes and I win maybe 25% of the time. So.
My Low Carb Chicken Breading
I have used pork rinds for my breading when I made my breaded pork cutlets awhile back. And while I don't really like them as a snack they do make great a great keto breading!
Today I used mayo instead of egg for my breaded chicken. It worked great for this dish because usually you have to mix whatever you make in the air fryer with a tablespoon of oil. In this case the mayo acts as the oil and keeps the crunchy topping on the chicken.
So my low carb chicken breading is a mixture of crushed pork rinds, grated Parmesan cheese, paprika and garlic powder. And I use mayonnaise for liquid coating instead of eggs.
Note you can crush the rinds by hand or put them in the the food processor to get a crumb consistency.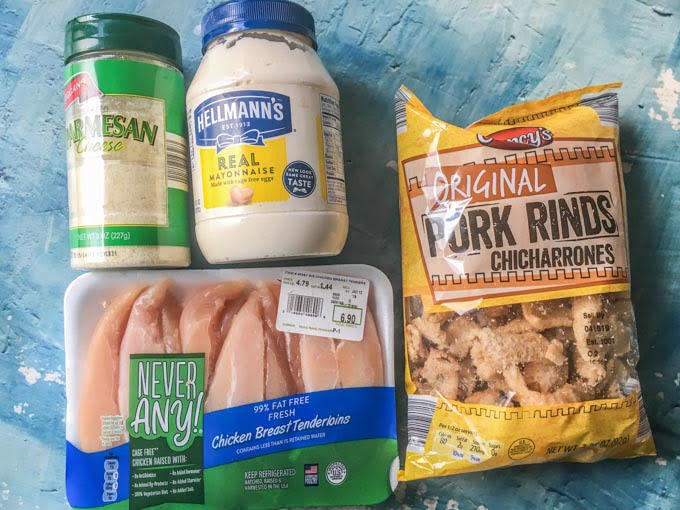 This is now my preferred way to bread food when air fryer. Above you can see the ingredients I bought at Aldi. Note I used chicken tenders but you could also use chicken breast.
Let's Make Some Keto Chicken Nuggets
Start by towel drying your chicken so it will adhere to the mayonnaise.
Then place chicken in a baggie with the mayo and squish it around until it is covered.
Spray the basket of the air fryer with cooking spray.
Mix the low carb breading ingredients and place in a shallow bowl.
Roll each chicken piece in the breading and then gently place in the basket of the air fryer.
Continue until all the chicken is done.
Air fry for 15-20 minutes.
What Temperature Should You Set The Air Fryer To?
I air fryed the chicken at 380 degrees F for 15 minutes and then turned it up to 400 for five more minutes. The higher temp will get it crunchier.
Make sure the meat is done though. If not put them back in for a few more minutes. It's so easy to do in the air fryer.
Note I made tenders and nuggets. The nuggets cook a bit faster then the planks so make sure you check them to see if the tenders are cooked before you serve them if you are making them together like I did.
Where To Buy Pork Rind Breading
If you don't want to make your own pork rind crumbs you can always buy these Pork Panko breading crumbs on Amazon!
This Is My Air Fryer
I want to first point out the old air fryer I had used was a XL Air Fryer by Cozyna (5.8qt). It wasn't very expensive but it did have a large basket which is necessary to roast a turkey breast or chicken.
My new air fryer is a Chefman 6.3 qt digital air fryer. You can use it to dehydrate and it has a rotisserie spit! However I really like that it has a window so you can see your food as it's cooking.
Keto Recipes To Serve With These Chicken Nuggets
If you want to do the fast food theme you can serve these chicken tenders and nuggets with keto fries. I also like to this baked cauliflower and cheese or green beans with bacon. In the warmer weather a good keto coleslaw is nice as well.
---
Well these air fryer keto chicken nuggets were awesome and I will definitely be making them part of our regular meal plan.
Next time I might use Aldi's spice pork rinds and see how they go. And for another awesome fried chicken recipe, check out my friend Mira's best crispy keto fried chicken!
The nutrition for ¼ of this recipe
(1 used a pound of chicken tenders) is 389 cals
24.3g fat / 1.2g carbs / 0.3g fiber / 43.8g protein = 0.9g net carbs
Crispy Keto Chicken Nuggets in the Air Fryer
This crispy low carb chicken nuggets recipe is quick and easy in the Air Fryer. Whip up a batch with just a few ingredients and the whole recipe has only 3.8g net carbs! Make it a part of your next keto meal plan.
Ingredients
1 lb chicken tenders
1 bag pork rinds (3.25 oz)
½ cup parmesan cheese
1 teaspoon paprika
1 teaspoon garlic powder
¼ cup mayo
Instructions
Spray the basket of the air fryer with cooking oil.
Pour the contents of the pork rinds in to a baggie and crush into the form of bread crumbs. Pour into a large shallow bowl and mix in the spices and cheese.
Either cut the tenders in to small bite sized pieces or just add the tenders as is to a large plastic baggie and spoon the mayo on top.
Squish the mayo and chicken around to cover the chicken completely.
Take a piece of chicken and roll around in the the bread crumbs and then carefully place in the basket of the air fryer. Continue with all of the chicken pieces.
Cook for 15 minutes at 380° F and then 5 minutes. at 400°F. Check to make sure the chicken is cooked, especially with the tenders. They should be golden brown and an internal temperature of 165° F.
Serve immediately.
Notes
Recipe Notes
The nutrition for ¼ of this recipe (1 used a pound of chicken tenders) is:
389 calories / 24.3g fat / 1.2g carbohydrates / 0.3g fiber / 43.8g protein = 0.9g net carb count
Nutrition Information:
Yield:

4
Serving Size:

1
Amount Per Serving:
Calories:

389
Unsaturated Fat:

0g