These keto breaded & fried pork cutlets are an easy and delicious dinner that only uses 4 ingredients. The breading is gluten free and easy and makes the pork cutlets a nice and crispy. One cutlet has only 0.2g net carbs!
Try these low carb chicken nuggets too!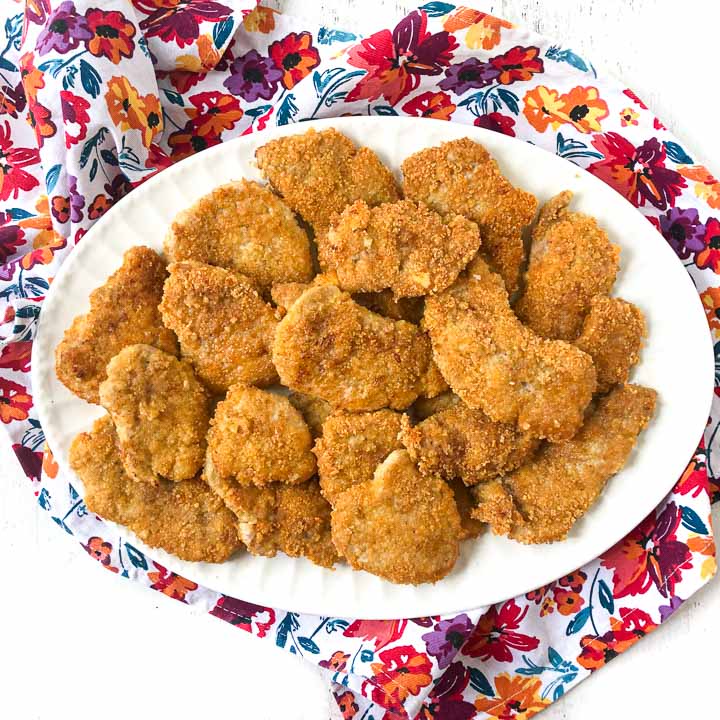 Over the years I've often seen people eat pork rinds because they make a good crunchy, low carb snack. Most brands have no carbs at all. However there is something that makes me leary about eating them because they are, well, pork rinds. I really don't want to know how they make them.
But today I finally decided to give them a try with these keto breaded & fried pork cutlets. My family loves breaded pork chops and this was an easy way to try the pork rinds. Success! My family love them as did I, though I probably still won't snack on pork rinds. Baby steps.
Other Low Carb Pork Tenderloin Recipes
I used pork tenderloin in this recipe. I love how much more meat you seem to get when you cut it into pieces and pound them out into cutlets. Two other recipes I did this with are my creamy pork & apples and tomato Asiago pork skillet. Both easy and delicious as well as low carb!
I bought the pork and the pork rinds from Aldi but I might try these cheddar jalapeño pork rinds some time for a breading. I like that they seem like a healthier brand.
Making The Pork Cutlets From Pork Tenderloin
First things first, cut your pork tenderloin into ½ inch pieces. Place a piece of the pork into a baggie and pound with a meat tenderizer until thin. Do this to all the pieces of pork. I got around 12 pieces from a 1.25 lb of pork tenderloin. Then start the keto breading for each piece.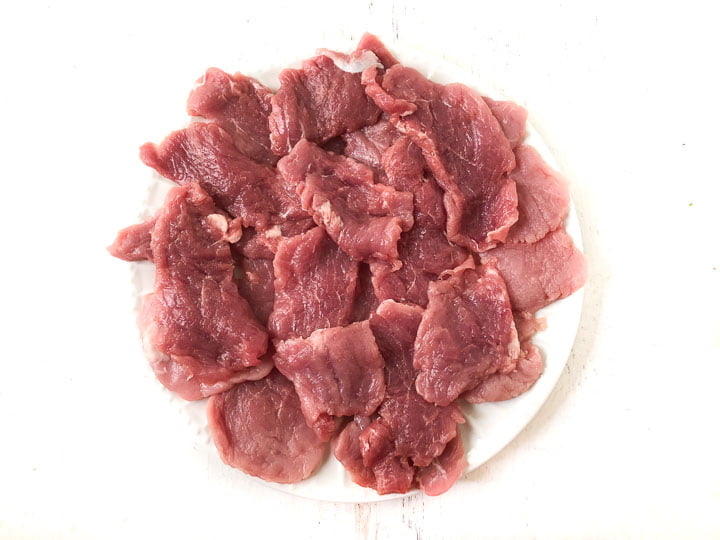 What's In The Low Carb Breading?
So the breading is simply 2 cups of crushed pork rinds, Parmesan cheese and eggs. Crush the pork rinds so they are the consistency of bread crumbs. I did this in a mini food processor. Then mix them with the grated Parmesan cheese and place in a shallow bowl for the breading.
Keto Fried Pork Cutlets Recipe
After you've got the breading ready, beat an egg in another shallow bowl. Dip each piece of pork cutlet into the egg and then the breading then set aside. Continue with all of the cutlets.
Heat up your oil in a large saute pan and let get very hot. Fry the pork cutlets for about 3 minutes per side then place them all in a baking dish. Lastly bake all of the fried cutlets in the oven for 10 minutes to make sure they are cooked through.
As I said my family really enjoyed these low carb breaded pork cutlets and I will definitely make them again. Next time I might try a little coconut flakes in the breading and fry them in coconut oil.
I hope enjoy these and I must say that pork rinds are not so bad. The nutritional information is based on using ¼ cup of olive oil and is for 1 piece of meat:
1 piece: 144 cals / 8.6g fat / 0.2g carbs / 15.6 protein = 0.2g net carbs
Where To Buy Pork Rind Breading
If you don't want to make your own pork rind crumbs you can always buy these Pork Panko breading crumbs on Amazon!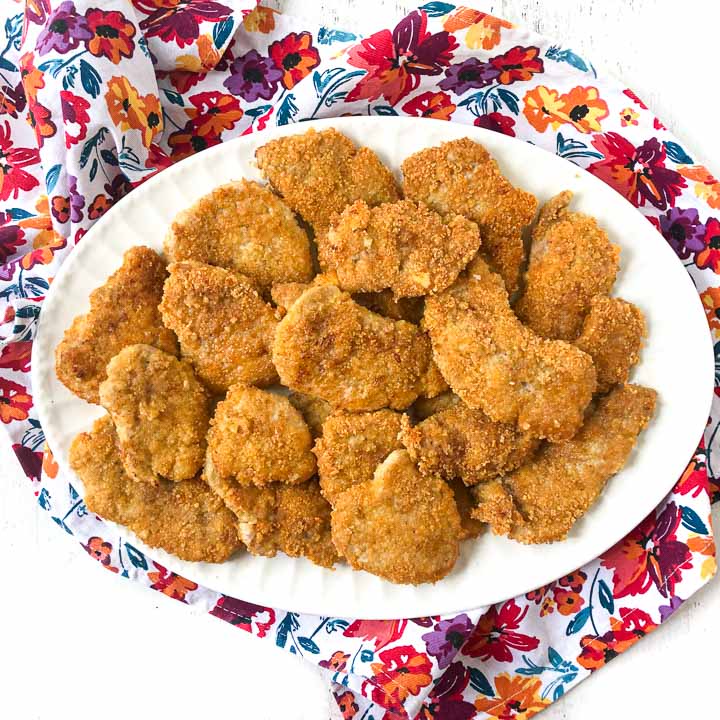 Low Carb Breaded Pork Cutlets
These low carb breaded pork cutlets are an easy and delicious dinner that only uses 4 ingredients. Only 0.2g net carbs per piece of breaded pork.
Ingredients
1 ¼ lb pork tenderloin
2 cups pork rinds, crushed into a fine powder
1 cup parmesan cheese
2 eggs
¼ cup oil for frying
Instructions
Preheat oven to 350 degrees F.
Take the pork tenderloin and cut into 1 inch pieces.
Place a piece into a baggie and using a skillet or meat mallet, pound the pork into thin pieces.
Place the egg into a shallow dish and beat.
In another shallow dish add the crushed pork rinds and Parmesan cheese and mix well.
Dip the pork into the egg and then the pork rind mixture to bread it.
Place on a dish until you finish them all.
Heat the oil to medium high in a large frying pan.
Place a few pieces of meat in the pan and cook for about 3 minutes per side or nice and brown.
Transfer cooked meat to a baking dish and continue working in batches until all the meat is browned.
Bake for 10 minutes.
Notes
Recommended Products
As an Amazon Associate and member of other affiliate programs, I earn from qualifying purchases.
Nutrition Information:
Yield:

12
Serving Size:

1
Amount Per Serving:
Calories:

144
Unsaturated Fat:

0g