This is our ultimate burger topped with jalapeño aioli burger sauce. The creamy, spicy mayo uses both pickled and fresh jalapenos. It's so delicious you will want to put it on everything. Plus it's naturally low carb with just 0.3g net carbs per serving and perfect for low carb diet. Just skip the bun!
You might also like this bacon cheeseburger with balsamic onions!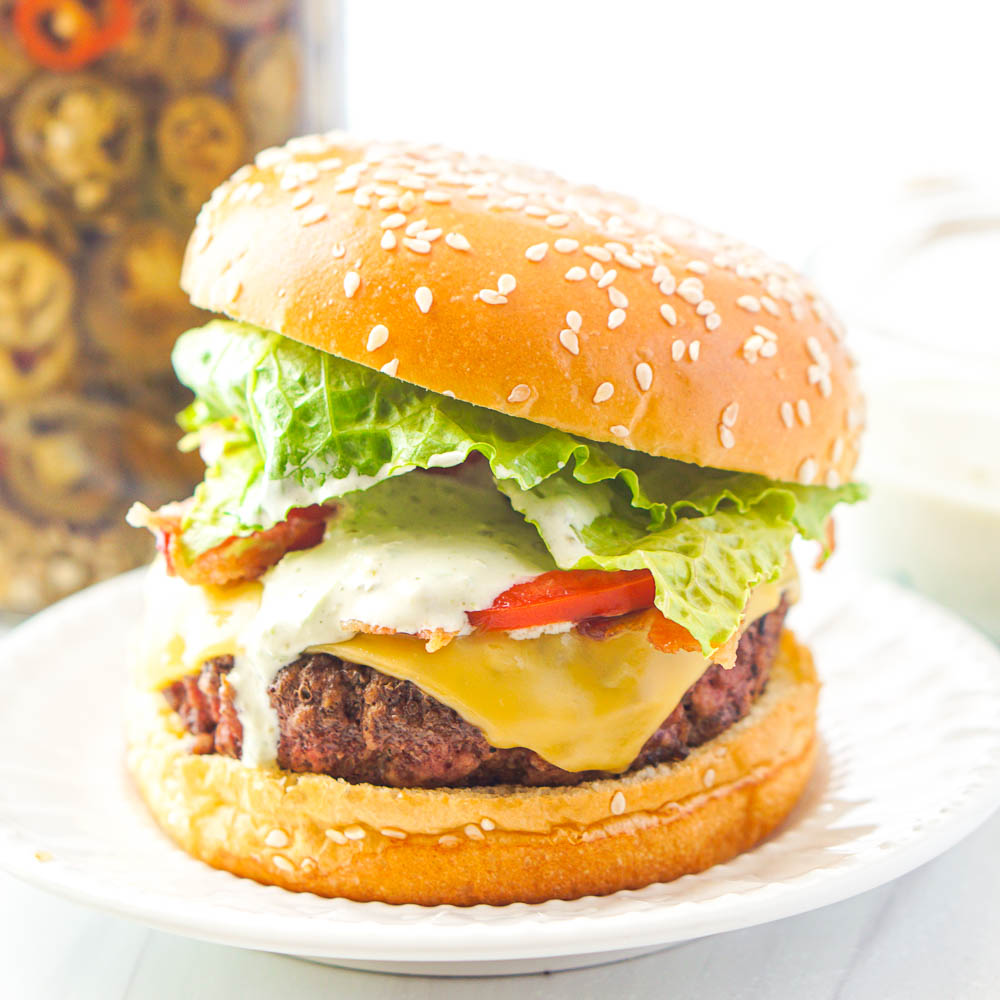 Summer is almost here and in this family that means firing up the grill and making burgers. To me there is nothing better than a grilled, homemade hamburger. Especially when you are topping it with cheese, bacon and fresh tomatoes.
This is my husband's idea of the ultimate burger but I took it a step further and made some jalapeño aioli burger sauce for extra flavor.
Now this is my definition of the ultimate burger. The flavors of the creamy & spicy sauce go great with the fresh tomatoes and bacon cheeseburger. I just skip the bun to make it a more keto friendly burger. Yum!
We just bought plants for our summer garden and let me tell you we will be eating some hot peppers! We bought a couple different kinds of jalapeños, poblanos, serranos and cayenne peppers.
I can't wait to find fun recipes to make with them. For today though, we will stick with the jalapeño aioli.
What is an aioli?
I wasn't sure if I should call this a spicy aioli or tarter sauce. An aioli (according to wiki) is a Mediterranean sauce made of garlic and olive oil but some regions use emulsifiers such as egg.
You will see a lot of places use the term to denote flavored mayonnaise essentially.
Tartar sauce (according to wiki) is based on either mayonnaise or aioli with certain other ingredients added. Aioli sounds better to me so I'm going with that but you can call it whatever you want.
Recipe ingredients for the burger sauce.
For this burger sauce I used mayonnaise, fresh garlic, and both pickled jalapeño rings (plus a little of the juice) and a fresh jalapeño. I used the pickling juice for acid but you could also use lime juice.
The pickled jalapeños do not have much heat in my opinion but I like the vinegary, pickled taste. The fresh jalapeños gives it some heat but also gives the sauce a nice fresh pepper taste.
Together with the garlic and mayonnaise you have yourself a delicious condiment.
How to make an easy jalapeño aioli.
Step 1: First add the fresh and pickled jalapenos and garlic to a small food processor. You want to finely mince the ingredients. You can also use a blender or do it by hand. It should look like this:
Step 2: Next add the mayonnaise and pickling juice. I made mine a little runny so that it would pour easily but if you want it a bit thicker, add a little more mayonnaise.
Step 3: Store the finished sauce in an air tight container and refrigerate up to 2 weeks. (Please scroll down to view and print the recipe card.)
Other things to use this aioli with.
We use this sauce on burgers but I also like to dip my sweet potato fries in it. It would tasty as a dipping sauce for steamed veggies too. I have a similar sauce that I use on my low carb crab cakes.
Really there is not much I would use it for but definitely any type of burger or grilled chicken, fish, pork or potatoes.
You could also use this with any type of Mexican food. Maybe use some fresh cilantro leaves as well and it would be great on a fish taco!
What's on our ultimate burger?
If you are up for making our ultimate burger all you need is good brioche burger buns, sharp cheddar cheese, crispy bacon, fresh tomato, lettuce and the jalapeno aioli. No bun for me so it's a keto friendly burger.
When I originally wrote this post the ultimate burger involved grilled onions and peppers instead of the fresh tomato and lettuce. This is an easier and fresher tasting burger in my opinion (and less work!)
Well I hope you give this jalapeno sauce a try. And if you get a chance check out my husband's post on pickled jalapeños. It's my favorite recipe he makes. To me they taste so much better than store bought.
Other low carb jalapeno recipes to try.
So that's it for today. I would love to hear what your ultimate burger would be. Drop me a comment and let me know. I love hearing from you. Enjoy!
Homemade Jalapeño Aioli Burger Sauce
This ultimate burger with jalapeño aioli has everything you want in a burger. The jalapeño aioli tastes great on everything, not just burgers. Try it with fries, grilled chicken or fish too!
Ingredients
10-15 picked jalapeño slices
1 fresh jalapeño pepper
½ cup mayonnaise
1 garlic clove
2 teaspoons pickled jalapeno juice (or lime juice)
Instructions
Clean your fresh jalapeños but cutting open and taking out the seeds. Keep the ribs because that is where the heat comes from unless you don't want the heat.
Add both kinds of jalapenos and garlic to a food processor and finely mince them.
Next add in the mayonnaise and pickle juice. If you want to have a thicker sauce add a tablespoon or more of the mayo.
Process until nice and creamy.
Store in an air tight container in the refrigerator.
Use on burgers, sandwiches, hot dogs, fries, etc.
Nutrition Information:
Yield:

8
Serving Size:

1
Amount Per Serving:
Calories:

119
Total Fat:

10g
Saturated Fat:

2g
Trans Fat:

0g
Unsaturated Fat:

9g
Cholesterol:

6mg
Sodium:

117mg
Carbohydrates:

6g
Fiber:

1g
Sugar:

5g
Protein:

0g