These orange ginger pork kebabs are great for a summer dinner on the grill. An easy, fresh and tasty low carb summer dinner!

On the weekend I like to plan our meals around the grill. Why? So I can get my husband to do half of the work …haha. This weekend I bought two pork loins in hopes to make homemade Canadian bacon that we could put in our smoker. However that recipe would end up being more time consuming that I planned so on to plan B. I had on hand a few oranges that I mixed with soy, garlic and ginger root and made these yummy orange ginger pork kebabs. Max and my hubby loved it!
I don't make kebabs too often, but I really should because it's a dish my family really likes. I usually make chicken kebabs like these Greek chicken & vegetable kebabs but today this pork was a nice change. It had a bit of Asian flavor but what you really tasted was the orange from orange juice, orange zest and orange marmalade.
Doesn't my hubby do a nice job on the grill?! Pork loin is lean and goes very well with the ginger, soy sauce and orange flavors of the marinade. Below I served it with fresh green beans from our garden and some Mexican tabouli that is new on the blog. It was a delicious, summer meal!

The best thing about this recipe is that my son loved it. He's getting better and better about trying new things and actually enjoying them. Another nice thing is that this was really quick to whip up. The marinade can be made in minutes. Just pour it over the cut up pieces of pork loin and store in a large ziplock bag. I made it in the morning and we ate it for dinner. I let it marinate for about 6-7 hours and I bet if I did it over night it would be just as good if not better.
Orange Ginger Pork Kebabs
Well I hope you like these pork kebabs as much as we did. This makes a huge batch … I had intended to have my in laws for dinner too but they ate before I could ask them. No worries, that just means more leftovers for lunch! I'm planning on chopping the pieces into smaller bites and topping a nice salad with them. They would also be great in a fried rice dish.  The nutrition for this dish is:
1 serving = 548 cals / 27.8g fat / 3.9g carbs / 0.2g fiber / 66.2g protein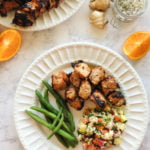 Orange Ginger Pork Kabobs
These orange ginger pork kebabs are great for a summer dinner on the grill. An easy, fresh and tasty low carb summer dinner!
Ingredients
3

lbs

pork loin

cut into cubes

1

orange

juiced and zested

¼

cup

soy sauce

2

cloves

of garlic

crushed

¼

cup

olive oil

2

Tablespoons

orange marmalade

1

inch

ginger root

grated
Instructions
Whisk everything but the pork in a medium sized bowl.

Place your pork cubes in a large ziplock bag and then pour the marinade over it.

Mix the meat around in the bag with your hand to make sure they are all coated.

Place in the refrigerator for 6 hour or over night.

Place on skewers and grill until done.

Left overs are great on salads or can be used in a fried rice dish.