This orange ginger pork kebab marinade is an easy and delicious summer dinner on the grill. The ginger orange marinade adds so much flavor and is low carb. You can grill these sweet and spice pork kebabs in about 15 minutes so they are perfect for a busy weeknight dinner! Each serving has just 6.4g net carbs.
You might also like this air fryer low carb city chicken recipe!
On the weekend I like to plan our meals around the grill. Why? So I can get my husband to do half of the work …haha. This weekend I bought some pork loin ribs and was thinking of what to make with them.
With a few oranges that I had on hand, I mixed with soy, garlic and ginger root and made a yummy orange ginger pork kebab marinade. It's the perfect mixture of sugar and spice and it ended up being low carb!
My family loved it and it was quite easy to make so it will be going in our summer rotation! And because it was low carb it's also great for those on a low carb diet.
Recipe ingredients I used.
The simple ingredients I used for this keto pork marinade were:
Pork Loin
I used boneless pork country ribs but you can also buy a pork loin and cut it up into cubes. They are both super lean and honestly tend to be rather dry so the marinade adds lots of flavor. Note I did not use pork tenderloin. While that would work it is more expensive.
Oranges
Usually oranges aren't low carb but you are only using a little bit of the juice. What also adds lots of flavor but little carbs is the zest. You can use bottled orange juice but definitely add the zest if you can.
Orange Marmalade
Again this is definitely not low carb but you are not using much. If you want you can substitute with peach or apricot jam. And if you have sugar versions that will be even less carbs for this dish.
Soy Sauce
This adds both flavor and salt. That why I didn't use any salt and black pepper in this recipe. If you are avoiding soy you can substitute coconut aminos.
Ginger and Garlic
I love the flavor combination of ginger and garlic. I used fresh ginger but you can also use crushed ginger you find in a tube at the grocery store. You cannot substitute ground ginger as it just doesn't have enough flavor. Also I used fresh garlic too.
Olive Oil
This is just used in the marinade to bring it all together. You can use other oils if you wish.
How to make this keto pork kebab marinade.
Essentially to make this recipe you cut the pork ribs into cubes and place in a baggie. Then in a bowl you mix the marinade together and pour over the pork cubes. Place marinaded pork cubes in the refrigerator for at least 6 hours then take them out and place on skewers. Then you just grill and your are done.
Here are step by step instructions.
Step 1: Cut up pork loin ribs into roughly 1 inch cubes. Place them in a ziplock bag and set aside.
Step 2: Get out a medium size bowl and add all the marinade ingredients. Whisk together then pour over the pork cubes in the ziplock bag. Mix the marinade with the pork cubes by squishing the bag with your hands. Place in the refrigerator to marinate.
The longer you marinate the meat the better. I usually make it in the morning and grill it at the end of the day so 6-8 hours or even overnight is best.
Step 3: When ready to grill take the cubes out of the baggie and thread on skewers. I have metal skewers but you can use wooden skewers if you want. Usually you should soak them in water for a while so they don't catch fire but I rarely do and never had a problem.
Step 4: Place the skewers on the hot grill grate and cook for about 4-5 minutes on both sides.
Step 5: When they are done you can serve them on the skewer to each person or take them off the skewers and place on a plate. Let then cool a bit if you are serving on the skewers because they are hot!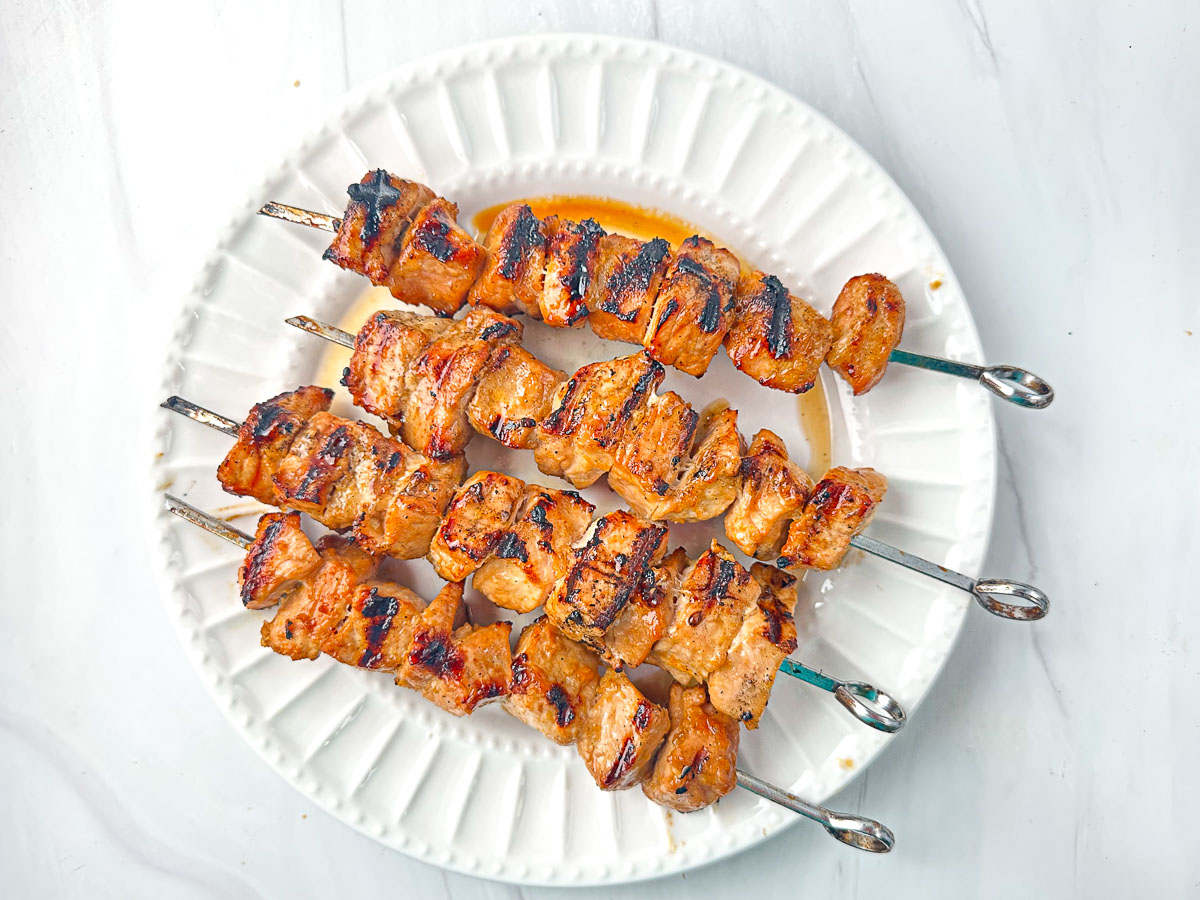 Store leftovers in an airtight container. Please scroll down to view the printable recipe card.
Low carb side dishes to eat with these kebabs.
These marinated pork kebabs will go with just about any side dish. Below you can see we ate it with stir fried cauliflower rice I bought at Costco and green beans. Here are few of my favorite low carb side dishes that would go great with this meal.

The best thing about this recipe is that my son loved it. He's getting better and better about trying new things and actually enjoying them. Another nice thing is that this was really quick to whip up.
The marinade can be made in minutes and the meat takes about 10 minutes on the grill. I made it in the morning and we ate it for dinner.
Well I hope you like these pork kebabs as much as we did. If you have leftovers you can cut them up into small pieces and they would be great in a fried rice dish.
The nutrition for one serving is 558 calories / 27.8g fat / 6.7g carbs / 0.3g fiber / 66.2g protein = 6.4g net carbs
Orange Ginger Pork Kebab Marinade
This orange ginger pork kebab marinade recipe is great for a summer dinner on the grill. An easy, fresh and tasty low carb summer dinner!
Ingredients
3 lbs pork loin country ribs, cut into cubes
1 orange, zested
¼ cup soy sauce
2 cloves of garlic, crushed
¼ cup olive oil
2 tablespoons orange marmalade
1 inch ginger root, grated
2 tablespoons orange juice
Instructions
Whisk everything but the pork in a medium sized bowl.
Place your pork cubes in a large ziplock bag and then pour the marinade over it.
Mix the meat around in the bag with your hand to make sure they are all coated.
Place in the refrigerator for 6 hours or over night.
Thread the pork cubes on skewers then place on a hot grill grate. Grill for about 4-5 minutes on both sides. Take off grill and let cool then serve.
Store leftover in an airtight containers. Left overs are great on salads or can be used in a fried rice dish.
Notes
The nutrition for one serving is 558 calories / 27.8g fat / 6.7g carbs / 0.3g fiber / 66.2g protein = 6.4g net carbs
Nutrition Information:
Yield:

6
Serving Size:

1 grams
Amount Per Serving:
Calories:

558
Unsaturated Fat:

0g