This low carb Spanish cauliflower rice is a healthy and tasty side dish you can make in minutes. With a just a few ingredients you can make this savory, flavorful vegetable side dish with only 4.4 grams of carbs. It's a great alternative to white rice that is low calorie too!
You might also like these low carb cauliflower rice recipes!
I am a big fan of cauliflower rice. It's not that it tastes like regular rice but as a low carb side dish you can make it so flavorful. I have tons of cauliflower rice recipes on my site if you too love it.
And what's not to love? This low carb Spanish cauiliflower rice is healthy, keto, cooks very quickly and tastes great! I'm sure you have all these ingredients in your fridge and pantry so you could make this side dish in just 20 minutes and it will go with just about anything.
This easy veggie side dish is great for those on a keto diet or even a low calorie diet as it only has 39 calories per serving. My hubby and I really love the amazing flavor of this dish and it's become one of our favorite recipes.
Is cauliflower rice good for you?
First of all cauliflower is a cruciferous vegetable and full of nutrients like fiber, vitamins C, K and B6, as well as potassium. It's also low calorie and low carb with just 25 cals in 1 cup. Read more here. I like it because it takes little time to make and you can do so much with it.
It adds bulk to some recipes without adding many calories or carbs. These are a few of my recipes with cauliflower rice:
Easiest way to make cauliflower rice.
I simple cut the head of cauliflower into florets and add to a food processor. Then I pulse until it looks like grains of rice. Sometimes big chunks won't break up so I clean out the cauliflower rice and put it in a bowl.
Then I pick out the big chunks and put them back in the food processor and pulse again until it's all broken down. This takes all of 5 minutes? Easy peasy.
Make extra and keep it in a tightly sealed container. Saute with spices, and some ground beef or cooked chicken and you'll have an easy delicious low carb meal in no time.
Note that you don't have to make your own cauliflower rice. They sell it in most grocery stores. I've seen it at Aldi, Giant Eagle, Trader Joes and even Costco. They usually sell it frozen. I find that frozen cauliflower rice gets a bit soggy when frozen and much prefer to make my own however that is always an option.
How long does homemade, plain cauliflower rice last?
You can freeze riced cauliflower in ziplock bags for meal prep. Just squeeze out as much air as you can and place in the freezer. Reheat it in the microwave in just a few minutes.
In the refrigerator, cauliflower rice will last for 3-4 days. Again make sure you use a tightly sealed container because it will give out that cauliflower smell.
Recipe ingredients I used.
All you need are a few simple ingredients – fresh cauliflower florets, yellow onion, sweet bell peppers, salt, cayenne, cumin, paprika, olive oil, fresh garlic, tomato paste, Better than Bouillon chicken base and fresh cilantro or parsley (which is optional).
I highly recommend using the Better than Bouillon mixed with water instead of chicken broth because it adds a lot of flavor. However you can use chicken stock or broth or even granular bouillon.
Let's make low carb Spanish cauliflower rice.
Step 1: Finely chop the onion and peppers. Get out a large saute pan or nonstick skillet and heat to medium high heat. When hot add the olive oil and then chopped onion and peppers. Cook for a few minutes until the veggies soften.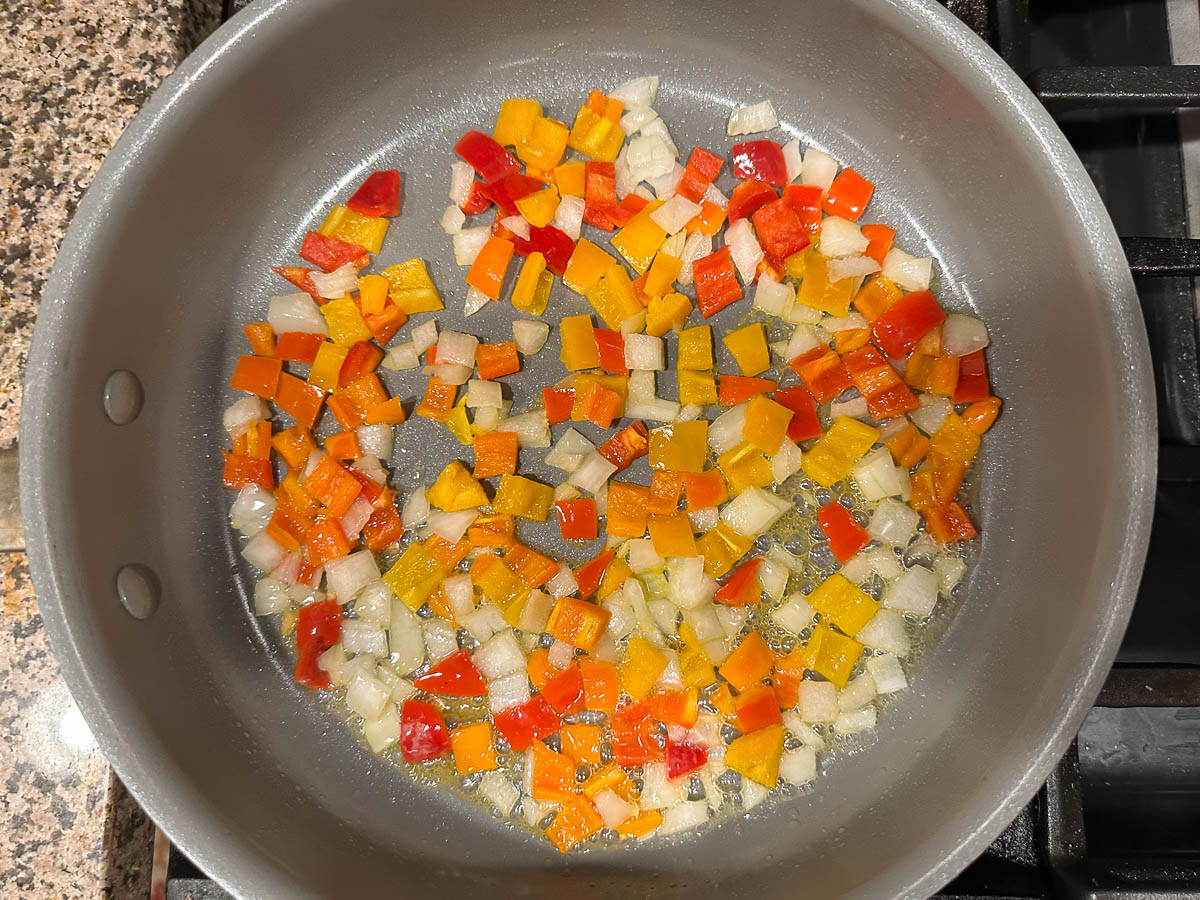 Step 2: Next get out a small mixing bowl and add the Better than Bouillon, tomato paste, spices and water. Whisk together then add to the skillet and mix to combine. Bring to a simmer.
Step 3: While the veggies are cooking, make the riced cauliflower as described above or use store bought. Add it to the pan, mix well, then cover and cook for 5 minutes or until the texture of the cauliflower rice is to your liking.
Step 4: When done you can add fresh cilantro for garnish or even parsley and serve. The herbs are optional but the green leaves add good color to the dish. For more heat add hot pepper flakes if you want.
Store leftovers in an airtight container. This recipe is good for freezing too. Please scroll down to view the printable recipe card.
What does this Spanish cauliflower rice go with?
You can eat this Spanish rice as is for a vegetarian meal or as a low carb side dish. It is also the perfect compliment to grilled chicken, steaks, even salmon or any kind of fish for a complete meal.
It also tastes great the next day so make sure you save your leftovers if you have them!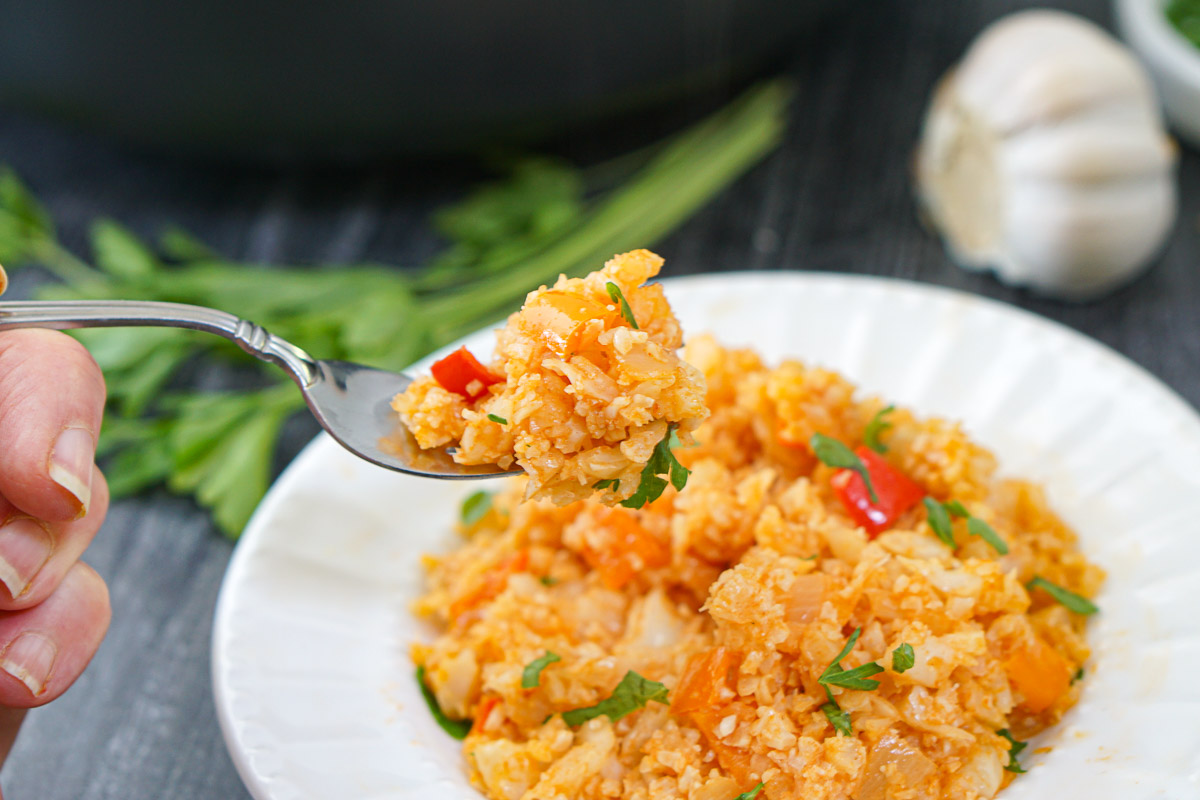 Well I hope I have sold you on cauliflower rice LOL! It's been a game changer for me and recipes like this are so easy and tasty my whole family likes it too. The nutritional information for 1 serving is:
39 cals / 0.6g fat / 7.4g carbs / 3g fiber / 2.4g protein = 4.4g net carbs
Low Carb Spanish Cauliflower Rice Recipe
This low carb Spanish cauliflower rice is a healthy and tasty side dish you can make in minutes. With a just a few ingredients you can make this savory, flavorful vegetable side dish with only 4.4g net carbs.
Ingredients
1 tablespoon olive oil
1 clove garlic, crushed
¼ cup onion, finely diced
½ cup sweet pepper, chopped
½ teaspoon salt
¼ teaspoon paprika
¼ teaspoon cumin
⅛ teaspoon cayenne powder
1 tablespoon tomato paste
1 tablespoon Better Than Bouillon (chicken or vegetable)
½ cup water
3 cups cauliflower rice
fresh parsley or cilantro (optional)
Instructions
Get out a large saute pan and heat to medium heat. Add the olive oil to the heated pan, then add the garlic, onions and peppers and saute for a few minutes until soften.
Meanwhile in a small bowl, add the Better than Bouillon, water, tomato paste, salt, paprika, cumin and cayenne and mix well to combine.
Add the sauce to the peppers and onions and bring to a simmer.
While that's cooking, make your cauliflower rice by adding florets to a food processor. Pulse until it looks like grains of rice.
When the sauce is simmering, add in the cauiliflower rice and mix well. Cover and cook for about 5 minutes until the cauliflower is cooked through.
When done, sprinkle chopped fresh parsley or cilantro if using. Store leftovers in an airtight container.
Notes
The nutritional information for 1 serving is: 39 cals / 0.6g fat / 7.4g carbs / 3g fiber / 2.4g protein = 4.4g net carbs
Nutrition Information:
Yield:

4
Serving Size:

1 serving
Amount Per Serving:
Calories:

39
Unsaturated Fat:

0g