This low carb cauliflower tabouli is a great gluten free alternative to traditional tabouli. Full of herbs like parsley and mint with a light and refreshing lemony dressing. This chopped salad is a quick and delicious for summer and has only 4.2g net carbs.
You might also like this easy low carb chopped cucumber salad!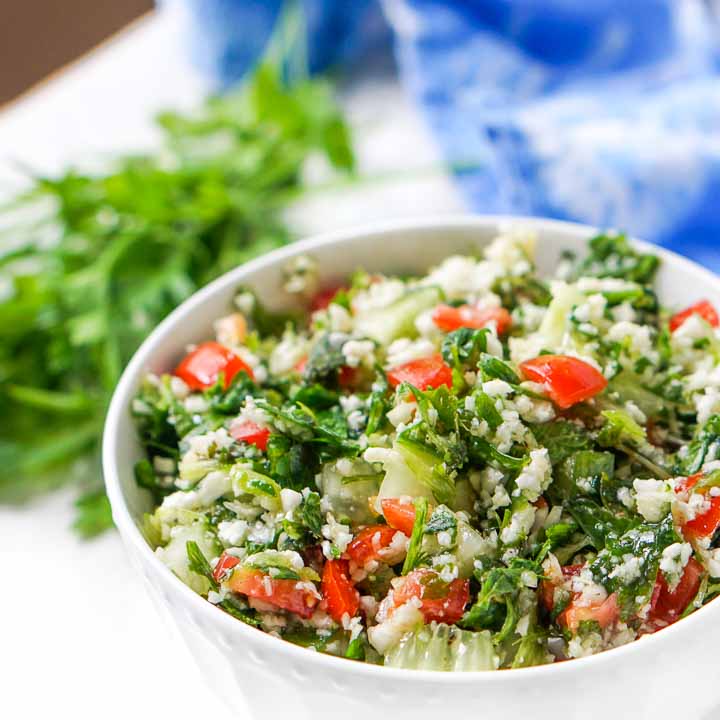 Have you ever had tabouli? I like to think of it as a Middle Eastern chopped salad. I grew up with tabouli so to me it exemplifies summer. It's light and refreshing and loaded with herbs from the garden.
And while traditional tabouli calls for bulgar wheat, today I tried riced cauliflower and it was delicious. So if you like tabouli but don't like the wheat, try this low carb cauliflower tabouli. It only takes a few minutes to make and is a healthy, refreshing summer salad.
What's In Cauliflower Tabouli?
Tabouli is very good for you. Each serving of this recipe has 68mg of vitamin C. To make this gluten free version you need only green onions, tomatoes, cucumbers, parsley, mint, riced cauliflower, lemon juice and olive oil.
Tabouli is a great dish for using common garden herbs and vegetables. Many people grow both parsley and mint in the herb gardens. And cucumbers and tomatoes are also very common summer garden veggies.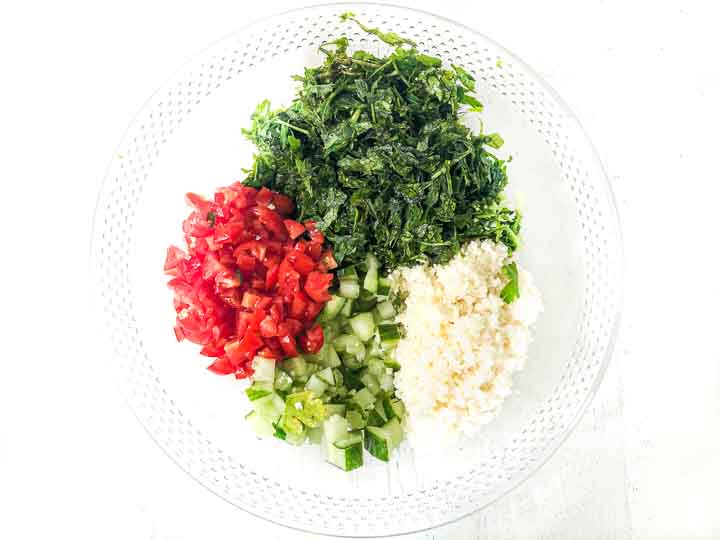 Let's Make This Gluten Free Tabouli Salad!
This is super easy so first you want to pull out a mini food processor and add the green onions and herbs. Pulse until these are very finely chopped. Spoon this in to a large bowl and then chop up the tomatoes and cucumbers.
You want to chop the tomatoes and cucumbers very finely so they mix well with riced cauliflower. Add these to the parsley mixture and then pour in the lemon juice and a good olive oil. Lastly sprinkle some salt and pepper and mix well.
Make sure to taste it and if there is too much lemon, add a bit more olive oil and vice versa. If you let it refrigerate a while the flavors will come together more but you can serve it right away if you want.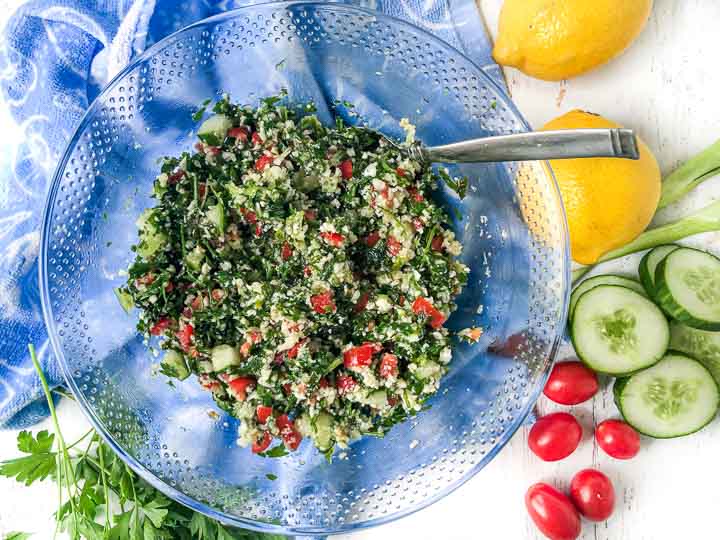 When you take a bite of tabouli you can definitely taste the lemon. It's very lemony. The riced cauliflower works great in this dish as a substitute for bulgar wheat.
If you want to know how to rice a cauliflower you can check out this post, or just pulse some of the florets a few times in your food processor. You want it to look like grains of rice so don't over process it.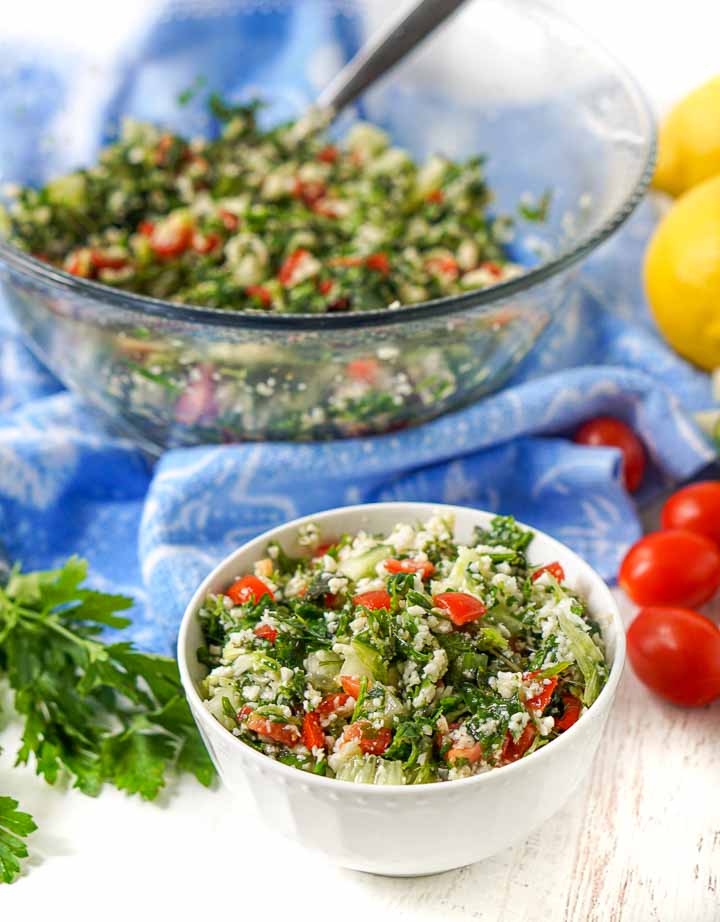 Other Low Carb Cauliflower Rice Salads To Try
I have a lot of cauliflower rice recipes on this blog. Most use cooked cauliflower rice in hot recipes but some use raw, cold cauliflower for salads like this low carb antipasto cauliflower salad or these 5 different flavors of cauliflower rice jar.
The reason I like cauliflower rice for salads is that they stays nice and crunchy and are great for make ahead salads. You don't even have to cook it. Just eat it raw like you do in this recipe.
Gluten Free Keto Cauliflower Tabouli
Well if you like tabouli I hope you give this version a try. It also tastes great the next day if you have any left! So with all the herbs, vegetables and lemon you have a very nutritious and most delicious dish. The nutritional information for 1 serving is:
154 cals / 13.8g fat / 8.1g carbs / 3.9g fiber / 2.1g protein = 4.2g net carbs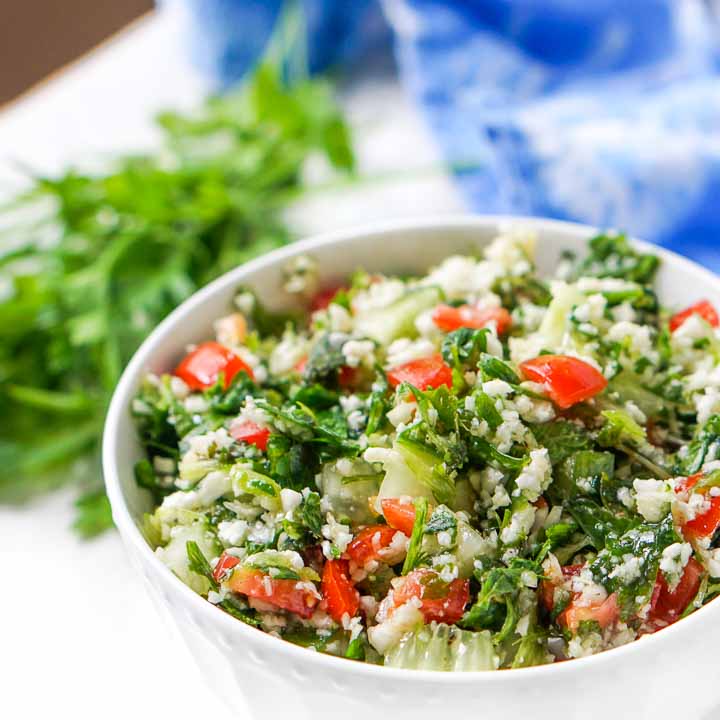 Easy Low Carb Cauliflower Tabouli (gluten free, Paleo)
This low carb cauliflower tabouli is a great gluten free alternative to traditional tabouli. Light and refreshing, it's a delicious summer salad.
Ingredients
2 cups parsley, loosely packed
30 leaves mint
5 green onions
1 cup cauliflower
½ cup roma tomatoes, finely diced
½ cup cucumber, finely diced
¼ cup lemon juice
¼ cup good olive oil
½ teaspoon salt
pepper to taste
Instructions
In a food processor, start with your cauliflower. Process about ¼ to ½ a head of cauliflower until it looks like rice grains. Measure 1 cup of the riced cauliflower and add to a large bowl. Store the rest of the cauliflower in the refrigerator and use in another dish.
Next put in your green onions. Process on high until finely chopped.
Add in your parsley and mint and process until finally chopped. Scrape everything into the bowl.
By hand, finely chop both your cucumber and tomato and add to the bowl.
Add the lemon juice, olive oil, salt and pepper and mix well.
Taste and adjust the salt and lemon to your preference.
Notes
The nutritional information for 1 serving is:
154 cals / 13.8g fat / 8.1g carbs / 3.9g fiber / 2.1g protein = 4.2g net carbs
Recommended Products
As an Amazon Associate and member of other affiliate programs, I earn from qualifying purchases.
Nutrition Information:
Yield:

4
Serving Size:

1
Amount Per Serving:
Calories:

154
Unsaturated Fat:

0g