Did you ever have kibbeh? I grew up with it and my mom and aunts made the best kibbeh ever. I remember going to Florida for a few days with my parents in the winter when I was in college. I only stayed a few days and flew back on my own. My aunt Margo would load a big shopping bag full of her Lebanese dishes like kibbeh, grape leaves,  spinach pies etc. I being a snotty college kid was embarrassed  to carry all this smelly food on the plane but as luck would have it I sat by someone who was very familiar with all the tasty treats my aunt pack for me. And as soon as I got home I was very thankful to have such good food to eat for a few days. What I wouldn't give to see Aunt Margo and taste her delicious food again!
Kibbeh is what I would describe as a Middle Eastern type of meatloaf. It has ground lamb or beef along with cracked wheat, onions, seasoning and sometimes pine nuts depending on what kind of kibbeh you are making. It's pretty time consuming and I think it's an art form. I can't make kibbeh to save my life but I was craving it one day and thought why can't I make kibbeh meatballs and make them Paleo by substituting cauliflower for the cracked wheat? And while they turned out pretty tasty to me, I would never serve these to my Lebanese relatives because they wouldn't understand why I was making them them so differently. So if you are familiar with kibbeh these are not going to taste just like the kibbeh you know and love. However they taste very similar to kibbeh (and satisfied my kibbeh craving) and they were gluten free which is what I was going for.
Paleo Middle Eastern Meatball Recipe
Before you mix everything together, you need some riced cauliflower. You can either do it in the blender with water or you can take some raw cauliflower and slowly pulse it in a food processor until it looks like grains of rice. Once you do that, microwave it for a few minutes in a microwave safe bowl. No need to add water or anything, just the cauliflower. Set that aside to cool. Add your onion and spices to a food processor and pulse until the onion is finely chopped. Add your cauliflower and pulse a few times to mix and then add your meat and pulse a few more times.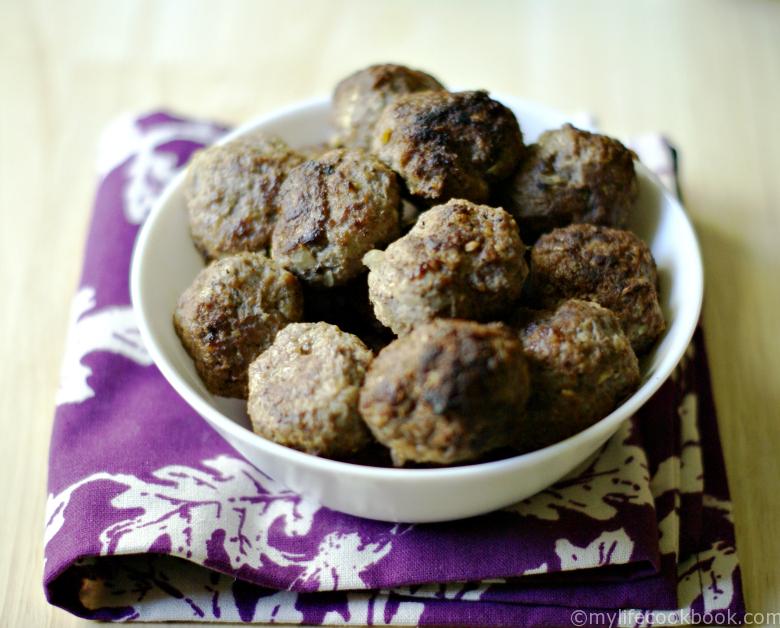 Take the meat out of the food processor and mix well with your hands. Then form them into meatballs. I made mine medium sized and got 12  meatballs out of the batch. Next you want to melt some coconut oil in a pan over medium high heat. I used a cast iron skillet. Brown them all around and then pop them in the oven for 10 minutes. Voila! Paleo Middle Eastern (Almost Kibbeh) Meatballs!
One last thought…these would taste good with a Greek yogurt or tzatziki sauce and while I ate these for dinner they would make a tasty appetizer too. I froze mine half of the batch and I pop a couple in the microwave when I'm in the mood.

Paleo Middle Eastern Meatballs (Paleo Kibbeh)
These Paleo Middle Eastern Meatballs are similar in taste to kibbeh but instead of the traditional cracked wheat I used riced cauliflower.
Author:
Denise Wright (MyLifeCookbook.com)
Ingredients
1 lb grassfed beef
1 medium onion
1⅓ cup riced cauliflower
2 teaspoons salt
⅛ teaspoon pepper
⅛ teaspoon cinnamon
⅛ teaspoon allspice
2 Tablespoon coconut oil
Instructions
Preheat your oven to 350F.
Rice your cauliflower and cook in the microwave for 3 minutes. Set aside to cool.
In your food processor add the onion and pulse until finely chopped.
Add your spices and pulse to mix well. Next add in your meat and cauliflower and pulse a few times to combine.
Take the mixture out of the food processor and mix with your hands and then form into meatballs.
Melt the coconut oil in a cast iron (or regular pan) over a medium high heat.
Add the meatballs and brown on all sides.
Place the browned meatballs on a cookie tray and bake for 10 minutes to make sure the meat is cooked through.
Enjoy!