These slow cooker keto ribs are so easy to make and delicious with the unique spice blend. The slow cooked ribs are moist and tender and the spice rub is full of Middle Eastern flavors. A tasty change to your usual bbq ribs and they are low carb too! Only 1.7g net carbs per serving.
Check out this low carb Middle Eastern Spiced roast in the Instant Pot.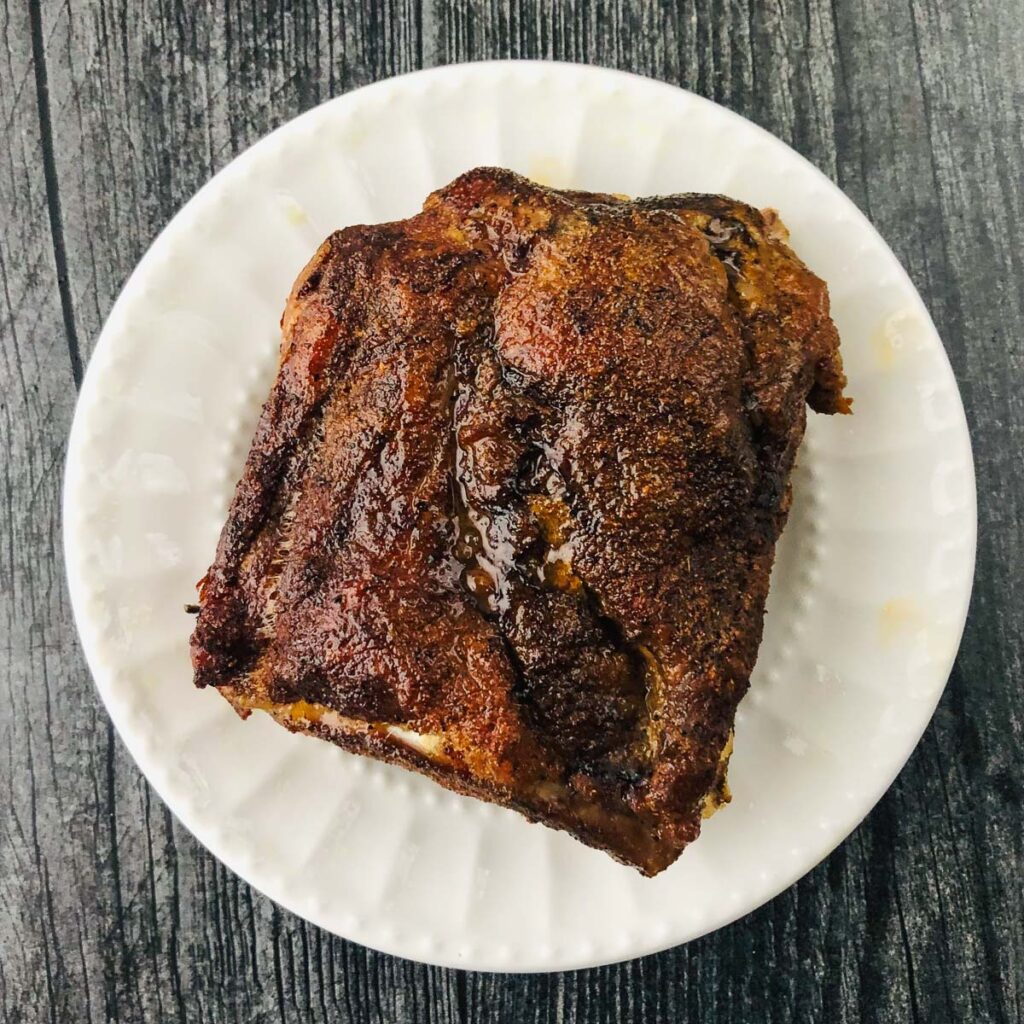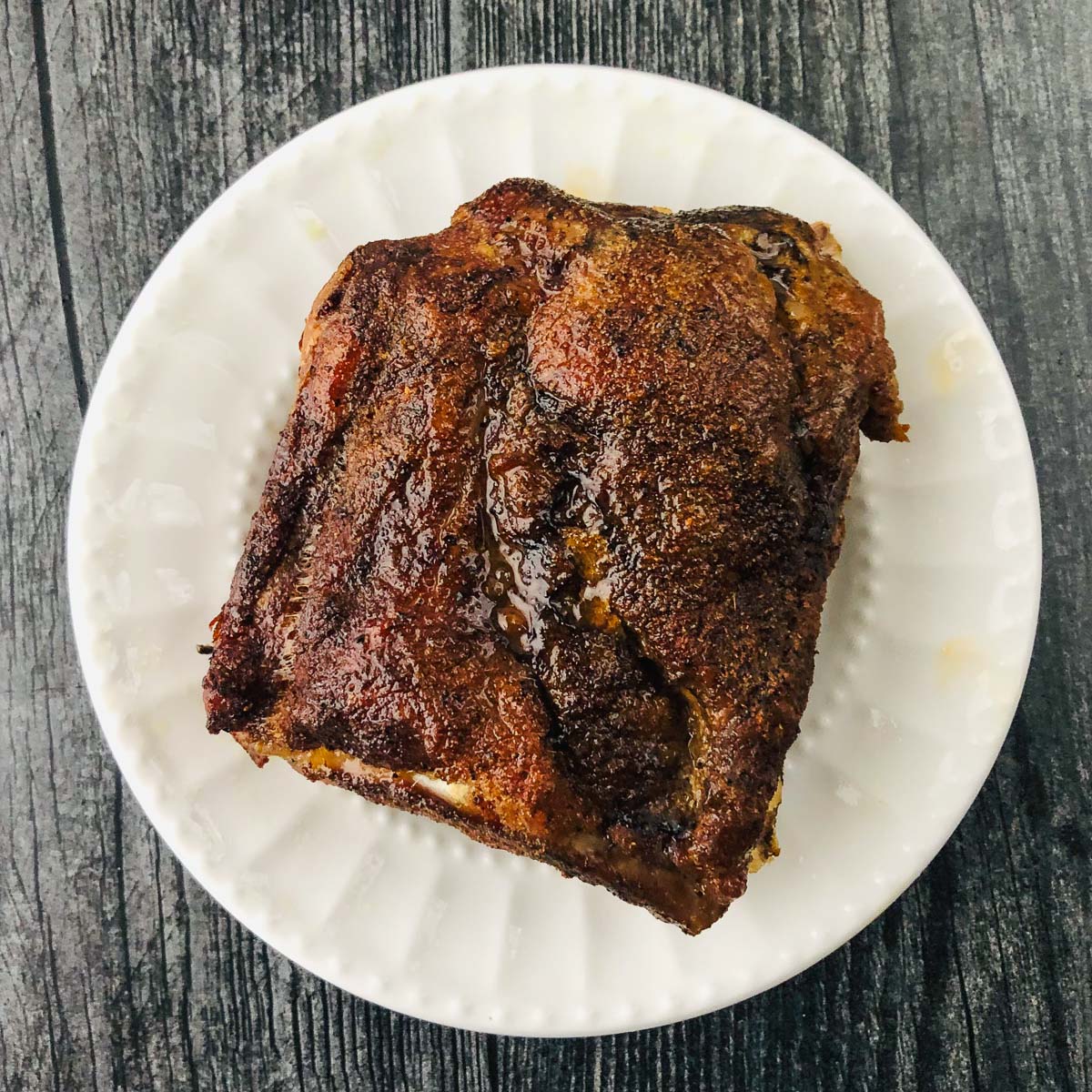 I really didn't know what to call these. The other day I bought a huge package of ribs from Costco and wanted to make low carb ribs. I intended to create my own rub and wanted to slow cook them. I had planned on adding barbecue sauce at the end for my husband but when I tasted them they were really good as is.
They reminded me of various dishes my Lebanese grandmother used to make. I could have called them Grandma's Ribs but since she never made ribs that I know of I decided to call them Middle Eastern Slow Cooker Keto Ribs. They were TASTY and only 1.7g net carbs per serving!
My husband really liked these. I think because they have such an unique taste. And when you make them in the slow cooker, you are guaranteed that they will be nice and tender.
I much prefer cooking a rack of ribs this way compared to an oven cooking method. However I have also made ribs easily in the air fryer so check that out too!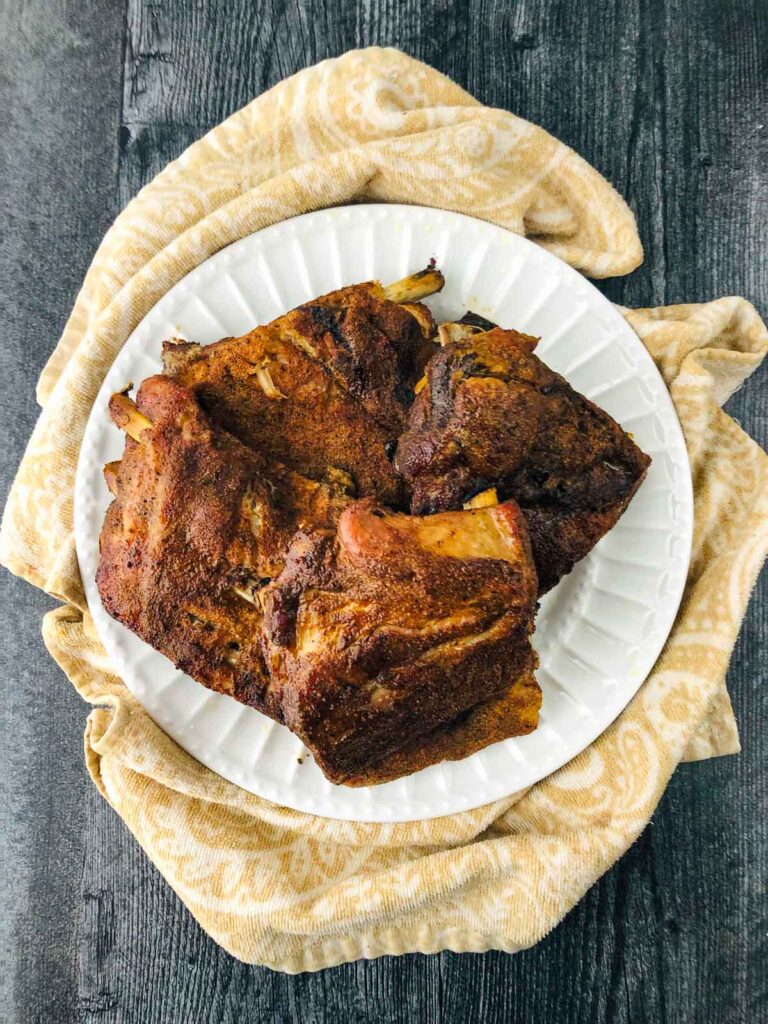 Simple middle eastern dry rub recipe.
The rub is made up of a great deal of spices but they are pretty commonly found. I used cumin, garlic powder, onion powder, paprika, cayenne, chili powder, cinnamon, salt, pepper and Swerve sweetener.
I think what gives it that certain Middle Eastern taste is the cinnamon. In combination with the other spices it's delicious with meat. Recently I just used this to make an Instant Pot roast and it was fabulous!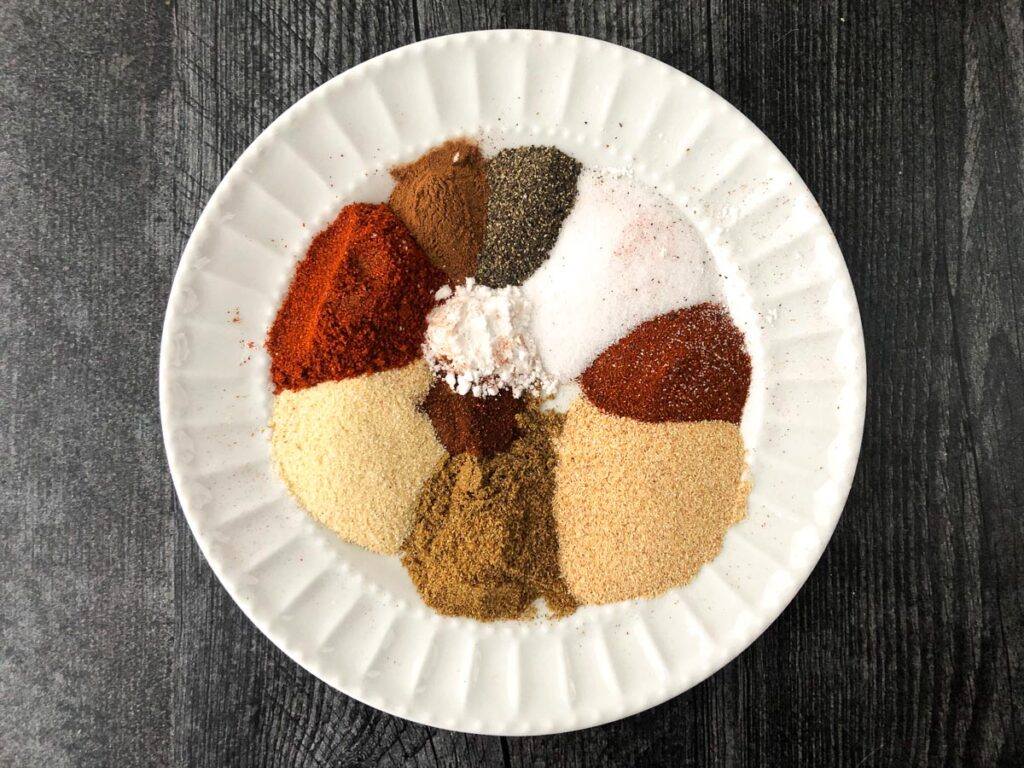 How to make slow cooker keto ribs.
Note I used both baby back ribs and St. Louis ribs so you can use either kind with this slow cooker recipe.
Make sure to remove the membrane on the ribs, though sometimes they come with it removed already. If you are unsure scroll down to the recipe tips and notes for a link to a video showing you how.
Step 1: First mix the all of the spices in a small bowl. I used Swerve sweetener because I didn't want the extra carbs. You can most certainly use sugar and it would be the same amount as the Swerve.
Step 2: Cut the rack of ribs into sections. Rub the spices generously on both sides to get the ribs ready for the slow cooker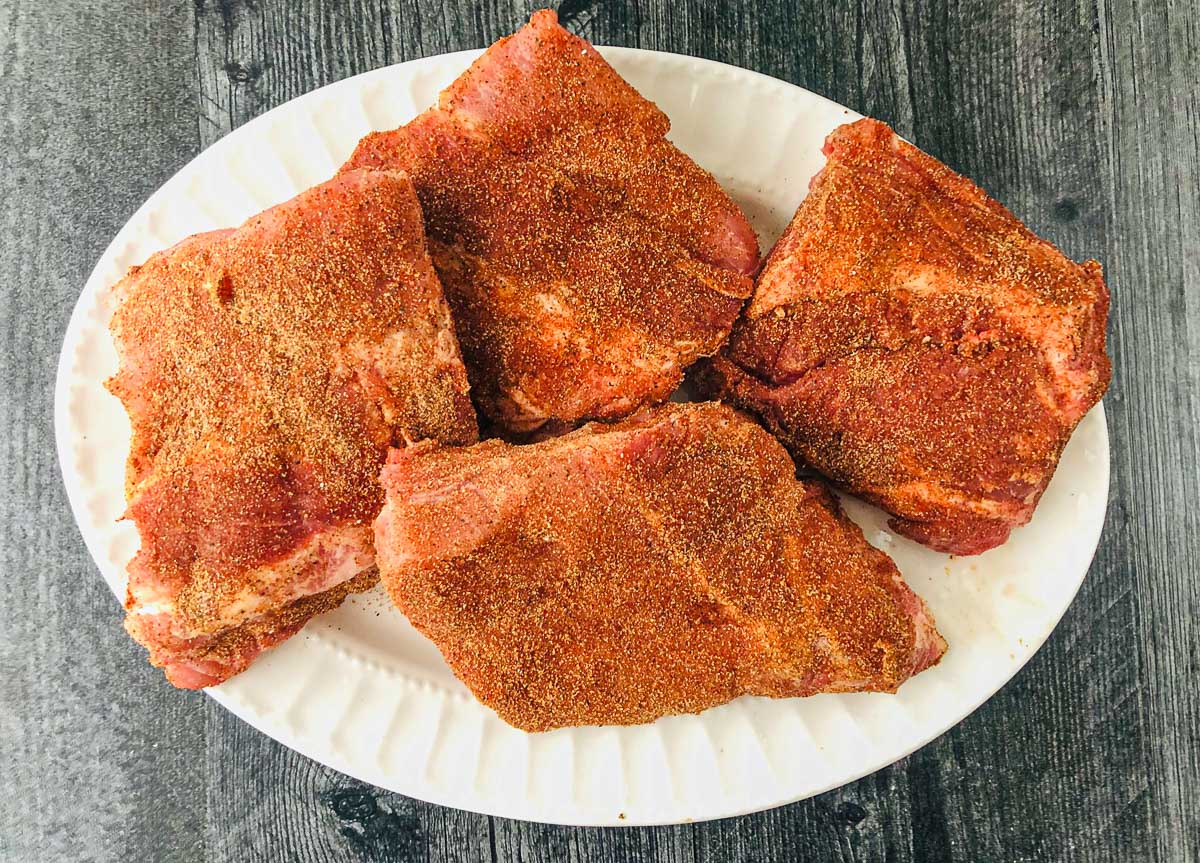 Step 3: Place them into the slow cooker pot and cook on low all day, about 6-8 hours. No water or liquid of any kind needed. Cooking time may vary.
Step 4: You know they are done if they fall off the bone. If you like them chewier take them out earlier. Discard the cooking liquid and place on a platter to eat.
Store leftover ribs in an airtight container. (Please scroll down to view the printable recipe card.)
Recipe Tips and Notes
Remember to take the silver membrane off the ribs if there is one. This will make the rub stick better. Here is a good video if you are unsure of how to do it but it's pretty easy.
If you want you can broil them at the end to get them a bit crispy but they don't need it. Just cover a baking sheet with aluminum foil, spray it with nonstick cooking spray. Place the ribs on top of prepared baking sheet. Use the oven broiler until you see the texture you are looking for.
I did not use a sauce with these ribs because they didn't need any with all the flavor from the rub. However if you want to eat them with a low carb barbecue sauce feel free.
Here is a simple but tasty keto bbq sauce recipe if you are interested. It's more of a Carolina type of vinegar base BBQ sauce but with brown sugar sweetness (from a brown sugar substitute like Swerve or Lakanto Golden.)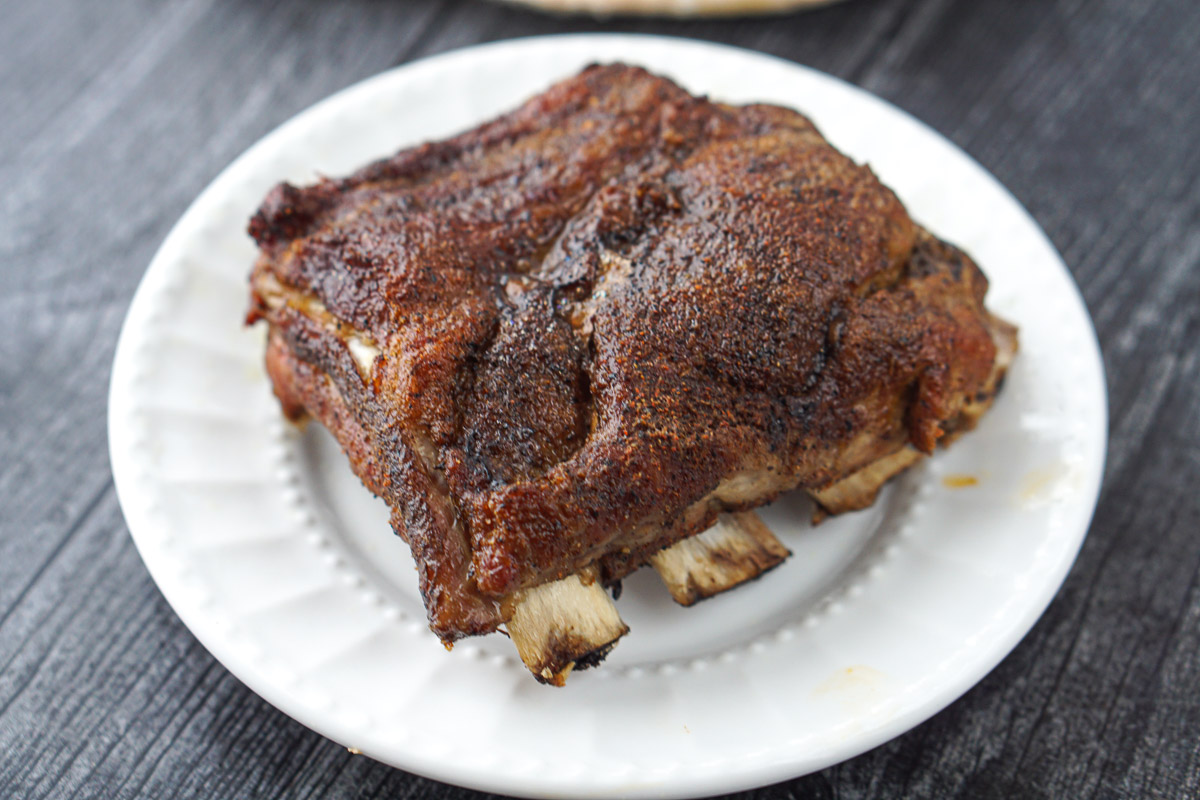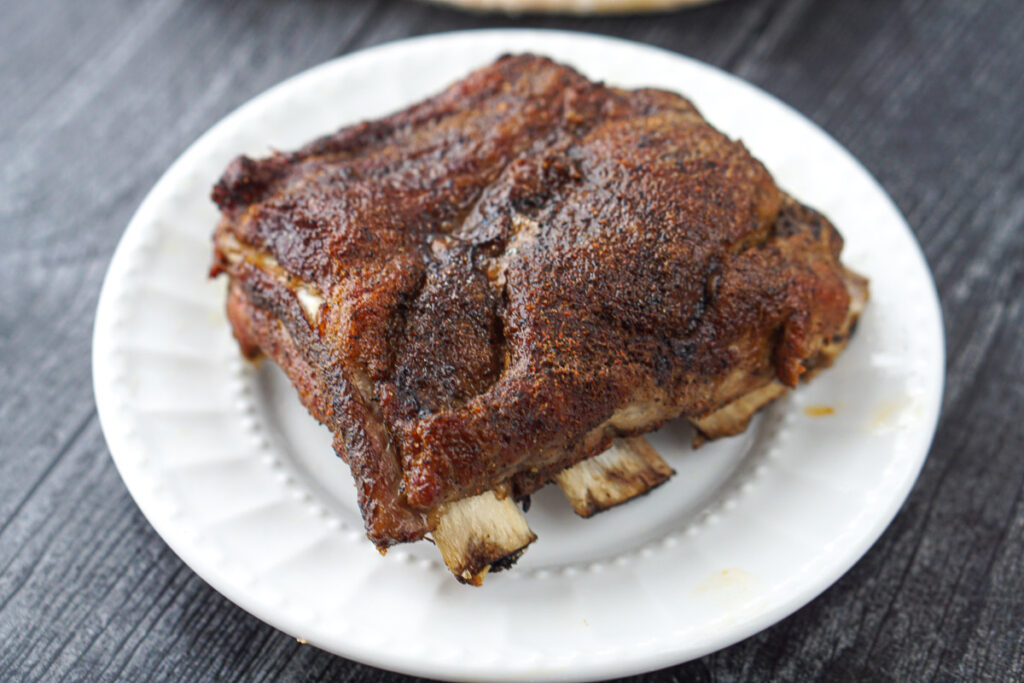 That's all there is to these easy slow cooker keto ribs. I think if my grandma was alive she would approve of these ribs. I hope you give this low carb dinner a try and here is the nutritional count for 1 serving (½ lb):
281 cals / 11.5g fat / 2.9g carbs / 1.2g fiber / 20.5g protein = 1.7g net carbs
Here are a few more Middle Eastern favorites!
If you love the flavors of Middle Eastern cooking I think you will enjoy these 4 recipes below. They are not traditional Middle Eastern dishes but my take on them.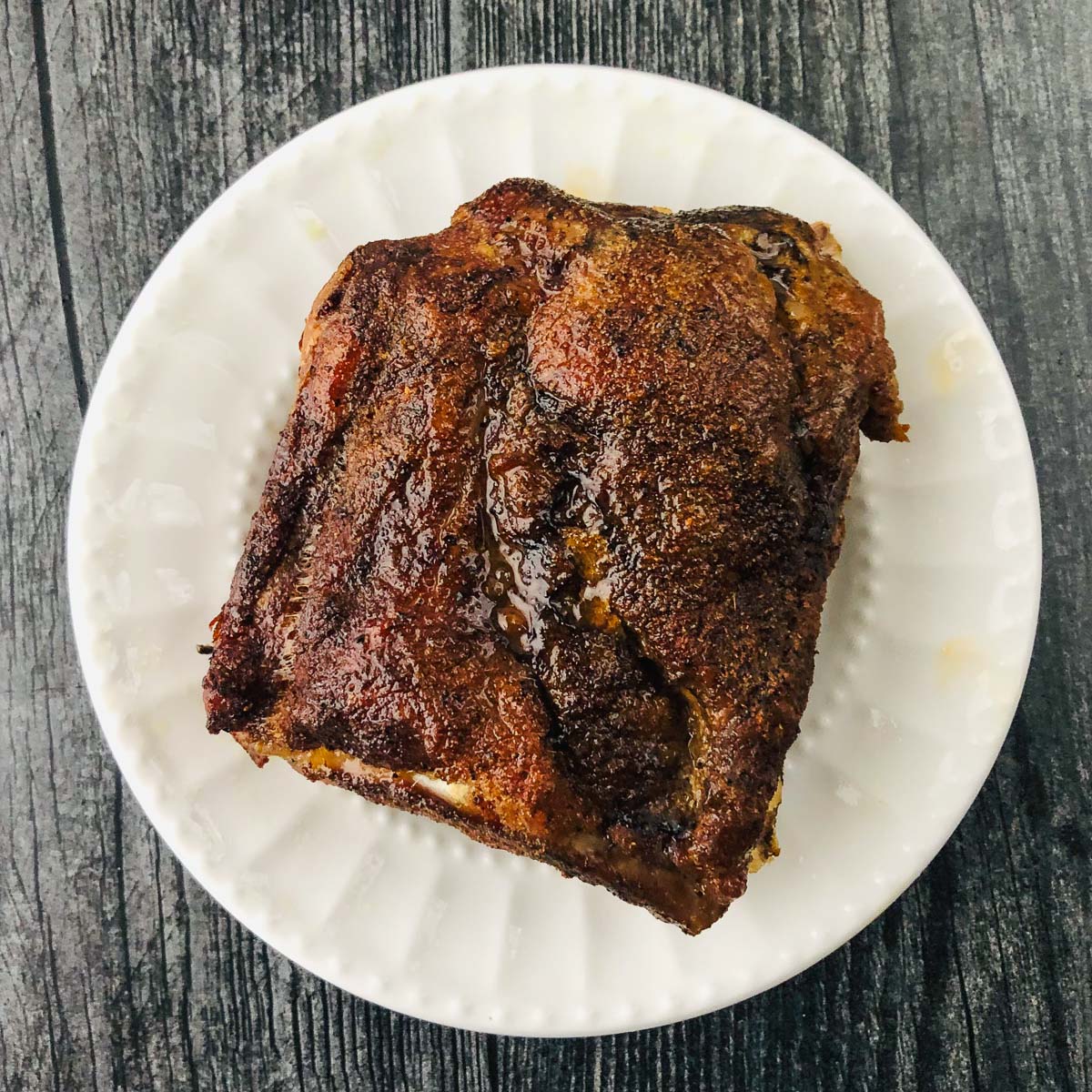 Middle Eastern Keto Slow Cooker Ribs
Total Time:
8 hours
5 minutes
These Middle Eastern slow cooker ribs are so easy to make. Just rub the unique spice blend and slow cook until tender. A tasty change to your usual ribs.
Ingredients
4 pounds ribs
1 tablespoon cumin
1 tablespoon onion powder
1 tablespoon garlic powder
2 teaspoon chili powder
1 teaspoon paprika
2 teaspoon salt
1 teaspoon black pepper
½ teaspoon cayenne pepper
1 teaspoon cinnamon
1 teaspoon Swerve sweetener
Instructions
Add all the spices to a medium bowl and mix well.
Rub the spices all over the ribs. You may have extra rub.
Place into a slow cooker and cook on low all day or 8 hours.
Take out earlier if you like chewier ribs.
Nutrition Information:
Yield:

8
Serving Size:

1 serving
Amount Per Serving:
Calories:

281
Unsaturated Fat:

0g