This Middle Eastern chicken skillet dinner is an easy dish with a deliciously unique taste. Spice it up tonight.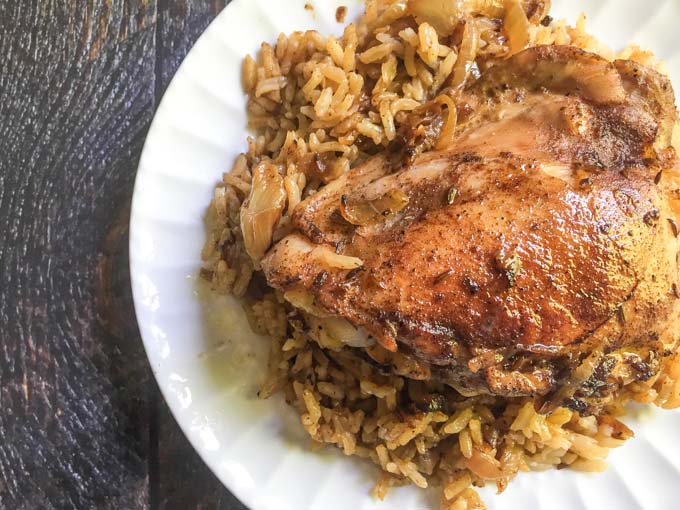 Growing up my mom used to make a delicious Lebanese dish called moghrabieh which involved pearl couscous, chicken, caramelized onions and such tasty spices as cinnamon, paprika and caraway. It's really quite good but a little complicated to make. However I really loved it so I made an easier version and made a soup of it which you can check out here. I think what makes these dishes so good is the spice combination. It goes great with chicken and starches. So in my quest to use the flavors of these great Middle Easter dishes I grew up with I came up with this Middle Eastern chicken skillet dinner. It combines chicken thighs, caramelized onions, rice and all those unique and tasty spices. It's delicious and you can make it all in one skillet!
I'm getting a lot of use out of my cast iron skillet. It's perfect for dishes like this and I love that I only have one pan to clean. To make this yummy dish, you start with mixing the spices and rubbing half on the chicken thighs. I used skinless with the bone in. You can use whatever you like, breasts, thighs, whatevs. So you brown them in your skillet and then you set them aside. Next you caramelize your onions and add the rest of the spices. Lastly you add in your broth and rice, bring to a boil and then nestle the thighs back the pot. Cover the pan with a lid and simmer for about 20 minutes.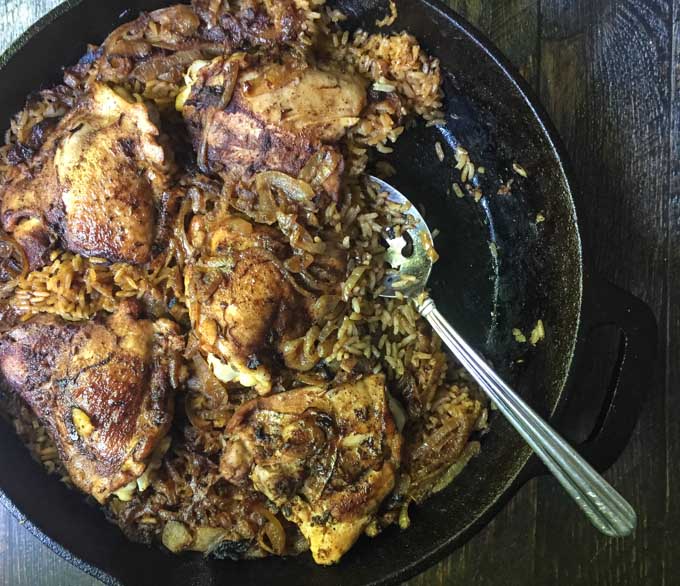 Now it's confession time. I forgot to add chickpeas to this dish. I bought them, I meant to add them right before you nestle in the browned chicken thighs, but I forgot. I only noticed after we ate it. <sigh> So if you are a chickpea fan, I would definitely add a can to this dish. It gives it more of that moghrabieh taste. That being said, it also was very good without it. But I like chickpeas and would have liked this better with them.
Middle Eastern Chicken Skillet Dinner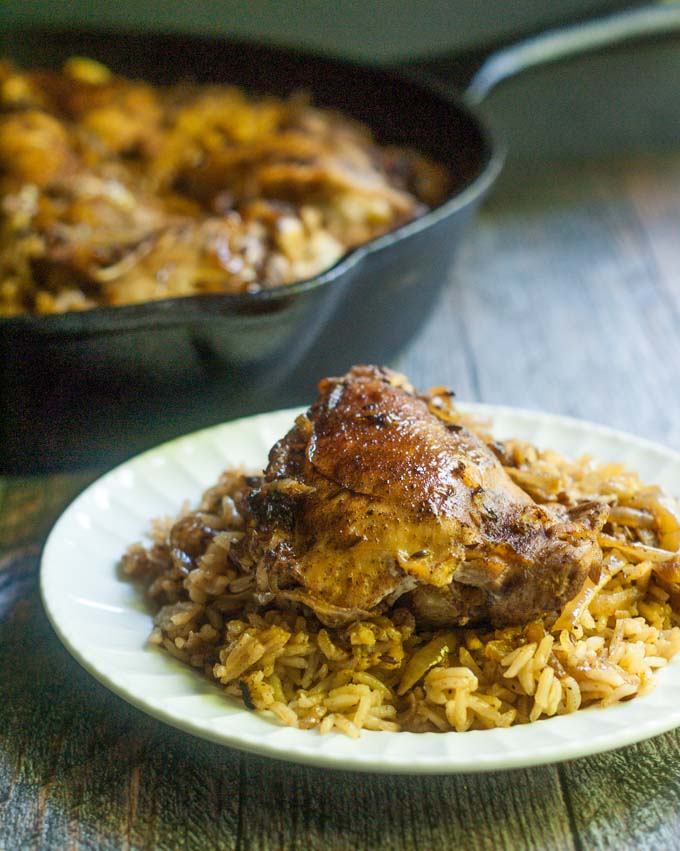 So that is my recipe renovation of my mom's moghrabieh. It's very easy and very tasty and the spice combination (IMO) is super tasty. If you've tried my Middle Eastern chicken & couscous soup then I'm sure you are going to love this one. Enjoy!
Moroccan Chicken and Rice
This Middle Eastern chicken skillet dinner is an easy dinner with a deliciously unique taste. Spice it up tonight.
Ingredients
1

T

of olive oil

6

chicken thighs

skinless, bone in

2

onions

sliced thin

1

teaspoon

salt

1

teaspoon

pepper

1

teaspoon

cinnamon

1

teaspoon

paprika

2

teaspoons

caraway seeds

1 ½

cups

rice

2 ¼

cups

chicken broth
Instructions
Heat up a skillet to medium high heat and then add your olive oil.

In a small bowl, mix up your spices.

Take half and rub all over your chicken thighs.

Add the skillet and brown both sides (about 4 minutes per side).

Take chicken out of skillet and set aside.

Turn the heat to medium and add the onions.

Saute for 10 minutes or until nice and browned. Try to scrape up the brown bits for the chicken if you can.

Sprinkle 1 teaspoon of the remaining mixture on the onions and mix well and cook for 1 more minutes.

Add your rice, broth and remaining spices in the pan and mix well.

Bring to a boil and then nestle the chicken thighs on top, cover and lower to medium low heat.

Cook for 30 minutes. Make sure your chicken is done.

Let set for a few minutes and serve.