This Middle Eastern chicken & couscous soup is full of flavor using spices, couscous, chicken and caramelized onions. A hearty meal in a bowl.
When I was growing up, my mom used to make a delicious Lebanese dish called moughrabia. To be honest I cannot even pronounce it right. I've never seen it offered at any middle eastern restaurant and I have never made it. Luckily my sister in law (who is not even Lebanese) is an expert at making moughrabia and every once in awhile she makes it for our whole family. Which is quite a feat because it's pretty time consuming. This is my easy version of moughrabia. I call it Middle Eastern Chicken & Couscous Soup because it uses rotisserie chicken and boxed couscous. It's not moughrabia but it tastes surprisingly very close. My grandmother probably would have been very disappointed in my knock off version but when you are desperate for a bowl, this is so much easier.
I remember when my mom used to make moughrabia, my father would have to make a special trip to Pita Land in Pittsburgh to get just the right size of moughrabia. Pita Land was a cool store. They kept their moughrabia in these large bins along with dried fava beans, dried chickpeas and other unusual items. Moughrabia refers to both the grain and the dish. Moughrabia is also referred to as Israeli or Pearl couscous and is larger than traditional couscous. It's made of semolina flour rolled into pearl-sized balls. Moughrabia (the dish) is usually a special occasion meal. The dish involves caramelizing onions, browning and cooking chicken pieces, cooking the moughrabia and making the broth. You eat it by adding a scoop of the moughrabia to a bowl, covering with an onion and chickpea broth and then adding pieces of your chicken. It's very filling and warming in the winter time. It uses an unusual spice combination of caraway, paprika and cinnamon and it's super tasty!
This whole thing started the other day when I was where else, but Trader Joe's. I saw this box of Israeli Couscous and thought, "I can probably make a passable moughrabia with a rotisserie chicken and this box of TJ couscous."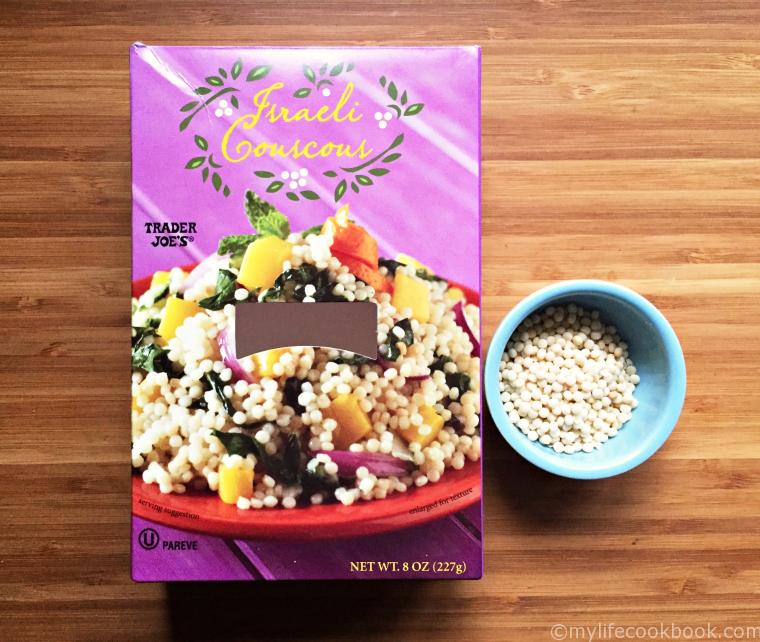 Middle Eastern Chicken & Couscous Soup
This soup involves two things going at once. You make the couscous in one pot and start your broth in another. You don't want to put the couscous into the broth until you serve it. To make the couscous you just follow the directions on the package. I've never made couscous before so here is a pic of what it looks like when it's cooked.
Making The Broth
While the couscous is cooking start making the broth. Begin by caramelizing your onions in some olive oil. You want them brown but not too dark. Just as they are starting to brown, sprinkle in your spices…the cinnamon, paprika, caraway and salt and pepper. Mix them well and cook for another minute. Then add your chickpeas and broth. I always add a teaspoon of Better than Bouillon for added flavor but that's optional. Let the broth simmer for 5 minutes and taste to see if it needs more salt if you don't use the Better than Bouillon. Next add your chopped chicken and cook for a few more minutes. Once the couscous is cooked, you are ready to eat.
How To Serve.
To serve the final dish, you add a scoop of the couscous to a large bowl and then top with a ladle or two of the chicken and broth. Here is a pic of the final product. This is all you need for dinner because you would be surprised at how filling it is. I hope you try this unusual combination of flavors and of course enjoy it!
If you like this recipe, please follow me on Pinterest. Just click below.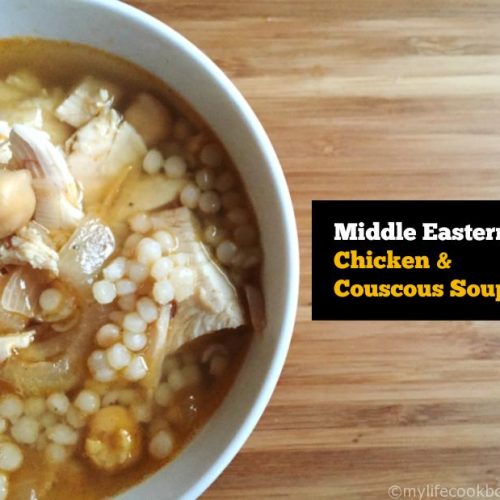 Middle Eastern Chicken & Couscous Soup
This Middle Eastern chicken & couscous soup is full of flavor using spices, couscous, chicken and caramelized onions. A hearty meal in a bowl.
Ingredients
2

large onions, sliced

2

tablespoons

olive oil

¼

teaspoon

cinnamon

¼

teaspoon

paprika

1

teaspoon

salt

½

teaspoon

pepper

2

teaspoon

caraway

6

cups

chicken broth

2

cups

chicken, cooked and chopped (rotisserie)

1 ⅓

cups

uncooked couscous (pearl or Israeli)

1 ¾

cup

chickpeas

1

teaspoon

Better than Bouillon
Instructions
Add your olive oil to a soup pan.

Add sliced onions and brown to a nice caramelization but not too brown.

Once onions start to brown, add the cinnamon, caraway, paprika, salt and pepper. Mix well and cook for a minute or two.

Next add your broth, chickpeas and bouillon if using.

Cook for 5 minutes.

Lastly add your chopped chicken and cook through for a few minutes.

In the meantime, make the couscous according to the directions.
To Serve
Add a scoop of the couscous in a large bowl.

Top with1 or 2 scoops of the broth mixture.

Enjoy!