These keto bbq meatballs are great for a busy weeknight dinner. The flavorful beef and pork meatballs are simmered in a sugar free, tangy and sweet bbq sauce. The whole recipe takes less than 30 minutes! Each of these keto meatballs has just 44 calories and 0.4g net carbs.
You might also like these other keto meatballs recipes!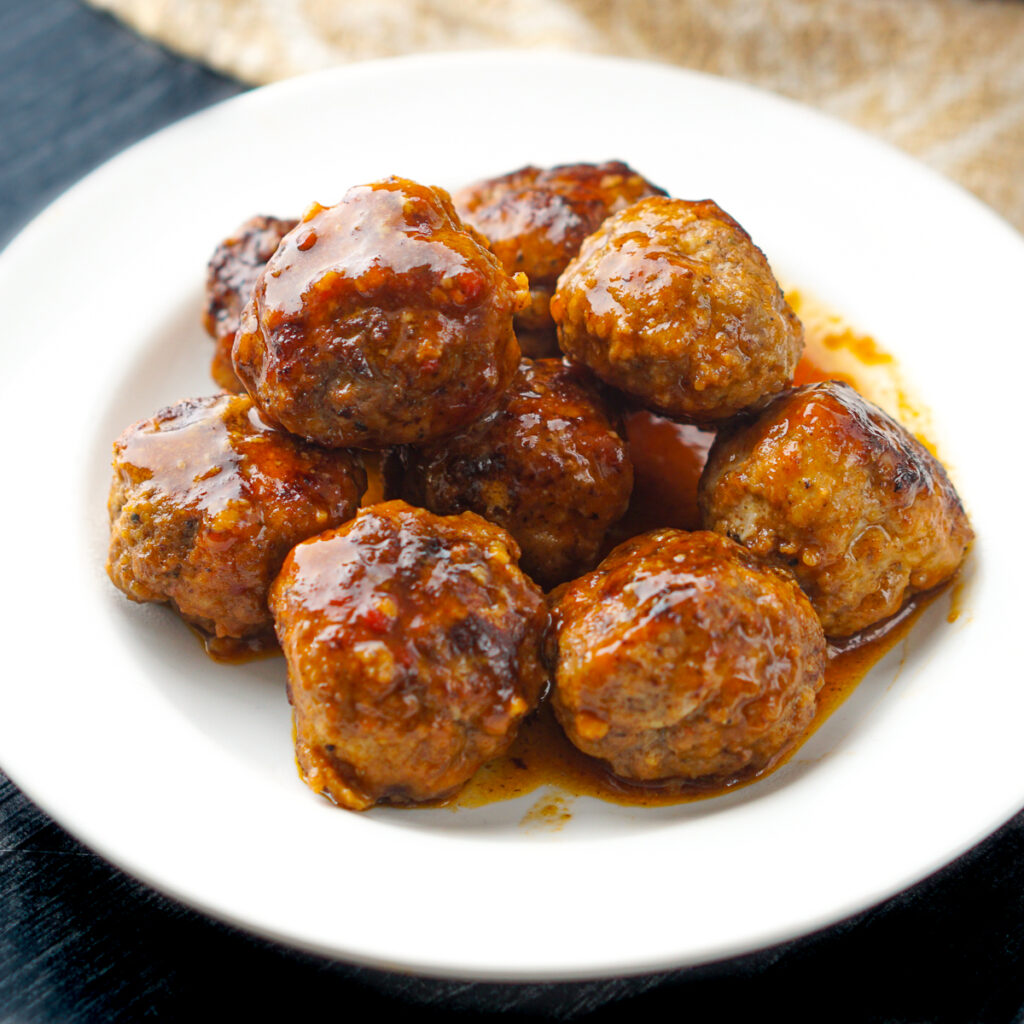 Tonight I made these keto bbq meatballs for my family because the were simple, tasty and just something different. I used both ground beef and ground pork for my homemade meatballs and smothered them in a tangy, sweet low carb barbecue sauce.
We ate these as a fun main dish and they had amazing flavor. I even had some leftovers that I put in the freezer for a quick low carb lunch. Each meatball has just 44 calories and 0.4g net carbs and I ate 5 for a filling main course. They were awesome and perfect for those on a keto or low carb diet!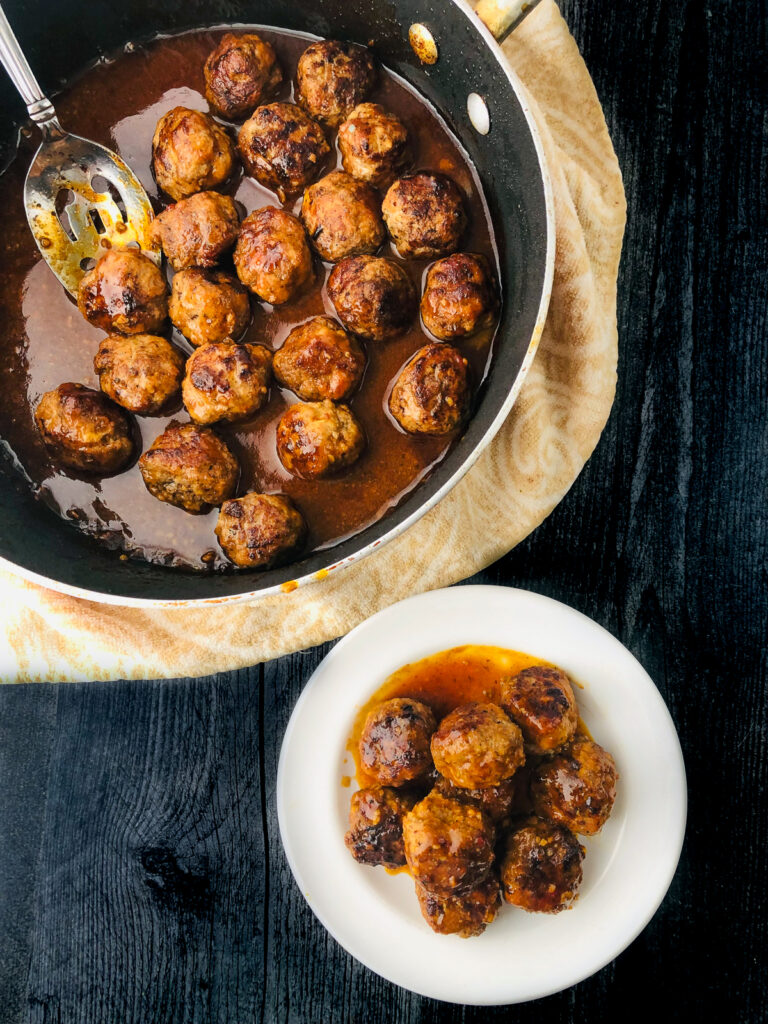 Frequently asked questions.
Are meatballs keto friendly? What about store bought frozen meatballs?
Most store bought frozen meatballs are usually not keto friendly because they often use breadcrumbs or other fillers that have carbs. However you can easily make make them yourself without breadcrumbs and therefore make them more keto friendly.
What kind of ground meat makes the best meatball?
You can make a meatball out of many different kinds of ground meat like beef, pork, chicken, turkey, etc. I like a combination of beef and pork. The ground pork is usually a little more fatty and gives them more flavor and better texture. However you if you use just beef go for a fattierpercentage ground beef.
Is bbq sauce keto?
Barbecue sauce you buy in the store is often full of sugar. However most of the other ingredients are low in carbs. So it's an easy condiment to make sugar free and low carb.
What are the different kinds of bbq sauce and which kind is this one?
There are 4 basic types of bbq sauce – tomato based, vinegar based, mustard based and mayonnaise based. However there are all kinds of bbq sauce on the market. This particular sauce is more of a sweet vinegar based sauce similar to a Carolina sauce but with brown sugar sweetness. (source)
What is the best keto or low carb bbq sauce to buy?
According to this article the best keto bbq sauce is Primal Kitchen Classic and their Golden BBQ sauces comes in second place. They also rank well on Amazon. The article also recommend Tessemae Matty's and Lillie Q's zero sugar sauces. You can find all of these plus the ingredients to my recipe at my Amazon shop.
Recipe ingredients I used.
The homemade meatball ingredients were both ground beef and ground pork, garlic, egg, parmesan cheese, onion powder, tomato paste, Italian seasoning, salt and black pepper.
The keto barbecue sauce ingredients I used were butter, garlic, hot sauce, tomato paste, onion powder, Swerve brown sugar sweetener and some water.
You can use another type of ground meat if you want like turkey or chicken but the beef and pork combination has best taste in my opinion.
Also note that I did not use any kind of almond flour or coconut flour in this recipe. Instead I used the parmesan cheese as a replacement for breadcrumbs or one of those low carb flours.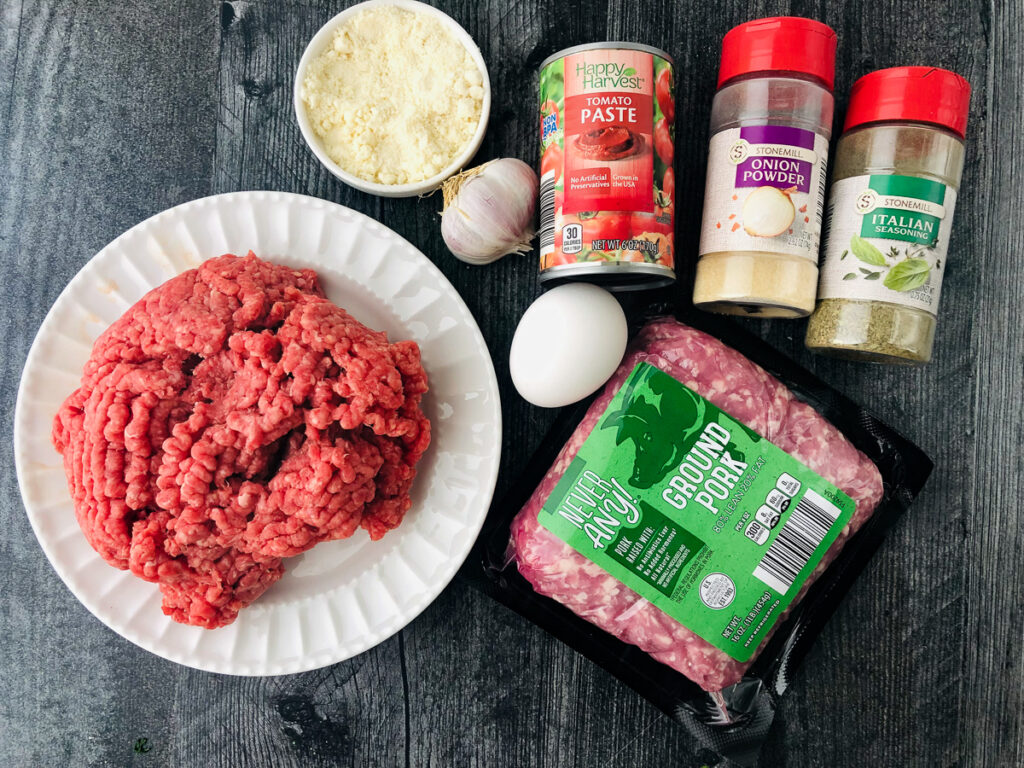 How to make keto bbq meatballs.
Step 1: In a large mixing bowl add the ground beef and pork and sprinkle the parmesan powder over top. In a separate smaller bowl, add the tomato paste, onion powder, Italian seasoning, salt, black pepper, egg, garlic and tomato paste.
Mix well and then add it to the meat mixture. Use your hands or two big forks and try to mix the meat well but don't overwork the meat.
Step 2: Form the meat mixture into meatballs using a cookie scoop or even tablespoon to make them uniform in size. Have a bowl of water along side and dip your hands into it for each meatball. This will help you make them smooth. Place them on a plate and get ready to fry them.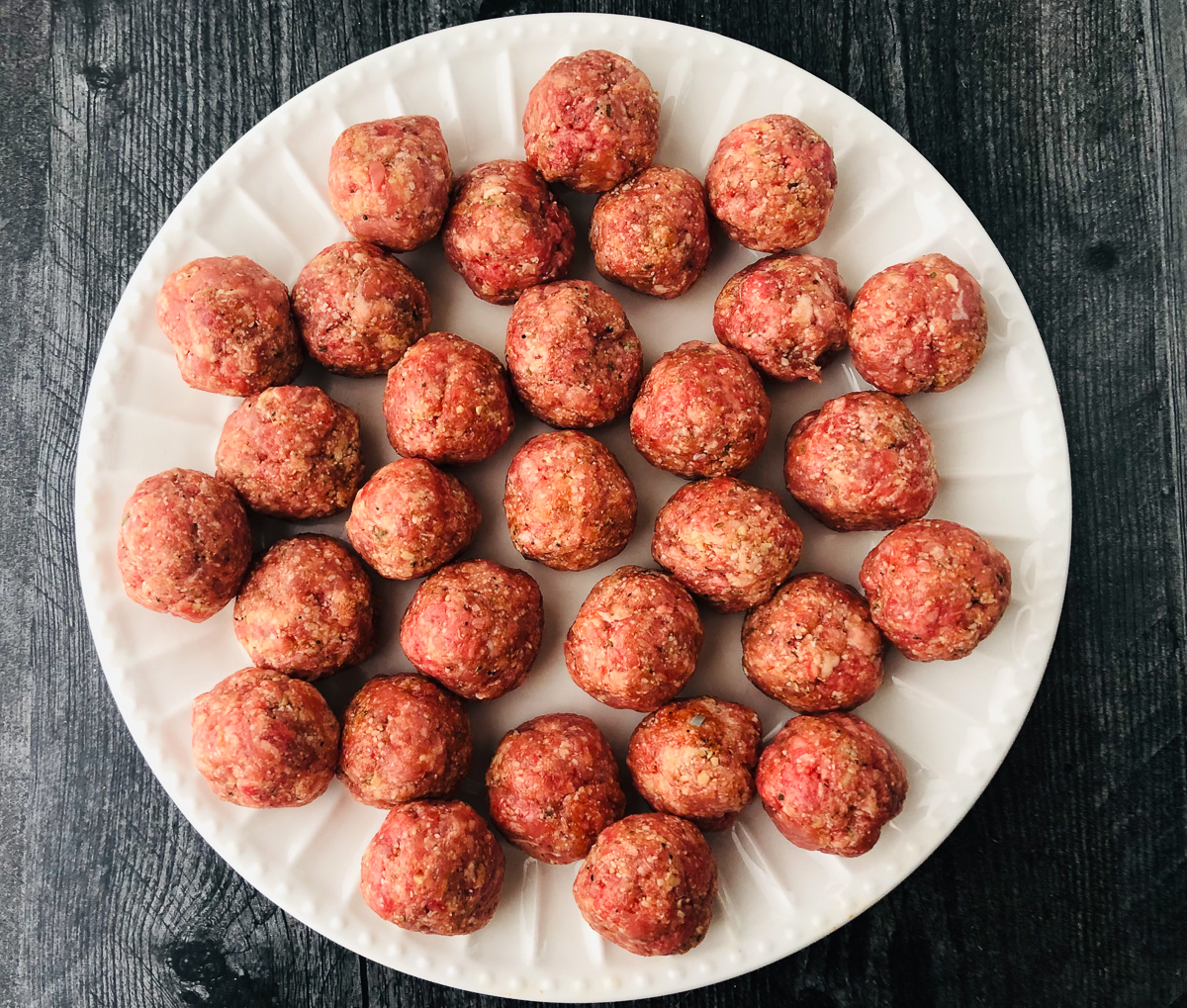 Step 3: Get out a large skillet and heat it up to medium high heat. Add the olive oil and heat that up before adding the meatballs. Then turn the heat down to medium heat. You might have to fry them in batches. Brown them on all sides then take them out and set a side.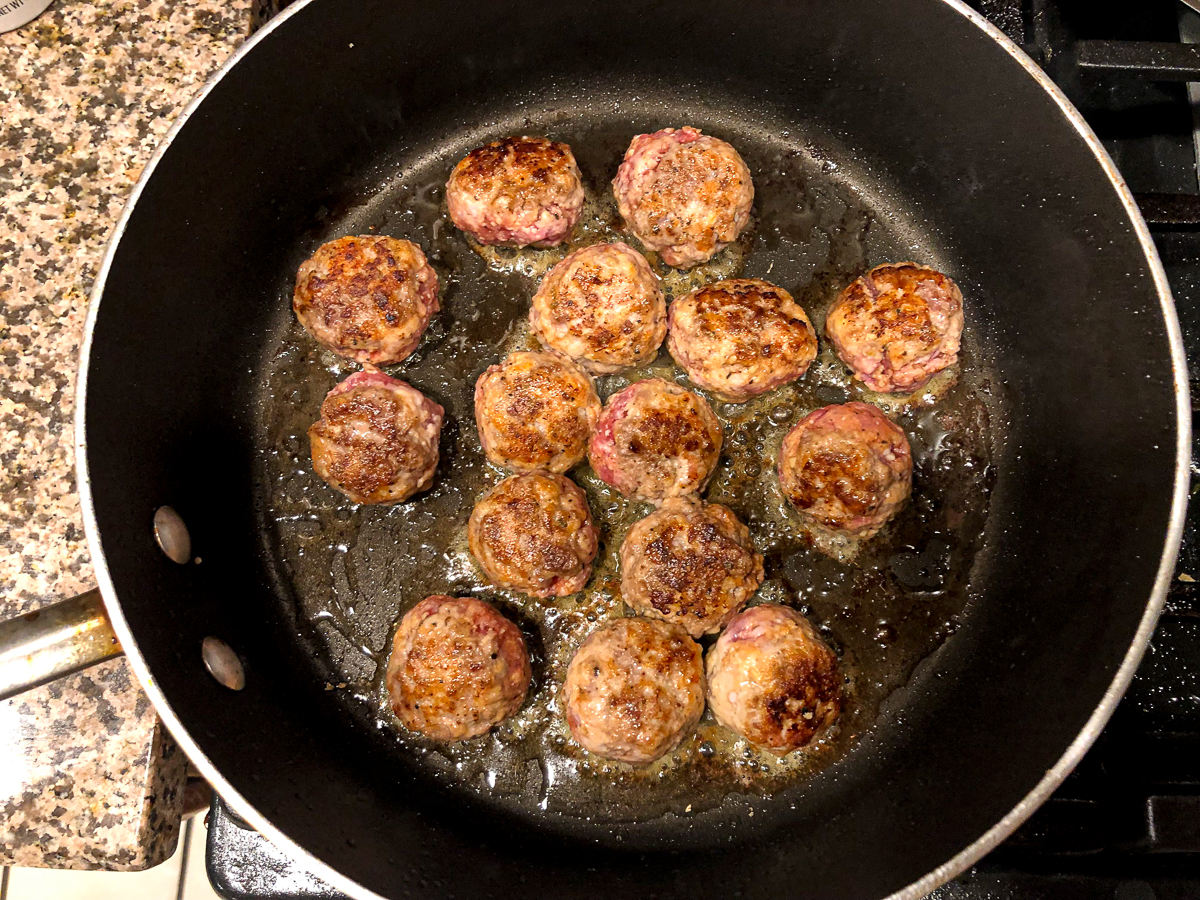 Step 4: Using the same pan, add in the butter, crushed garlic, hot sauce, Swerve brown sugar, onion powder and tomato paste. Whisk together and then add in the 2 tablespoons of water.
Bring to a simmer and add the meatballs back to the pan. Mix them around to coat in sauce, then cover and simmer for 5 minutes or until they are cooked through. The internal temperature should be 165°F.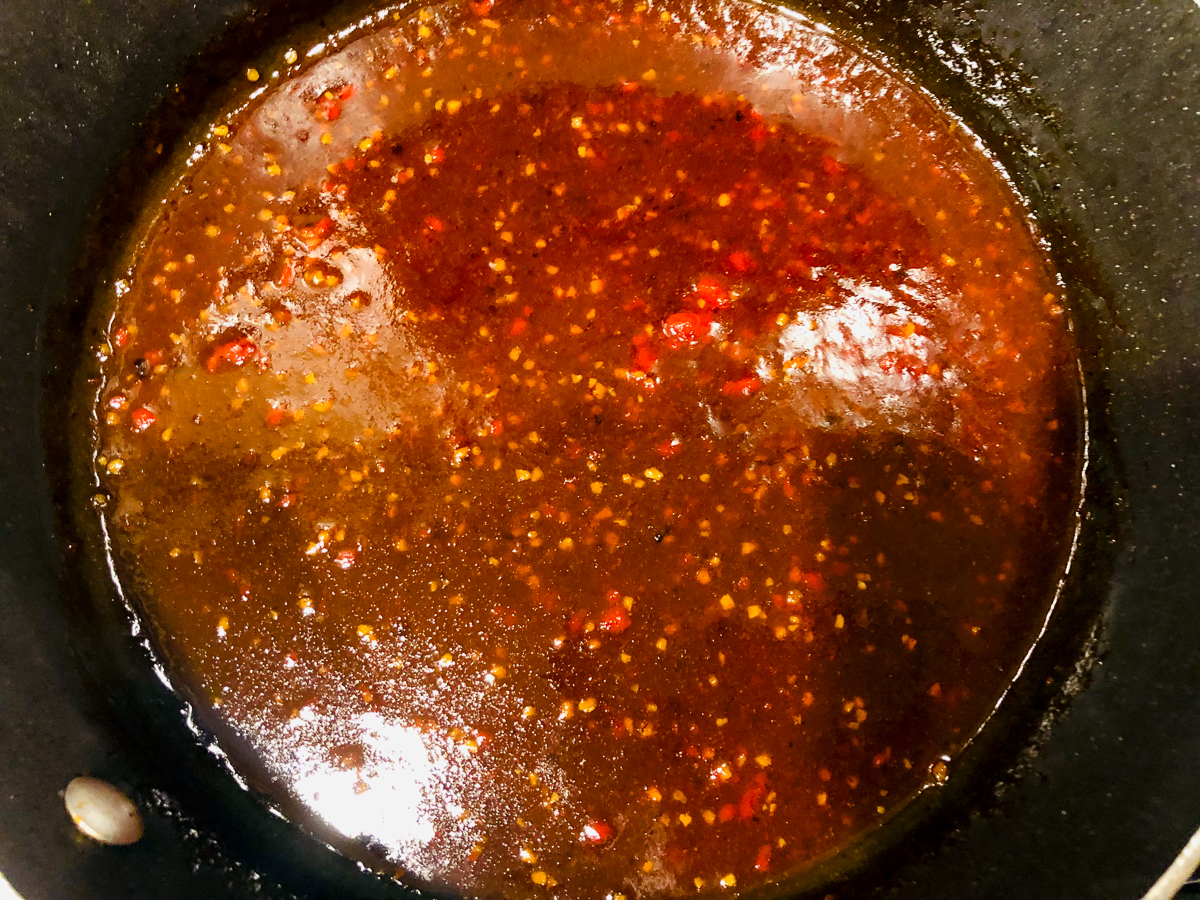 Step 5: Take off the heat and let sit for about 5 minutes to cool and let the meatballs absorb some of the sauce. Note cooking time may vary depending on the size of the meatballs.
Store leftovers in an airtight container for up to 3-4 days in the refrigerator.  (Please scroll down to view the printable recipe card.)
PS These freeze well. I added a few leftover ones in a container and heated it up in the microwave for a my lunch. To me they tasted even better.
This recipe does not make much extra sauce. However I don't think you would want any more sauce. If you think you do, just double the amounts when you make it.
Note you could also cook the meatballs in an air fryer or oven and then just add them to the sauce when they are done. However I like browning them in the skillet first because it gives the sauce added flavor.
What low carb side dishes to serve with this recipe.
There are a lot of low carb side dishes that would go nicely with this dish. You might want to try these loaded cauliflower bites, celeriac fries, bacon radishes and turnips or these cauliflower tots.
You could also just go with a big green salad and some keto green beans or roasted asparagus. Or serve them over cauliflower rice.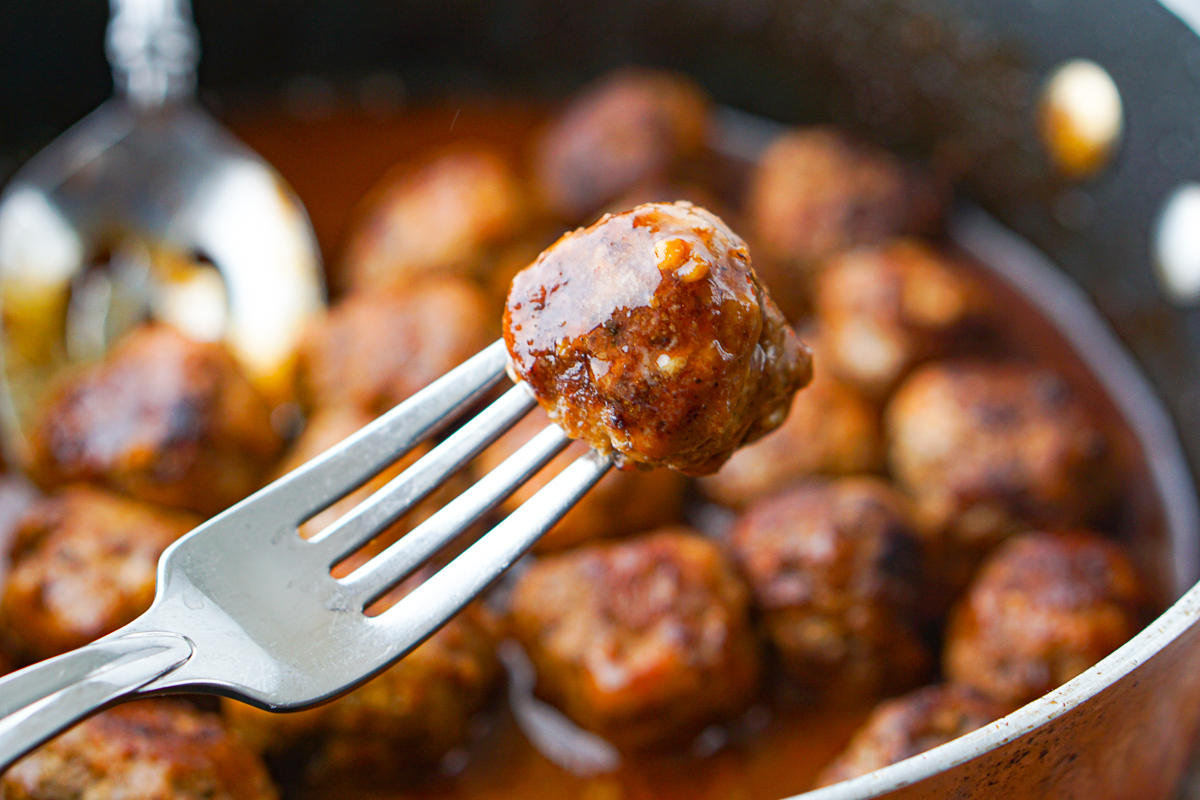 These keto bbq meatballs are great for an easy weeknight meal and could also be a low carb appetizer. They would definitely be a crowd pleaser. Just make them into a smaller size.
I hope you enjoy them as much as we did.
The nutritional information for 1 meatball with bbq sauce is: 44 calories / 3.4g fat / 0.5g carbs / 0.1g fiber / 2.9g protein = 0.4g net carbs
Keto BBQ Meatballs Recipe
These keto meatballs with bbq sauce are a delicious low carb dinner for busy weeknights. They can also be a keto appetizer for parties!
Ingredients
For keto meatballs
½ pound ground beef
½ pound ground pork
1 egg
2 cloves garlic, crushed
½ cup parmesan cheese
¼ teaspoon Italian seasoning
½ teaspoon onioin powder
½ teaspoon salt
½ teaspoon black pepper
1 tablespoon tomato paste
1 tablespoon olive oil
For keto barbecue sauce
2 tablespoons butter
2 cloves of garlic, crushed
¼ cup hot sauce
¼ cup Swerve brown sugar sweetener
1 teaspoon onion powder
1 tablespoon tomato paste
2 tablespoons water
Instructions
In a large mixing bowl add the ground beef, pork and grated parmesan. In a smaller bowl, mix the egg, 1 tablespoon of tomato paste, Italian seasoning, ½ teaspoon onion powder, salt and pepper.
Add the wet mixture to the meat mixture and mix well but try not to overwork the meat or it will get tough. Use a cookie scoop or table spoon to form your meatballs. I like to have a small bowl of water to dip my hands in to help smooth the meatballs. Place them on a plate.
Get out a large skillet and heat to medium high heat. Add the olive olive and turn the heat down to medium. Gently add the meatballs and brown on both sides. You may have to do this in batches. Take out the meatballs and set aside.
Use the same skillet to make the bbq sauce. Add the butter and 2 cloves of crushed garlic. Then add the rest of the ingredients and whisk together until the sweetener has dissolived.
Place the meatballs back into the bbq sauce and mix to coat with sauce. Cover and let them simmer for about 5 minutes until the meatballs are cooked through. Cooking time may vary.
Let set for about 5 minutes to let the meatballs soak up more of the bbq sauce then serve.
Nutrition Information:
Yield:

30
Serving Size:

1
Amount Per Serving:
Calories:

44