This festive Mediterranean cauliflower rice recipe is a delicious low carb side dish. Riced cauliflower with the Mediterranean flavors of sweet sun dried tomatoes, garlic and spinach also makes a festive and healthy green and red side dish that would be great for the holidays. Only 5.8g net carbs per serving and 15 minutes to make.
You might also like this festive keto holiday salad.
The best thing about cauliflower rice is that it takes on the flavor of what ever you cook it with and it usually only takes around 15 minutes to cook. It's also low carb and healthy but it's nice that you can make it quite tasty too.
So the other day I looked at my big Costco jar of sun dried tomatoes and decided to throw together this festive Mediterranean cauliflower rice as a side dish. Because of the tomatoes and spinach it is very festive looking and would be a great keto side dish for Christmas or any holiday.
It would look nice as part of a healthy holiday spread I think. I don't know why I don't make this more often because we really like it and it only took 15 minutes! Today I also froze portions for a quick keto lunch!
Recipe ingredients I used.
I just used a few simple ingredients to make this easy low carb side dish – riced cauliflower, baby spinach, fresh garlic cloves, sun dried tomatoes, olive oil, salt, black pepper and pine nuts.
Pine nuts can be expensive so they are optional. They are great if you are making this for a keto Christmas side dish as it dresses it up a bit. Not to mention they taste great.
However you can substitute with almond slices, chopped pecans, chopped walnuts or just eliminate them altogether.
I like to make my own fresh cauliflower rice but you can also use frozen cauliflower rice. Just make sure to thaw it a bit and drain any excess water it might have.
How to make keto Mediterranean cauliflower rice.
Step 1: Make your cauliflower rice by adding raw cauliflower florets into the bowl of a food processor and pulse until it looks like grains of rice. Spoon into a medium bowl and set aside.
Step 2: Get out a large skillet and heat to medium high heat. Add the olive oil and let it get hot then turn the heat down to medium heat.
Step 3: Add in the crushed garlic and chopped sun dried tomatoes. Mix well then add in the cauliflower rice. Mix again and cook for 4-5 minutes.
Step 4: Add the water, cover and cook for 2-3 minutes. Taste the mixture and see if the texture is to your liking. I like it a bit al dente. You could also season with salt and black pepper at this point.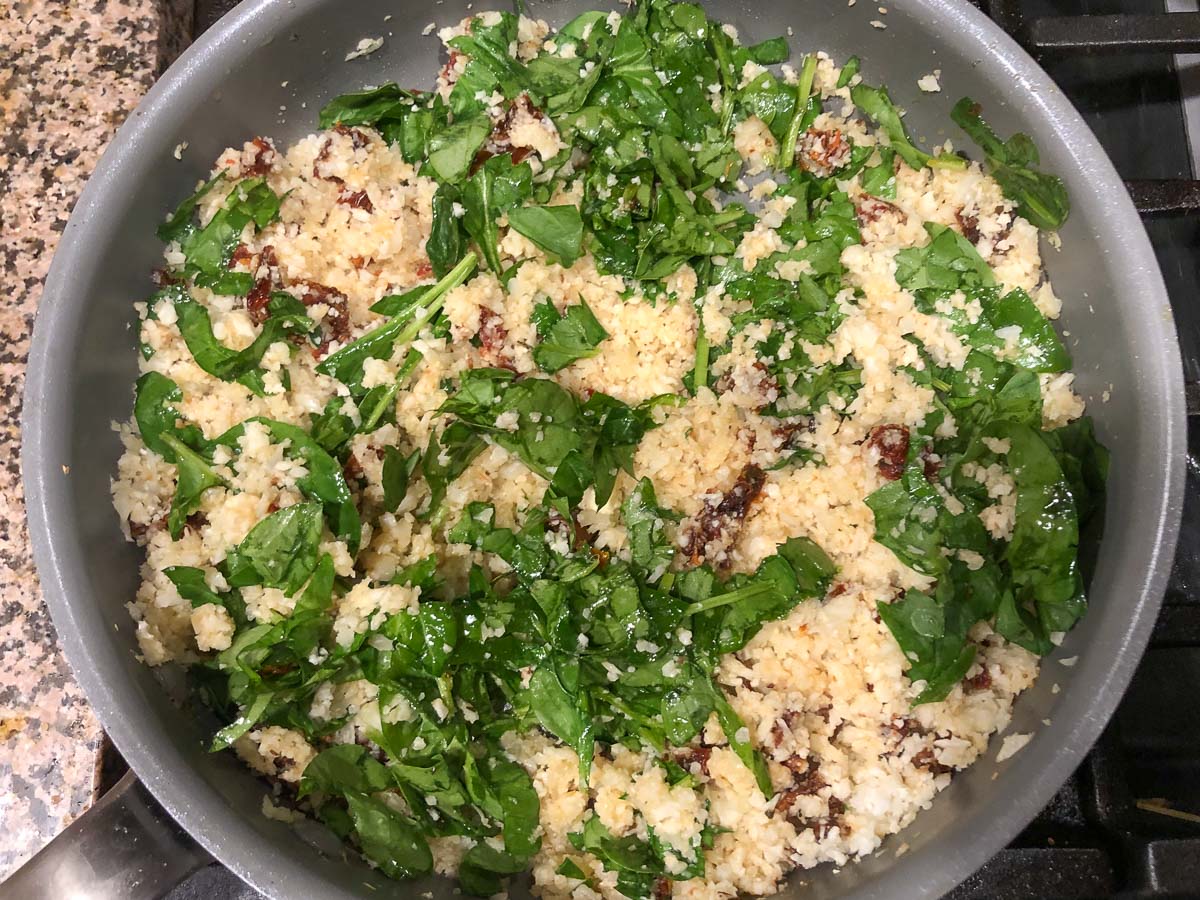 Step 5: Lastly, take the cauliflower mixture off the heat and add the spinach and mix well. Top with pine nuts if using and serve. Please scroll down to view the printable recipe card.
There are other ingredient options you can add to this dish like chopped olives, artichoke hearts, roasted peppers, feta cheese or Parmesan Cheese, herbs such as fresh basil or fresh parsley. Or add a little heat with hot pepper flakes. I was trying to keep it simple but go crazy if you want.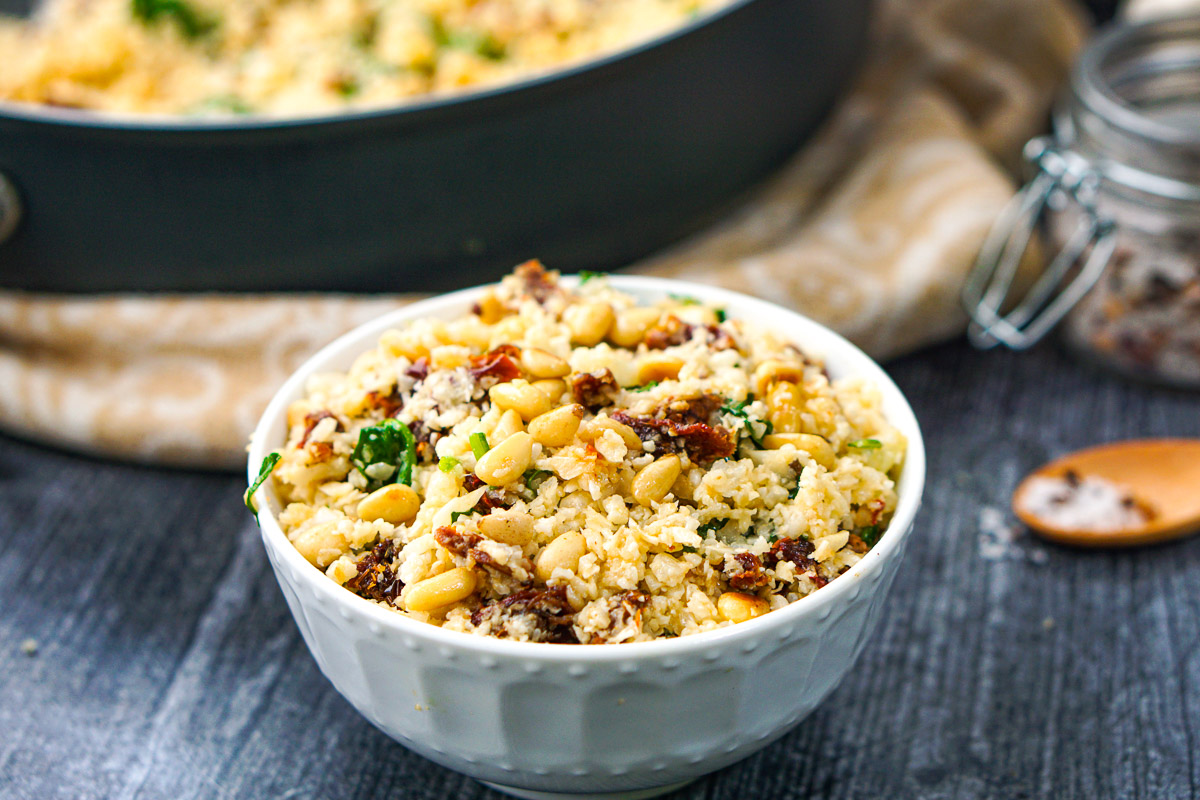 Store leftovers in an airtight container. You can also freeze this in portions for an easy low carb lunch or light meal. That's what I did the last time I made this. You can see below I just put portions in ziplock bags and placed them in a stack in the freezer. They reheat in just a few minutes in the microwave.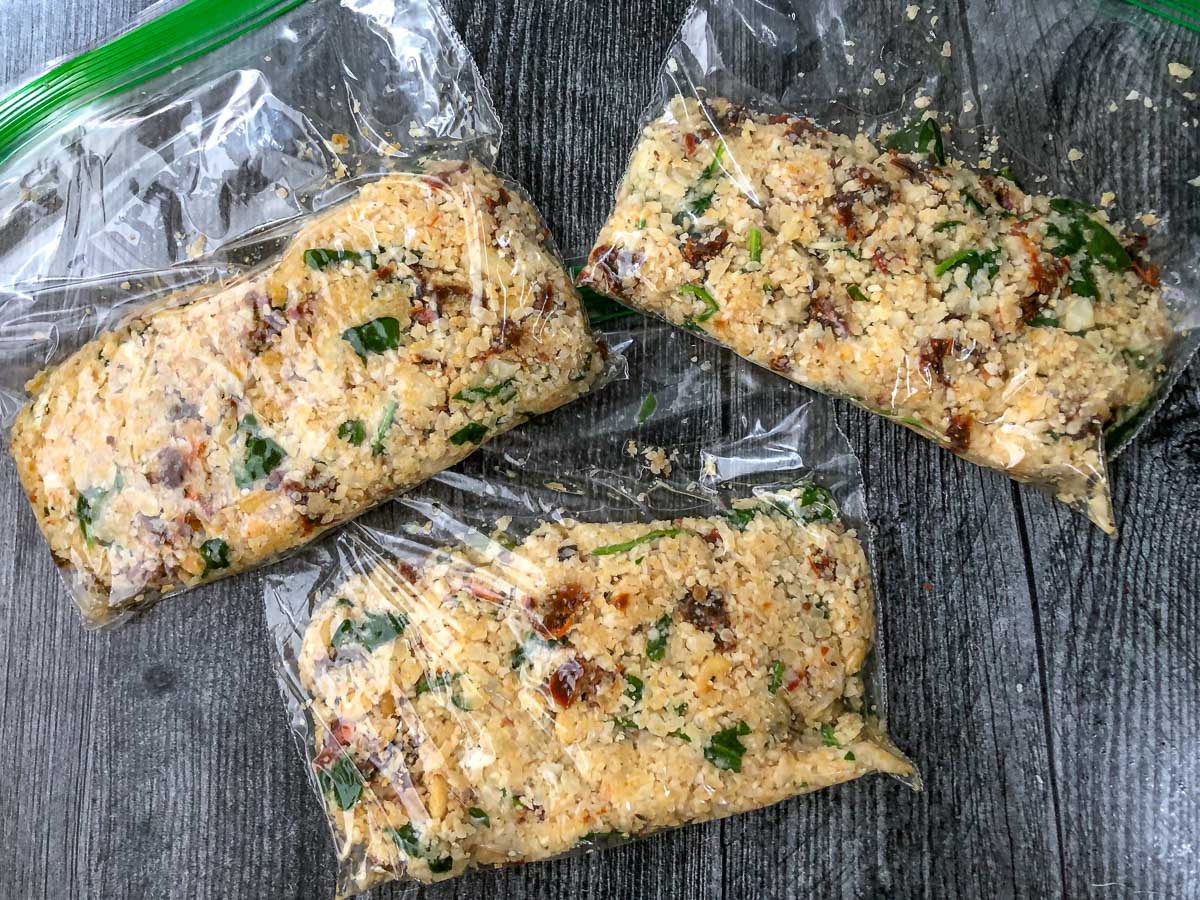 How to toast pine nuts or any nuts.
Get out a nonstick skillet and heat to medium heat. Add the pine nuts or nuts of choice and stir around until they start to brown and are fragrant. (Keep an eye out so they don't burn as that can happen if you take your eyes off the pan)
Once they are browned to your liking immediately take them off the heat and spoon onto a paper towel. Make sure they are spread out so they don't continue to brown.
This should take about 5 minutes. You can do it while the rice is cooking.
Other delicious keto cauliflower rice recipes to try.
I love cauliflower rice and I have quite a few recipes on the site because you can flavor it up so many ways and it takes no time to cook. Here are a few of my favorite recipes.
See wasn't that easy? So that is all there is to this festive and low carb Mediterranean cauliflower rice. It is very simple but very flavorful. You can add a little cooked chicken or shrimp to make this a healthy meal too. I hope you enjoy as much as we do.
The nutritional information for 1 serving with pine nuts is: 147 cals / 11.7g fat / 9.3g carbs / 3.5g fiber / 4.4g protein = 5.8g net carbs
Festive Mediterranean Cauliflower Rice Recipe
This festive Mediterranean cauliflower rice  is a healthy side dish with sun dried tomatoes, spinach and garlic. Best of all this keto recipe only takes 15 minutes to make.
Ingredients
3 cups cauliflower rice
1 tablespoon olive oil
1 large clove garlic, crushed
½ cup of sun dried tomatoes, chopped
1 cup fresh spinach, chopped
2 tablespoons water
¼ cup pine nuts, toasted
Instructions
Add cauliflower florets to a food processor and pulse until it looks like grains of rice.
Next add oil to a large saute pan and heat to medium high.
Add garlic and tomatoes and immediately turn down the heat to medium heat. Saute for 30 seconds and then add the rice. Mix well cook for 5 minutes. Meanwhile If using the pine nuts add them to a dry non stick pan and heat over medium heat. Stir as the brown and as soon as they are golden brown take them off the heat and pour onto a paper towel to cool.
Add the water to the caulifllower and cover pan for 3 minutes. Take off lid and taste cauliflower to see if cooked to your liking. I like it a bit al dente. You can also add some salt and black pepper if you think it needs more seasoning.
Take the pan off the stove and add the spinach and mix well.
Sprinkle toasted pine nuts on top and serve.
Notes
The nutritional information for 1 serving with pine nuts is: 147 cals / 11.7g fat / 9.3g carbs / 3.5g fiber / 4.4g protein = 5.8g net carbs
Nutrition Information:
Yield:

4
Serving Size:

1
Amount Per Serving:
Calories:

147
Unsaturated Fat:

0g