If you are a fan of cauliflower rice, you have to try this keto fried rice with shrimp. You can have this tasty low carb dinner in just 15 minutes and you can buy all the ingredients at Aldi. It full of flavor, healthy and has only 4.0g net carbs and 188 calories!
You might also like these low carb cauliflower rice recipes!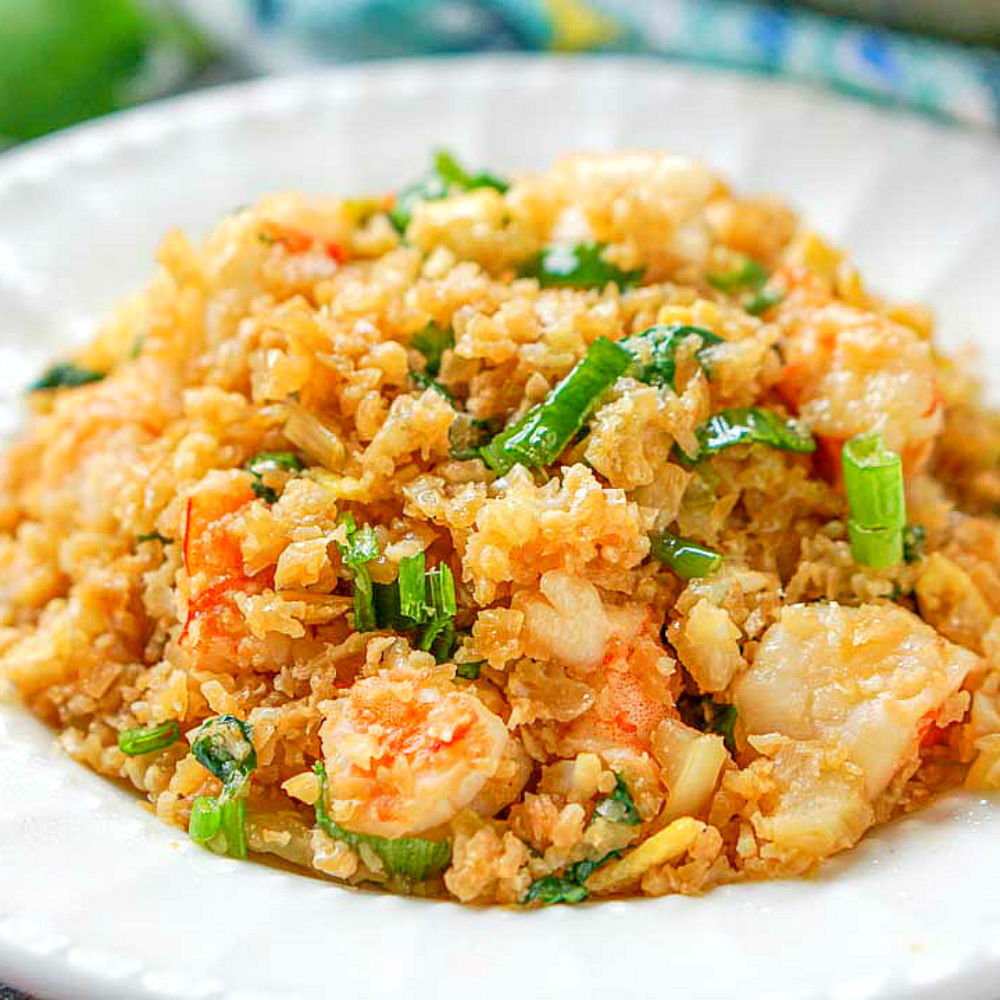 Recently I went to a Thai restaurant and had crab fried rice. It was phenomenal and I was going to try to recreate that dish but crab is expensive so I bought shrimp. And what I came up was this easy keto fried rice with shrimp!
I used cauliflower rice to keep it low carb and it turned out so good but best of all it was quick. I made this keto dinner in 15 minutes and 1 serving has only4g net carbs and 188 calories. So it's easy, quick, healthy and low carb. You can't beat that.
Why I Love Cauliflower Rice And What To Make With It
Cauliflower rice is really popular these days and you can often find it in the freezer section of every grocery store. While cauliflower rice doesn't taste just like white rice it is certainly a good substitute. If you use rice as a base for chili or stir fries, this will be a great substitute.
However why I love cauli rice is because it's low carb, you can flavor it in so many ways and it usually takes less than 15 minutes to make. All you need is a large saute pan and a little imagination. I've made the following low carb dishes using cauliflower rice: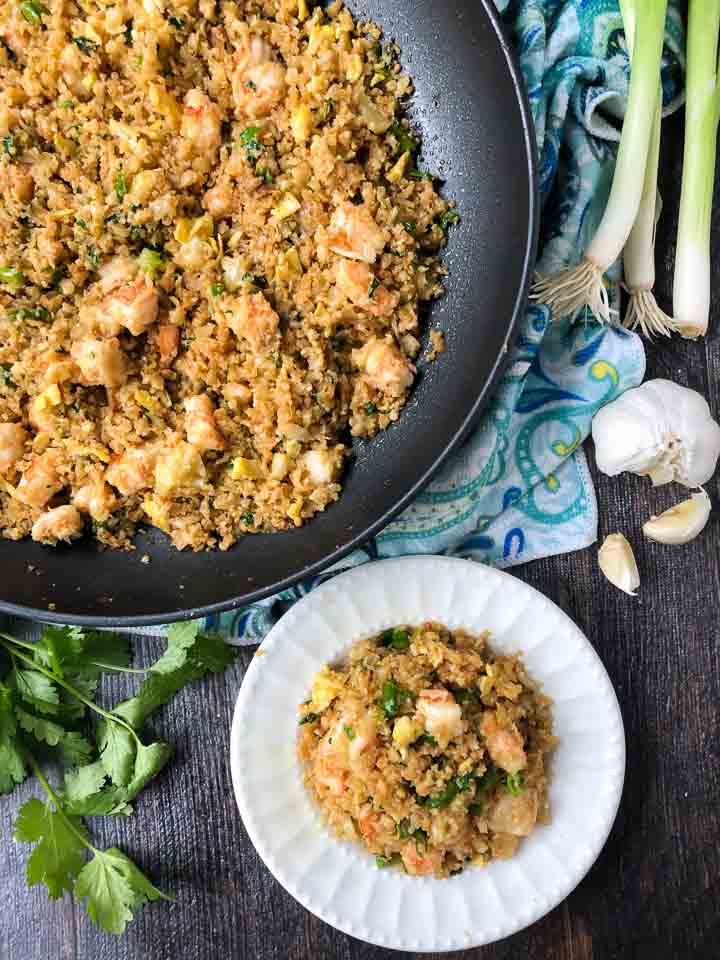 How To Quickly And Easily Make Cauliflower Rice
I like fresh cauliflower rice better than frozen because the frozen often has a lot of moisture in it. Therefore I always have a head of cauliflower in my refrigerator. However you can use frozen cauli rice in this recipe if you want.
To make my own cauliflower rice, I just break off a couple florets, throw it in the food processor and pulse until it looks like rice. It's so easy and fresh.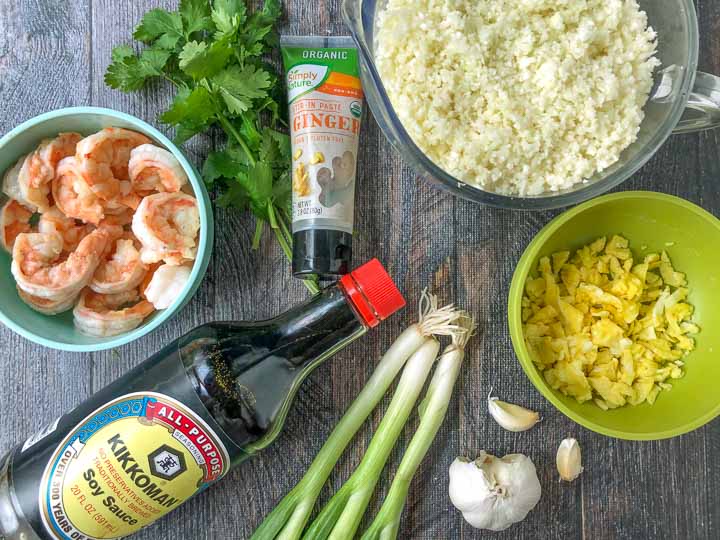 Keto Fried Rice Ingredients
You can buy just about everything for this keto fried rice at Aldi. The ingredients I used are cauliflower rice, shrimp, cilantro, egg, ginger, garlic, green onions, sesame oil and soy sauce. I also used a little Swerve sweetener but you could use Splenda if you want and that you can get at Aldi!
Let's Make This Keto Shrimp Fried Cauliflower Rice!
Here are the steps to make this recipe in just 15 minutes.
Heat up a little oil to a large saute pan and add the chopped green onions, garlic and ginger. Saute for 1 minute.
Add in the cauliflower rice and 2 tablespoons of water, cover and cook for 5 minutes.
Meanwhile scramble the egg and pour into a small saute pan. Cook the egg and chop it up.
Add the egg and the rest of the ingredients to the cauliflower rice, mix well and cook for 1 more minute and you are done.
Recipe Tips And Notes
While I prefer fresh cauliflower rice you can use frozen cauliflower rice if you wish. Just let it thaw a few minutes before adding to the pan. If there is water in the cauli rice, don't add the additional water.
Make sure to use fresh ginger not the powdered spice. You can find tubes of it at Aldi now and most grocery stores have the fresh root.
Make sure to add the sesame oil at the end so that it gives the dish maximum flavor.
Use already cooked shrimp to speed the process.
If you don't like cilantro you can just eliminate it but if you do like it, try not to skip it because it really adds to the dish.
You can substitute the shrimp with cooked chicken, beef, pork or don't put any kind of protein in this fried rice.
So I hope you give this keto shrimp fried rice a try. It's so easy and tasty that I'm craving it again just writing this post. If you have all the ingredients you can whip this up for a low carb lunch or dinner anytime you want. The nutritional information for 1 serving is:
188 cals / 8.9g fat / 7.2g carbs / 3.2g fiber / 19.2g protein = 4.0g net carbs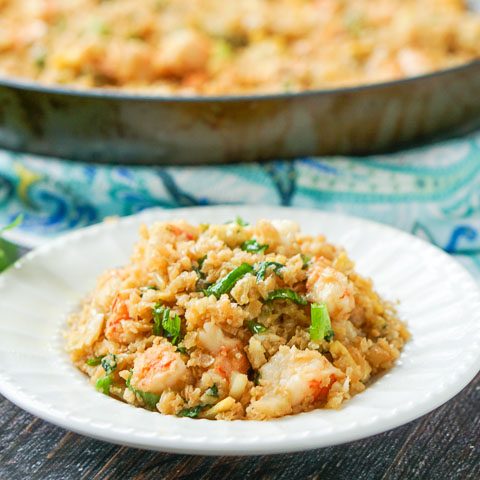 Keto Fried Rice with Shrimp (using cauliflower rice)
This keto fried rice is a delicious low carb dinner you can make in just 15 minutes!
Ingredients
4

cups

cauliflower rice

10

oz

shrimp, cooked and chopped

1

tablespoon

oil

2

green onions, chopped and whites separated from greens

½

cup

cilantro, chopped

1

teaspoon

crushed garlic

1

teaspoon

ginger root, grated

¼

cup

soy sauce

1

tablespoon

sesame oil

1

egg, scrambled, cooked and chopped

1

teaspoon

sweetener (I use Swerve)

2

tablespoons

water
Instructions
Add oil to a large saute pan and then add in the green onion whites, garlic and ginger. Saute for 1 minute.

Add in the cauliflower rice with 2 tablespoons of water. Cover and cook for 5 minutes.

While the cauliflower rice is cooking, scramble an egg and pour into a small skillet. Let it cook and then chop it up and set aside.

Once the cauilflower rice is done, add everything else including the green onion greens scrambled egggs, etc. Mix everything together and cook for 2-3 minutes.