This chicken & vegetable low carb pizza is made with an easy cauliflower crust so it's gluten free as well as low carb and delicious! Load it up with your favorite low carb vegetables and rotisserie chicken for a quick keto pizza dinner.
You might also like this skillet spaghetti squash low carb pizza!
Did you know it's National Pizza Month? This is a food that I feel is worthy of having a whole month dedicated to it. And while I enjoy all types of pizza, I especially love my low carb versions such as this chicken & vegetable low carb pizza.
The crust is made cauliflower and cheese and it's topped with chicken and an assortment of vegetables as well as … more cheese! One fourth of this pizza is only 4.2g net carbs!
Celebrating Pizza Recipes at Sunday Supper
We are celebrating Pizza at Sunday Supper this week so I knew I wanted to make some cauliflower crust pizza. I made a similar recipe awhile ago (vegetable cauliflower rounds) which used the cauliflower crust to make an appetizer. It was very tasty and I learned I can put almost anything on this cauliflower base and it would taste good.
Making the Cauliflower pizza crust
Making a low carb pizza crust from cauliflower is not hard. You just use riced cauliflower, mozzarella cheese, garlic and eggs. Here's how you make it:
Cook cauliflower rice in the microwave for about 10 minutes.
When it's cooled add egg and mozzarella cheese to make a wet dough.
Place the dough on a silicone or parchment paper covered cookie sheet. Make sure to spray the parchment paper with cooking spray if you are using it.
Form the dough into a pizza crust
Bake for about 20-25 minutes or until it just starts to brown (see below).
Low Carb Vegetables for this pizza
For this low carb pizza I chose peppers, red onions, mushrooms and spinach. However you can use whatever vegetables you like. Here are the carb counts for a few pizza topping worthy vegetables.
mushrooms (1.6g net carbs per cup)
raw spinach (0.4g net carbs per cup)
bell peppers (5.9g net carbs per cup)
zucchini (2.7g net carbs per cup)
cauliflower (3.2g net carbs per cup)
red onions (12.2g net carbs per cup)
grape tomatoes (4.8g net carbs per cup)
asparagus ( 2.4 net carbs per cup)
broccoli ( 6.1 net carbs per cup)
Finishing the Chicken & Vegetable Pizza
While it's cooking, saute some of the vegetables like the peppers, mushrooms and some of the spinach. When they are cooked, add the rest of the spinach so it's wilted and the cooked chicken.
Spoon over your crust evenly and then add the raw onions. I like my onions cut thin and a little crunchy. You can omit them if that's not your thing. Sprinkle some Asiago cheese and back in the oven for about 5 more minutes to melt the cheese.
chicken & vegetable Low Carb pizza

My husband really liked this and it's great that we can have a gluten free and low carb pizza dinner every once in awhile. I also made another pizza with chicken and a pepper spread (Instagram pic) I recently bought in a Middle Eastern store in downtown Pittsburgh. It was tasty too.
I hope you like this chicken & vegetable pizza and please scroll down to check out all the wonderful Pizza themed posts from my friends at Sunday Supper. Thank you Coleen Hill of The Red Headed Baker for hosting this week! The nutritional information for 1/4 of this pizza is:
244 cals / 13.9g fat/ 6.4g carbs / 2.2g fiber / 23.4g protein = 4.2g net carbs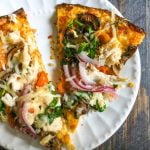 Chicken & Vegetable Low Carb Pizza
This chicken vegetable pizza is made with a cauliflower crust so it's gluten free as well as delicious!
Ingredients
2

cups

cauliflower

riced

2

eggs

1

cup

mozzarella

shredded

1/2

teaspoon

garlic

crushed

1

Tablespoon

of oil

1/2

cup

chicken

1/4

red onion

sliced thin

1

cup

baby spinach

3

small bell peppers

sliced

5

mushrooms

thinly sliced

1

teaspoon

garlic

crushed

1/4

cup

Asiago cheese

shredded
Instructions
Preheat oven to 425 degrees F.

Cook your cauliflower rice in the microwave for 10 minutes and let cool.

In a large bowl, beat your eggs and add mozzarella,1/2 teaspoon of crushed garlic and cooled cauliflower rice.

Spoon the mixture on a parchment covered cookie sheet or one with a silicone mat. Spray the parchment paper with cooking oil first if using.The mixture will be very wet but don't worry it will firm up. Just smooth it out into a nice even circle.

Cook the crust 25 minutes or when the crust is nice and lightly browned.

In the meantime, add the oil to a saute pan and cook the peppers, mushrooms, remaining garlic and half of the spinach until the vegetables are soft.

When done, add the chicken and heat through.

Lastly add the rest of the spinach and mix so it's just wilted.

Spoon mixture over pizza and place onions on top if using.

Sprinkle the Asiago cheese over everything and bake in the oven for 5 more minutes.