If you are looking for a super easy, tasty side dish try this spinach cauliflower rice pilaf. In just 10 minutes you can make this low carb cauliflower rice that is flavored with spinach, garlic and bail. Top this cauli rice pilaf with slivered almonds for the final touch. Only 3.6g per serving.
You might also like this low carb tomato & spinach cauliflower rice dish!
Sometimes I put off making dinner to the last minute and have absolutely no idea what to make. Well I had one of those days yesterday and while looking at the hanging herb garden my sister made me, I spotted all the yummy basil growing.
I decided to make this low carb spinach cauliflower rice pilaf with the fresh basil and top it with almond slices. It's so much quicker than regular rice and it went great with the low carb city chicken I made in the air fryer.
Spinach Cauliflower Rice Ingredients
Cauliflower and flat leaf spinach are a staple in my house now a days. You cans do so many things with cauliflower and I like to eat the spinach raw or add it to my eggs, smoothies or stir fries. I buy it from Aldis and it's conveniently pre washed and ready to go all at a great price. Can't beat that!
So all you need for this simple but tasty side dish is cauliflower, garlic, butter, fresh spinach, fresh basil and olive oil. And then at the end you sprinkle some toasted almond slices. You can buy these almond slices at places like Trader Joes already toasted.
Making Riced Cauliflower
Now it's so easy to buy cauliflower already riced. You can find it in the grocery stores in the frozen section. I however like to make my own because it's so easy and I think it tastes better.
All you need to do is throw cauliflower florets into the bowl of a food processor and pulse until it looks like rice. I do this in my mini food processor so I have to do a few batches but it's easier to get the big chunks done and not turn the whole thing into soup. You can also make riced cauliflower in the blender.
Spinach Cauliflower Pilaf Recipe
Start by heating up some olive oil in a large saute pan. Then add the garlic and let it cook for a minute to become fragrant.
Then add the cauliflower and season with salt and pepper. Cook for a few minutes.
Next add the butter, mix and cook for a few more minutes.
Lastly take off the burner and add in the spinach and basil. The spinach and basil will wilt but won't get cooked down to nothing.
Sprinkle toasted almond slices on top and serve.
As I've said, this takes just about 10 minutes and it tastes so fresh and delicious. I bet it would even taste good cold but we didn't have any leftovers to try that. Next time.
Recipe Tips And Notes
While I used fresh basil (and I highly recommend it), you could also use dried herbs. Just remember a rule of thumb is 1 Tablespoon of fresh herbs is equal to 1 teaspoon of dried herbs.
If you are using frozen cauliflower rice, just add it to the pan frozen. You might have to cook it a few more minutes but there is no need to precook it.
Other things you can add to this low carb side dish are cheeses (Parmesan, goat cheese or asiago) or meats like cooked chicken or turkey. Sun-dried tomatoes would also be nice with a little cream.
I hope you get a chance to make this next time you are in a pinch for a quick side dish. And if you do, please leave a comment and let me know what you thought of it! Enjoy!
194 cals / 17.6g fat / 7.6g carbs / 4g fiber / 4.3g protein = 3.6g net carbs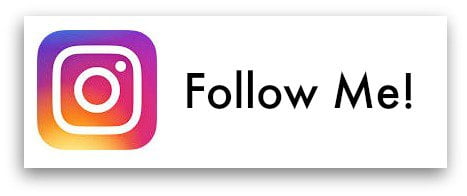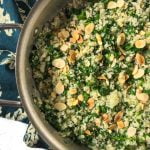 Spinach & Herb Cauliflower Rice Pilaf
This Spinach & Herb Cauliflower Rice Pilaf takes only about 15 minutes to make and is full of healthy flavor while low in calories and carbs. A tasty Paleo dish!
Ingredients
4

cups

cauliflower, riced

3

tablespoons

olive oil

2

cloves

garlic, crushed

1

tablespoon

butter

salt & pepper to taste

2

cups

baby spinach leaved chopped

10

basil leaves chopped

¼

cup

roasted almond slivers

optional
Instructions
In a large saute pan, add your olive oil and garlic and sauté for 1 minute.

Add your riced cauliflower and salt and pepper to taste.

Mix well and let cook for 3 or 4 minutes.

Add butter and mix until melted. Continue to cook for 2 more minutes.

Taste your cauliflower to see if it is done enough. If so, turn off the heat and add basil and spinach.

Toss until wilted.

Sprinkle almonds on top and serve.