This easy Spanish chicken and rice dinner recipe is a simple one pan meal that the whole family will enjoy. The tender and juicy chicken thighs are rubbed with a tasty spice blend and then mixed with a rice and vegetable blend. It's easy and tasty and a very family friendly weeknight meal.
You might also like this Middle Eastern chicken & rice dinner.
I used to make something similar to this chicken and Spanish rice dish a long time ago. After my mother passed away, I used to cook for my father, as did my sister in law and sisters.
This was an easy dish that he liked and one that I could make with my limited cooking skills at the time.
I just remembered it the other day and thought that my hubby and son would like it as well. I love one pan dinners like this that have your meat, vegetables and starch altogether. And you can cook it in a skillet.
My family really likes this complete meal and I'm glad I remembered it. It's very similar to arroz con pollo if you are familiar with that. We eat it about once a month because it's easy and flavorful.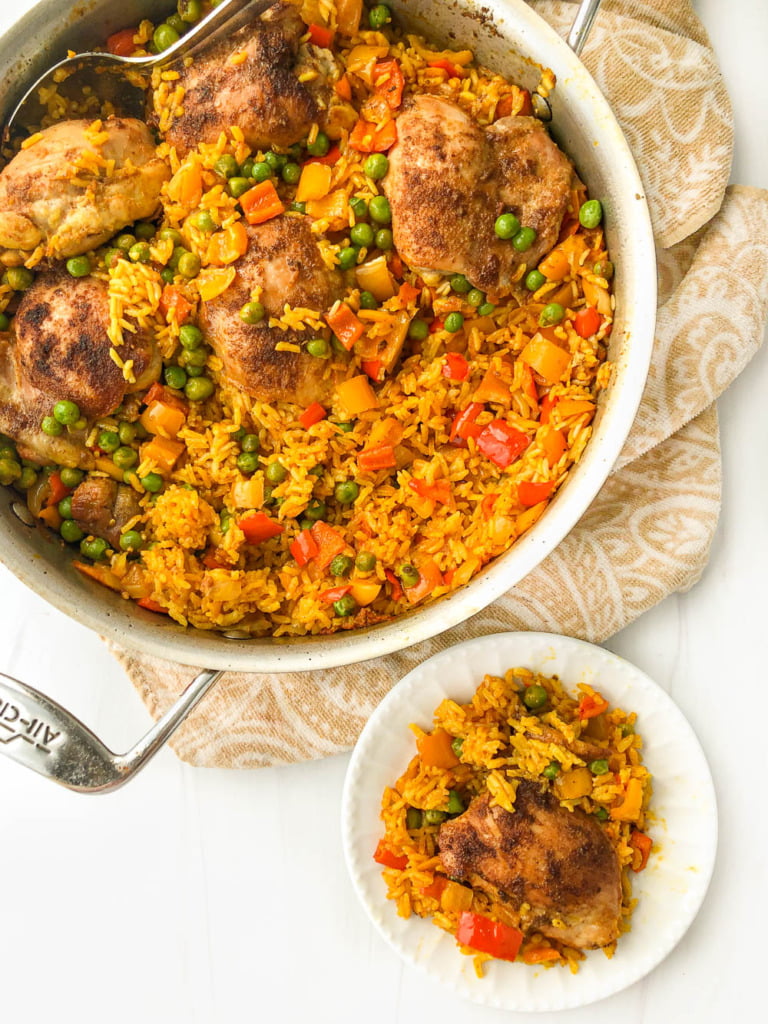 Ingredients I Used.
The ingredients I used in this chicken and rice dinner were chicken thighs, olive oil, yellow onion, bell peppers, peas, white rice, chicken stock or broth, garlic and tomato sauce. Note that brown rice might not cook up the same way so stick to long grain rice (white) if you can.
The seasoning or spice blend was a mixture of garlic powder, cumin, cayenne, paprika, salt and turmeric. If cayenne is too hot for you, try using black pepper instead.
Turmeric is a spice that makes the rice yellow. It's something that my family has always add to rice and turmeric is a even good for you! Learn more about the health benefits of turmeric if you are interested.
Should I use chicken thighs or breast?
I am using skinless, boneless chicken thighs again. I like them because they are inexpensive and they don't dry out as easily as breasts so I buy them just about every week.
However if you prefer you could use skinless chicken breasts and they would work too. Because they are cooking in the liquids and spices they shouldn't be too dry.
Also Spanish chorizo sausage would work well too in this dish.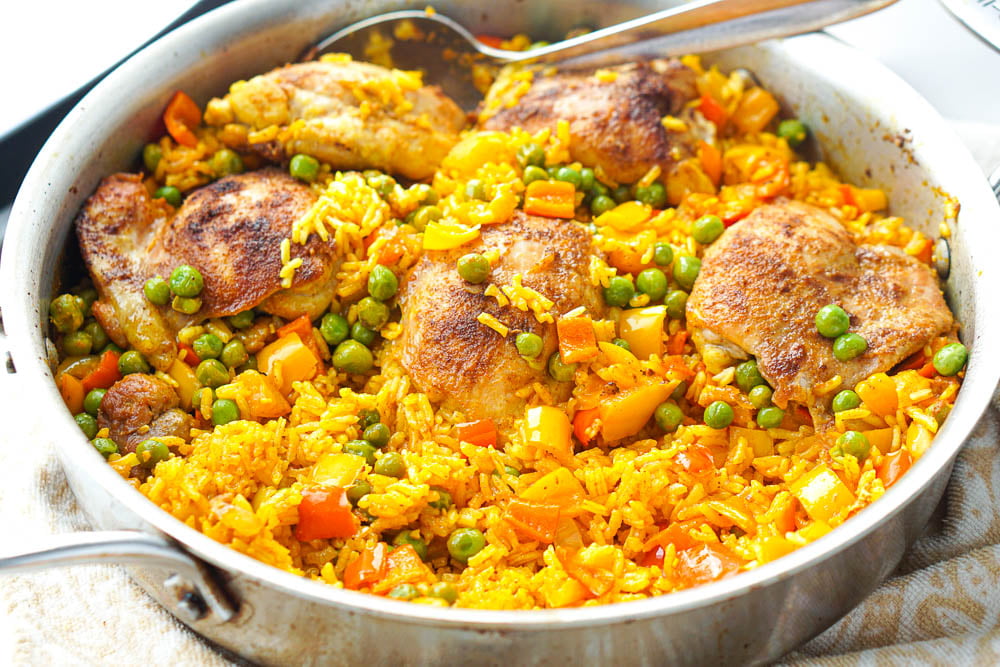 How to make this Spanish chicken and rice recipe.
This is a rather simple recipe. That's what makes it such a nice weekday dinner.
Mix the spice blend of salt, garlic powder, cumin, cayenne and paprika.
Rub the spices on both sides of your skinless chicken thighs.
Heat up your skillet to a medium high heat and add the olive oil. Then place the chicken pieces in and turn the heat down to medium heat. Brown the meat for about 3-4 minutes on both sides.
Take them out and add a little water to deglaze the the brown bits.
Place in the peppers, onion and garlic in the pan and sauce them until they soften a little.
Mix the chicken broth, turmeric and tomato sauce together. Note this is the liquid that will cook the rice.
Then add it to the pan with the rice.
Mix well and return chicken back to the pan and sprinkle your frozen peas over top.
Cover and lower the heat to medium low. Cook for about 25-30 minutes until everything is cooked through. Note cooking time may vary.
If you want you can sprinkle some fresh parsley on top for a garnish or added color but it doesn't really need it. Store leftovers in an airtight container. Please scroll down to view the printable recipe card.
Other meat and rice dinners to try.
If your family are rice eaters too you might the following family friendly recipes which are ones we eat often. They are very easy and all our served over rice.
Rice was one my dad's favorite foods so I grew up eating a lot of it. I still eat it often with our meals and luckily my hubby and son like it too.
Both really enjoyed this dish and I liked how easy it is to make a complete meal on the stove and not in the oven.
I hope you like this recipe as much as we do and please let me know if you have any one pot meals you'd like to share. Enjoy!
If you are watching your carbs, I also have a low carb Spanish cauliflower rice you might like.
Easy One Pan Spanish Chicken and Rice
This chicken and Spanish rice dish is a simple one pan skillet dinner that is full of flavor and the whole family will enjoy.
Ingredients
6 chicken thighs, skinless, boneless
2 tablespoons olive oil
1 teaspoon salt
1 teaspoon garlic powder
½ teaspoon cumin
¼ teaspoon cayenne
¼ teaspoon paprika
2 cups sweet bell peppers, chopped
⅓ cup onions chopped
2 cloves garlic, crushed
1 ¾ cups chicken broth
1 ½ cups long grain white rice
½ cup tomato sauce
1 teaspoon turmeric
¼ cup frozen peas
Instructions
Mix the salt, cayenne, garlic powder, paprika and cumin in a small dish.
Rub the spice mixture on both sides of the chicken.
Heat your skillet to medium high heat. Add 1 tablespoon olive oil and then place the thighs in the pan. Turn the heat down to medium heat and brown them for about 5 minutes on each side.
Take the chicken out of the skillet and add a tablespoon or two of water or broth and scrape the brown bits from the bottom.
Add the other tablespoon of olive oil and then the onion and peppers and saute for a few minutes until they start to soften.
Add your garlic and mix well.
Add the rice and mix well with the peppers and spices.
In a small bowl, add your broth, tomato sauce and turmeric and mix well.
Add to your pan and mix everything once more.
Add the chicken back into the pan, sprinkle in your frozen peas, cover and lower the heat to medium low.
Cook for 30 minutes or until both the chicken and rice are cooked through. Note cooking time may vary.
Serve and enjoy!
Nutrition Information:
Yield:

6
Serving Size:

1
Amount Per Serving:
Calories:

338
Unsaturated Fat:

0g