This easy tilapia recipe is something that my friend showed me along time ago and one that my family loves. It's breaded pan fried tilapia with tomatoes. The fried tilapia has awesome rich flavor on it's own but when simmered with tomatoes it's crazy good. You only a few ingredients for this easy weekday meal.
You might also like this baked asiago tilapia recipe!
This is one of those easy dinner recipes that we eat all the time. You only need a few ingredients and they are ones that I always have on hand.
My friend Carina made this breaded pan fried tilapia with tomatoes for me along time ago. And I've been making on a regular basis ever since because my family loves it. However we refer to it as Carina fish!
I've changed it up over the years. I use parmesan cheese in the breading and added more tomatoes so that we can eat this dish over rice.
In all honesty my family calls this Carina fish and it's one of my favorite recipes. Besides the taste, the best thing about this dish is that it's very easy to make. I can whip up this dish for a weeknight meal with my eyes closed these days.
Recipe ingredients I used.
You only need a few simple ingredients to make this tilapia recipe. I used frozen tilapia fillets, stewed tomatoes, diced tomatoes, white breadcrumbs, egg, olive oil and parmesan cheese.
You can use fresh tilapia if you want. However I usually have frozen tilapia filets or loins in the freezer for easy seafood dinners like this. I also have the rest of the ingredients on hand as we eat this quite often.
I use either panko crumbs, regular or Italian breadcrumbs. If I was to eat this breaded fish with out the tomatoes I would definitely go for the panko but when you cook it down with the tomatoes it doesn't make much difference.
How to make breaded pan fried tilapia with tomatoes.
Step 1: Get out a shallow dish or bowl and add the beaten egg. In a separate dish mix the bread crumbs and parmesan cheese. You can use panko breadcrumbs or Italian. I use whichever I have on hand.
Step 2: First dab the fillets with a paper towel and then season with salt and ground black pepper. Next dip the tilapia filets in egg mixture and then the breadcrumb mixture. Place on a plate and set aside.
Step 3: Get a large nonstick skillet out and heat to medium high heat. Add the olive oil or vegetable oil to the pan and heat oil until it's sizzling, turn the heat down to medium heat and place the breaded fish fillets in a single layer. Pan fry both sides of the filets until golden brown – about 2-3 minutes each side. If your pan cannot accommodate all of the fish you may have to do it in batches.
Step 4: When the fish has browned, pour over a can of stewed tomatoes and a can of diced tomatoes. If your stewed tomatoes are too big, I like to take a knife to them in the can and chop them up a bit first.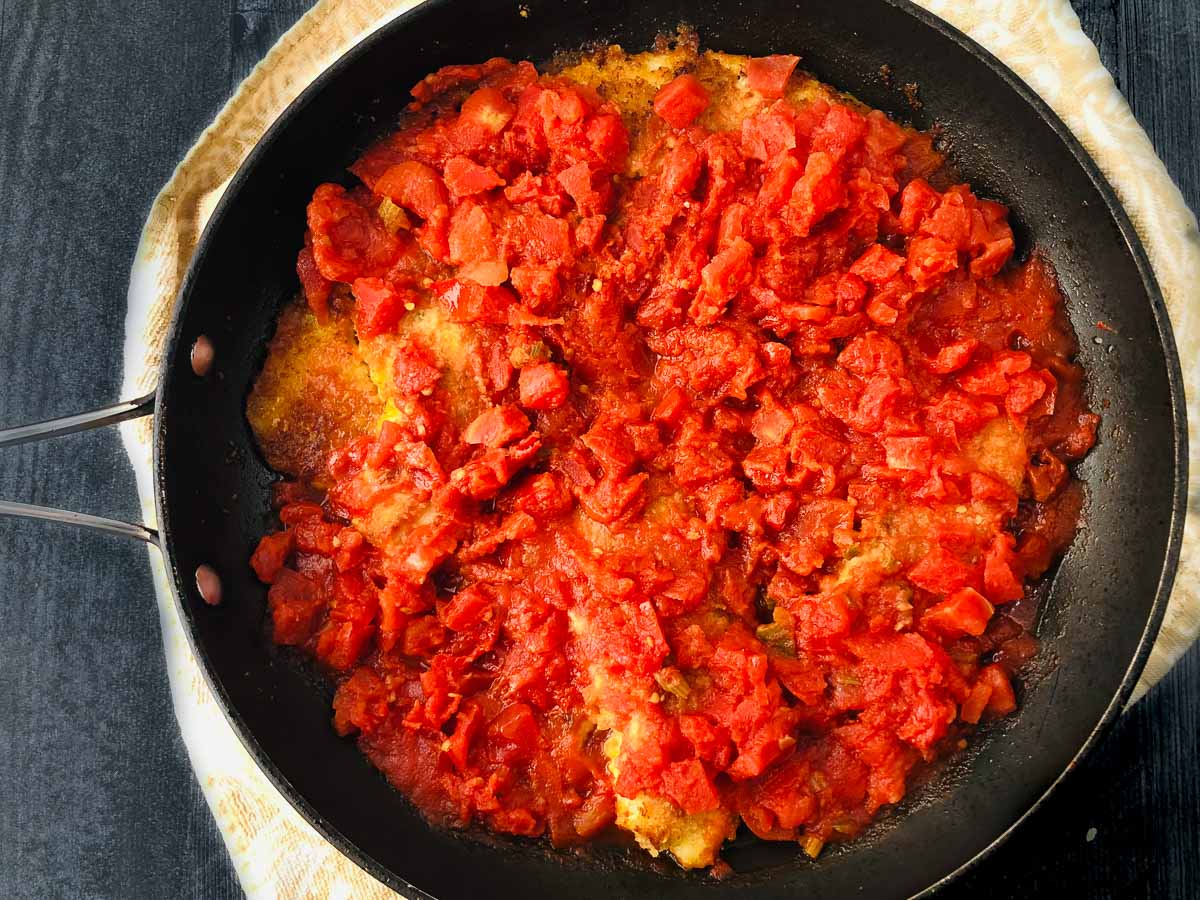 Step 5: Turn down the heat to medium low. Cover and let it simmer for 10 minutes and then take off the lid and cook the tomatoes down a little for about 8-10 minutes. Store leftovers in an airtight container. Cooking time may vary. (Please scroll down to view the printable recipe card.)
Serve with rice or even pasta. You can also eat this as is with green salads and steamed vegetable side dishes. See how easy? But don't let that fool you, it really is delicious.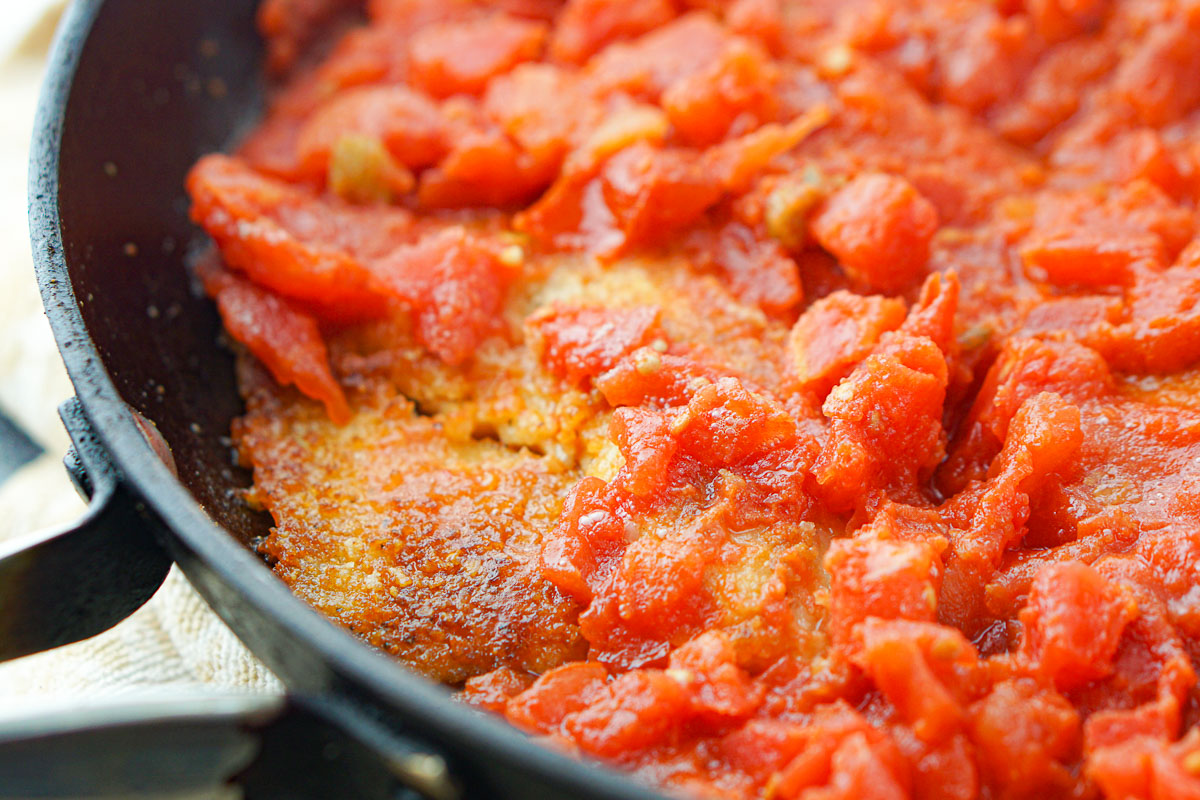 We like to eat this over yellow rice which is one of my favorite foods that I grew up with. My mother and grandmother have always added a bit of turmeric to their rice to give it that yellow color so that is how I usually make it.
I don't know the reason why. I'm guessing it looks more appealing? It doesn't really change the flavor in anyway and you don't have to use yellow rice to eat this dish. I use yellow rice with my eggplant beef stew and my green bean stew, both recipes from my mom and grandma.
Tips for variations on this recipe.
This is a great way to make breaded pan fried tilapia even without the tomatoes. I make it this way for fried fish tacos. Just bread and fry the fish as described in the recipe. For a flavor boost add garlic powder, onion powder and paprika. Other options are Old Bay seasoning or Cajun seasoning and add it to the bread crumbs. I prefer panko when making it this way. Serve with a tangy tartar sauce.
If you are on a gluten free or low carb diet and want a gluten free or low carb breading, substitute crushed pork rinds for the breadcrumbs.
Another way to eat this is to eliminate the breading altogether. This is nice with fresh tomatoes from the garden. You can add some fresh garlic and herbs like fresh basil or fresh parsley at the end. It's a lighter dinner and perfect for summer.
You could also substitute thin pork chops or thin sliced chicken breasts for tilapia. Just make they are cooked through as the fish will cook much quicker.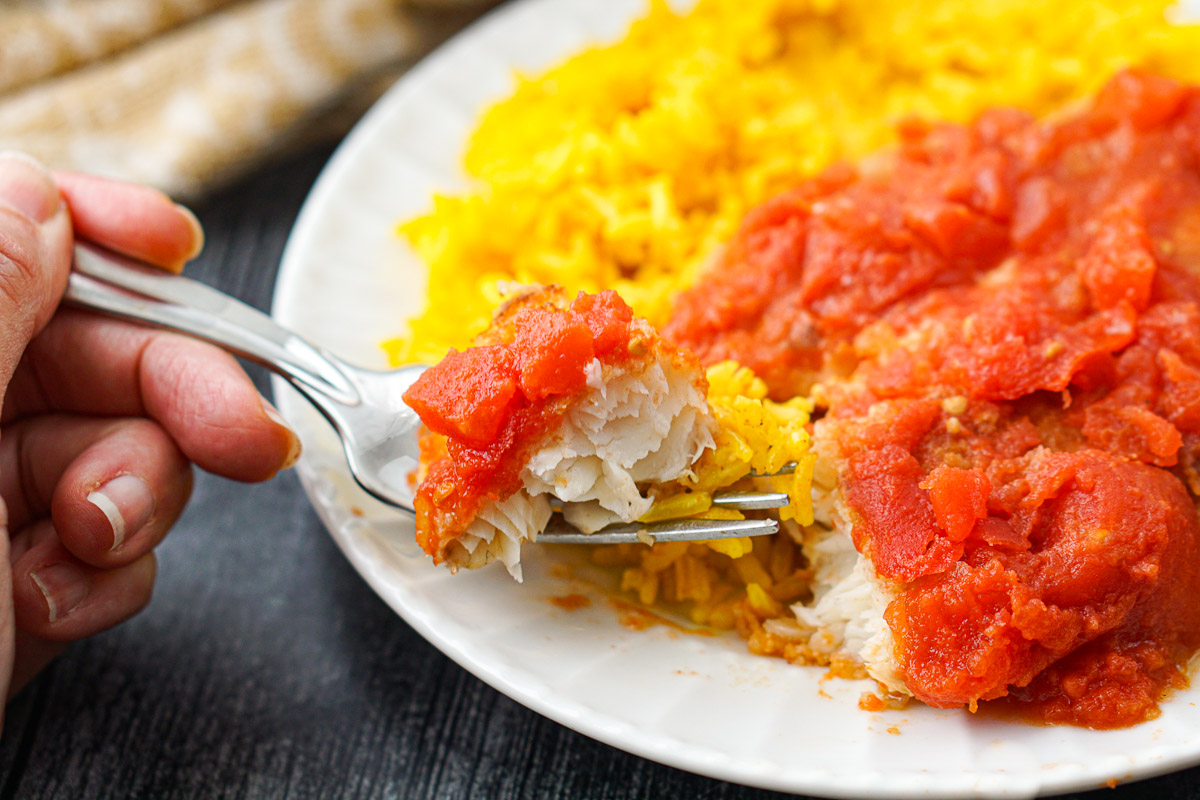 Well that is my go to seafood dinner for this week's Sunday Supper theme. I hope you like it as much as my family does! I like to make the rice as frying the fish and it makes for a quick meal. It's the perfect dinner for a busy weeknight.
You might also like these other tilapia recipes!
We eat this white fish quite a lot so I have a variety of preparations and sauces for it. Check this tasty collection of other fish dishes.
Breaded Pan Fried Tilapia with Tomatoes
This easy tilapia dinner is full of flavor and a dish my family loves. The breaded pan fried tilapia has awesome flavor on it's own but with the cooked down tomatoes it's even better. You only a few ingredients for an easy weekday meal
Ingredients
4 tilapia filets or loins, (frozen or fresh)
1 egg
½ cup bread crumbs
½ cup parmesan cheese
3 tablespoons olive oil
1 can stewed tomatoes
1 can diced tomatoes
salt & black pepper to season
Instructions
Thaw the fish if you are using frozen tilapia.
In a shallow bowl beat the egg. In a separate shallow bowl add bread crumbs and parmesan cheese and mix well.
Season the fillets with salt and black pepper before breading.
Dip the tilapia into the egg and then the bread crumb mixture. Repeat with all the fish then place on a plate and set aside.
In a large skillet, heat to medium high heat. Add the olive oil and when it's sizzling turn the heat down to medium.
Place the filets in the pan and brown the fish about 3-4 minutes each side. You may have to fry these in batches.
Then add the stewed tomatoes and the diced tomatoes to the pan. Note if the tomato chunks are too big, use a knife to cut but the chunks abit while they are in the can.
Cover for 10 minutes and simmer onver medium low heat.
Take off the lid and let the tomatoes cook down about 10 more minutes.
Serve over rice, pasta or eat as is.
Nutrition Information:
Yield:

4
Serving Size:

1
Amount Per Serving:
Calories:

456
Total Fat:

20g
Saturated Fat:

6g
Trans Fat:

0g
Unsaturated Fat:

13g
Cholesterol:

154mg
Sodium:

778mg
Carbohydrates:

18g
Fiber:

2g
Sugar:

4g
Protein:

52g
---