If you are looking for new tilapia recipes, you have to try this keto tilapia Romano recipe. The tilapia fillets have an egg and cheese gluten free breading and are topped with a lemon butter sauce. So good and only 4.3g net carbs per serving.
For another fish dinner idea, try this easy keto Asiago tilapia recipe.
I make chicken Romano every once in a while because it's a really tasty keto dinner. However today I thought I'd try this keto tilapia Romano instead and it was just as good!
Tilapia is such a light and mild white fish so it worked great with the egg and cheese breading. So if you are looking for a different way to prepare tilapia this is the one to try.
Other Keto Romano Recipes
I really like the way Romano recipes so I have the following variations for you to try.
So if you find that you like this preparation, give one of these other recipes a try.
Recipe Ingredients
To make this tilapia recipe I used olive oil, butter, almond flour, parmesan or Romano cheese, lemon juice, eggs and tilapia filets.
A Romano preparation is basically using a egg and Romano cheese mixture for the breading. Usually you dredge your meat in flour first but since this is a low carb version I used almond flour.
Let's make some keto tilapia Romano!
Step 1: First thing you want to do is take a paper towel and dry the fish filets if they are wet. Then sprinkle them with salt and pepper and cut them in half. It's much easier to flip them when they are in smaller pieces.
Step 2: Then get 2 shallow bowls. Add the almond flour in one bowl. Then beat the eggs in the other bowl. Then mix the Romano or parmesan cheese in the egg mixture.
Step 3: First dredge the tilapia pieces in the almond flour and place on a plate. Do this until all the fish is coated with the almond flour.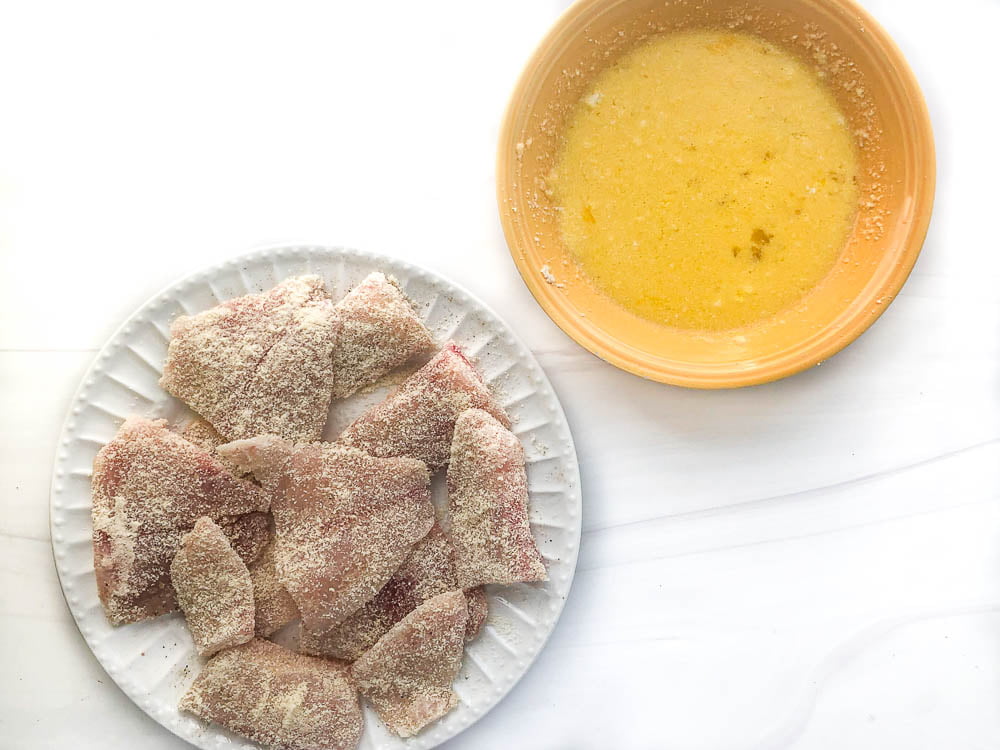 Step 4: Now get a large non stick skillet heated to medium high heat. Add 2 tablespoons of olive oil and 1 tablespoon of butter and heat until sizzling.
Step 5: Dip each piece of fish into the egg mixture then add it right to heated pan. Cook until both sides are nicely brown, then transfer to baking dish or baking sheet. Continue until all of the fish is done.
Step 6: Bake the breaded pieces of fish for 5 minutes in a 350°F oven to make sure they are cooked through. If you used thinker tilapia loins you make have to cook them for 10 minutes.
Step 7: While the fish is baking, you can quickly make the lemon butter. Melt 2 tablespoons of butter and the juice of one lemon in a saute pan. Simmer for a minute or two and then pour over the finished tilapia and serve.
Keto Side Dishes to Serve with this Fish
When I first had chicken Romano they served it with fettucini alfredo, so I think this zucchini noodle carbonara would be a good side dish. For something a little lighter, try this Asian green beans with almonds (15 minutes) or this Italian roasted zucchini and tomatoes.
You can also just serve this keto dish with a steamed green vegetable and a big salad. I often steam a green vegetable in the microwave for a few minutes then saute them in some butter and salt and it's absolutely delicious to me.
Well that is it my friends. I hope you enjoy this fish recipe. Even if you are not on a low carb diet, I think you will love the flavors.
The nutritional information for 1 serving is: 513 cals
35.7g fat / 6.6g carbs / 2.3g fiber / 42.8g protein = 4.3g net carbs
Keto Tilapia Romano Recipe
This keto tilapia recipes uses a Romano preparation which is a gluten free egg and Romano cheese breading. Then it's topped with lemon butter sauce.
Ingredients
1 lb tilapia filets, cut in half pieces
2 tablespoons of olive oil
¾ cup almond flour
3 egg, beaten
½ cup Romano cheese, grated (can use parmesan)
Juice of 1 lemon
1 tablespoon of butter
Instructions
Preheat oven to 350°F.
Take the tilapia filets and sprinkle salt and pepper over them. Next cut them in half to make smaller pieces. This makes it easier to flip when frying.
Next add the almond flour to a shallow bowl. Coat both sized of the tilapia in the almond flour and then set back on the plate.
Take a large skillet and heat to medium high heat. Add 2 tablespoons of olive oil and 1 tablespoon of butter. Once the butter has melted and it's sizzling, turn down to medium heat.
Get another large shallow bowl and beat the eggs. Then mix in the Romano cheese with the ggs.
Take one of the filet pieces and dip into the egg batter to coat both sides then place into the skillet. Do this with as many pieces as you can but don't crowd the skillet. You will probably have to fry these in batches.
Once the fish starts to brown, flip to other side. Once the other side is browned, place it in a baking dish. Do this until all of the fish is done.
Next place in the oven for 5 minutes or until the fish is cooked through. If you have thin filets it should only be 5 minutes. If you use tilapia loins it will take a few minutes more.
While the fish is baking, add the last tablespoon of butter to a small skillet. Squeeze the lemon juice into the pan and mix well. Let it simmer for a minute or so and then pour over the finished tilapia.
Notes
The nutritional information for 1 serving is:
513 cals / 35.7g fat / 6.6g carbs / 2.3g fiber / 42.8g protein = 4.3g net carbs
Nutrition Information:
Yield:

4
Serving Size:

1
Amount Per Serving:
Calories:

513