This Asian green beans with almonds dish is an easy and tasty, low carb side dish that you can whip up in less than 15 minutes. All you need are a few simple ingredients and you have a flavorful vegetable dish that would go with just about anything. And it's only 3.1g net carbs!
You might also like this keto Asian fried cauliflower recipe!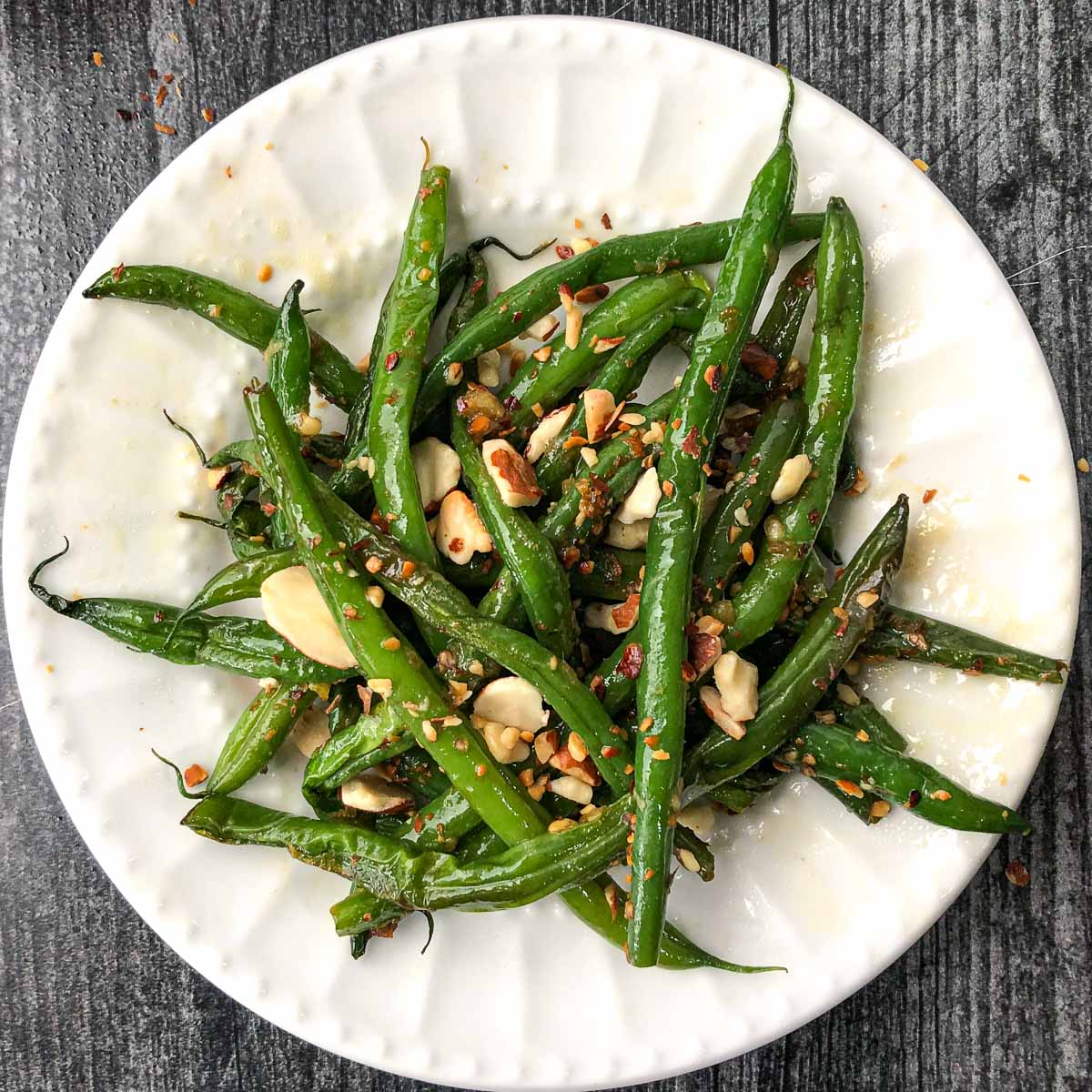 Everyone in my family loves green beans so it's a vegetable I like to make for dinner. However we seem to eat them the same way all the time. I wanted to think of different ways of serving them that were quick and easy and if possible low carb.
So I combined two of my favorite green bean dishes: garlicky Asian green beans and green beans almondine. What does that give you? It gives you easy Asian green beans with almonds (or ala almondine)!
This easy side dish just took 15 minutes and it's really tasty. It would be the perfect side dish with just about any meaty main dish. Or quite honesty I could eat these for a small meal like lunch. One serving just has 3.1g net carbs so you can't beat that!
Are green beans keto friendly?
Yes green beans are keto friendly! For 1 cup of raw beans has only 4.1g net carbs (Self Nutrition Data) and that is a good size portion. They are also a good source of vitamin C, vitamin A, folate as well as fiber and protein.(source)
They are also a very versatile vegetable. If you scroll down I have more low carb recipes for you to try. You can see that they are used in casseroles, salads, stews and. you can even pickle them.
Recipe ingredients I used.
You only need a few simple ingredients for this side dish recipe – fresh green beans, soy sauce, sesame oil, fresh garlic, ginger, olive oil and almond slices. There is no need for added salt or black pepper because the soy sauce is salty. But feel free to add some if you think it needs it. You could also add hot pepper flakes if you want to some heat.
I used French beans that I get at Aldi because they taste better than bigger, tougher green beans. That's just a preference so you can use which ever you want. If you end up using frozen beans, look for the thinner ones. I know Aldi carries some in their freezer section.
I am updating this recipe and didn't have sliced nor slivered almonds so I tried to slice them in the food processor. That did not work so well so my photos didn't come out great.
However if you don't have sliced almonds you can just chop up whole ones and they would work just as well.
How to make low carb Asian green beans with almonds.
Step 1: Wash the beans and place in a microwave safe bowl. Make sure there is a bit of water in there so they will steam. Usually the water from rinsing them is enough. Cover with plastic wrap or use a microwave pot like this. Cook for 7 minutes in the microwave.
Step 2: You can use the almond raw or you can toast them for more flavor. If you want to use them raw just skip to the next step. To toast your almond slices, add them to a small dry skillet and toast them over medium heat.
Make sure to keep an eye on them because they will brown quickly and you don't want to burn them. Once they start turning golden brown take them off the stove and pour onto a plate or piece of paper towel.
Step 3: Next get out a large skillet. Heat to medium heat and then add the olive oil. Let it heat for a minute or so. Add the crushed garlic and grated ginger. Stir and let cook for 1 minute.
Step 4: Then add the cooked beans and soy sauce. Mix well and let cook for about 5 minutes more until tender.
Step 5: Take off the stove and pour the sesame oil over, mix and add the almond slivers. Store leftovers in an airtight container. Please scroll down for the printable recipe card.
So you can see below and above that my messy chopped almonds don't like as nice and store bought almond slices but they taste the same. I personally like to toast them on the stove for a little more crunch and flavor but it's not necessary.
More easy low carb green bean recipes to try.
You can do so much with this healthy vegetable here are some of my favorite low carb green bean recipe to try.
I hope you like this quick and easy, low carb Asian green beans with almonds. It's a tasty side dish that I make quite often. It goes well with some many things.
The nutritional information for 1 serving is: 74 cals / 5.4g fat / 5g carbs / 1.9g fiber / 2.7g protein = 3.1g net carbs
Keto Asian Green Beans with Almonds
This easy Asian green beans with almonds recipe is a tasty, low carb side dish that you can whip up in less than 15 minutes and it's only 3.1g net carbs!
Ingredients
1 pound green beans (preferable thin French beans)
2 tablespoons soy sauce
2 cloves garlic, crushed
⅓ cup almonds, sliced and browned*
1 teaspoon sesame oil
1 tablespoon olive oil
2 teaspoons crushed fresh ginger root
Instructions
Rinse green beans and add to a microwave safe bowl. There should be a little water in the bowl. If there doesn't seem to be any add 1 tablespoon and then cover with plastic wrap. Cook for 6-8 minutes.
In a large saute pan add olive oil, grated ginger and garlic and mix well.
Add in the cooked green beans and soy sauce and cook for 5 minutes more
Take off the heat and add the sesame oil and almonds and mix again.
Note you can use the almonds as is or toast them for the topping.
**If using toasted almond slices - Add raw almonds to a dry skillet over medium heat. Stir them around to get them all toasted. They should brown in a few minutes.. Keep an eye on them as they burn easily. You can do this while the green beans cook in the microwave to save time.
Notes
The nutritional information for 1 serving is: 74 cals / 5.4g fat / 5g carbs / 1.9g fiber / 2.7g protein = 3.1g net carbs
Nutrition Information:
Yield:

6
Serving Size:

1
Amount Per Serving:
Calories:

74
Unsaturated Fat:

0g
---