This easy keto baked tilapia recipe is not only delicious but it only takes 25 minutes to make. With only a few common ingredients you can have a flavorful fish dinner with only 1.7g net carbs per serving!
You might also like this low carb pesto tilapia recipe.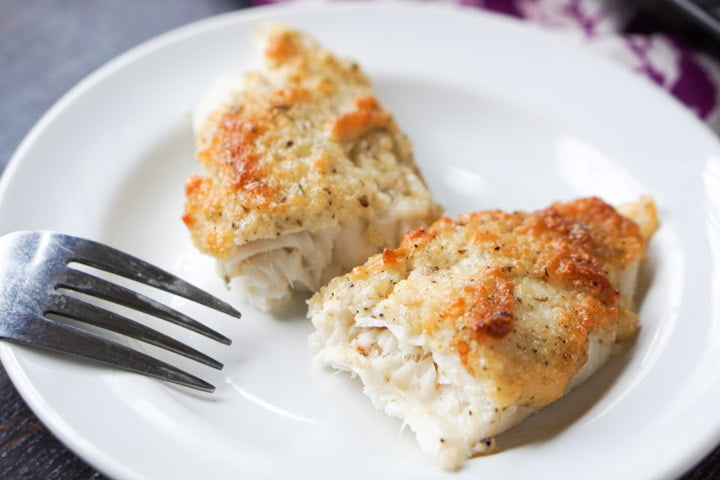 I remember making a recipe with chicken and mayo many, many years ago but haven't made it in ages. I really liked it and since I had a huge block of asiago cheese from Costco, I thought I'd try it with tilapia.
Now I actually crave this easy keto baked tilapia recipe. It's only 1.7g net carbs per serving and I have to say it's delicious! I try to make extra so I can eat it for lunch but there never seems to be much left over.

Other Easy Tilapia Recipes
I like tilapia because it's a mild white fish, easy to find and rather inexpensive. I usually have a package of tilapia filets or loins in the freezer at all times. I make tilapia pomodoro and this baked tilapia all the time and my family loves them both.
Today I decided to reshoot the photos for this post and I used tilapia loins instead of tilapia fillets. Below you can see this recipe using the filets which are wider, thinner and easies to find.
And this is what it looked like tonight when I made the loins. Tilapia loins are thicker and more rectangular in shape. Both kinds of tilapia will work fine just the loins may take another couple of minutes to cook.
How to make this keto baked tilapia recipe.
This really is an easy one today. You simply make the mayo mixture and spread it evenly over the tilapia filets. I used frozen loins today that I thawed and towel dried to make the surface dry to hold the spread. Then you bake them for about 15-20 minutes or until the fish is flaky.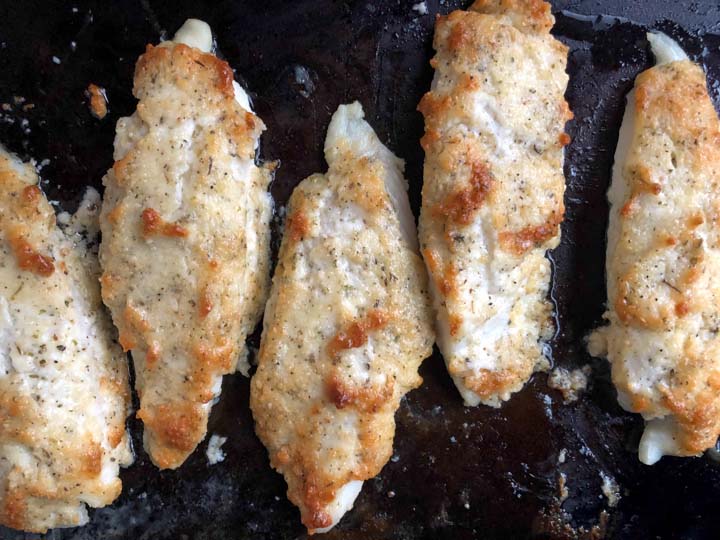 When I used the filets, they were pretty thin and only took 15 minutes. The loins are thicker and take about 20 minutes to cook through.
Can you use another cheese? Another fish?
You could substitute the asiago cheese with Parmesan or Romano or any drier, strong flavored cheese. I do not recommend cheddar or mozzarella as you are going flavor more than texture. Today I used Parmesan and Italian seasoning and it was still delicious so use which ever you prefer.
If you want to try this with another kind of fish I would keep it to a flaky mild white fish. This would also be good with chicken breasts.
What should I serve with this tilapia dish?
This is a good dish to serve with greens. The mayo and cheese make it pretty rich so any green vegetable side dish will balance it out. Sometimes we even have cauliflower rice. Last night I served my sesame greens and it was perfect.
This is an easy fish recipe that even my son will eat. He's not a big fish fan yet but he's slowly coming around. It's also a good go to dinner with the frozen filets.
So that was a quick and easy one for you. If you are following a low carb diet this really is a low carb meal for you that you can make any night. But even if you don't care about carbs, I know you will love this. Here is the nutrition for 1 filet:
341 cals / 22.4g fat / 1.8g carbs / 0.1g fiber / 34.5g protein = 1.7g net carbs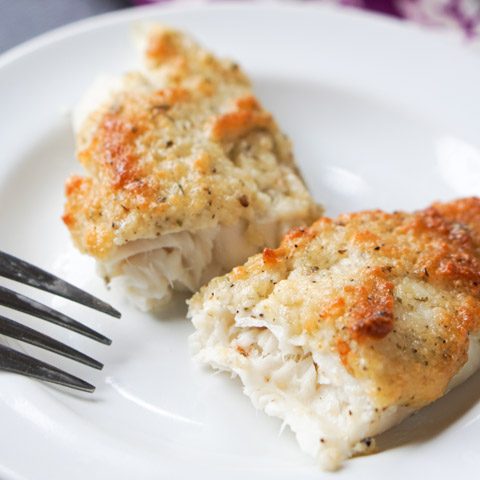 Easy Keto Baked Tilapia
This easy keto baked tilapia dish is not only delicious but it only takes 25 minutes to make. The perfect weekday dinner and only 1.7g net carbs per serving!
Ingredients
½ cup mayo
1 teaspoon garlic, crushed
¼ teaspoon onion powder
¼ teaspoon salt
⅛ teaspoon pepper
¼ teaspoon thyme
¼ teaspoon basil
½ cup Asiago cheese or Parmesan cheese (grated)
6 tilapia filets or tilapia loins
Instructions
Preheat oven to 350 degree F.
Spray a cookie sheet or baking dish and lay your tilapia filets in. Use a paper towel to dab the extra moisture or water off the filets. This way the mixture will cling to the fish better.
Mix the rest of the ingredients in a small bowl and then spread on each filet.
Bake for 15-20 minutes or until flaky. If using tilapia filets it will be closer to 15 minutes and the loins will take more time. If you want it more brown on top, broil for 2-3 minutes.
Nutrition Information:
Yield:

6
Serving Size:

1
Amount Per Serving:
Calories:

341
Net Carbohydrates:

1.7gg
Check out my web story for this post!