These easy keto asiago asparagus fries only need 3 ingredients and you can make them in the air fryer! They are great as a low carb side dish or add an aioli and make them as an appetizer or even a snack! As a keto vegetable side dish this is one to try! Only 2.2g net carbs and 86 calories in 1 serving.
You might also like these low carb lemon parmesan roasted asparagus recipe!
It's spring and for me that means asparagus season! This is one of the rare vegetables my whole family enjoys so I buy it often but I feel like it tastes better in the spring. That's just me. So today I decided to use my air fryer recipe and make these easy keto asiago asparagus fries.
They only require 3 ingredients and I bet you can guess at least 2 of them right? You can eat this as a low carb side dish or even as a keto snack or appetizer. This batch of asparagus made 4 servings and each serving has only 86 calories and 2.2g net carbs.
The 3 Ingredients For Asparagus Fries
Usually when I'm making some type "fry" in the air fryer I use pork rinds. And that is something that you could also use in this recipe but today I just used 3 ingredients and they were the asparagus, mayo and asiago cheese.
You can see that that I bought a wedge of asiago cheese. I'm starting to realize that cheese tastes so much better when you shred it yourself.
Why You Should Grate Your Own Cheese
If you look at a bag of shredded cheese you will see that it has more than just cheese in the ingredients. Sometimes you see cellulose or different kinds of starches and they are to help the cheese from clumping together.
Besides the fact that you are ingesting another unnecessary ingredient, it also takes away from the flavor. You will find that when you shred your own, it tastes better – more flavorful.
Also I like to use a microplane like the one below. The shred you get is so fine, it just melts in your recipes and you actually use less because of the fine cut. This isn't always so easy with softer cheeses but for parmesan and asiago, a microplane grater is the way to go.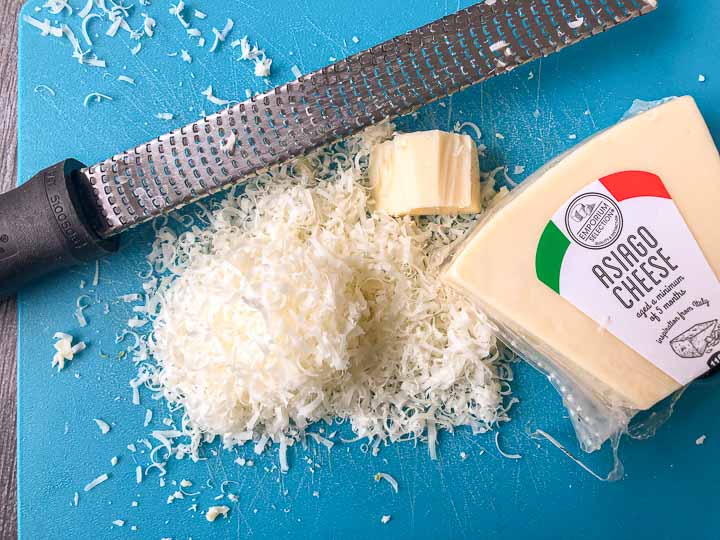 Let's Make Those Air Fryer Keto Asparagus Fries
This is super easy as most of my recipes are. Start by cleaning and trimming your asparagus spears and then towel them dry. You want them dry so the mayo will cling to them.
Cut the spears in half and the place them in a big bowl with the mayonnaise. Mix them around so they are fully coated.
Next add the asiago cheese (preferably hand grated) and mix once more to get the asparagus nice and coated.
Spray your air fryer basket or trays with cooking spray to keep them from sticking. Lay the asparagus fries out on the trays and bake.
How Long To Cook Asparagus In An Air Fryer
Cook your asiago asparagus fries for 10 minutes at 380°F in your air fryer. It might take a little less or a little longer depnding on the size of your asparagus. Below you can see the size of mine and they took 10 minutes.
How To Eat As An Appetizer Or Keto Snack
We ate these as a side dish but you could also eat this asparagus as a keto appetizer or snack. If taking to a party, try a flavored aioli dip to dip them in. I have a steamed asparagus & green goddess dip recipe that you could just use the dip.
Also this is a dish I could easily eat for a low carb lunch or as I said a snack. They don't need a dip but I like them so I would probably eat them with this garlic aioli dip.
Try This Recipe With These Easy Low Carb Main Dishes
Because this is such an easy side dish, it would be great with a meaty main dish like kebabs, steaks, burgers or even a skillet dinner. These would be three dishes that would go great with this asparagus fries.
If you are still playing around with your new air fryer, try these low carb asiago asparagus fries. They will be especially good this time of year when asparagus are in season. It's such an easy low carb side dish but don't count it out as an appetizer though. The nutritional information 1 serving is:
86 cals / 6.5g fat / 4.3g carbs / 2.1g fiber / 3.8g protein = 2.2g net carbs

Easy Keto Asiago Asparagus Fries in the Air Fryer (3 ingredients)
These easy keto asparagus fries are a delicious low carb side dish or can be an appetizer or snack. You only need 3 ingredients and they are done in minutes. Only 2.2g net carbs per serving
Ingredients
1 lb asparagus spears, fresh
2 oz asiago cheese
2 tablespoons mayonnaise
Instructions
Clean and trim the asparagus. Towel dry and cut in half and add to a large bowl.
Add the mayonnaise and mix well.
Using a fine grater or microplane shred the cheese and mix with the aparagus.
Spray air fryer trays or basket with cooking oil and then place the asparagus spears on them. Try to spread out as much as possible.
C0ok at 380°F for 10 minutes.
Add more shredded cheese on top if you wish.
Nutrition Information:
Yield:

4
Serving Size:

1
Amount Per Serving:
Calories:

86
Net Carbohydrates:

2.2gg