If you are on a low carb or keto diet this summer you need to try one of these 77 keto summer side dishes. Many use fresh vegetables from your garden or ones you can buy at a farmers market. These are the best keto side dishes to serve alongside grilled main course so they are great for bbq parties and picnics too.
You might also like these 40 keto chicken dinner recipes.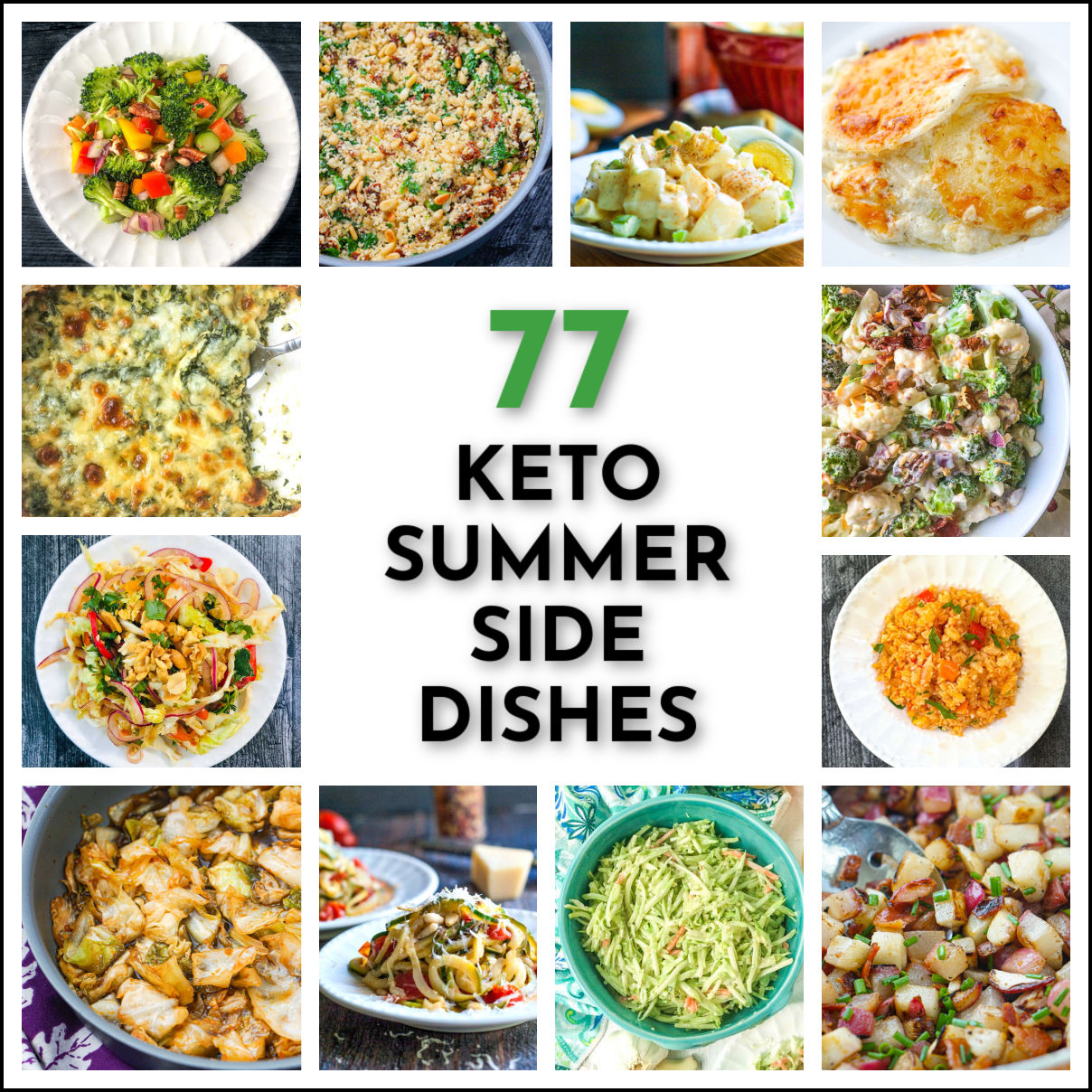 Today I've gathered 77 keto summer side dishes for you to try. Summer is the best time to make fresh and healthy side dish recipes from produce you might have in your garden or are easily available in farmers markets and grocery stores.
Also you can take a low-carb recipe and make it a main dish just by added rotisserie chicken, shrimp or ground beef. So if you are on a low carb diet and even if you are not, I'm sure you will find a few recipes that will become a new family favorite and help you stick to your low-carb diet.
​A few simple ingredients to have on hand to make tasty low carb sides this summer.
cauliflower – you can make cauliflower rice, cauliflower potato salad, steaks, and use it in soups, stews and casseroles.
cheese – mozzarella, asiago, parmesan, feta, blue cheese and cheddar cheese all add a lot of flavor with few net carbs. Note the hard types of cheese have more flavor and therefor less fat and carbs you need.???
butter, good olive oil, avocado oil, sesame oil all add a bit of flavor while cooking just plain veggies.
sour cream and mayonnaise are both great for making cream salads and dressings
crispy bacon – this will make any dish tastier
cream cheese and heavy cream – these low carb ingredients are a great way to thicken sauces and make any dish more decadent
Ways to eat summer keto vegetables for easy keto side dishes.
Salads – You can use traditional lettuces and add vegetables for crunch, texture and flavor. However you can also skip the lettuce and use other vegetables like green beans as the base of the salad. Also try a few chopped salads where you cut all kinds of vegetable into chunks.
Veggie Noodles – zucchini noodles are very popular but you can spiralize all kinds of vegetables like carrots, turnips, asaparagus, butternut squash, kohlorabi, rutabaga, etc. These also make great pasta salad.
Rice – You can make more than just cauliflower rice. Just add any harder type veggie to a food processor and pulse until it looks like rice.
Veggie Steaks – Marinade a thick cut of broccoli, cauliflower, zucchini or cabbage steaks.Then grill it like you would a steak.
Keto Chips – if you have a mandoline, thinly slice just about any vegetable and dehydrate or fry to make low carb chips. You can make zucchini, beet, turnip, brussels sprouts chips and more.
Now for the 77 keto summer side dishes to try.
Below are the low-carb side dishes that will be the perfect way to eat with summer produce. Some of these recipes use the air fryer, instant pot or slow cooker. All of these keto sides quick and easy recipes. Many of them make great keto bbq sides if you are going to picnic too.
I hope this list will help with your meal plans this summer and that you find the perfect low carb side dish.
For the nutritional data place click on the recipe and scroll down to the recipe card. The nutritional information will be right above it. And to go with these here are all my low carb main dishes.
77 Keto Summer Side Dish Recipes
If you are looking for a delcious and easy keto summer side dish, I have 77 recipes for you try. Get out those homegrown vegetables this summer and give one of these low carb recipes a try.