This easy and delicious keto zucchini pasta salad will be the perfect gluten free and low carb side dish for your next summer party or picnic. It's full of veggies, pepperoni, cheddar cheese and a great spice blend. It's super easy and delicious summer dish. Eat it as a light meal or side dish. And it only has 3.6g net carb per serving.
You might also like this zucchini quinoa and mint salad recipe.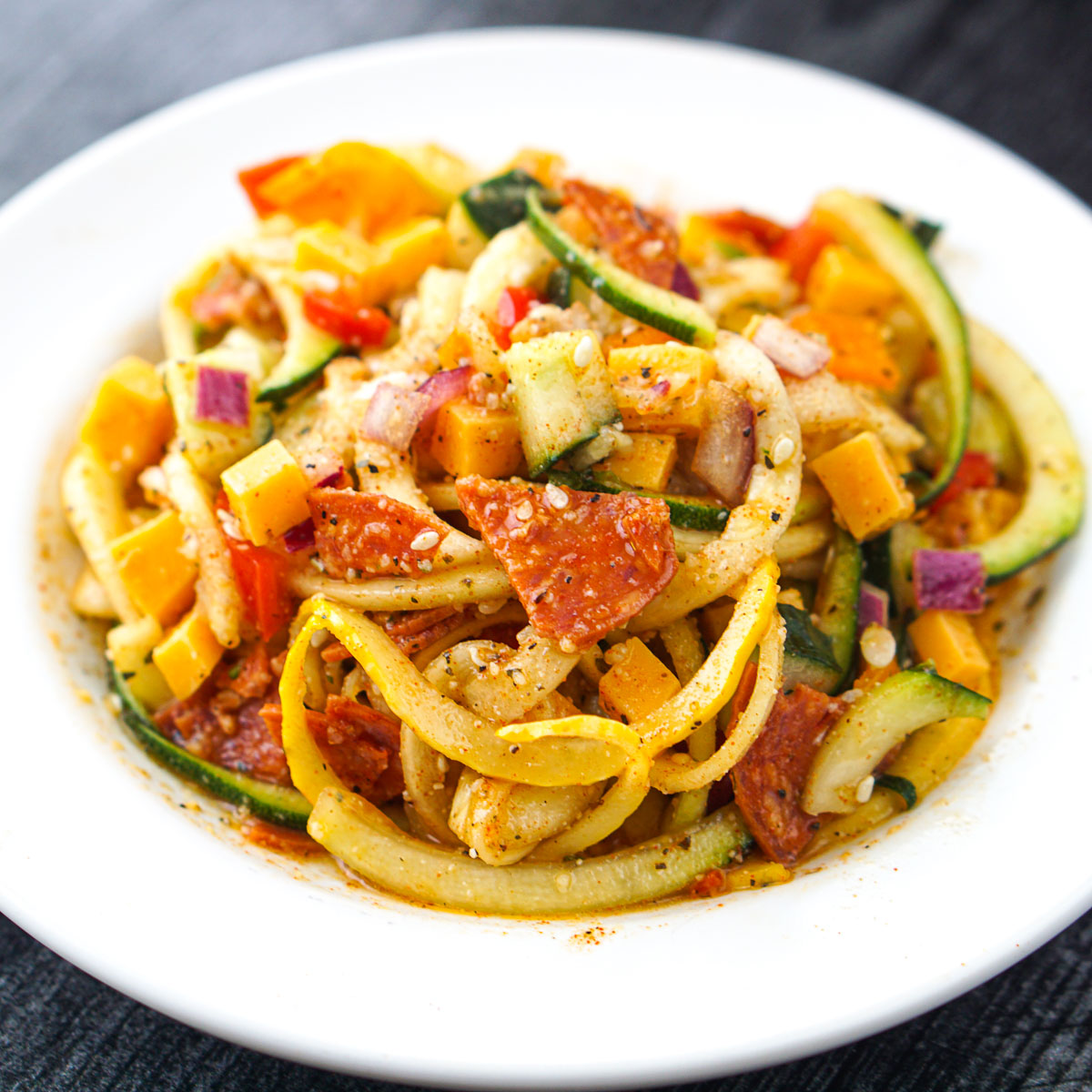 Recently I made my mother's delicious linguine salad for a summer party we were having for my hubby's birthday. That is one of his favorite dishes so I made that with regular pasta but today I wanted to make a low carb and gluten free version.
So I just substituted veggie noodles for the linguine and made my own spice blend similar to Salad Supreme and came up with this awesome keto zucchini pasta salad.
Looking at it you can hardly tell the difference and same goes for the flavor. The raw zoodles have a chewy bite like regular pasta and the rest is everything I put in the regular version so it's tasty bits of cheddar and pepperoni along with the chopped veggies and seasonings.
It's the perfect summer salad especially if you have tons of zucchini and veggies in your garden.
Why zucchini is one of my favorite low carb foods.
We eat a lot of zucchini during the summer because my husband grows it but I eat it all year long because it's low carb, low calorie, high fiber and very versatile. It's also fairly inexpensive and you can make noodles, pancakes, waffles, soup, fry it and stuff it!
One medium zucchini will roughly yield 1 to 1 ½ cups of zoodles. And one cup of cooked zucchini has about 2g net carbs and only 17 calories! It's also a good source of Vitamin A as well as many other vitamins and minerals. So that is why this healthy vegetable is one of my favorite foods for keto cooking. (source)
Pasta salad ingredients I used.
Below you can see the simple ingredients I used for this raw zucchini salad. I used both green and yellow zucchini noodles, cheddar cheese, pepperoni, red onion, cucumber and bell peppers.
For my regular linguine salad I use Italian dressing and McCormick's Salad Surpreme seasoning. However I decided to make my own dressing and seasoning using the same flavor profile.
For the dressing I used apple cider vinegar, extra virgin olive oil and fresh garlic cloves. And for the seasoning blend I used garlic powder, Italian seasoning, oregano, parmesan cheese, paprika, sesame seeds, salt and black pepper.
If you don't have sesame seeds no worries. It will still taste good. And if you want to just buy the Salad Supreme seasoning go ahead and substitute with that. I have a hard time finding it in the summer.
How to make keto zucchini pasta salad.
Step 1: Using a spiralizer make zucchini noodles and set aside. I like to use a thicker noodle cut so it stands up to the dressing. A julienne vegetable peeler also works great to make a linguine pasta shape
Note if you want you can cook the zoodles in the microwave for 2-3 minutes but I personally like it raw. The dressing will soften it up a bit and it can get mushy when you cook it. If you do cook it, try to wring out any excess water before mixing with the other ingredients.
Step 2: Chop up the veggies into bite size pieces as well as the cheddar cheese and pepperoni. Add to the bowl with the spiralized zucchini noodles.
Step 3: Measure out the spices and mix together well then add it to a medium bowl with the vinegar, oil and crushed garlic.
Step 4: Get out a large mixing bowl and add the veggies, cheese and pepperoni. Pour the dressing with the spices over the spiralized zucchini noodle mixture and mix well to make sure everything is coated.
You can eat right away or let it refrigerate for a while to let the veggies soak in the dressing. Store in an airtight container. Leftover salad will keep for a few days. Please scroll down to view the printable recipe card.
For a vegetarian version you can just eliminate the pepperoni.
For a dairy free version you can skip the cheddar cheese and substitute nutritional yeast for the parmesan cheese.
For a lower calorie version you can skip the pepperoni and cheddar cheese. Scroll down and view the nutritional information for both the low carb and low calorie versions.
Ways you can change this versatile recipe.
Note that I used red onions, bell peppers and cucumbers for this salad but you can certainly use your own favorite veggies. In addition you can try black olives, kalamata olives, grape tomatoes, avocado, pepperonchini peppers, cherry tomatoes, celery, broccoli, cauliflower, artichoke hearts, sun-dried tomatoes etc.
You can also add dry Italian sausage and meats like salami, ham or prosciutto as well as cooked bacon. Or try different cheeses like provolone, fresh mozzarella, asiago, feta cheese, goat cheese, etc.
Lastly fresh herbs would be nice as well. Try fresh basil, cilantro or parsley. Or for a little heat try some hot pepper flakes or a pinch of cayenne pepper.
Other low carb summer salads like this.
I have lots of other healthy recipes for summer but the following are some of my favorite recipes.
keto antipasto cauliflower rice
low carb antipasto coleslaw
low carb Italian sub salad
keto broccoli salad without mayo
keto fresh spinach salad with creamy dressing
I was really happy with how this keto zucchini pasta salad came out and will definitely make this again for myself. It really is a tasty and healthy side salad for hot summer days. It would be a great keto friendly recipe for a picnic or party. Enjoy!
The nutritional information for 1 serving is 267 calories / 25.5g fat / 5.1g carbs / 1.5g fiber / 5.9g protein = 3.6g net carbs
The nutritional information without cheese and pepperoni is 196 calories / 19.3g fat / 5g carbs / 1.5g fiber / 2.2g protein = 3.5g net carbs
Keto Zucchini Pasta Salad Recipe
This keto zucchini pasta salad recipe is so full of flavor much like traditional pasta salad but it uses fresh zucchini noodles so it's gluten free and a healthy alternative. Great for those on a low carb diet.
Ingredients
4 cups zucchini noodles
¼ cup red onion, finely diced
¼ cup cucumber, chopped
½ cup bell pepper, chopped
¼ cup apple cider vinegar
½ cup olive oil
2 cloves garlic
2 tablespoons parmesan cheese
1 teaspoon paprika
½ teaspoon celery salt
2 teaspoons white sesame seeds
¼ teaspoon garlic powder
½ teaspoon Italian seasoning
½ cup cheddar cheese, diced into small cubes
½ cup pepperoni, chopped (about 20 thin, small slices)
Instructions
Make your zucchini noodles using a spiralizer or vegetable peeler and set aside. Then chop all of the veggies, pepperoni and cheddar cheese and set aside.
Mix all the dry seasonings together to make the Salad Supreme seasoning substitute. Then mix it with the apple cider vinegar, olive oil and fresh garlic.
In a large bowl add everything and mix well. Try to get the dressing and spices all over the noodles and veggies.
Refrigerate until ready to eat. It will keep for a couple of days in the refrigerator and not get soggy. Store in an airtight container.
For a vegetarian version substitute nutritional yeast for the parmesan cheese and eliminate the pepperoni and cheddar. This will also be a low calorie version.
Notes
You can certainly use your own favorite veggies as well as black olives, kalamata olives, flavorful tomatoes, avocado, celery, pepperoncini peppers, broccoli, cauliflower, artichoke hearts, sun dried tomatoes etc.

You can also add meats like salami, ham, prosciutto and bacon. Or try different cheeses like provolone, fresh mozzarella, feta cheese, goat cheese, etc.

Lastly herbs like fresh basil, cilantro or parsley are nice to try.

The nutritional information for 1 serving is 267 calories / 25.5g fat / 5.1g carbs / 1.5g fiber / 5.9g protein = 3.6g net carbs

The nutritional information without cheese and pepperoni is 196 calories / 19.3g fat / 5g carbs / 1.5g fiber / 2.2g protein = 3.5g net carbs


Nutrition Information:
Yield:

6
Serving Size:

1
Amount Per Serving:
Calories:

267